Sharing my other hobby, cake decorating
---
So..besides my love of horses, my children and taking photos..I am a hobby cake decorator. Lately all my cakes have been boring, but the two I did yesterday I felt the urge to share.
One is what is called a Topsy Turvey cake, or whimsy..the other is just a basic buttercream covered stacked cake, with some fondant accents.
The topsy turvey was a white almond cake (traditional Louisiana wedding cake..although this was a birthday) filled with cream cheese icing and sliced Louisiana strawberries. The other was same cake, buttercream filling and icing, as it was a baby's party.
Hope you enjoy...I enjoyed making them. On my blog are some in process photos if you're into that sort of thing.
Sorry about the quality of the photos, my lens is broken on my Rebel (OMG WAAAAAHHHH, just typing that makes me cringe), so these are iPhone pics.
Clickable thumbnails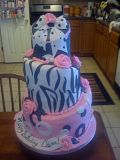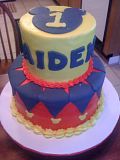 Thanks tons. It's a very stress relieving hobby, until you have to clean up after you're done.
Posted via Mobile Device
Cakemom, I wish we were neighbors so you could teach me how to do that. Those are amazing! The ribbons, what are they made out of? I looked through your photo bucket album (some of it) and you have insane talent. Do you make enough money to make it worth your time? I just LOVE them. I do some cake decorating, but not formal like that, just kind of creative frosting with whatever I find at hand. Nothing like the creativity you show.
I also do a free form type of cookie decoration .
lake wash saddle photo 028.jpg
Heather, those are awesome! Love the topsy turvy's design. You go girl!

Tinyliny - those are terrific looking!!! I love them!
Those are fantastic and look yummy!
What amazing talent! I think that is soooo cool! You've done a wonderful job! I would hate to dig into the cakes, seeing as how beautiful they are!
---
wow that is IMPRESSIVE!!! and now i'm hungry haha :)
I've ALWAYS wanted to learn to do that! Awesome : D
---
100% Anti-Slaughter and PROUD of it!

Thanks so much you guys. Honestly I don't make enough to live off of it, but I do make enough for horse money :)! I'd love it if I had some hobby cake friends nearby, I love to play cake.
I'm totally impressed with those cookies!! VERY cool technique!!
Denise, thanks so much hon! SHE is one I'd like to play cake with you guys, mad skills that Denise, QOS here.