I agree with Honeysuga about the "rest of my life" kinda thing. All three tattoos I have are related to personal events/people that were in my life and no longer are - the first was a best friend of mine I have lost touch with, and the second two were both in relation to my recently ex fiance. But think of it kind of like a photograph, a moment in time, and THAT's what you are trying to capture. Freezing that moment - no matter what the future holds, what you are feeling AT THAT TIME is what you want to preserve, so even if the things associated with the tattoo are out of your life, you can still remember a happy time.
As far as your questions:
Hurt - it's very dependent on where on your body you get them. Fleshier areas (like your thigh) hurt less. I have one on my left ankle, but higher up near the calf, and it was like, nothing. It's my smallest, and my first tattoo, and I'd put it no worse than an uncomfortable bug bite. My second tattoo is on the back of my neck just under the hairline, and it was a bit more painful, but mainly right in the middle over the vertabrae. The outside edges didn't hurt as much, I'd compare this one to a more painful bee sting. My third tattoo is by far my largest, it covers my entire lower right leg and foot from just in front of my big toe, swirling up over my ankle and ending midway up my calf. It was excruciating. I have a fairly high pain tolerance, and I was close to passing out several times during this tattoo. It took four hours, and I only got one break of about 10 minutes in the middle. The thing is, with tattoos, the longer it takes, the pain builds and kind of overwhelms your system too, so for a first tattoo go with a simple, small design, and don't add a bunch of colors.
As far as cost, again, it's dependent on what you get, and your tattoo artist. I would STRONGLY recommend you find a tattoo artist with a background in artistic studies, rather than a tattooist who was just trained in the shop. My last tattoo is gorgeous, has been featured as a portfolio piece in Body Mod magazine, and the girl who did it was new to the tattooing world but had graduated with a degree in art. She truly IS an artist, I also own two of her paintings. My first tattoo is a simple celtic knot, all black, with two initials (mine and my old best friends - she also has a matching tattoo), and it's about 1/2 inch tall and 2 inches long, and it was only 40 dollars, but that was 12 years ago. My second tattoo is about 4 by 4 inches, a bit more involved (star with ivy growing over it, all black with some green shading around the outside, and a kanji in the middle) and it was 75 dollars. My last tattoo, which is reverse shading of a "breeze" with cherry blossoms floating on it, is all together about 12 inches tall, maybe 5 inches wide at the widest part, 6 different colors used on the blossoms, and I got an AMAZING deal getting it for $450.00 (it should have probably cost me about $650).
In care for it, each tattoo artist will give you different opinions. I've treated all three of mine the same. They come home wrapped in saran wrap, and I leave the saran wrap for the first 12 hours, then I GENTLY RINSE in lukewarm water (not cold, not hot) because the tattoo will leak plasma for a few days. I keep the plasma rinsed off, but be careful not to use a washcloth or anything to wipe it, just rinse with your hands, and careful not to scratch it. I don't keep it covered with the saran wrap after the first 12 hours, but I rinse it a couple times a day, and salve it down heavily with A+D ointment after each rinsing. I
don't
let it scab and don't let it dry, I know some people do.After the first week with the A+D ointment, I'll switch to a good moisturizer that doesn't contain perfumes/dyes etc. It will itch for a good couple weeks but in my experience using this method makes it heal quickly, and perfectly without losing any color, sharpness, or quality.
As far as touch ups, none of my tattoos have ever needed a touch up, even the one that is 12 years old. It depends again on the colors you go for. I suspect my last tattoo, the one with the cherry blossoms, will need touched up eventually because I have some "light" colors on there (white, yellow, pink, turquoise, red). White or yellow fade VERY quickly on a tattoo, followed next by most pastel shades. Simple black lines last the longest with little to no touch ups needed.
How to choose ~ when you know, you'll know! I have never gotten a tattoo just for wanting a tattoo, each of mine is symbolic and relevant to what was happening in my life at the time, so it was never a question of what tattoo to get, but who to find that can do it for me? I'm a big fan of designing your own tattoo, that makes it particularly meaningful. There are hundreds of thousands of portfolios on the web of tattoo designs, particularly tribals. Spend some time scanning pictures, find something you like as a base, and then work with it to make it your own!
Good luck, and when you decide you are ready, show us what you get!
---
Last edited by Indyhorse; 04-08-2010 at

09:40 PM

.
The photo is kind of washed-out, but this is my wee smiley finger. $80 (pricey but worth it, really good clean reputable place), it had to be inked quite deeply so it hurt a fair bit but nothing unbearable and it took all of about 5 minutes. For care, because it's a hand tattoo, I couldn't do any washing up (oh, what a shame!) or the ink would leak out apparently, and I had to be pretty careful when doing dirty/outdoorsy things (like riding...). Other than that, I just slapped Bepanthen (antibacterial moisturising cream) on it after every time I washed my hands and it was good as gold. It's going to need a touch-up sometime fairly soon because the skin on your hands renews itself completely every 4-5 years, but I've only had it for about a year so far. I've never met anyone who doesn't like it, either!
I agree with not getting stuck on the rest of your life thing. I got mine a few months ago with a group of friend's I've hung out with since freshman year. We're graduating in June and going our separate ways, so this is nice. I hardly even notice it's there, anymore, unless I'm trying to show it off. ;]
I really like the looks of that first one, #3178. It is feminine but still strong.
I like them, but I dont love them. You know?
They're pretty but I cant find something to settle on. One that I'll be happy with for forever..yet.
Its honestly making me kind of bummed.
okay this is just too adorable not to mention. This one is so much more "me" than any of the others. I'm going to add a heart behind with him webbing lasso'd around it to kind of symbolize how spiders have captured my heart. HAHA!
This is my tattoo...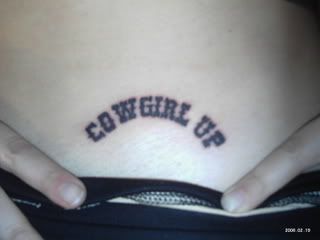 The pain level was pretty high, but thats because of where I had it placed on my body, on my lower left hip.
As for tattoos being permeant.. I feel that you cant change your past and this tattoo meant a lot to me the day I got it. Even if I grow out of loving it, I wont grow out of my history, and I will always look at it and remember the person I was and how it has lead to be person I will become.
I also had my tattoo done for me and not anyone else, that is why I also dont have it where everyone can see it. Its not for the world if for myself.
Lol that's the same explanation I give people when they ask why I'm getting it somewhere no one else can see it.
Lucara, where in Florida are you? My brother is a tattoo artist in the Sarasota area, and if that's too far, then he knows artists all over, he might know someone good in your area.

I wouldn't choose a shop based on the cost. Choose a shop because: 1. You really like the artist's work and want to have thier work as a showcase on your body and 2. The shop is clean and sterile. Ask how often they clean the floors. Ask to see thier autoclave. Make sure they open a fresh pack of needles and cover the surfaces with plastic before they work on you. Make sure YOU feel comfortable there.

As far as pain goes: it's all relative. How well do you handle pain? I have 6 tats (at present...always ready to get more!) and I can honestly say, there were only 2 of them that "pinched", and only 1 that "hurt" on 1 part of it. (it was right in the tender area in the back of the knee, but it wasn't really bad). Most of them, to me, feel good, almost "hypnotic" - why do you think I want more? lol Most of mine, I've watched as the work was being done, the only 1 I didn't was the 1 on my calf, and that's because I was on my stomach & I ended up falling asleep during it! lol I've heard people scream & howl in pain and not be able to handle it at all, but then there are people like me who who love them! It's all relative.

Care: I've cared for 5 of mine the way other's have described here. The last one I got I cared for differently, and it heeled soooooo much better! I left the plactic wrap on for a few hours after, then took it off. Gently washed it off with mild soap, and let air dry. Put on a thin layer of Aquaphor on it. Did that 2X a day for a couple weeks. Scabbing was very minimal, and itching was, too. I felt it heeled quicker, too. The Aquaphor is made for healing, and a lot of burn patients use it. I've had this tattoo a year now, and I still have people ask me if it's a real one because the colors look so good in it.

When I started wanting a tattoo, I told myself I would wait 2 years before I would get one, as this was permanant and I didn't want a "frivoulous" design on me. My 1st one is a teddy bear (I collect bears) that I got in a biker's clubhouse back in 1993. Each one I have chosen is for a specific reason and is a roadmap to who I "am". I do not regret a single drop of ink.

Good luck and take your time. Don't rush into this, it's a life changing experience, that's for sure!
---
Horses are God's apology for men.
Similar Threads
Thread
Thread Starter
Forum
Replies
Last Post
Tattoos!!

IdahoCowgirl

Hobbies

75

05-19-2010

04:38 PM

Tattoos

TwisterRush

Horse Talk

9

11-06-2009

09:53 PM

Tattoos.

dominoschica

General Off Topic Discussion

4

09-09-2009

06:14 PM

Tattoos!!

NicoleS11

General Off Topic Discussion

50

03-05-2009

02:49 AM

yes tattoos again ;)

my2geldings

General Off Topic Discussion

7

05-11-2008

07:10 PM