I can give you pictures! heehee
Here are my female bettas:
Tess:
Rain:
Laken: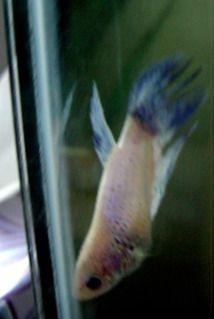 Marcy: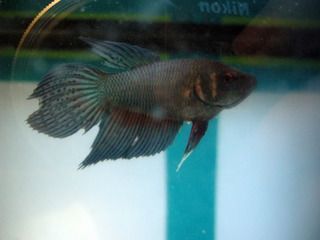 And this one doesn't have a name yet...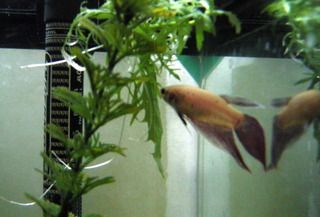 I don't have any pictures of the cories but they're super cute. Heehee
My male betta, Gideon:
This next picture is only about 6 months older than that first one but you can see how he now has a huge navy blue streak through his anal fin. His color, marble, is known for changing dramatically and weirdly.
My goldfish!
This is their tank:
This is S.E.F. (or Special Ed Fish). She only has one eye. I'm not really sure what breed she is yet. She's either a Fantail (most likely) or a short-tailed Ryukin. I'll know for sure in a few months.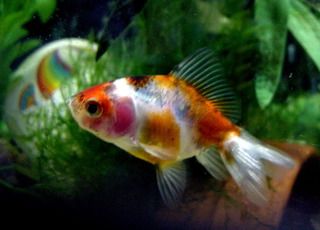 She absolutely adores this pink vase. She'll go in there and sit for hours and if I try to take it out of the tank, she seems to get "mad" until I return it. Hahaha
This is D.F. (or Differently gifted Fish). She has a bubble obsession and special food needs. She can't have too much of certain things or else she'll get floaty and become unable to sink in the tank. She's a Crown Pearlscale goldfish.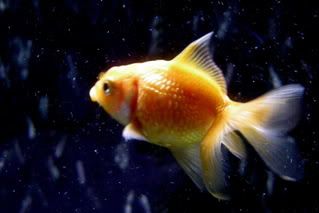 And this is Mr. T (also known as Tentacle fish). He has a dorsal fin deformity that's probably genetic and since his eyes are so large and awkward he sometimes has a hard time finding food. He's a Black Moor goldfish.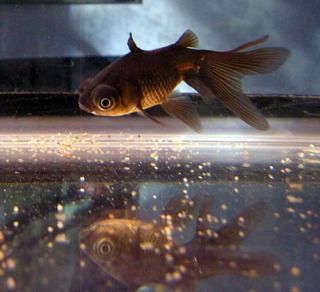 The snail!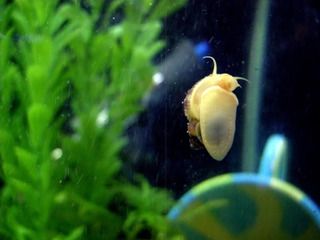 I don't have any pictures of my pleco because he's pretty shy but he's a cutie! His name is Hobbes, like Calvin and Hobbes. Heehee
---
Fabio - 13 year old Arabian/Lipizzan gelding

~
Rest peacefully, Lacey.

---
Last edited by Wallaby; 03-08-2010 at

10:51 PM

.
Thanks for the pics!! that is a beautiful tank, how big is it? I think that one eyed fish is kind of cool actually. That is so funny about the pink vase. I have a video of a tropical fish we went to look at. She had the coolest personality I had ever seen
I never actually realized that a lot of fish have some really neat personalities.
Great pics you shared!
Thanks! The goldfish tank is thirty gallons. I actually found that tank at Goodwill! I had to buy a light for it and a hood ($40) but the tank itself was $20 which is still a pretty dang good deal if you ask me! haha especially since later in the day I went to Petsmart and happened to see that tank and yknow how much they were asking for it, just the tank and the hood and light? Almost $90! O.o

Yeah, S.E.F. is definitely my favorite. The day I got her I went to the store with every intention of buying a "perfect" fish since I usually end up with the pathetic animals that need me but then I saw her, behind all the other fish in the tank, seemingly scared to join them all up at the glass, and I knew right then and there that she was mine. I can't wait to spend, hopefully, the next five years with her. She could actually live to be over ten but that's more rare, 5 years is a pretty reasonable estimate, although, I hope she's around in ten years! She'll be huge by then, at least 7 inches long. O.o

Tropical fish, especially the larger ones, have such personality! I'm definitely a large fish person. Haha I had some cherry barbs (small, very pretty, tiny fish) for a while and they were very nice to look at but it was definitly like the difference between finches and parrots, if you know what I mean. Finches are really in their own little world and parrots want to be with you...

Ah, I could go on all day! Horses and fish, my two major loves. =P
---
Fabio - 13 year old Arabian/Lipizzan gelding

~
Rest peacefully, Lacey.

That is so neat. I'll definitely try to remember to post that video of that fish we saw. It was the neatest thing I had ever seen.

I'll come back later with the video.
Cherry Barbs are lovely little fish, we used to have a pair until my bully of a Tetra ate them. Used to have a lovely tank at one point then we decided to get rid after all the fish had died and now just have the one tank and one fish. I love the Pearl Danios, used to have a couple but they died a couple of years ago.
---
Eagles may soar but weasels don't get sucked into jet engines.
Fish are absolutely phenomenal. I'm still trying to do all the research to set up a 75 gallon tank, might go slightly bigger. Great pics everyone!
Go bigger if you can My2Geldings. Otherwise you'll be wishing you had! LOL
---
I've got a lovely bunch of Neuticals,
There they are all standing in a row
Big ones, small ones, some as big as your head
Quote:
Go bigger if you can My2Geldings. Otherwise you'll be wishing you had! LOL
That's what everyone is telling me. The thing is, I have never set up a salt water tank and I'm afraid to start something bigger just because of big of a project a 75g tank is going to be in itself. As you posted above tho, everyone has been saying to start off with bigger. The aquarium guy I dealt with at the store, was the one to tell me to start off with at least 75g in size. I might look with something a little bigger.
Similar Threads
Thread
Thread Starter
Forum
Replies
Last Post
Betta Fish.

irydehorses4lyfe

Other Pets

8

01-21-2010

09:02 PM

Fish Chips

sixteenbluebells

Horse Training

0

07-15-2008

11:50 PM

Fish Chips

sixteenbluebells

Horse Training

0

07-15-2008

11:49 PM

Tropical Diseases in Horses???

ChrissyBz

Horse Health

8

05-27-2008

01:18 PM