Another "Is this a club foot" post
---
Sooo, I just had this filly delivered yesterday and her feet seem "off" to me. I dont remember noticing anything when I went to look at her 2 weeks ago. So club foot vs something else vs me being paranoid. Farrier has already been called.
Sorry about the photos, she wouldnt stand still for me.
You've got a little bit of work to do but I wouldn't call it a club foot. Watch how she stands. Does she always have the Rt leg back and the Lt leg forward? (and her neck is too short to reach the ground?) That's a "normal" wear pattern in that scenario. I would be feeding her up off the ground so she'll stop standing like that.
When you say "work to do" do you mean farrier work? And yes, when she grazes she still has the "foal stance".

Thanks for the info.
She's got alot of heel all the way around but nothing that can't be delt with easily.
Here's a link that talks about "grazing stance and club hooves in foals".
Bare Foot Hooves - Welcome to the new world of better hoof care
If you Google that phrase, you will quite a few credible hits.
To me, the right front hoof looks like it's tending toward becoming club-footed.
Trimming these hooves, IMO, is what separates the "men from the boys".
It takes some talent to get the mechanics and geometries of the trimming process correct so as not to damage the horse but still keep it corrected so the hoof has a chance to grow in a normal way.
Still shots would be great to show the farrier but a video of her casually grazing would be even better:)
She looks more 'high/low' than clubbed, though the right front pastern looks like it might be steep. A good farrier can get her back in the normal angles before it gets set in stone.
Here's a pic of a mare with a really high club and it didn't slow her down a bit. She was more sure footed on the trail than just about anyone and she was catty as all get out.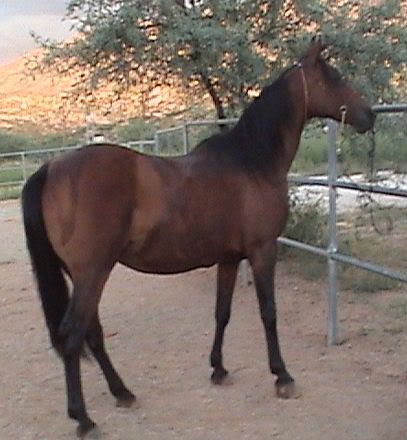 In AZ the ground was soft and I had to have a farrier handle the foot. Here in OK the ground is harder and she kept it worn down to the point that unless you looked, hard, you didn't notice her hoof.
---
looks like they just need a trim :) Lucky you. what is it with getting horses in with crap hooves? I would NEVER sell a horse and have it leave my farm without nice looking feet etc. ugh
Hell I'm just glad shes good with her feet. I looked at A LOT of fillies before I chose her. Most were not halter broke or had hardly been messed with and all of them had major conformation faults. "Just needs a trim" sounds great.
The left hind looks club to me. Has it been injured Duren?
This reminded me of something I've seen. Doesn't necessarily mean it's the case on this foal. But here it is

Many times a foal will start developing a club foot (or become toed-out)when they are weaned and start grazing or eating hay that's thrown on the ground. I'll explain:

Babies are short-necked and long-legged. When a foal is extra short-necked or extra long-legged, they can't get their mouth to the ground without doing one of two things:

1. spread their front legs like a giraffe to eat

2. eat with one foot far out in front, and the other stretched back

when they spread out like a giraffe, the front hooves wear down on the inside, which makes them toe-out

when they stretch a foot out front, over time they get a club foot because one foot isn't bearing as much weight

So for owners, keep an eye on those foals when you wean them. Many front foot problems can be traced to this. I've even seen older horses that couldn't graze normal also