Any using hoof pads?
---
My horse is a work in progress since I got him last year.. he has very pancaked hooves, and the vet mentioned that he has some stone bruises and suggested I not ride him till we get him shoed, which I am good with. I want him healthy. A friend suggested hoof pads which apparently cover the bottom of the hoof and the frog? Has anyone had experience with them? We are at a new barn, with a new farrier, and he is coming to see him on Monday, but I wondered how others feel about the pads- do they help? Would they let my boy walk on gravel roads ? I am going to ask the farrier but wanted some other input.
Depends on the horse and the situation, but they can be a great thing. They come in a variety of materials depending on your horse's needs. My vet and farrier love the NoVibe pads, but if your horse doesn't really need shock absorption and just needs distance from the rocks, the more typical leather or composite should work just fine. They come in wedge, too, for horses with lameness problems, etc. Very versatile, and yes, they should help your horse move more comfortably on rough ground.
Some photos: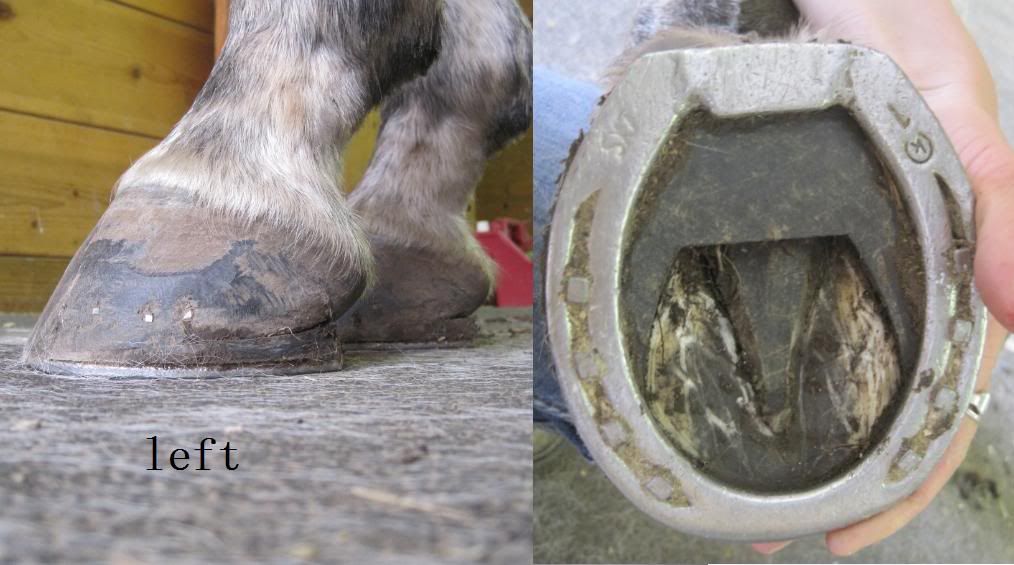 Castle 3-degree wedge pads to help with coffin bone alignment, cut out to allow for breathability in a hoof developing thrush.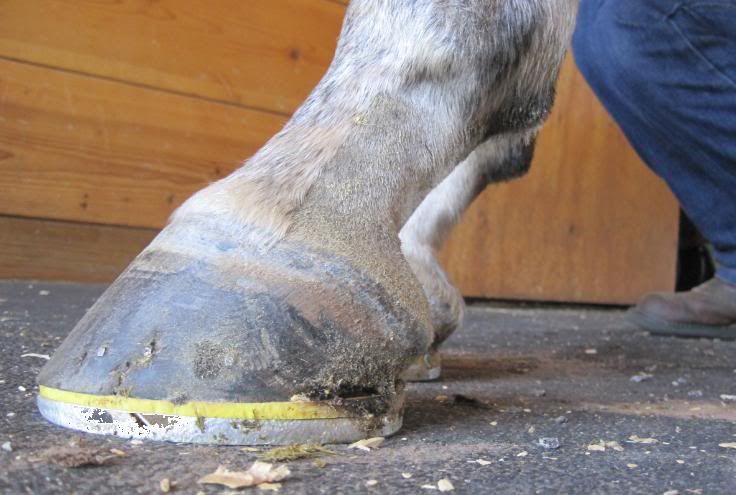 NoVibe pads for cushioning and shock absorption.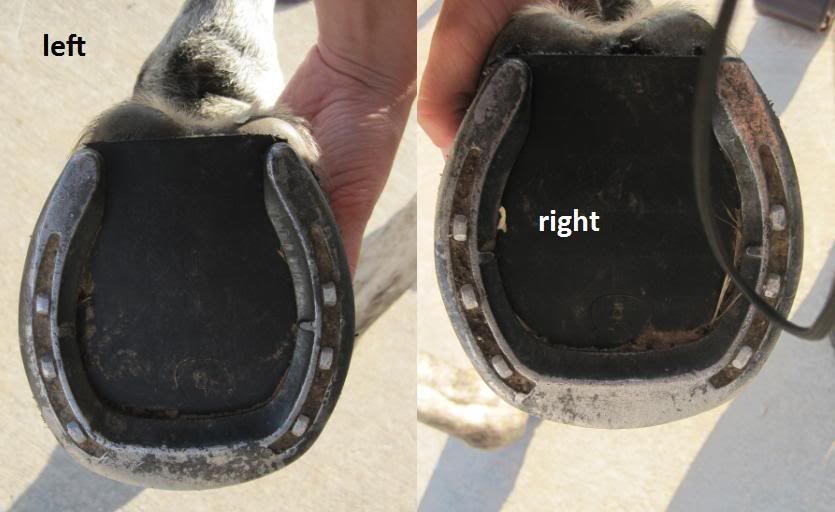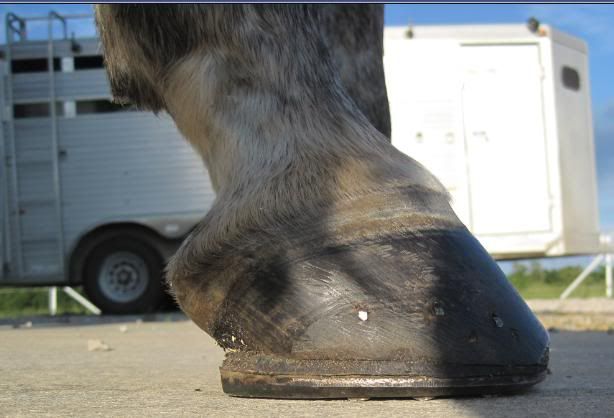 Wedge pad to prevent hyperextension of injured deep digital flexor tendon.
I use pads in the winter if I'm keeping the shoes on the horses. I live in an area with lots of snow so it's for safety reasons. The pads are great but you do tend to have to keep up on the reset schedule as the pads rub differently so have the potential for needing to be done more regularly.
My first horse had very very flat feet all the way around. He had shoes and pads in the front and just shoes in the back. The pads made a huge difference between him being so lame he couldn't be ridden, and being ride-able. He still got abscesses in the back like clockwork every spring and even sometimes in the fall (basically any time it was insanely muddy) but other than that I am a total advocate for pads on flat footed horses.
---
RH Queen O Anywhere "Sydney"
2009 Sugarbush draft
I advise keeping barefoot so you can have these feet worked on more often and using hoof boots when you ride. You can use pads in them as well if they need a bit more support. :)
---
I keep my horses barefoot. So I've used hoof boots with pads. I dunno if that's what you meant by pads? I'm kinda thinking not after reading the thread. But they do wonders for hooves to get stimulation and help em grow out. Then eventually you can transition to just barefoot without the boots and pads and develop rock crunchers.

That's my only experience with pads.
---
Truth passes through three stages. First it is ridiculed. Second it is violently opposed. Third it is accepted as self evident.
My horse has been wearing shoes since last fall and they have done wonders for him. He has a little bit of ringbone (arthritis in his feet) so we've been using the Natural Balance shoes with him. They are made of aluminum and are lighter weight than regular shoes. To make sure that his frog can still sense the ground when he steps, we use frog support pads. In between the pad and the bottom of the foot my farrier molds in a blob of dental impression putty so that the whole bottom of the foot feels like it has contact.
When it's not snowy we use a standard NB shoe and a wedge-shaped frog support pad that also helps to bring back his breakover slightly. In the winter we use wedge-shaped NB shoes (so that we're still changing his breakover) and snowball popper pads. He can walk on just about anything because the pads cover the entire bottom of the hoof. Here are some pics of his feet with the pads and shoes... (Sorry if they are big! I saved them off FB so I don't know what size they are.)
I'd be interested to hear what the new farrier has to say about using shoes with pads versus using some sort of hoof boot and letting the horse be barefoot when you're not riding. Also, you might want to ask if your horse has kind of a thin hoof wall. If so, it might not be a bad idea to try a supplement that will help the hooves grow stronger. Growing new hoof is a lengthy process, though, and it can take up to a year, so expect that you won't see instant changes.
Good to know! My horse is getting padded shoes on Monday!
---
No hour of life is wasted that is spent in the saddle. ~Winston Churchill
I had a horse that had extremely sensitive feet, so much so that a short walk on gravel would leave him unrideable. We put front shoes on him with pads and filled them with some sort of gel. It made a world of difference! He could easily walk on any terrain with no lameness at all.

Mind you, I do prefer to keep my horses barefoot. But if it makes my horse comfortable, I'm willing to do it.
---
"You know, for as long as I can remember, I've had memories." ~Colin Mochrie