Bad hoof injury
---
I've been meaning to post this for a while. Almost 2 weeks ago my roan mare, Heidi cut her pastern/hoof very badly on a nasty piece of jagged metal. Thankfully the injury was discovered nearly immediately and she is doing well.
Heidi has been at a friends house for a few months and had developed an ugly crack that went into her sole. My trimmer discovered this when she trimmed her in September. We moved her to my trimmers house so she could take care of this as we were worried about the dept of it. Then this injury happened. Amber is certain this piece of metal was not in the pasture previously as she had checked it thoroughly before putting her horses there, and she has been riding in it herself. It was near a fenceline where there is jagged metal in sight next door.
As I said, luckily it was discovered directly after she was injured. Amber cleaned and wrapped it as it was bleeding and quite ugly. The vet arrived in a couple of hours and spend the next 3 hours working on Heidi's leg. The main damage was from the front of her hoof(just below the c band) across the inside of her pastern and down between the heel bulbs. She nearly cut 1/3 of her hoof off barely missing injuring her tendon. The vet could see the coffin bone and was worried it or the navicular bone may have been injured as well. Time will tell if she will be sound or have a permanent limp. It's looking good, well it looks quite nasty, but it is healing. She has to keep it pressure wrapped and Heidi has to be in a stall "most" of the time.. Amber and I both agree that a little time out for mental health is a must as long as she isn't overdoing it. She gets stir crazy in the stall if she isn't out at all and that's not good either so a bit of hand grazing or loafing time is essential, in our opinion. Here are a few pics and there are more on
my photobucket.
A sister piece of the metal Amber snagged from the neighbors place.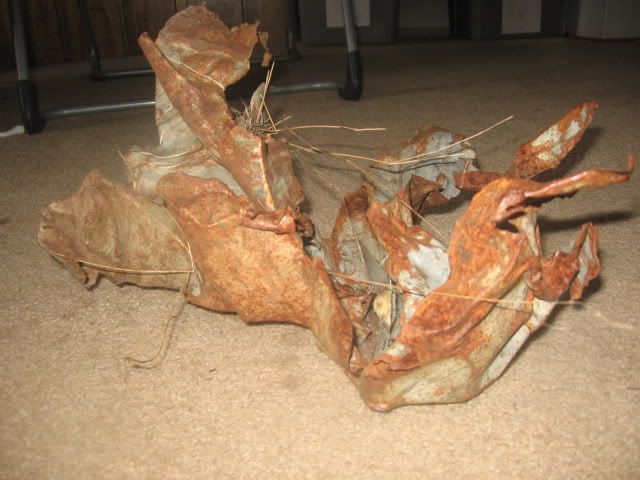 The injury directly after being stitched up.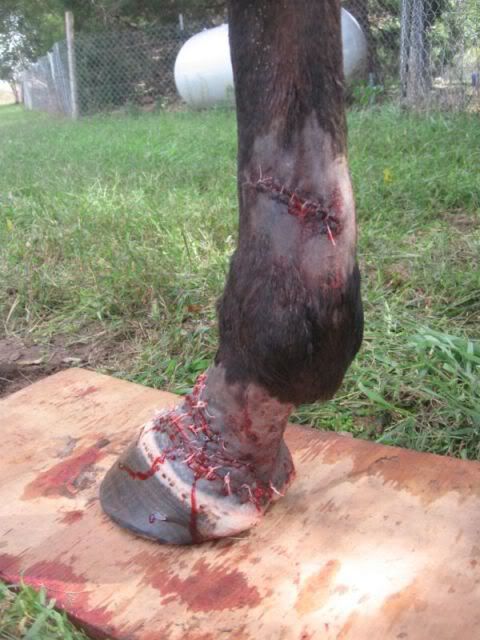 Day 8
Day 11 you can see the toe crack as well. Vet had worked on it, removing some dead tissue etc.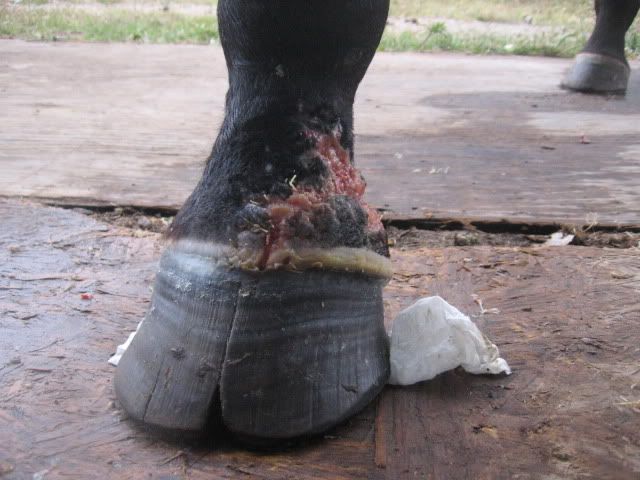 A side view day 11
She is in the best hands I could wish for as Amber is an excellent nurse. ;)
*Amber is barefoothooves from this forum*
---
Well good grief! Poor baby. I hope she gets better soon. I don't understand how she got hurt like that - most horses will avoid metal and garbage. Those injuries look more like she was standing still and the metal was moving - if you get my drift...
---
Plain Old Dee, horses Dancer and Rain
I believe in dragons, unicorns, good men and other mythical creatures!
I suspect she was taking a lil runaround play maybe and hit it or caught a leg in it. The piece Amber found was in 2 parts but total size was similar to this one. Heidi isn't one to stick her foot in that kind of stuff on purpose. She didn't get a pic of the pieces in her pasture as hubby had hauled them off with the trash not realizing she wanted to hang onto it for a bit.
---
POOR HEIDI! That looks horrific! I hope she heals up quickly and doesn't suffer long term damage - looks like your Vet did a thorough job patching her up! I am so sorry that happened.....
That looks terrible! Please keep us updated!
oh my goodness!
I'm glad this was noticed so soon after it happened! And its great that she's in great hands!!
It looks like its healing nicely and I hope it continues to do so!
Please keep us updated!
Oh my goodness....I would just freak out an die if that happened to my poor baby....I hope yours is opk when this is over with....

Keep us posted on progress!
---
Horses Will Listen...Even When No One Else Could Possibly Understand...
Thank you all for the good wishes. I am confident she will heal as well as is possible as I have absolute faith in the care she is receiving at Ambers. I only wish she lived a little bit closer to me. I can't get over there often enough to suit me..
---
Just an update on Heidi-She's doing pretty well. It's turned off cold, here and she's a bit bonkers cooped up in the stall, but I've been taking her out to hand graze, which is more like sniffing the ground as she sneaks in a walk. She has a bit of a limp, as is expected, but the wound is closing nicely. AppyT has the most recent pictures when/if she wants to post them is up to her.

I have to say, the best thing has been using a Boa or Cavallo boot that I can put over the bandage. The boot is stiff enough to keep her foot from flexing as much laterally and she limps less with it. With all the wrapping and padding this kind of boot is working better than a regular easyboot, since there is a deep cut in the heel bulbs that would be squeezed by the easyboot heel strap and with her being pigeon toed, the boot would rotate without that strap and proper tension. The cavallos can be a little loose and don't add pressure to the wound. The boots are only on when she comes out of the stall. The rest of the time it is just the bandage so the hoof can air out.
I think I said OMG! About 6 times when I was the pics. I've never seen an injury qite like that, And I work with racehorses! Wow!
It looks like it's healing well though, and she swelling is minimal considering the extent of the injury.
Good luck with it and keep us posted!
---
~Lindsay~ Mom of 2, wife to the goldsmith, doula and childbirth educator in training, life-long horse dork