Ah finally my photobucket is working. What's up with that? Day 16 pics after cleaning. That's betadine, not blood.
whole leg before cleaning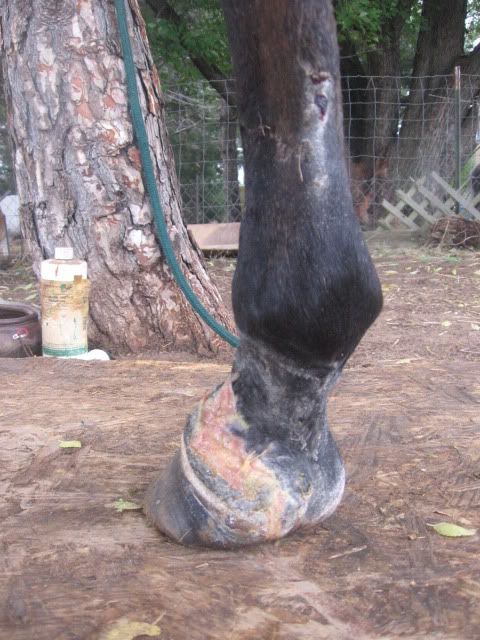 After cleansing w/betadine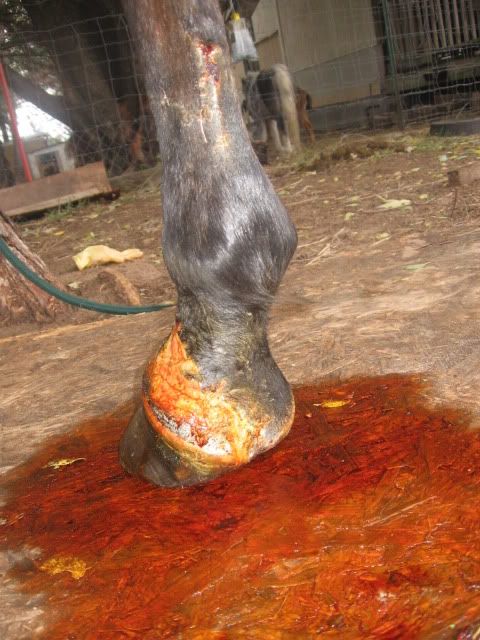 toe view after cleaning w/betadine *also the nasty toe crack should be gaining ground with all this medicating for the leg. XX it finally grows out.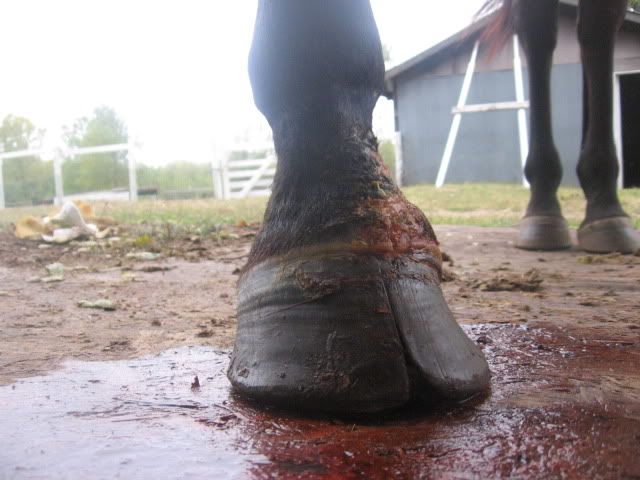 Heelbulb-sole view.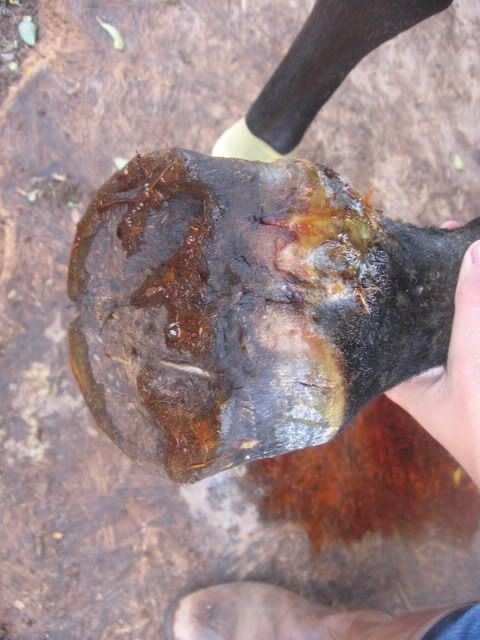 The right pastern injury.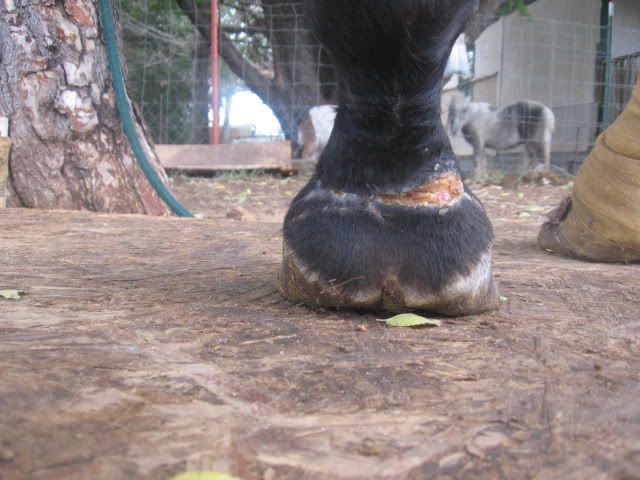 ---
---
Last edited by Appyt; 10-11-2009 at

09:39 AM

. Reason: lost a pic
Wow! What an injury!
I have to say I went and looked at the pictures from begining to present and what a wonderful difference there is!!!
Keep up the good work and keep us posted!
All the best!
HP
I can't believe I overlooked this thread! Wow, what a scare that must have been. It looks like she is well on the mend now though, thank goodness.
I checked your photos on photobucket, very impressive stitch work and after-care. Has anything been determined about her long term rideability?
---

"Until one has loved an animal, part of one's soul remains unawakened..."
- Anatole France
It appears she missed damaging her tendon(deep flexor I think)by a hair and any inner hoof bone damage is not evident at this time. Prognosis is guarded but optimistic. She is a bit gimpy but much of that may be due to walkin circles in a stall. Thus she gets supervised time out to keep her sanity. Amber says about 15 mins out with some walking around daily and she's not too grumpy to go back in. We will know more in a month or so on that score I hope.
---
Oh my goodness!!! Poor baby! I feel awful for both of you! Keep us posted on her recovery...
I'm so sorry this happened to you and your horse but it looks like its healing well!! keep taking pictures of it as I'm sure were all anxious to see how it heals. What are you doing to it?
---
~ Starline Stables ~
Amber is in charge of treatment, I just pay the bill. lol Lessee.. She is on antibiotics and bute, on stall rest with short timeout daily so she doesn't trash her foot. She gets personal scrub baths(ankle only) every couple of days now that it has stopped oozing gunk and a pressure bandage. And she is getting pedicures way more often than normal to help get that dang crack resolved and to help get her heels back as they tend to want to run under.

It's a lot of work and Amber is doing a great job.
---
ick. it looks to be healing very well. for the toe crack, cant you cauterize that so it dosent spread further?
Cauterize? Not sure how that would help.. The newest growth is not splitting. Keeping the walls beveled especially at the toe to keep the pressure off the wall will do the most good to keep it from continuing to split. Pretty sure there were greebles involved to make it split so badly as she is trimmed regularly. We battle flaring and underrun heels with her.
---
I am sorry that your horse got hurt but I will pray that she has a quick and uneventful recovery.