I have kind of a weird question. How do you deal with hoof maintenance when a horse has an injury like this? Wouldn't it hurt the horse to hold the foot up long enough to trim it? I dunno. I'd love to hear how, though.
SuperStarsSugar, I would have to let Amber tell you that as she is the one who did it. However, in this case she had just trimmed her a few days prior to injury. Heidi had a nasty crack at her toe that went into the sole a ways. That had developed recently tho she had the toe crack up the front of her hoof for a while. It just wouldn't grow out.

Ok, so back to the question. Heidi is very stoic for one thing, but she was also on Bute for a time. I believe her husband helped hold her hoof up for trimming afterwards tho. Amber would do a little bit every so often so it was not like a regular 6-8 week trim thing. Mainly she did so to work that crack out. Edit, I said mainly but honestly trimming her often helped a lot as her hoof was traumatized and this kept it in optimal health.
---
Okay, thank you. I was wondering, because between the crack and the injury it looked like Heidi was between a rock and a hard place as far a hoof and leg pain, but I'm glad Amber figured out how to do it. That's one of the things I'd be worried about if one of my horses ever get an injury like that (god forbid).
Yes you best knock on some wood.. lol To be honest the silly mare never acted like the crack bothered her much. Stoic..
---
AppyT,
I think some of the lack of pain could also be that a fungal infection in itself doesn't hurt, and I feel that's why I had been struggling to get those cracks grown out in the first place. The antibiotics for the cut pretty well knocked out any other infections, so the cut may have been a blessing in disguise! Yes, she is a tough mare, though.

Actually, the vet held her foot up for me once to let me really get good access to her hoof. The other times she was just wrapped up in her bandage and I held it with one hand around the hoof wall instead of higher up her leg. Proudflesh doesn't have nerves anyways, and the cut severed part of them, as well. So is probably why she let me pick and scrub. THat and she's just a darn good horse. =)

For everyone else reading this, Heidi came to AppyT with paper thin soles, underrun heels, severe quarter flares and cracks. Her pigeon toed build has created a real challenge in keeping the flares off her feet.She was on very flat soles, at that. She's had cracks come and go, and I wish now I had made AppyT do antifungal soaks all along.The signs were there-from the flares to the grass cracks. I feel bad about the whole thing, the crack getting that severe, and the injury. The crack didn't seem that deep until this summer, and seems overnight it just split like a fault line.

Anyhoo, AppyT thought this made for and educational and intresting story, and I hope someone learns from my mistake and if they see a pesky crack, to go ahead and do antifungal soaks or tell their clients to do them instead of assuming it can simply be trimmed out. One thing for sure, this has been humbling.
I'm glad that she is doing so well, and I'm glad that you were able to take care the hoof while the vet took care of the leg. I know someone who's horse injured her leg and down into the hoof area, and they spent so much time on the foot that she has problems with the leg. I'm surprised that she healed as well as she did. But she seems to be a trouper like my mare was. Good luck with her, and hopefully she continues to make leaps and bounds and you can ride her soon.
BFH, Now I remember it was the vet held her foot for ya.. CRAFTS ya know.. I can't be held responsible for my memory. ;)

I wonder if her being over at Sharon's(different pasture footing) may have helped that crack go nuts.. I suppose I need to soak the other front(crack). Abe has a pesky crack too, not sure those are deep tho.. We'll figure it out when you come to trim.

dressagebelle, How did your mare turn out? I think it depends greatly on just what the injurys are. I know the vet was very concerned about the inner hoof. We were lucky she didn't cut tendons or into the bones of hoof. She came very very close to doing both. And the vet did say I could ride her. He thought it might help get her moving around some in the arena before I let her loose. But, then it rained and snowed and it's way sloppy in there. She's not very interested in exercising, lazy nag. LOL
---
Took a couple pics of Heidi's leg and turnout time. It looks like the wound is basically closed up, just a lil bit scabby in that one spot. Nothing came off on her bandage today. Amber will be here to do trims late this week.
Turnout for exercise is totally a hoot. She walks to a spot to eat and eats. LOL Still, I spread her hay around so she does have to walk. She rolled, my camera was being stupid so I didn't get the "get up", but that's when she gave a jump-buck in place. That was it. LOL I can promise the day I let her out she will run and run.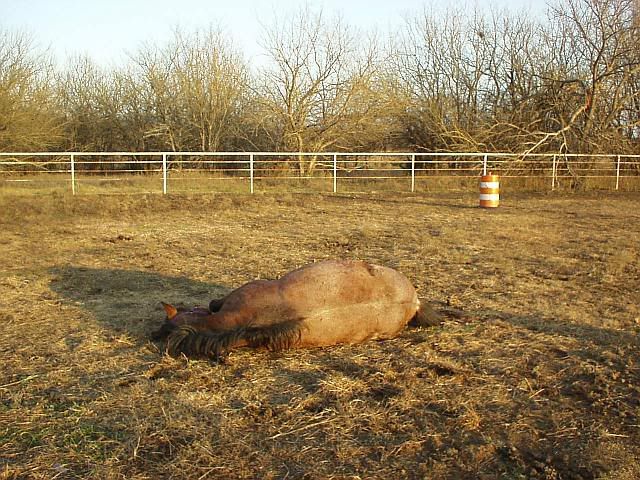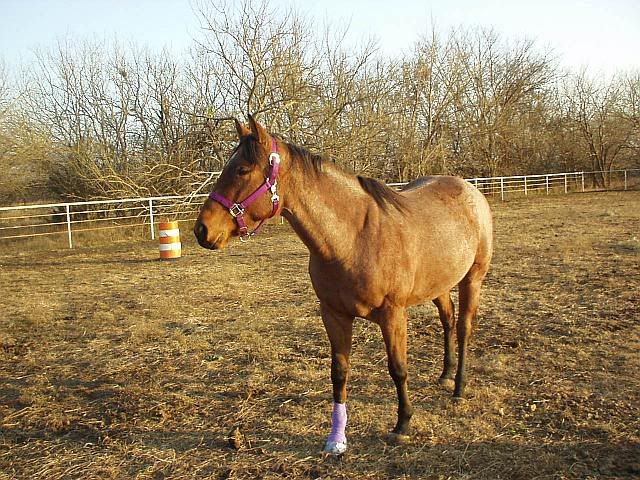 Doc said to wrap for turnout a week, that's done. I left her access to the arena without the wrap tonite. I'm pretty sure she's not gonna go nuts. ;)
---
Wound is looking pretty good, considering the initial damage. Can't wait to fix up her hoof, though. It's really grown quite a bit!
I agree, it's looking kind of funny. Looking forward to seeing you. Bring pics of Cinder! lol
---