bruised?
---
A little advice on any problems you can see here. hes a 16hh approx 16yr old holsteiner, Hes a rescue, he came with feet like aladdins slippers. they have been corrected slowly and had lots of damage, they had to be cut very short and he is now lame, he is stabled in sand, and can wander in and out of his own accord.
Im not good with feet and live on an island we have a self taught farrier who is working under guidance of another farrier from mainland.

Hes very lame now and wondered if anybody could pick up on anything off the pic corn bruising etc?
of advice on how to deal with a horse lame with short hooves?
Is that a hole on near the bottom? It looks like an abscess that's popped. Get a bucket of warm water with Epson salts and soak his foot in it for 15 mins. It will clean out the hoof and provide some pain relief. Also try to get him on some dryer ground.
---
Live to ride. Ride to live.
This horse has foundered in the past. See the black frog material that extends all the way to the apex to the toe wall? That's called a founder strap. The whole hoof has soft tissue damage from this and has some healing to do.
There may be abscesses in the future. They may be more proactively avoided with padding, but sometimes abscesses have to be, and are part of the healing. What you are looking at is a lot of disorganized material that amounts to thin sole and P3 low in the hoof. The trim has gotten P3 ground parallel so far, so that's good, but its still low in the hoof and on thin sole. Now think of the horse's descending weight on that. Also know that any damage that happens to the bone, remains damage. You must protect the bone at all costs. So padding is imperative for protection and support. This is why he is sore. I would get yourself some Easy Care Rx boots and pad with thick/supportive hoof pads and get him some comfort. If you don't have boots, its going to take 4" of styrofoam to address his descending weight on that bone. Trace his hoof and cut the styrofoam out to match, then tape it on, cover the whole foot with vetwrap, including up and over the heel bulbs. Cover the whole bottom of the foot with duct tape and let the ends come up the sides. Then cut all excess just below the coronary band so that no tape or vetwrap is above the coronary band, then cut a 1" slit downward in the tape right in the middle of heel bulbs to loosen the tension going across the bulbs.
The trim looks good, but the breakover is still too long and this puts extra pressure on the DDFT. I mapped the hoof out for you to show you where everything should be. It all translates on where the bevel should be placed to get the torque off the toe and shorten the breakover.
So I would get the bevel established and then measure for boots. If he hits between two sizes, go to the bigger one to allow for padding. If the whole pad still does not make him comfortable enough, cut out a circle around the apex of the frog to provide a window of relief in the padding, or pad only from the fulcrum line back to the baseline. Whatever works to make him more comfortable. I would leave these boots on for the day and encourage him to move around. At night, I would deeply bed him and be bare to dry out. If he's not comfortable in the stall bare, despite the deep bedding, I'd leave the boots on 22/7, with a couple of hours to get clean and give the hoof air. The more comfortable you make him, the more encouraged he is to move. The more he moves the more the healing is promoted. No straw in that stall. No grain either.
I would simplify the diet right down whether he is a good weight or underweight. Lower all sugar and starch in the diet. I would use beet pulp shreds if you can get it (more fiber) and 2% of his body weight of grass hay/day in a slow feeder. If underweight, I'd give him hay 24/7. If you are giving him Bute, which promotes ulcers, the slow feeder putting fiber through his system constantly will be a good thing. So will the fiber in the shreds. The shreds must be rinsed, then covered with water and soaked. If the water is hot, will only take a half hour. Then drain, dump the water where nobody will find it and rinse it again. Then add 2000IU of Vit E and C respectively. You can use people vitamins in the gel cap form. 1tbn. of salt/day and if he is not drinking sufficiently (and pain will do that) up it to 2tbns. salt/day. Free choice minerals are also a must. I would also order Move-Ease from mybesthorse.com and would also speak to the owner of that site and ask about jiagulan as well. The stuff is getting rave reviews for soft tissue damage and I"m not talking about forum speak, but up at the research level is where the positive feedback is coming in.
If the other foot looks like this, do the same with the padding. It is imperative that these feet be properly padded immediately to protect the bone. If you wish to be proactive in his healing, his darkest hour is now and what you do to protect him while he heals matters now.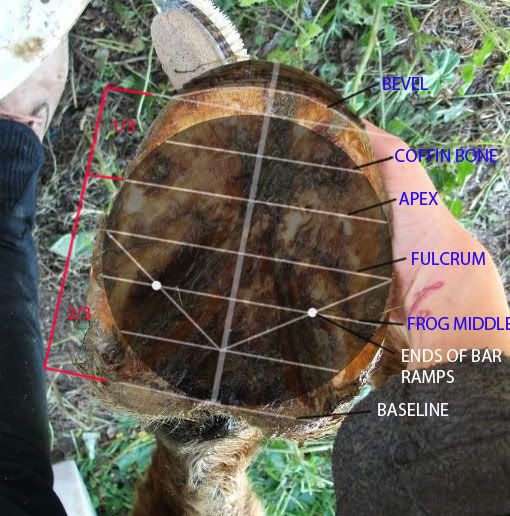 You've got your work cut out for you. I hope this helps....Best wishes.
Without more info couldn't say that it's the trim that has caused problems at all - looks pretty reasonable I reckon, from what can be told, considering everything. Has the horse recently gone lame or always been so since you took him? If recent, what circumstances? Is it possible he's had another 'attack' of laminitis?

Pretty much agree with Missy. I don't know if I'm clarifying or disagreeing with one point based on your diagram tho Missy - I'd start the bevel around the edge of that circle, so that looking at the straight on sole angle like that, the toe would finish close to that 'bevel' line, which would be half an inch or so off the ground surface.

I would suggest that if you can possibly get an equine vet, I would do so & get xrays & tests for IR & Cushings & such, to know better what you're dealing with.

Interested in hearing more details katy? More pics, from angles suggested in that link in my signature, body condition, length of treatment so far, management & feeding, etc?
Thankyou guys, He has always been on off lame since i took him ten months ago, his feet were always so bad i blamed the lameness on them and that when they were corrected he would come sound again, or we would hope that he came sound.
He was very bad on his feet when i took him and as his toes curled up and he walked on his heels, I suggested lammi and the farrier im working with in mainland doesn't think so.
a vet at the moment is unavalible, our equine vet went into retirement, we will bring somebody soon but it has to be for everybody so i gotta wait just yet.
Thankyou missyclare my farrier also suggested much of the same as you in regards to care. He is strapped up with nappys at the moment till boots arrive in a bed of straw. And has come off the medication.
I want to link you to another post were there are body pics of him showing his weight, condition/overall body. We are still struggling to put weight on him so i cannot strip his food back however i can slowly change it to what is needed.|
http://www.horseforum.com/horse-health/rescue-horse-little-advice-109957/
is he has foundered in the past im under the impression he can flare up again? I have never had a horse with laminitis and know little about it but im off to reasearch.
Thanks again.
He looks like fine gentlemen and is getting lots of love.
His weight is improving and he's coming along nicely. It takes longer to put on weight than it does to take it off. The weight probably came off quite fast due to the pain from the founder. It does take patience. Keep taking pics to start a timeline and enable yourself to see the improvements and monitor the process. Sometimes you have to look back to confirm that you are moving forward. As long as his body is poorly, it will getting priority with him, not his feet. So you'll need even more patience to get it all to shine.
I looked at the Firko feeds. Not sure which one it is that you are giving him and how much/day. I'm also not sure of the amounts in it. Are you near Greece? At any rate, the feed doesn't have an NSC content, which is the sugar that's in it. You could phone them and ask, but since its got molasses in it, just know its high. You should be avoiding molasses. That includes molasses-free beet pulp as well. But since this feed has some important B vitamins/probiotics, I'd keep it around for awhile until he gets over the hump. I noticed that the trace minerals are added to the feed and their amounts are not balanced. Iron is another enemy and zinc and copper are not sufficient to fight it. If you can find some minerals (powder) that you can set out for him. He will decide what his needs are. I would add the beet pulp to his diet now. In terms of laminitis, this food is the safest way to weight gain that you can get. I would start with a 1/2 cup of beet pulp soaked and rinsed, which will expand to 4 cups when ready and add it to his dinner. You are soaking and rinsing it to remove iron and sugar and easier delivery to avoid choke, so don't feed it dry. Adding a final amount of water to it, to make the whole thing soupy will also add water to his diet. When his weight gets over the hump, I"d wean him off the firko and keep the beet pulp.
Chances are, his story is that he was left on pasture and forgotten and it was the grass that did this. I would let him graze when you hand walk him, but not turn him out indefinitely. Make the bulk of his diet hay, as it is safer as well. If you get him padded well and he's looking more comfortable in his movements, I would incorporate small hills to build muscle. When not walking, spread his hay out in different areas to encourage him to keep moving and the padding working for him. That's his homework.
Regardless of what you are wrapping his hoof in, its the padding below the hoof that is supporting the bone that is important. Whatever you can get your hands on...children's rubber play mats, and old gel saddle pad, your old rubber flip flops. If he's not comfortable in one layer, double it. The padding is magic. It provides a soft landing and bottoming out of his weight on that bone, then supports and coaxes the bone to get back up where it belongs...with every step. It's an important promotion for a low P3.
I wouldn't be riding him yet. He's having trouble supporting his own weight, let alone yours as well. I would also not be lunging him or making sharp turns. The walking is for a mental lift and making him take those steps to get the padding to promote....walking him for health reasons, not training reasons.
I would also be feeding him flax seeds, which must be ground just before you feed it. I have a small $10 coffee grinder at the barn which works well. 4-6oz./day. All feeds should be added by weight, not scoops. These are your omegas, the only fat he requires. It has a perfect balance of omega 3 to 6, which works as an anti-inflammatory and will help with pain as well. The 3 is the anti-inflammatory, the 6 is in the flammatory. Black oil sunflower seeds are high in 6 and promotes inflammation, so no to those. You can also get Chia seeds that are good and you don't have to grind them.
If you find yourself so limited as to feeds provided at the feed store, then turn to human ingredients. Give him the same vitamin A that you would take and up the E. Get the flax or chia from the grocery store. Get in touch with mybesthorse.com and ask about Move-Ease and Jiagulan. If you can get it delivered to your door online, then all logistic problems of living on an island will be surpassed. So, if you find the feed store limited, look elsewhere. I would also speak to the vet about the selenium content in your soil and if that needs to be addressed. The vet will have nutritional recommendations that will be better advice than a feed a store and may just have something back at the office he would recommend. You should discuss all this with him in depth. Getting the diet organized and balanced will ensure success.
Laminitis is a symptom showing later in the process that trouble is brewing. He has gone past this stage and gone right on to founder. So he doesn't have laminitis now, but a lot of healing to do. He will always be prone to it now and why you need to watch the sugar and starch content in his feed from now on. So, no molasses or grain or 24/7 grass. The Move-Ease is a biggie for killing pain due to soft tissue damage and the jiagulan will restore blood flow. Its the blood flow that heals....taking the damage away and providing nutrients/oxygen for repair. Its that blood flow that provides impact protection as well.
Ulcers are big concern in this situation. A lot of these recommendations are to prevent them and is another source of pain. The salt to drive thirst, the fiber in the beet pulp, the fiber in the hay and constant intake of it. In a grazing animal, the intake should be constant. Unlike us, a horse's stomach is constantly producing stomach acid to digest. If the stomach is empty, that acid will start eating his stomach instead. Ulcers cause pain and will stop him eating. They are also very expensive to fix, so strive not to go there. Pain is your enemy no matter where its coming from.
So have a nutritional conversation with the vet and ask about the things I've mentioned. Would be a good start. Hope this helps....
Thanks, He is awesome, definatley the cheeky chap out of all my horses. Spends his day rearranging thing round the yard and grooming the others.

The feed i am giving him is no 76. I copy and pasted the ingredients on the thread. Molasses is 4th. I feed Half a standard bucket of firko and 1/4 bucket of cooked barley. I also feed calcuim and protein supps, 3 cups of oil a day and farriers formula biotin. I have a few pics each with about a month inbetween. I didn't notice a difference for a few months hence the other post.
Yes im in Greece.
Beet pulp im trying to get but its proving difficult, the sugar milling doesnt happen here anymore or something along thoose lines. however im trying to get hold of some.
The field we have is pretty bare right now so they all are supplemented with hay and the wind spreads it meaning he has to walk. so thats good.

I will look up some minerals right now. He is padded out with diapers now with cotton pads inside but we have some styrofoam pads on the way as well as boots. he seemed more comfortable today and happily walked around the yard its mostly sand and soft ground.
No riding has been done this is only our goal. before his last visit from the farrier he was sound on the soft ground for a while so i was lunging him in the walk on a large circle. Partly to get his butt muscles working and try and build up a little so he didnt look so crappy behind, partly because he seemed bored.

i will take a look at mybesthorse tonight and see if delievery to greece is possible.
At the moment we lack a vet here and cannot get one take the 8hour boat to see one horse! but as soon as i can speak to one i will.
Thanks for taking the time and thanks for the advice it is much appreciated.
Edit*
The feed I am giving him is no 76. I copy and pasted the ingredients on the thread. Molasses is 4th. I feed Half a standard bucket of firko and 1/4 bucket of cooked barley

This is three times daily.
Hi Katy,
Looked at your other thread quickly. Yes, it does look like he could still afford a bit more weight, though those last 2 pics show he's not much underweight at all - look at the overall horse too, not just ribs & topline, because some horses can be fat & still ribby & some - as I suspect is his case - are lacking so much muscle on their topline that they'll look 'skinny' along their back until such time as they may be able to become fit enough. It's often not just about exercise either, as muscle atrophy due to injury, saddle fit, pain, etc, that changes posture for the worst, also has to be addressed. On that note, ditto to Missy(who's last reply I've also only skimmed) re not riding him or working him until such time as you can - a) get him comfortable & b) build up a little more(at least) topline first. I also wouldn't start with a saddle until his back has improved a lot.
Re feed, I'd also suggest avoiding grain, molasses & anything else starchy/sugary for now at least. The free choice grass hay &/or fresh grass should be OK, but if he's insulin resistant or such, grazing may have to be drastically restricted and hay may need to be soaked(& drained) to leach out some of the sugar. for weightgain, beetpulp is a good choice I reckon. I did notice some commented about choking & molasses content in it - I have personally never heard of any problems associated with feeding it if it's soaked first and you can(well, I can, hopefully where you're from...) buy it straight without molasses added. Another good option for a 'filler' which is high energy & fibre but low sugar, for weightgain is soy hulls.
I am assuming he's wormed & his teeth attended to? I would also be adding a 'probiotic' to his feed &/or treating him for ulcers, because if he's been starved previously, or fed inappropriately - eg. high starch feeds can cause problems, he may well have ulcers & other damage to his GI tract which is causing him to remain thin despite/because of what he's fed. Pretty sure
Katy Watts | Safergrass.org
has some good info explaining grain digestion, hind gut acidosis, etc pretty well.
I didnt see the feed ingredients but am interested in the protein he is or isnt getting. From the looks, he needs more to rebuild muscvle and he needs to be worked in a correct frame and some belly lifts to work on that topline.

IMO, I would add some quality protein to his diet in the form of a forage like alfalfa or soybean meal. Im not sure what exactly you have available in Greece in this respect. He will need protein as well as fat calories to rebuild all that lost muscle and i would start working him now. Lots of long and low lunging as he can handle it untill he progresses just a bit more and then start riding slowly long and low and lots of long trotting long and low for now. He needs to tighten his belly muscles and LIFT them up and that means head low driving under himself with energy. Go slow. Dont ask for more than a few good strides at first. he is still really debilitated.

Dont work him unless he is sound and comfortable even if it is in boot or what not.
---
Married to my One! 10-11-13 Steampunk style:)