Loosie, thanks for the info on lamellar wedge, but my name for it will end up being laminar (laminae) wedge I can just tell, I'll have to get out of that. At any rate I will never forget that one now. It makes total sense! Looking at that I see my horse's foot all over again from when she came to me off the track. No wonder it took me so long to get her feet to something normal.

Ricci -- good luck and keep reading. I have a couple of books here that I have read several times. Each time I pick up something new. After a while it does come together; then someone like Loosie throws in another new piece of info! It's really nice to have an understanding of it and then be confident enough to ask for info on your own horse with your own hoofcare expert.
Hi. I just wanted to comment on this horses feet.
I see some things that could be changed to help you and the horse regain some soundness and some other things that the farrier can do to have a better foot. It may not be everything concerning soundness as we only get a small snapshot of this issue here with a few hoof photos but if you can eliminate these thngs, you can narrow the problems down.
Here is what I see...pardon the crappy drawing. I suck at paint freehand.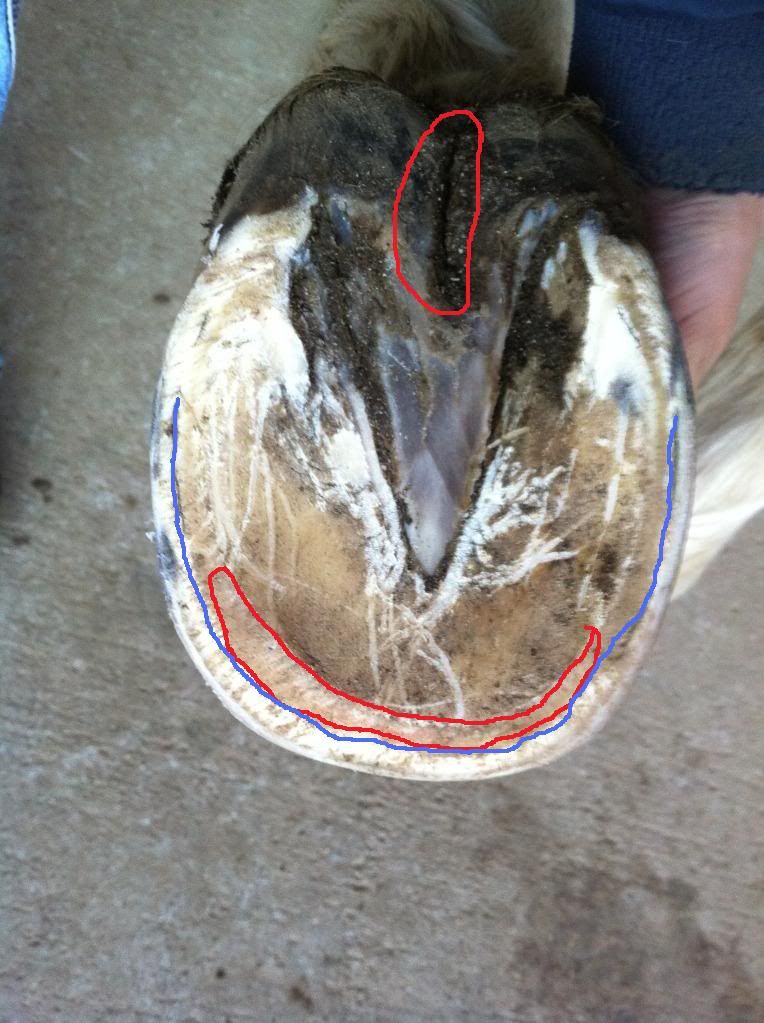 Firstly. I would bet dollars to doughnuts the horses unsoundness is directly influenced by a thrushy peeling of the frog and thrush holes as I circled in red at the back of the frog. All the feet pictured make me suspicious of a thrush infection in the succulous. Some look worse than others and some deeper than others. They all looks peeled and like they have been wet or trimmed alot so the frog cant callous up.
I would take a Q tip and explore and clean out those holes well of any nasties and then treat with Thrush Buster DAILY, not weekly like the bottle says. It will kill any nasties immedaiatly, dry it out if the horse is allowed time in a dry environment and keep them away while the frog grows the infection holes out. It will taek a bit of time for this to happen.
Secondly. The red circle at the toe...the farrier has commmited a pretty big sin in my book and his rasp has went past the white line and into the live sole at the toe. It isnt as bad as I have seen before but it should not have happened. Any thinning of the live sole at the toe can be problematic potantially and if he knew this horse is having lameness issues he should have been more careful. He wasnt trimming to set a shoe here.
The thin blue line is approximately where I would start a 45 degree bevel of this foot and I would keep it beveled strongly for awhile while the imbalances and flair grow out. They arent terrible but they are there.
Also the farrier committed another sin in my book by taking the heels down to clean corners and into live sole again. I bet this horse is ouchie on rocks after being dropped down onto thrushy frogs and half his frog cut away. Farrier should have left the healthy frog and opened the succulous so you could treat the infection better. Backwards. Healthy frog tissue should never be cut away as a rule. It needs to compact into a good callous over time. Unless its thrushy and infected and needs opening to treat it, leave it alone!
Diet. This horse clearly has metabolic and diet related issues. Im betting sugar somewhere, probably grass. Whats this horses weight like? Get those in hand and I see a gorgeous foot waiting to get out.
______________________________
Another big thing for me...I hear you all saying dont blame the farrier..but I do. Its HIS JOB to be well informed enough to do a good job, leave the horse with a BALANCED foot and inform the owner when there is a problem like thrush starting etc. If the horse has an angular deformity or conformation issue, he should be reasonably able to tell you how it is affecting the horses hoof also so you know what is going on. This guy has had 9 months and the horse is having soundness problems and has a poopy foot that the owner is left to come here to find out about. I think its less than stellar myself and Id find a new farrier personally. this is how I came to learn to do this myself. Paying someone else to put a crappy trim on my horses and make them lame. I thought to myself, if ANYONE was going to lame my horses, it would be ME and for FREE LOL...Thus started my journey into the equine hoof and how to grow a healthy foot. My horses are now sound. I found out SO much that the farrier was not telling me including on of the worst cases of thrush I ever saw even to this date one of my mares had and I NEVER knew and was NEVER told about by any farrier I ever used. Anywas...tangent.....
I can grow a whole new foot in 9 months on my client horses. IF the owner listens to my advice and follows it generally (the ones who dont I can only do so much with of course) , I can have a pretty pathological foot looking really good and be sound in that time (usually less) easily.
This foot, 9 months later is HIS product, that is his work that produced it./... especially if he has said nothing to you about the laminitus rings, flairing and imbalance. It is his job to let you know what he sees and address these things as they appear. He is either not educated enough to know better, or doesnt care.....and in my book, THAT is his fault directly.
Im not anti shoes or anti farriers. In fact I use rubber shoes myself when I need to even tho im a bare trimmer...Im PRO healthy feet and well educated hoof care practitioners who can help owners get the best out of their horses feet whether they shoe or trim.
No foot no horse right? Its important.
JMO. Hope your horse is doing better. PM me if youd like a really detailed line drawing so you can understand what is going on with these feet.
---
Last edited by Trinity3205; 12-21-2010 at

10:10 AM

.
I only had time to skim. I don't think her problem is thrush, I'm pretty on-top of treating it. Weight-wise, she is a bit chunkier than normal, but only by 50lbs or so. She's usually in stellar shape, we were in pretty heavy work. She's not fat, she would be perfectly normal on the BCS. I'll look closer into the Safechoice, I'm betting it's the molasses in it. She doesn't get enough grass to cause any problems, I don't think.
Posted via Mobile Device
How deep can you stick your hoof pick up in those holes and cracks if you really dig in them? If its any bit deep, and especially if the horse flinches at all or tried to take his foot away when you do it, its thrush up in there and its causing pain making heel first landing hard for the horse and sometimes impossible.
That should only be a thumbprint/divot back there and nothing that looks like a hole or a crack. Holes or cracks need treated daily pretty much as its a closed environment that thrush and yeast love. I like to stuff the holes with a cotton ball soaked in Thrushbuster to help dry them and open them up while killing the nasties.
This guy was still healing up from some bad shoeing previously but his frog is pretty decent overall by this picture and shows the thumbprint/divot an uncontracted uninfected succulous frog should sport.
No, it's not tender if I jab that crevice with a hoof pick. I'm usually pretty good about thrush, because I'm in such a rainy state, thrush is always around.
Posted via Mobile Device
Its just amazing how different horses feet look in different parts of the country I thought Ricci's frogs looked kind of spongey. Our horses tend to have really dry cracked frogs.
Trin, how do you tell you are cutting into live sole? Is that the whitish waxy part?
Thank you so much OP for posting this thread. I've been doing the barefoot thing for a while now & I've learned so much following the thread.
I would be curious to see pictures like Loosie asked about of the front feet from behind square on the ground.
---
So in lies the madness, the pursuit of the impossible in the face of the complete assurance that you will fail, and yet still you chase.
Live sole is anything inside the white line that is not cracked (even false sole will show little black lines running through it if you cut into it) or dry and crumbly. It is waxy looking.


We vary here from rainforest state sometimes for weeks to very dry almost deserty in the summers.

How did your horse walk off after that trim? How is he doing now? Any updates?
Holy wonky feet...They are all, from what I can see from the pics, too long in toe, bubbling out where they shouldn't be, and flaring, as a result of incorrect balancing. I would most definitely be seeking out the BT...it definitely couldn't hurt, given that what you have been doing, isn't working.

Haha...the other two did a great job of explaining...I certainly wouldn't rule out some fungus/thrush either, given how deep those crevices are.
---
"The ideal horseman has the courage of a lion, the patience of a saint, and the hands of a woman..."
---
Last edited by mom2pride; 12-22-2010 at

12:50 AM

.
She has been surprisingly sound after this last trim. She seemed perfectly normal today, no swelling in her legs, and I did poke and stab all over her frog on all four feet and nada. What happens is she seems fine one day, then the next she will get swelling in her legs, which I've assumed is basically because she is in pain. I haven't checked her for soundness much because I don't want to put her on a circle and risk causing more damage any more than I have to.

I understand where you come from when you say heel pain. I'm not sure if she lands toe or heel first, I only have grass to work her on and I can't tell. But, I imagine her heels got so long because that's what we were trying to do, not because her heels hurt and she isn't wearing them down. She's always done a pretty good job of wearing her shoes down evenly, so it is safe to say that, normally, she has no problem using her heel.

I'll get more pictures as soon as I can, and maybe a video. Maybe someone more experienced can see if she is landing toe or heel first.

The part I'm having a hard time with is that my farrier plays everything off as normal and no big deal and nothing to worry about, when you guys tell me that it's flaring because it's out of balance, it's bubbling out because of a diet thing [which I never would have bothered checking on], etc etc. Especially when I asked him specifically about some of these things last week and he said it was "normal," and "to be expected."
Posted via Mobile Device
Honestly if a farrier told me that flaring on my horse, and 'bubbles' on his hooves were to be expected, I would find a different farrier...he's obviously not all that concerned about actually creating a balanced foot for your horse, and just passes those issues off as the norm when they certainly do not have to be. Yes, they happen, but are they normal and to be expected? No, not with correct trims that help conquer those issues.
---
"The ideal horseman has the courage of a lion, the patience of a saint, and the hands of a woman..."