dampness effecting new hoof growth? should i get a vet check? opinions pls
---
i have seen this around his hooves throught the sping season. it just seems a bit worse now. i was told that its just because the ground us wet and so the new hoof coming in sometimes comes in like this because of the constent dampness. the farrier has done his feet and didn't say anything about it. I have the vet coming out in a week to give him his 2nd round shots (or boosters i think iv heard them called?)so i can get it checked then. but i just wanted your opinion. its whits and kinda peely and has almost a spongy feeling...but not quite.... opinions? i guess a few other horses have gotten it to and there all fine. i'm probably just being paranoid. he's not sore or limping or anything
(the pink is just because i sprayed off his legs so his pink skin shows through)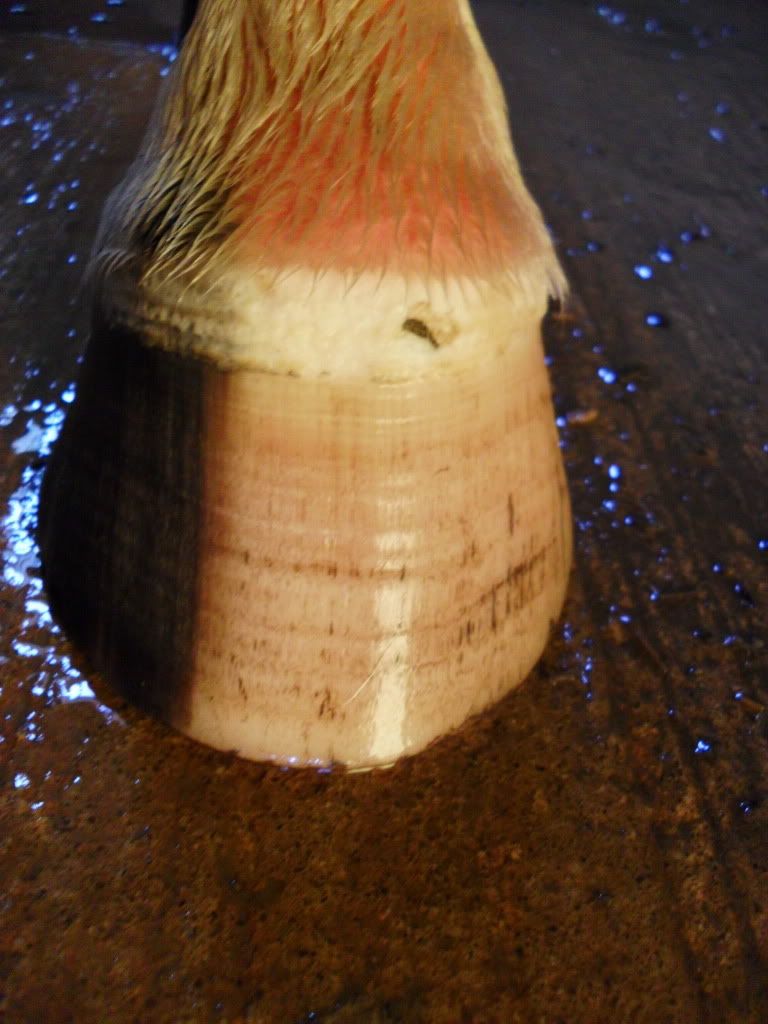 I'm not sure what you are referring to. The growth band does often appear softer and whiter when it is very wet. But, is it all rough? I can't really tell in the picture.
Is he usually in mud? My geldings feet looked like that when the paddock was particularly muddy. It goes back to normal as soon as he's out of the mud for a little bit.
Posted via Mobile Device
Also forgot to mention that the tissues tend to swell when wet.
Yeah it started when our paddock was EXTREAMLY muddy. Now there in the grass feild but it keeps raining so the grass is still damp sometimes when it rains to much for the ground to soak it all up
Posted via Mobile Device
I think you are just seeing normal tissue reaction to constant moisture. Think of when you are in the bath for a long time enjoying yourself; then when you come out your fingers and toes are all wrinkly. That's because in the water, the tissue swelled. At that time, it would also be "spongey".

I wouldn't stress over it. Looks fine to me.