Think you needed the vet out a while ago if shes been lame for over a month. If you smell the infections thats a reg flag. GET A VET out to take care of that foot.
What do you mean when you say "split in the heel?" If you are talking about deep central sulcus thrush then that can cause lameness and the rotting smell you are describing.
The infection can go deep inside the heel and may be what the farrier was working on when he trimmed the frog. It can be very difficult to treat, however, and generally needs something like oxine gas that can go deep inside the tissue to treat the infection.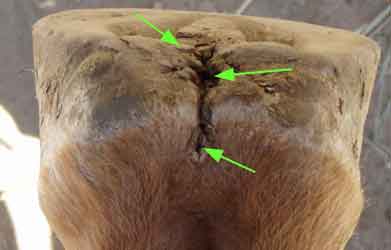 It generally looks like a deep crack up the back of the heel and often the heel bulbs can be shifted up and down independently of each other, indicating deep tissue damage.
So, OP, when is the vet going to be out?
It's gone on with no improvement for too long. Call the vet. It may be infected and need antibiotics. My gf once showed me how to use half a kitchen towell, pack the hoof with Magna Paste, and duct tape around the hoof real good. Change every other day. It did work for me. In the meantime, some bute when needed.