Forging -- Hoof Care or Conformation?
---
Hello all,
I have a 3 yr old mustang gelding who has had some issues with forging, or overreaching. I got him as an ungentled yearling. It took about three months for me to have him gentled enough to receive hoof care. By that time, the forging was very noticeable -- I could hear his hooves cracking against each other with almost every stride at the walk.
Once we got his feet a bit more under control, he definitely improved. It is now rare to hear him forging at the walk, but I've noticed that it still happens fairly regularly at the trot (I hear that sharp click maybe every 5-6 strides, more if he's really extending). I'm not sure how concerned I should be. I haven't noticed him actually causing any damage to the backs of his front hooves. Should I slap some bell boots on him while he's working and call it good?
I'm curious if it's more his conformation that makes him prone to forging or if there's something about his hoof care that should be altered? He's unshod and likely to stay that way -- his little mustang hooves are tough. I've attached a conformation type photo of him below. You can sort of see his hooves (click on the photo to view a larger version). This photo is from July though, so not super recent. I'll see if I can get some good close up and current shots of his hooves if there's anyone who would be particularly interested in seeing them.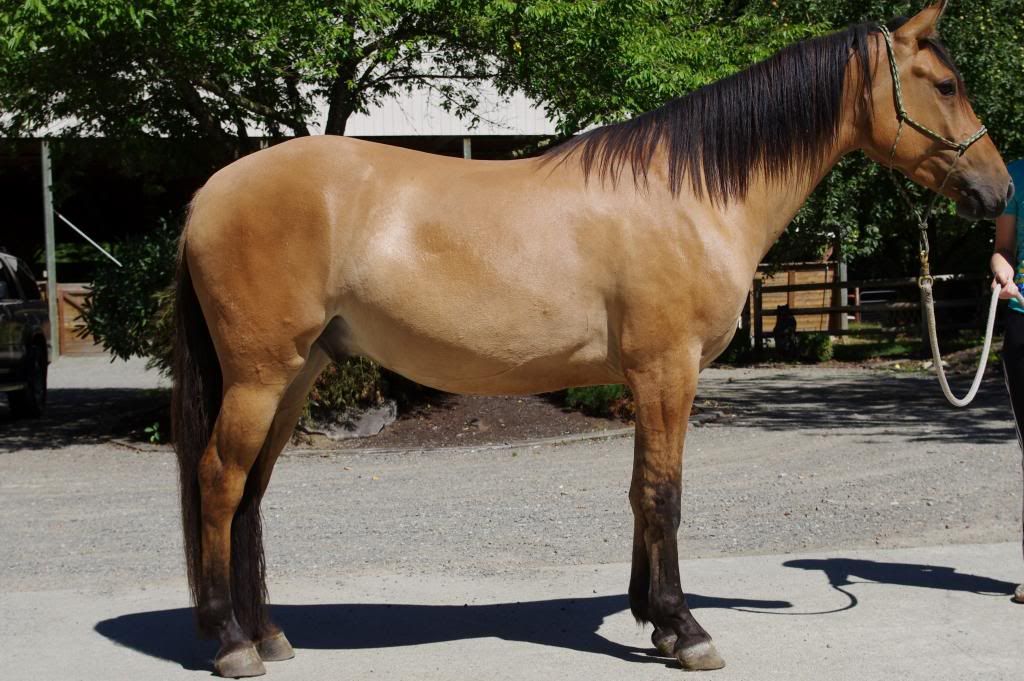 Is he forging, or overreaching? They are different problems.
"The most common gait fault is forging. Many call this hitting or clicking; however, the correct term is forging. Forging occurs when the toes of the hind feet strike the bottoms of the front feet in flight. Forging usually occurs laterally (on the same side), but can sometimes occur diagonally. Forging rarely happens in barefoot horses.
Over reaching. Over reaching occurs when the toes of the hind feet overtake and strike the rear of the front feet or legs in flight. This is different from forging because the hind toes are not hitting the bottom of the front feet."
Randy, a practicing farrier, writes articles oriented to horse owners
I would say forging is a rather common issue - to do with imbalance of the horse. As the horse is strengthened with correct training, he will slowly stop forging.
Overreaching is mostly a problem with certain breeds and/or disciplines and can be reduced with correct shoeing (more breakover on the front and shorter hinds).
Forging can also be a sign of a neurological problem.
Good luck!
---
They say money doesn't buy happiness -- well happiness doesn't buy horses!
Wow, I'm not actually certain whether it's forging or overreaching given that distinction. All I'm certain of is that there is some type of interference going on which results in a sharp "crack" sound every few strides. Given that lately it primarily shows up at the trot, it's the lateral pairs that are interfering.
Sounds like forging, IMO. Is the back hoof hitting the front bottom hoof? Is it at a walk and trot?

My farrier long ago shod my warmblood who did it. He said he's young and would grow out of it. He did. In the meantime, I used bell boots. And have the farrier check the hoof balance. LTLH can be a possible problem.
It does look like his heels may be high, feet too upright(need good hoof pics if you want a critique tho), which may be affecting his 'conformation' negatively, as well as delaying 'breakover', so front feet aren't out of the way in time for hinds. Can also be to do with fitness, previous bad conformation causing his body to be too tight, etc. As well as possibility of too long toes &/or weak heels causing him to 'tippy toe'. So I'd want to ensure his feet were in good working order, with protection/support to ensure good working order if his heels/soles are otherwise too sensitive, and I'd want a bodyworker to come check/get him feeling better & hopefully treat any issues affecting his conformation.
both forging and over-reaching are ALMOST always due to improper hoof balance. Usually it is too much heel on the forefeet, (even if the angle is steep) often combined with subtle toe distortion. Both those issues delay the forefoot from moving efficiently and it gets hit or grabbed by the hind. I can't see a lot of hoof detail on the photos but his hooves do look very long and it appears he has a ton of heel.
Close up photos of the hooves only could help reveal easily correctable issues. The pics need to be taken level from the sides with camera ON the ground, and of the soles taken with camera aiming exactly perpendicular to the sole. straight on.
High heels is something that this fellow and I have struggled with from square one. When I first adopted him as a wild critter fresh off the Oregon range, he had those high heels. By the time I managed to gentle him enough to be able to work on his feet (3ish months), the bars of his front hooves were actually starting to curl under -- it was scary!!! Since then all of the people who have trimmed him have "tried" to lower his heels. I think his hooves have certainly improved from where they were, but there's still some progress yet to be made.
I'd appreciate hearing more specified input on his hooves, so here is my best attempt at getting somewhat useable photos of his hooves today. He's about halfway through a 6 week trim schedule (his next trim is scheduled for Jan 18th). I also wanted to note that he doesn't usually stand with his front feet just an inch apart -- he was somewhat bothered by my crouching down in front of him while fiddling with a flashlight and a camera, so he was standing sort of braced back. ((Again, click the photos to see larger versions))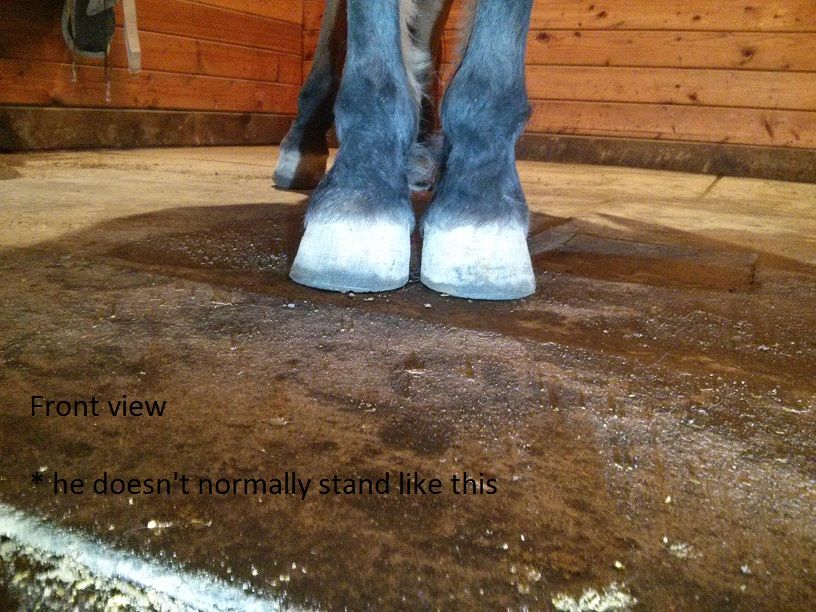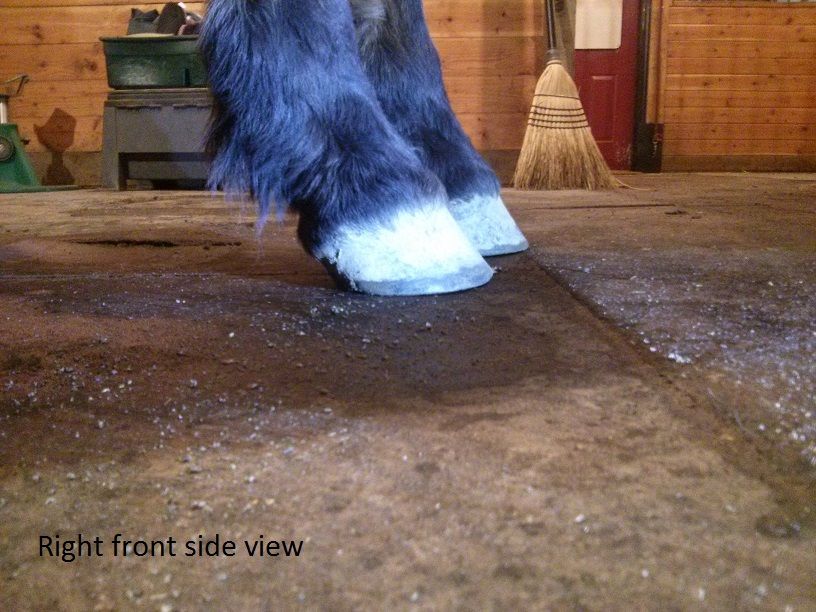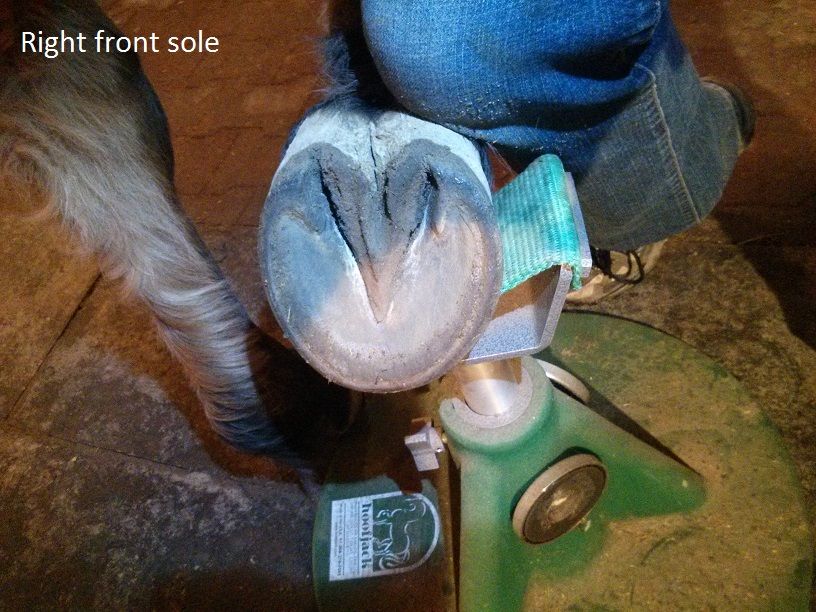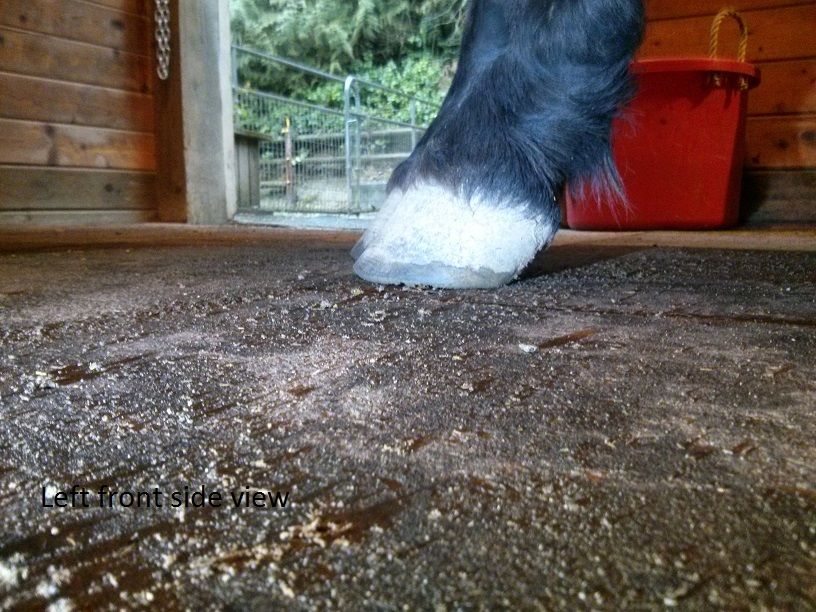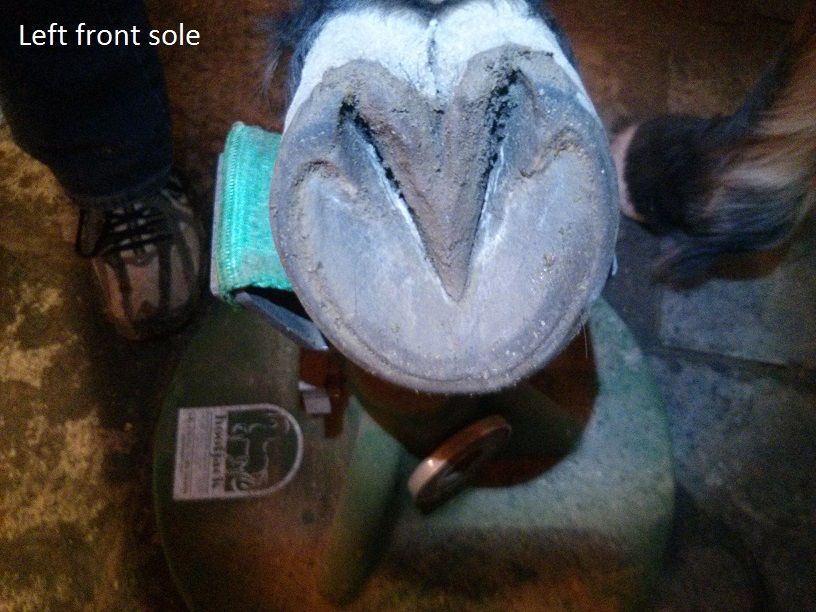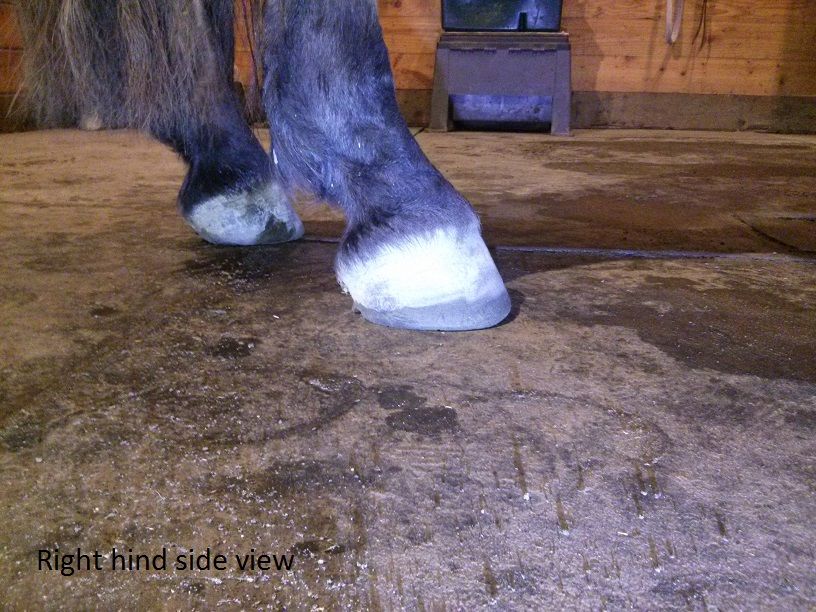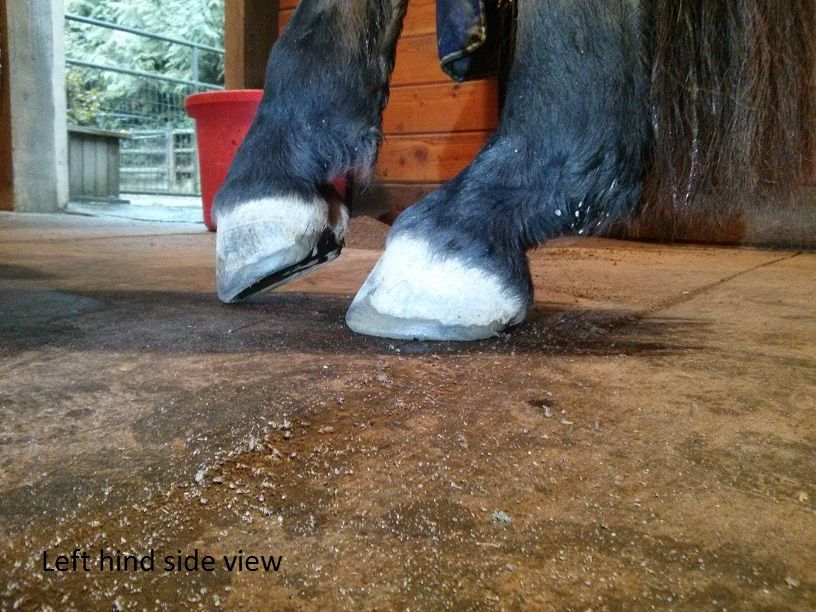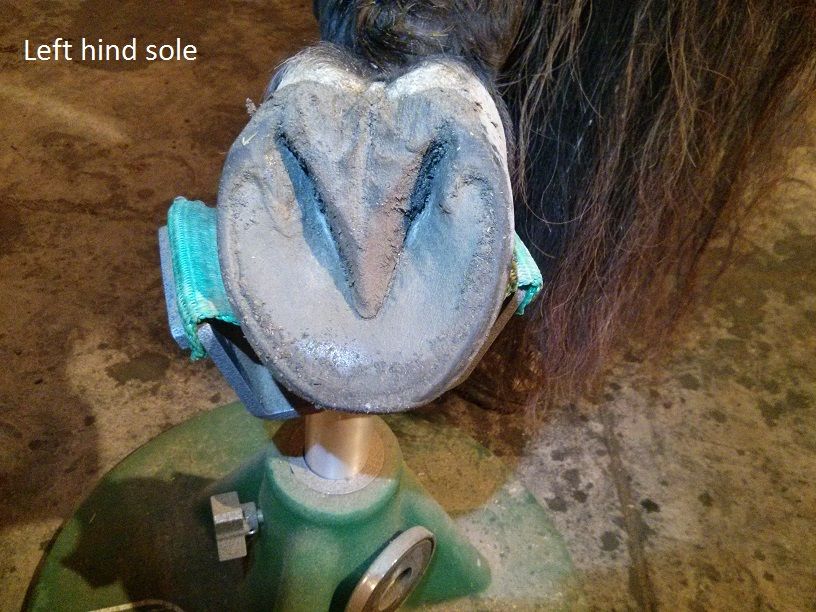 Wow! I just compared these latest photos to some that were taken over a year ago -- perhaps 2-3 months after we were first able to trim his hooves.
The improvement is definitely more noticeable when you compare it. This is what his hooves looked like before:
Yep, I think the heels are definitely a bit high, but by how much can't really say from those pics - looks like he maybe does 'want' pretty upright feet too. Pics sighting down the sole from the heel etc would help. If you've 'struggled' with getting/keeping his heels down, bodywork & also more frequent, smaller trims would help. Looks like the front half of the foot has been wearing, the back half are about 'due'.
It appears he is naturally a little high heeled, more so on the right front.
(basically a very mild club foot. )
The indicators of this are that the angle of growth of the heels is fairly vertical so the the ends of the heels are pretty well back near a line across the widest part of the frog although still tall. The bars are a little short (front to back length....not height) and the frog is also a little shorter than the other, because likely the coffin BONE is shorter too in that foot. All of those indicate a club foot.
so....if I were trimming him I would try these corrections, together :
1)roll off the very back of the heel some (a little roll to ease the landing so he can reach farther as the heels contact the ground .....not an overall lowering of heel
2) also roll across the end of the toe on the bottom to ease break-over to help speed up the front foot leaving the ground.

Do that on both front feet.

3) square or roll the toes on the hind feet.

That should help some.