Freaky Friday
---
While most days will see me out trimming and shoeing ordinary horses, I do get the occasional case that is interesting enough to share.
Today definitely qualified with a schedule full of donkeys, a laminitic pony and a fellow in the 'city' that claimed he needed service for his unusual 'horses'.
The first was this 9 year old African Plains Zebra. Most agree that the Zebra is nearly impossible to domesticate. This young fellow may have qualified for 'half-domesticated'. The remainder of his feral nature was certainly intact.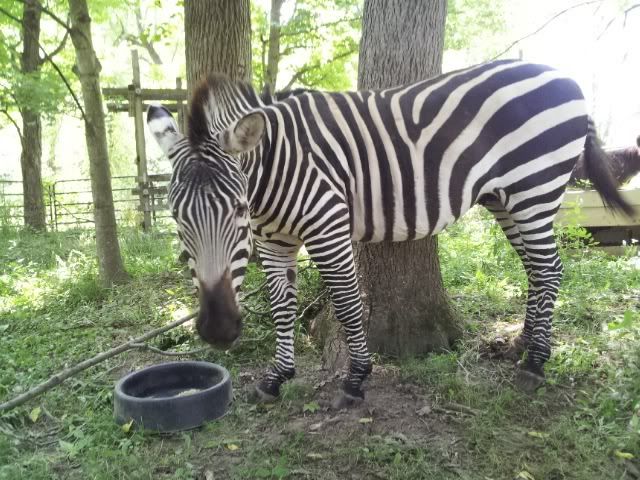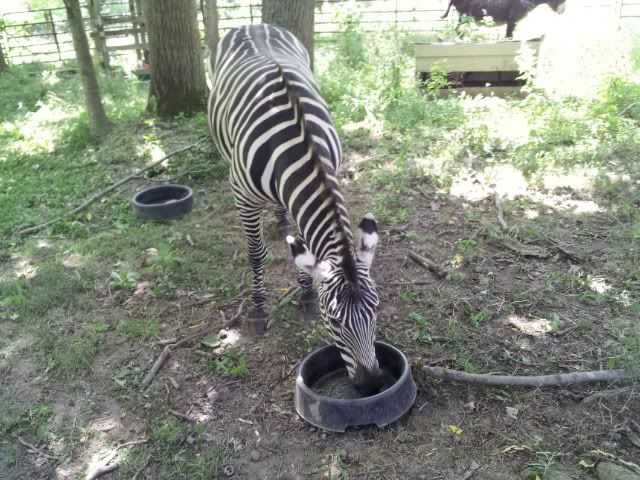 The second 'horse' was actually more interesting.
This is 'Calvin', a very rare, French Poitou or Mammoth Donkey.
It is estimated that there are only 400 of these Poitou donkeys left in the world. They are considerably larger than donkeys found throughout the US. This fellow was about 14 hands at the withers and probably weighed about 950 pounds. Hoof size was comparable to a standard size 0.
I've worked on zebras before but this was the first mammoth donk I've ever been asked to trim. While the owner insisted he was a behavioral problem for prior vets and farriers, I found the animal to generally very calm and willing.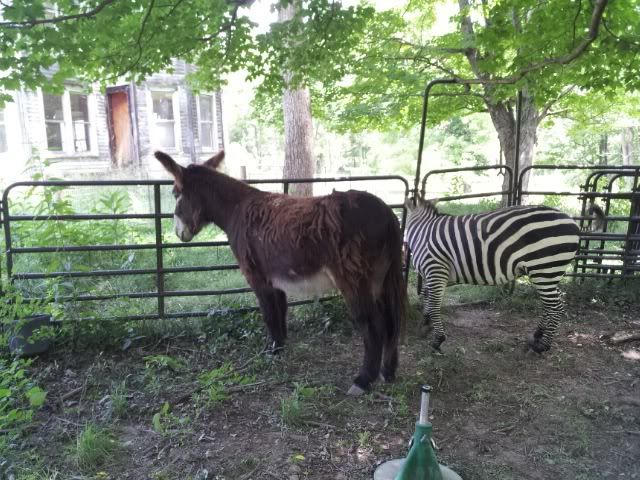 Cheers,
Mark
Love the pictures, gorgeous zebra and mammoth donkey. Never heard of that breed but both are certainly welcome in my paddock =P
---
Horseriding- The art of keeping a horse between you and the ground.
That is quite the clientele!

Are Zebra's feet any different to trim?

The Mammoth Donk looks like quite the mellow fellow.
Posted via Mobile Device
Quote:
That is quite the clientele!

Are Zebra's feet any different to trim?
A zebra's feet are very similar to the domestic horse but grow much slower and tend to lack many of the mechanical/pathology problems so common in the domestic horse. This zebra had not been trimmed in over a year. One might have guessed from the appearance that they were just done six weeks ago.
Quote:
The Mammoth Donk looks like quite the mellow fellow.
I thought he was. The owner forewarned me that the donk was considered dangerous to work on. Same for the zebra.
Apparently prior attempts by various vets and farriers did not go well.
Once I got a rope on them, things went smoothly.
Cheers,
Mark
They are both ADORABLE! As a kid I always wanted to ride a zebra over fences. Don't know why, just always thought that would be beyond cool. I've always been a fan of the 'long ears', just adore them!
---
What a very cool experience. Thanks for sharing the pics with us.
How interesting
I always wonder about the life story of rare animals like that- how they ended up where they are.