Quote:
Wow, that's the most overgrown bars I've seen in some time! On average, horses need to see a farrier & have their feet trimmed 6 weekly, but many horses & at some times of the year need to be done more frequently than that. At a guess, I'd say your horse is at least 3 months OVERdue.
Perhaps there were 'blowouts' happened at the front of the frog & due to them being in bad shape, they haven't yet grown normal external horn. But I wonder, have you used any heavy chemicals on her feet? How long has it been like that?
Be interested to know the state of these feet generally, whether the horse is/has foundered, metabolic issues or such. Pics after the farrier has been would be good - see the link below for pic tips.
First, she had her feet done only 4 weeks ago!! I'm freaking out because they are growing so fast! i have been giving her hoof supplement for 2 months and it has been since then that her feet have been growing faster. Just a few days ago her frog sloughed off. I was told that was normal certain times of the year, however, it left these hairy-like area shown in pic. Also, I am concerned that my farrier has not mentioned anything to me all the times he has worked on her. Every time he trims her, her feet look normal and pretty. 4 weeks ago they looked really nice on bottoms and tops. I haven't used any chemicals on her feet, just horseshoers secret hoof conditioner/treatment on frogs and coronary bands..pretty much entire hoof. She has a mild history of thrush, perhaps it is deeper than I know. It's not bad on the outside at this point but maybe it has invaded somewhere more deeply.?
In addition, she has always been on a regular trim schedule of every 5 weeks fyi. This rapid overgrowth concerns me. Anyone else have feet growing twice as fast as usual? should I stop this hoof supplement?
Quote:
No, seriously.....I only see the text....no pics? What in the world?
yes farrier is scheduled to come to our barn tuesday. her last trim was 4 weeks ago and she is on a regular schedule of trimming every 5 weeks, without fail. She has been growing them out twice as fast last 2 months...so weird!
Well, I almost never jump to judging farriery & maybe shouldn't have done this time either, but I would be genuinely very surprised if he's even touched the bars in months at least, certainly not in 4 weeks to any degree. Perhaps your interpretation of 'nice looking' 4 weeks ago is what I'd call overlong too. I would strongly suggest you learn all you can about the principles of keeping hooves functional & well balanced, so you'll have a better idea of the kind of job this farrier is doing. hoofrehab.com & barehoofcare.com are 2 good sites.

*Assuming* the farrier is doing a good job, I would be very alarmed at how fast they're growing - something's very wrong. I would want to test for cushings first & foremost. I doubt very much it's the supplement, unless there's something in it that's making her metabolism go haywire(but I've never heard of that kind of reaction). You don't tend to see changes in hoof growth for at least a few months, generally much longer, after starting supplementation. Is her hair growing much quicker too? Is it wavy at all? Are her chestnuts/ergots going berserk too? How about her teeth? They can also grow faster in cushings horses or with other metabolic issues, so dental visits could need to be more frequent too.

I would not advise the use of hoof 'conditioners', as they don't help the health of the hooves, especially if there's thrush or other infection present. *however, I know horseshoers secret do a thrush treatment too. This has copper in it, among other ingreds & it's possible that if the horse had bad thrush, or frogs sloughed & this stuff was used on the sensitive frog, it could damage the corium & ****** new growth, to cause the 'hairy' look.

Oh and if the farrier is doing a reasonable job, I'd guess a 1.5 weekly trim cycle wouldn't be too frequent for her. Farrier should have at least commented on the excessive growth & discussed shortening the trim cycle if he's seen her like that a time or 2.
---
Last edited by loosie; 09-10-2012 at

02:27 AM

.
No way were those bars adequately trimmed 4 weeks ago. When I see this, its usually because the bars are covering the sole and the farrier isnt well enough trained to tell, its really dry out or there is alot of false sole buildup and the farrier doesnt exfoliate it properly to see the overgrowth of the bars. (Some apparently are just blind too) I dont care how fast the foot appears to be growing, they were not adequately trimmed 4 weeks ago period. Likely culpret is shedding of false sole IME based on what we see here. The bars and wall grow about the same rate. You have a HUGE difference here. Twice the bar overgrowth to the wall overgrowth. (which btw ia also very long for 4 weeks. Again pointing to shedding false sole that wasnt dealt with last trim) It should be minimally different for your environment.

Did you just go from extremely dry to some dampness somewhere? A rain? Damp stall or simply more movement from being sedentary? Start giving baths or overflowing a water trough? I see your in cali. Usually very dry there and false sole is common.

On another note, The frog is completely normal. It shed its callous tho which also is usually related to dampness somewhere/season changes
---
Married to my One! 10-11-13 Steampunk style:)
---
Last edited by Trinity3205; 09-10-2012 at

04:23 AM

.
An illustration. Not perfect, but you can get the idea. Theres a nice foot under all that waiting to come out.
Red is existing walls and bars. Blue is the edge of the actual sole as well as closer to where the bars SHOULD be. The horses breakover is WAY forward. Possibly a stretched frog tip.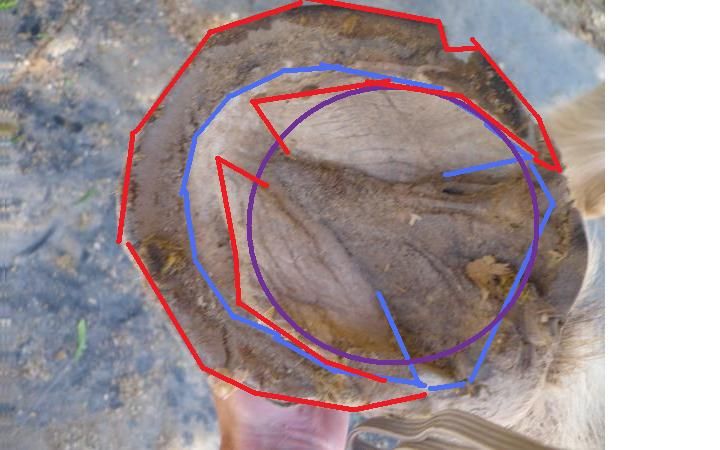 ---
Married to my One! 10-11-13 Steampunk style:)
While I trim my own horses, I am not a professional trimmer and cannot add anything to Loosie's and Trinity's advice.
Except: I will not be near as gracious as Loosie - I am just going to spit it out and say "get someone who knows what they're doing to trim your horse"
I am assuming you don't know anything at all about trimming, so I feel it's safe to say you could do every bit as good, or better, of a maintenance job than the Yay-Hoo that did this trimming exercise.
That's the advantage of not being a professional, I can say what needs said and I hope the farrier is not a relative of yours
Not at all your fault but the hooves can be easily corrected and become very handsome by someone who knows something.
Regarding how quickly they grow:
1. The longer they are left in the first place, the faster they seem to grow.
2. Or you could be dealing with metabolic issues. One of my horses has Equine Metabolic Syndrome. He is 25 and has always grown hoof a lot faster than other horses but, since the EMS exploded on him, he grows hoof at Mach 80 and I have to trim him every two weeks.
3. It may be a combination of #1 & #2
As already stated, your horse is in serious need of a knowledgeable farrier/trimmer. If trimmed to a reasonable state and then 4 weeks later it looks like this, the farrier should immediately be asking why and suggesting options to prevent recurrence. Plus, while it is normal for some frog material to come off, it is not normal for the almost the entire frog to slough off. From the pics, it's really hard to tell for sure, but it looks to me like your horse has lost most of its frog.

Do you and your horse a favour: get someone to look after your horse's feet NOW and take up serious reading time so you know what's going on and what questions to ask when a good hoof-care professional comes out to see your horse.

Please keep us updated on progress here. When is the farrier coming out again? The same one? A different one? Please take pics before and after the trim if you would like some input on the quality of your farrier's work. Including a pic of the whole horse.

Good luck.

Oh, and yes, the little "hairs" are new growth.
I NOW see the pictures! Yay! And...wow.....I have never seen bars as long as that! I hope you find a real farrier to help you OP.