Hoof Cracking help please *Picture*
---
I have a gelding who has cracks in all 4 hooves. They are not terrible cracks but his hooves are really dry along with the frogs which are hard and dry. He is bare foot and is trimmed by a farrier on a regular basis. I have owned him for about a month but it has been really dry here all summer. The cracks were present when i purchased him he also a few chips but those have since been worked out. I have been applying hoofmaker daily (or almost everyday) for about 3 weeks now and he has been on a mineral supplement for about 2 weeks. He is in a dry dirt lot. Im not sure what to do about them but some of them are getting worse.
Can anyone help me out???
Any suggestions of products or other remedies are very welcome!
Here is a pic of his worst cracks. The other cracks are all hairline cracks.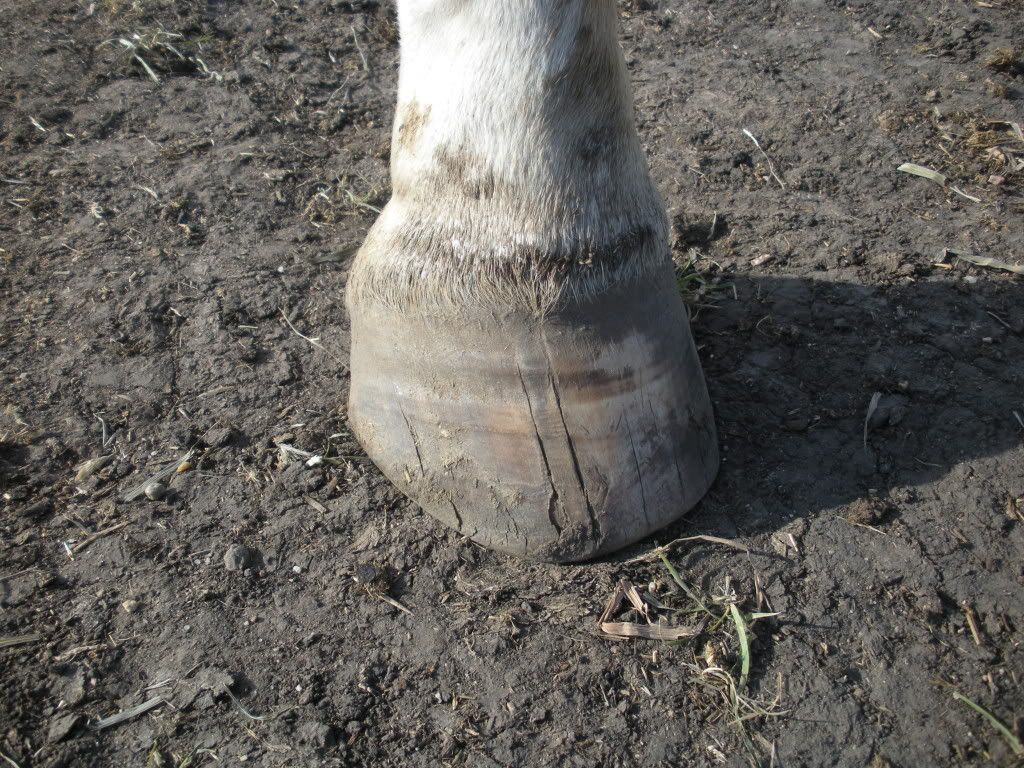 hooves will crack when it gets dry out because there's no moisture. Just like finger nails. You are more likely to break a nail when your nails are dry and brittle.

Where I am I have no issues with dryness, but if you over flow your water bucket making it mud right there so the horses have to step there it will help alot. Also if you get just some hoof conditioner (forgot the name of the stuff my farrier recommended) and apply it it should help.

Talk to your farrier also on what he/she recommends since he is familiar with your area.
I would stay away from the stuff like RainMaker, it actually makes it drier. Try straight Turpentine. =]

Savvy has a good idea with overflowing around his water bucket too.

I think he just needs moisture, so with the Turpentine, you should be fine. If you are really concerned, you can start him on a hoof supplement or biotin to get all the things he needs in his feet. The problem with that is it usually takes a LONG time for the hoof supplement to get all the way through he's feet.
---
"Great spirits have always encountered violent opposition from mediocre minds."

Topicals will not close cracks, nothing will, they must grow out. The best thing is to feed a well balanced diet. A recommended hoof supplement won't hurt but will take time to show up as it may take a year to grow feet out to the ground. Keep the wall well rounded/beveled to keep stress off of the hoofwall and be sure your trim is balanced and heels are not high. Horses are meant to land heel first.
---
Quote:
Topicals will not close cracks, nothing will, they must grow out. The best thing is to feed a well balanced diet.
Agree!! May be try to add biotin in diet. However biotin should go together with omega3 and omega6 (basically veggie oil & flax). I used
Horse Health® Vita-Biotin? Crumbles - Horse.com
for while and it seems to help. But I also reconsidered the diet and looked into the pellets with biotin and omega3/6 added (although I still supplement corn oil and flax seeds).
Quote:
Topicals will not close cracks, nothing will, they must grow out.
Sorry, I didn't mean to imply an ointment will help heal the cracks, I just meant to help keep it from cracking further by giving the hoof moisture. =]
---
"Great spirits have always encountered violent opposition from mediocre minds."

I just wanted the OP to know that in case they took it that way. I've never had any topical stop a crack either, btw. ;)
---
Hi,

Those types of cracks are nutritional/diet related, so as others have suggested, a*good* supplement is the way to go. But biotin & the ingredients in many 'hoof supps' are only but a few of the necessary nutrients, and it is also important for them to be well balanced with eachother. So unless you know he's short in only a few ingredients, I'd be going for a good complete supp. Hooves & hair are the extremities that are the first to show bodily deficiencies. It will take a while for the new, well fed growth to come through. Depending on his management, feeding & especially the amount of exercise he gets(the more miles the quicker the growth), it will generally take anywhere from around 7 months to a year to grow a whole new hoof capsule.

Oh, why I say 'diet/nutrition' is because he can have diet issues aside from nutrition - it's obvious he's had a couple of bouts of lami, from the bulgy growth rings, so perhaps he's been getting too much rich, sugary feed, such as sweet feed, cereal grains, rich grass...

Regarding topicals, I also recommend just water, or water with a little apple cider vinegar in it. I'd stay away from oil based especially & turps! If it's really dry where you are, soaking them or allowing him to stand in a mud patch every other day may help. But dry hooves are a natural state, and so long as they're fed right and balanced right, they won't crack. Hard, dry, calloused frogs are the way they're meant to be & will be capable of a lot more for him than the soft, weak frogs of most pasture dwellers.

Cracks also happen due to imbalance & allowing the hoof walls to become too long. This is not the case for your boy's type of cracks, but there are a couple of issues that could be rectified before they cause the cracking to get worse. That is that that side of his toe where the cracks are worse appears to be slightly longer/pointier than the rest. Needs to be 'rolled' back a bit more. And there are minor quarter flares, indicating that the quarters have been left a little long & are just starting to 'give'. Can't comment any further on hoof form with only that pic, but if you want to send any more for comments, feel free.
The best way to deal with these cracks is internally. Get a supplement with biotin in it - like Farriers Secret.
---
All I pay my psychiatrist is cost of feed and hay, and he'll listen to me any day!