Hoof debate- Loosie
---
Continuing on from Nordic Jumpers thread. Didn't want to derail it any further. Any and all opinions welcome.
Quote:
Went and found some pictures for you so hopefully you can see some differences.
A crack like your horses, under the purple stuff the foot will be rasped from the crack back to the heel so its only supported by the purple stuff which is rubber ball consistency. The whole sole and rest of the foot is supported by a full pad and the purple stuff, and the shoe of course:)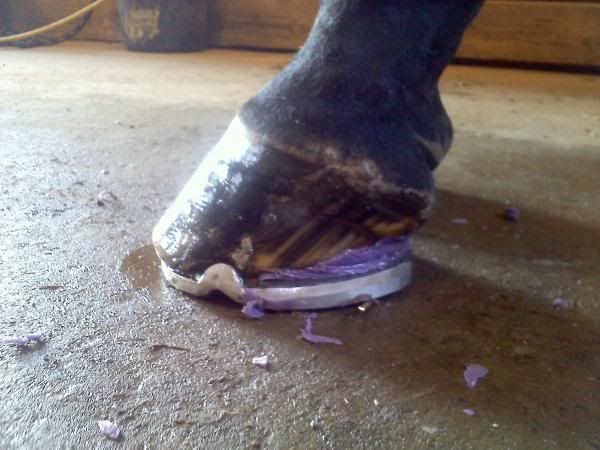 A before and after of feet similar to yours(worse but same shape) Pretty sure its the same foot from different angle.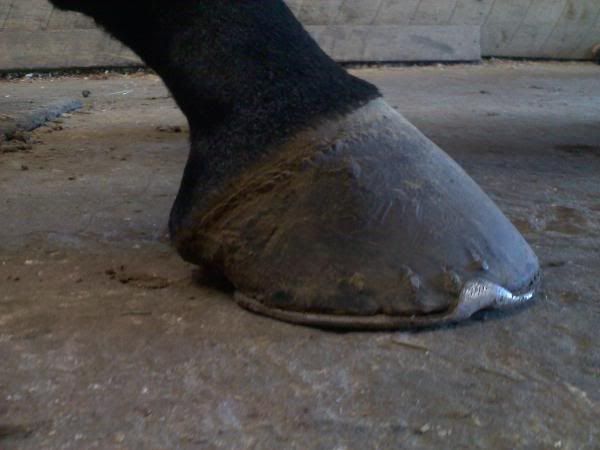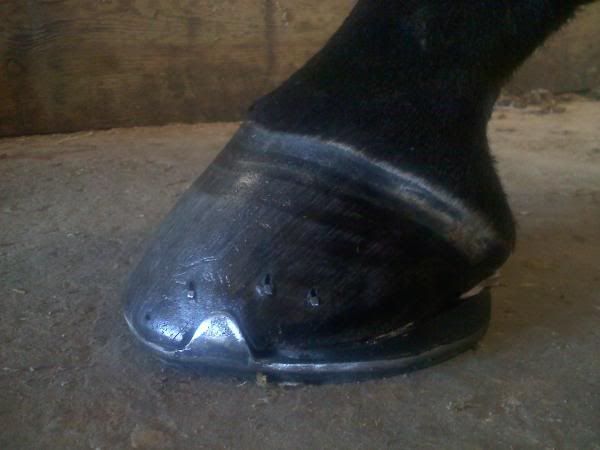 Quote:
I think the idea of 'short shod' and 'support' is one of subjective opinion. I think your last point about seeing solar shots is important, because with only the pics given, I don't feel like I can make more than 'guesstimates' of what's going on.

The reason I think the idea of shoes providing 'support' for underrun heels(which is another thing I'm not sure this horse has anyway - need more info) is that further pressure, being longer shoes, pads, wedges, etc, only puts further pressure on the back of the collapsed heel. IMO what it needs it *releif* from pressure. But I think this is generally but part of the prob with collapsed heels and backing up the toe adequately & releiving quarters IME is what makes the biggest difference & allows heels to relax & become upright.

Re your pics, I *generally*(never say never) disagree with the idea of raising heels arificially & putting horses on their toes. Yes, I do agree that second pic is what OP's horse's backs *may* be like, but not sure. In the 3rd pic, while you can't tell for sure without solar shots, etc, it appears that they haven't(much, if at all) addressed the stretched toe(& the dip at the toe hairline suggests *possible* 'rotation' too), rather they've put more pressure on it by having it shod with heels jacked up and quarter clips.

So, anyway, not trying to be argumentative, just giving my different opinion to yours, as food for thought...
OK Hope I get this out without garbling it to much.
the above picture I see what you mean about the dip in the toe. Yes that could have been addressed better. However I would like to know what you would do further to address the stretched toe in 1 trim? I'm guessing but I would say there is not a lot more foot there to play with.
What the farrier has tried to achieve is lining up the bony column and relieve the stress on tendons etc caused by the previous shoeing. The horse would have walked off with a considerably better gait and much happier. IMO it is shoeing like the second picture that gives shoes a bad name in the first place and leads to things that vets write off as navicular syndrome(not disease)
Some farriers to will argue that wedging crushes heels. I would argue back that in most cases they are not doing it right. Properly applied shoes, even wedged ones can relieve the heels of pressure and allow them to return to a normal state, hopefully in time returning to a flat shoe or barefoot. I've seen previously crushed heels start to turn around and take a better line of growth.
IMO the biggest, most common mistake is using an open heeled wedge. That is just asking for the whole foot structure to collapse. Now put a pad and some sort of cushioning in there and its a whole different ball game. With this sort of scenario you can take pressure right off the heel and bring considerable relief to a heel sore horse.
No further argument?