Hoof with Indents... what is it? is it normal?
---
So a horse at my barn developed these odd indents, or holes in his foot all along the bornet band of one foot. They lasted only about a week before dissappearing... anyone know what it is, or what caused them?
I was at a loss, and by the time the vet was out the holes had vanished.
---
A canter is a cure for every evil. ~Benjamin Disraeli
One of those places looks like an abscess blew out. The others, I have an old horse that gets those when it's really wet...
---
"Be a best friend, tell the truth, and overuse I love you
Go to work, do your best, don't outsmart your common sense
Never let your prayin knees get lazy
And love like crazy"
Autoimmune response or toxicity was my first guess but these disorders typically effect all four feet; not just one.

Given the quick retreat of the pathology, a toxin seems more likely but I wouldn't rule out either. Evidence warrants a review of local pasture for known toxic weeds.

If autoimmune, pemphigus (foliaceus) would be worst case scenario but wouldn't retreat so quickly. Vasculitis appears similar to the photos but again, it's uncommon to see in a single foot. Verify by looking for similar lesions on the inside of the horses lips. Also check for edema of the distal limb.

Recent introduction of any pharmacologicals would be suspect. Diagnostics include histopathologic and immunohistopathologic examination of superficial and deep biopsies of the lesion margins.

While toxins are often suspect in autoimmune reactions most such occurrences are generally considered idiopathic in origin.

Are you sure there were not lesions on the other feet?

Cheers,
Mark
So, hoof worms are out of the question then, Mark? (just kidding!)
Holy scary crack in that first picture!
This picture is of the hoof of a horse of mine who died a couple years ago from some sort of internal cancer. He developed these large holes around the coronet band during the hot part of summer. They did not go particularly deep or seem to interfere with important hoof structures. The farrier and vet(s), including some experts contacted via emailed photos by my veterinarian, were baffled. Later on, several of my other (healthy) horses developed similar symptoms, but nowhere near as severe as this horse.
Never did figure out what it was. They came back, very slightly, one one mare the following year. And the pasture was checked by an agronomist for toxic plants, but she didn't find anything worrisome.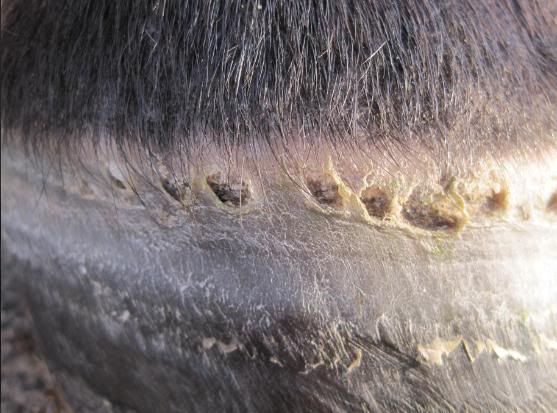 ya that's what I said when I saw the crack! We are - finally - able to get the farrier to come out, and he's been to address the foot and has started trimming to correct it.

the other three feet weren't affected at all, but I did notice that near the cornet band of this foot that it was squishy when he had the holes - we had started applying Hoof Lotion to help with the shelly, dry nature of his feet and my first thought was that maybe it was an allergic reaction to the product.... but on one foot seems a little odd.
---
A canter is a cure for every evil. ~Benjamin Disraeli