Hoof Question
---
My boyfriend and I are in the market for a new horse. We went to look at one today and saw this. We were really interested until we noticed it. He's 3 going on 4 years old, and all of his other hooves are chipping as well. He's stalled all the time and when he does get turned out its in a rocky pasture. So my question to everyone is, is this pretty serious? I know its bad, but is it something that is going to heal up, will it take a while to heal, or will it heal and then reoccur easily? Thanks for the help!!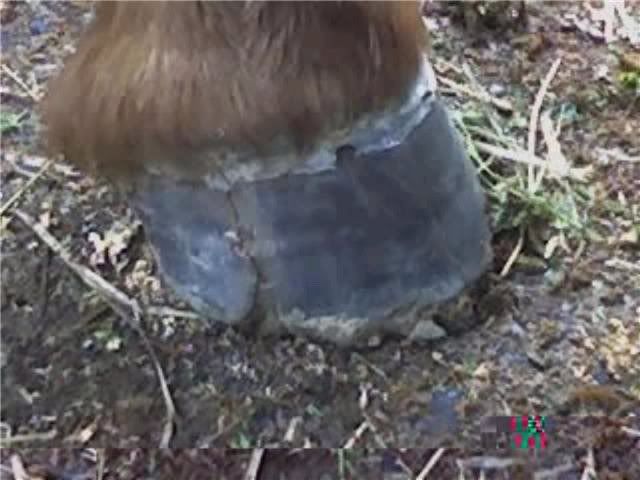 ---
~*~*~*~No hour of life is wasted that is spent in the saddle ~*~*~*~
Hmmmm.....I believe I would have my farrier answer that for me.
Yea, I'd have a farrier look at that. However if he's given the PROPER trim his feet will recover just fine. Being on rocky pasture is actually good for horse's feet (again if he's being given the proper trim). It helps the hooves get more concave and will toughen the sole (which should be left alone). If you decided to get him you could look into seeing if there is a farrier who is certified by Pete Ramey.
The chipping is just due to being out on rocky pasture. That crack though - it could just be a sand crack and heal up with correct trimming, however it could be due to an injury at the coronet band which has compromised the production of hoof wall at that point.

Did you run your hand around his coronet band by any chance? Did you notice any lumps, bumps or dips at that point?

It is just about impossible to say from a photo - as other people have said you need a foot expert to come along and take a good look.
The chipping is not due to the rocky pasture... it's due to an incorrect trim for that foot.

Can you get more pics? This foot looks very steep to me and I can't see if it's JUST because of the trim, or something else. How about all four from the side including more of the leg and this one from the bottom too?

Also, being stalled doesn't help. If you take him home and he has full turnout, that's the best aid to a good trim.
So if it is just from being improperly trimmed would it be ok to ride now? Or should I wait until it's healed? How long would it take to heal?

No I didn't check the band. We just noticed right as we were leaving.

All of his feet were chipped around the edges. I agree that the trim looks totally incorrect for his feet. They looked awful.

We did ride a little in the arena and it didn't seem to phase him....
---
~*~*~*~No hour of life is wasted that is spent in the saddle ~*~*~*~
Boy that horses heel sare WAY high. Poor thing. With proper trimming you should have no problems. But he might have some soreness in the transition to the proper angles.

I don't see why people let there horses feet get so bad!
feet look pretty bad, a horse with good sound hoofs trimed and balanced properly wont chip in rocky terrian. hard to tell from the pic if their fixable would have to see horse in person, just looking at the pic i would stay away their are to many good free horses out their that are totally sound.
This poor horse. These people have like 40 horses (and I'm not exaggetating at all, that's what the girl told me!) and they all have feet like this. Absolutely horrible. I agree that the heels are way to high. It really didn't seem to phase him while we were riding, but then again I wouldn't really know as I have never ridden the horse before. They really need to switch farriers! Anyway, we told the girl we weren't interested and we're going to keep looking. Hopefully he gets taken care of though. He was such a sweetie. I hate seeing great horses wasted by ignorant owners.


On another note, and I know this is kind of off topic, but I stopped by our local auction today and there were only about 15-20 horses this time....Last month there was close to double! So glad to see that people are hanging on to them now....But I guess they've fed them through the roughest part of the year, so the rest should be a breeze. Until next fall anyway. :(
---
~*~*~*~No hour of life is wasted that is spent in the saddle ~*~*~*~