Quote:
BUT, now he has an abscess in his front right hoof. Testing his hoof and after dealing with this before with him I can say it looks like it is moving up into his band. My poor guy can't get a break it seems. We are soaking his foot to try to get it out faster.
Make sure it's really an abscess and not a sole bruise before soaking (if you can). If it's a bruise, soaking will make the sole soft and he'll be even more tender.
---
On the sixth day, God created the Quarter Horse.
On the seventh day, he Painted the good ones.
Sorry to hear about a possible abcess-poor pony! Hopefully you'll get answers on Friday & have you been able to talk to the those that borrowed your tools to do this to your horse? Do they understand what went wrong? And that you don't want it to happen again?
Quote:
OK...sorry to post and run. BUT, farrier can't make it until Friday....best I could get.
A bit off topic but this comment caught my eye. I absolutely understand that farriers are booked solid right now. It's a busy time of the year for us and many are working 7 days a week and well into the evening. I finished my last customer for Sunday at 10:00 PM and didn't get home until after 11:00. Finished earlier today. Percheron draft horses wear this old guy out!
Still, busy or not, I have a simple business policy that I share with all clients during our first visit. That policy is... acutely lame horses go to the front of the line and everyone else slips in the schedule to a later time/date. I respond to emergency cases 7 days a week, 24 hours a day.
All of my clients understand and agree to this policy. Next time, it could be their horse that needs help right away.
Early treatment may well have avoided the suspect abscess.
Cheers,
Mark
PaintHorseMares I am pretty sure it is an abscess and not a bruise. But, I could be wrong. Oh...I just wish I knew how to help him. I have never had to deal with this before. I will hold off on soaking his foot just in case.

Cacowgirl....yes, I have spoken with them and instilled a good bit of shame and guilt into them. What made them think it was ok to do this?????? I am so freakin' mad at them right now. I understand that they thought they were helping.....but they should have called, asked, or just NOT DO IT. It is hard being so angry at my mother. Part of me wants to just forgive her and go on. But then I see poor Romeo limping along the paddock and my anger jumps back up.

Horseman56.......Yes, it irritates me as well. I have had a heck of a time even getting a decent farrier period to come out to even trim the horses. I swear I have went through so many who just don't keep appointments and all manner of things. I am just happy to have a farrier at this point. I REALLY wish the farrier would have moved us up to a "today" since I know Romeo is hurting. Also, thanks for the advice.

Thank you everyone for keeping us in your thoughts. I feel so helpless seeing Romeo hurting and just not being to do much to take away his discomfort/pain. This is the only pic I got of him with his short hoofs. I will put up pics of his feet when I get back down to the barn to snap some.
Sorry...I am having issues re sizing the pictures....it seems nothing is working out for me. I may be wrong, but I think his front are too short. Also, keep in mind that he was due for a trim when this happened. So, he is a little flared. We were going to put shoes on him to help with a separation in his hoof. Not so sure now. His feet were crappy when I got him and with out a constant farrier until now we have made little progress.
Also, please excuse the crappy fencing. I sub divided the paddock due to both horses getting injured. I was in process of making the fence and Romeo wanted to "help". Poor guy, even hurting and he wants to be near people.
I will get actually hoof photos when I can.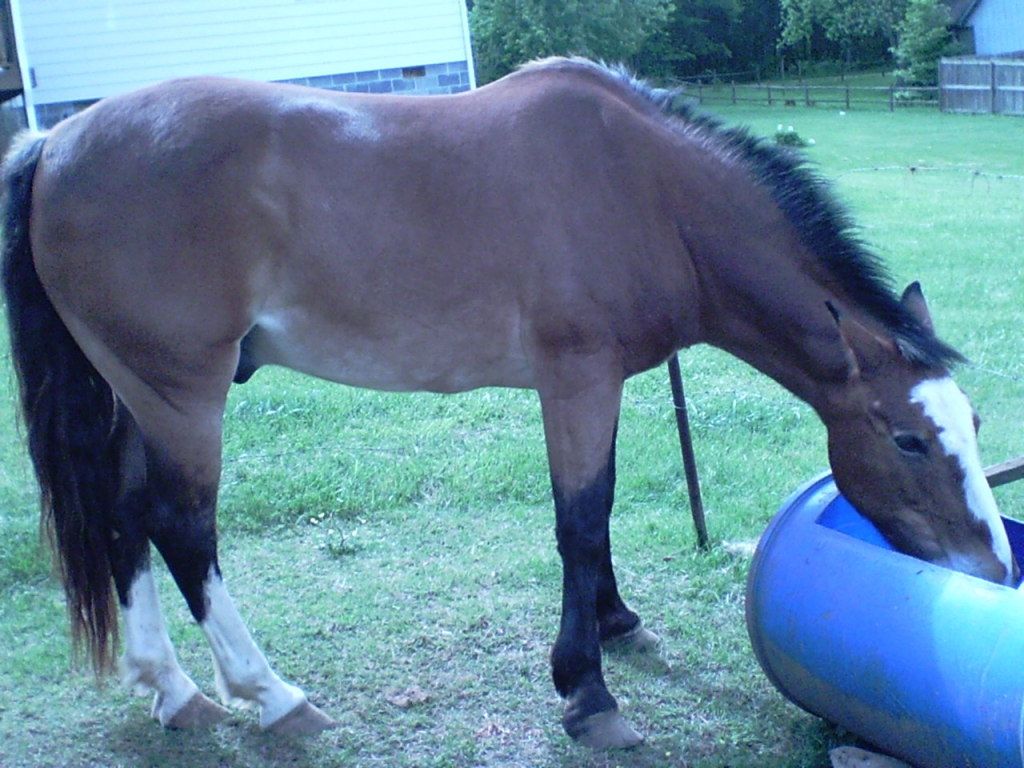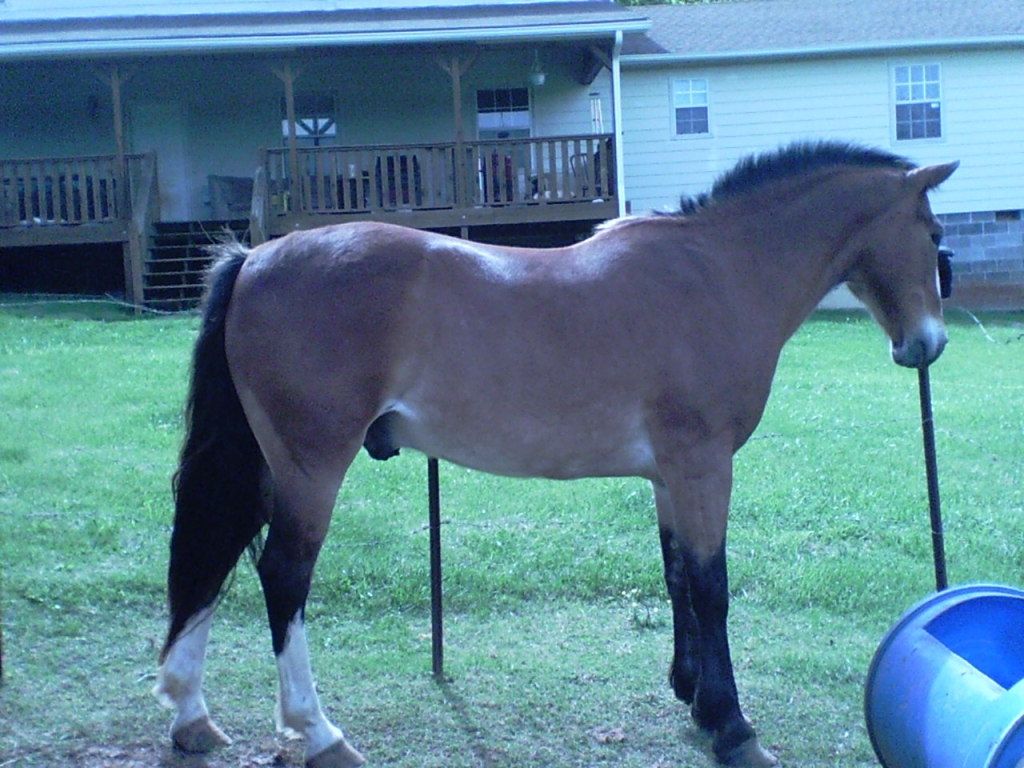 That's a new job?? Yup, seems they knew next to nothing alright! Better pictures (check out the page in my signature) would help, be more specific, but it appears your horse has long, stretched feet all round & it appears possible there's significant 'rotation'. IOW, I don't think your horse's trouble is all down the the last trim at all. What has your farrier said about the state of them? Does he usually shorten those run out toes? How long was it since the last trim?(ignoring the last joker)
Holy crap. You definitely need to start shopping for a more competent trimmer. All four feet have long toes, stretched sole pulling then entire hoof capsule forward. See how the growth out of the coronary band is steep and then about 1/3 of the way down it changes direction and flares forward? That is all stretched laminae. The hoof wall wants to grow down at that steeper angle. All that stretched part creates a stress on the attachment of the coffin bone and the result is the coffin bone sinks as it loses it's connection with the hoof wall. A good trimmer can fix this with a proper trim, but essentially what is needed is time, so that all 4 hooves can produce new growth. Once the hoof re-grows with a tight wall, the coffin bone will have better attachment, and hopefully re-seat itself further up into the hoof capsule.

Please nobody jump on me for my Joe 6-pack terminology. I am not a pro trimmer and do not play one on tv.
---
You just have to see your distance...you don't have to like it.
Quote:
.... See how the growth out of the coronary band is steep and then about 1/3 of the way down it changes direction and flares forward? That is all stretched laminae....
For a moment there I thought you were going to define the actual congenital defect.... then you went off on a tangent.
Take a mulligan, look closer, then try again. Think about the first sentence you wrote in the above paragraph.
Cheers,
Mark
They're club feet, no?
---
You just have to see your distance...you don't have to like it.
Quote:
They're club feet, no?
They're club feet... yes.
Not an ideal barefoot candidate in my experience.
Cheers,
Mark