Quote:
You should always trim a hoof even and level.
Not true. Depending on conformational defects you may want to leave more heel/wall on one side. One of my horses like that as well as I've seen examples at the barefoot sites.
oops, my post timed out..
as well here are a couple pictures of the 19 y/o mare I take care of during spring/summer. I trimmed her during christmas but I didn't trim enough and prior to that she had never had a proper trim, you can see her heels are contracted and frog elongated, due to shoes being on for too long.
first trim since christmas, I didnt do much reshaping, but you can Imagine that they were very long, she hadn't gotten much excersize in that time.. there was a bit of wall detachment and her bars and heels were very overgrown.. you can also see that I rasped back the heels and opened up the bars.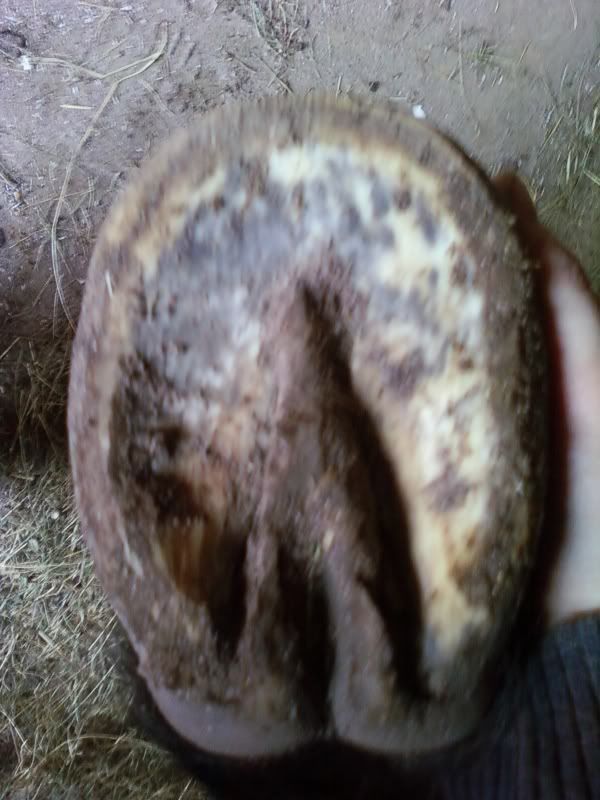 recent trim
here I started reshaping by taking back the toe, already you can start to see her heel opening up more, Im not at all finished, but I like to do a little bit at a time so shes not so sore afterwards, probably within the week I'll finish it up.
---
Last edited by brighteyes08; 06-14-2010 at

02:00 PM

. Reason: added picture
I think they look good.
There's a couple areas that I'd look twice at but it's hard for me to see it all from that angle.
But more important than my opinion, what's your horses opinion? Is she comfortable and moving freely?
---
Truth passes through three stages. First it is ridiculed. Second it is violently opposed. Third it is accepted as self evident.
Yes, she runs around all the time with my gelding and her strides look much more fluid than they used to. shes a hardly little thing, though shes never had a proper trim before now, shes also never been lame either, though there was obvious discomfort from her strides.

what about his feet? go back to my original post?
I think his hooves look good too. Actually it looks like he has nice frogs developing. Which has gotta mean he's getting lots of heel first landings.
His hooves look pretty healthy. I really can't find anything to point out or address.
I've been wondering what that streak of liquid is on the the front hooves. But with that liquid there it appears that he's got a few ripples right under the coronet band. There are certain things that if the horse eats em they'll cause the wall to let go at the coronet band which will cause ripples like that. Things like sweet feeds, lots of grains, eating tons of grass out in the pasture with little movement. Lots of horses will founder in the spring time because of all that new grass that is growing. I know someone who has to take special precautions with one of her horses in the spring because her mare will founder every spring if no one intervenes.
Another thing the ripples could be is from excess wall pressure in-between the trims. But I do also notice a couple ripples in the past growth. One was approaching ground level and the other was just above the midway point.
Another thing to consider is detox for the horse. I have yet to use any type of detox, but as soon as my debit card gets here I'm gonna order the MOP described from this article.
http://www.tribeequus.com/detox.html
Looking at those pictures at the bottom of the page has my wheels turning.
That new growth looks so amazing. And I educate myself on the human diet and how to cleanse the body so I really understand the importance of diet and cleansing. And this is one thing that I know is real important to bring superb health to our horses.
I think I read that you were gonna finish up the trim sometime in the next few days or so. If you take more pictures can you get a few different angles. Here's a link and the pictures in the pre-trim area are really good examples. All of the angles while the hooves are being held are really nice to give an idea of the shape of the hoof and how everything is growing.
http://www.healthyhoof.com/case_studies/BC/BC.html
A good resource I've used to help me learn is to go through those case studies and just look at the pictures first before reading the story. One thing that really popped out to me in that link is the coronet bands while the hoof is on the ground in the pre-trim.
---
Truth passes through three stages. First it is ridiculed. Second it is violently opposed. Third it is accepted as self evident.
Thanks, he does have really nice healthy hooves and feet, the liquid is Tea tree oil, I put on it to prevent fungus and strengthen the hoof, it also helps the frog shed. As well, hes never been on sweet feed, hes only just started to eat some grass, and in the time that hes developed the rings he wasn't on any grain, right now its purina hifat hifiber. The only thing I can make of it is because he had gone so long without a trim, and in this time I hadn't seen him in two months.
id like to add, that for about an inch below the band they seem to be growing out at a steeper angle, not a bump, and then you can see that the angle changes or the hoof "flares" and then there is a single actual bump in each hoof.
I'm not going to get into a big barefoot vs. shod debate (again) but let me say this. Your horses feet look good and if you keep them looking like that he will be fine. If you ride alot you MAY need shoes because the wear can exceed the growth. There is no reason that you can't find a decent shoer that can keep your horses feet shod and healthy. I keep my horses shod because I don't want to go to the trouble of soaking hay or putting special footing in thier pens or buying boots for 6 head of horses. I also want to be able to point my horse somewhere and not have them gimp over the rocks because thier feet hurt. If you don't ride hard or you want to go to the trouble of PROPERLY developing a barefoot horse then I wish you luck. Also some areas of the country are better suited to barefoot life than others. For instance Totalfreedom lives in the high desert of southern Idaho and while it is very rocky it is also very dry. I worked on a ranch in Nebraska and used to joke about sending home to Utah for a rock to throw at a cow. All the ranch horses were barefoot there because it was dry and soft. Where I live the soil has alot of clay in it and doesn't drain really well so my corral is soft except for when it freezes in the winter and in the hottest part of the summer so I would have to put more work into it than I feel it's worth to get my horses barefoot.

If you choose to go barefoot be aware that in the long run it will cost you just as much as having a farrier come out and may take alot more work. Some people swear by it and think it is just the greatest thing ever and some never put the work into it and go back to shoes or wonder why thier horses feet won't toughen up.
---
There's nothing like the Rockies in the springtime... Nothing like the freedom in the air... And there ain't nothing better than draggin calves to the fire and there's nothing like the smell of burning hair. -Brenn Hill
Thanks for the post Kevinshorses.

I personally don't believe in shoes at all, but with that said, I'm hoping to go in a reining direction with my horse, meaning lots of excess wear and obviously I can't use boots for sliding stops. If we ever do get that far then I will submit to shoes, but right now his feet are great, they don't wear easily and hes good on rocks and gravel.