Well I hope it works out for the horse. I know how it feels when you want the assurance of a "competant vet". Last time I called a vet out on emergency, my friend and vet was out of town...wow, what a panicked and sinking feeling, that was! It all worked out, as in she was fine before the vet arrived (yeah, that and a few bucks later
). So, I feel for your friend.
Timothy goes for a premium everywhere, I think. Beautiful to look at, ain't it? But, its sugar content can fluctuate between cuttings depending on conditions (and here they don't get many cuttings b/c it is grown at higher altitude). I would
not
feed clover. We never included it when we re- seed our horse pastures (when we had pastures)...
even though
it is great for your soil. Dry or in pasture, the stuff just scares me.
That is why alfalfa is a good bet - something like the 1st cut of a mature stand (not new planting) b/c it is stemmy w/o all the leaf he doesn't need just standing around. This may not be available, but alfalfa cubes may be.
---
There is just as much horse sense as ever, but the horses have most of it.
---
Last edited by SouthernTrails; 01-31-2014 at

10:02 PM

.
Sorry I didnt read all this, just some highlights so if its been covered, I apologise. Also, my drawing is approximate and not the best. Have a brace on my right arm lol. hard to draw
Whitey has serious toe flare. Needs to be beveled and removed from the front (take NOTHING from the bottom in front of the frog inside the purple ring at this point) and IMO, id cast this horse for comfort and protection while the wall grows out better attached.
If you cant X ray, you map the foot. Google ELPO hoof mapping and read everything. There are printouts. I have done a quick mapping to show just how much wedge/flare this horse has. Its extreme. Id expect flat soles on a foot with this much flare. Get rid of the flare and the hoof will improve. Use casting.boots pads for protection as needed. Casting is the better bet at first till some tighter wall regrows.
The footprint should be about the size of the teal line. Everything in front of the teal line should be removed from weight bearing and dressed from the top each trim a bit. In between the teal and red about halfway should be beveled at a 45 degree angle. Dress the wall lower for wetter conditions, higher in dry conditions. You can dress more if you cast than if you boot. Results are faster also this way. Feed the horse well nutritionally with something like TC 30& ration balancer for metabolic horses so long as they are ok with Soy. You will grow foot faster which is good. You also much promote tight healthy white lines so nutrition is important.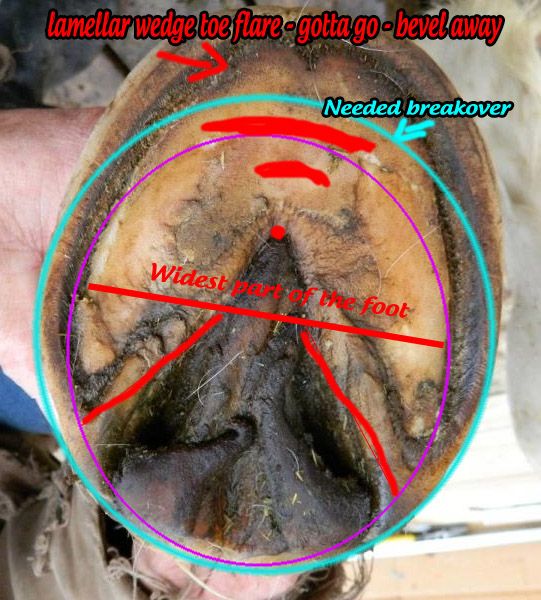 ---
Married to my One! 10-11-13 Steampunk style:)
---
Last edited by Trinity3205; 04-18-2013 at

07:47 PM

.
tada!! an expert arrived...there you go walkin (and the horse).
---
There is just as much horse sense as ever, but the horses have most of it.
---
Last edited by SouthernTrails; 01-31-2014 at

10:03 PM

.
Thank you very much Trinity3205!
I know the hoses mom has been busy doing things like making a slow feed hay net, e-mailing a nutritionist and the vet with the x-ray machine.
It turns out a local barefoot trimmer (local means she's 70 miles away) heard "round about" of the horses situation and contacted the Owner.
She has agreed to help and even agreed to keep the horse, if need be, due to the Owner's knee-deep-in-mud situation. The horses aren't knee-deep in mud but I saw pictures and the mud underneath the foot of snow is over the fetlocks, maybe worse
I'm going to re-send this link so she knows there been a new posting.
Gosh, I need to smack myself - I keep forgetting about mapping and I have the ELPO link saved
---
A Good Horseman Doesn't Have To Tell Anyone; The Horse Already Knows.
---
Last edited by SouthernTrails; 01-31-2014 at

10:03 PM

.
Thank you Walkingthewalk for posting this for me while I was waiting to be approved to join this forum. Thank you also to all of you that have offered your advice, and shared your information.

I understand totally about the bute being a "Catch 22". The vet said to give it to him twice daily for 7 days, then try cutting him back to see how he does. As soon as I skipped the morning dose (as per the vet's recommendation), he seemed to be in a fair bit more pain, so I gave him a dose of banamine. Then I thought it might be best to try to reduce the bute in a different way, by cutting back the amount at each dose, but keeping it at twice daily, to help keep it in his system more evenly. I have taken him from 1 tablespoon to one teaspoon twice daily, and am hoping that he'll be OK with that. I did buy a box of Ulcerguard but it just arrived today. I will give him some to help coat his tummy. I am also thinking I should get him some Probiotics, to ensure the bute does not kill all the good bacteria in his stomach. The delay in everything is due to my being in a fairly remote area, so no local places to shop for horse supplies and such. I have to rely on shopping online in many cases.

Trinity3205, thank you very much for that "mapping". I have never seen nor heard of anything like that before...very interesting, and I will be sure to share this with my new farrier. She will be here to see him next Wednesday (24th). It was her earliest opening. I am VERY grateful that she has offered to take us on as new clients.

The vet will be here the weekend of May 4th to get the xrays done. I have no idea if these are digital or how long it takes to get results, as I have never had xrays done on a horse before...it's all new to me. I am also having him, at the same time, draw blood to tesy for insulin, eACTH and a full CBC panel. This should help answer some questions and get us onto the right path, knowing for sure then, exactly what metabolic disorder we need to be treating for. I am also going to be sending samples of our hay in for testing, as was advised to me by a local equine nutritionist. It's all coming together...slowly, but it's better than I had a week ago. I know and understand that time is of the essence, and that this is clearly an emergency situation, but I really am doing the best I can for the area we live in, and the lack of services available to us.

I also have another FAT mare that I need to put on the same "diet"/change of lifestyle as I am doing for Whitey, and I am having all the same bloodwork done on her as well when the vet comes. Hopefully we can get her on the straight and narrow before she ends up in the same boat as Whitey. (I also ordered two grazing muzzles for them to wear this summer, even though we have very poor pastures and they don't get much from it.

I have so much to learn and a neverending supply of web sites and information to read. If you have any questions you need to ask of me, please feel free.

I thank you all again, so very much! Mona

EDITED TO ADD: I am wondering on what your thoughts/experiences are on a hoof hardener product known as Keratex? I've heard WONDERFUL things about this product. A little goes a long way and it apparently really works to help harden soles so horses won't be so tenderfooted. (healthy soles, not just laminitis cases)
---
Last edited by lcminis; 04-19-2013 at

02:37 AM

.
I prefer Durasole. And its lots cheaper ;) the trick is to dry the sole with a hairdryer and then apply so it soaks in well. it works fast. You can apply it several times the first day and will have results by the next day. Dont get it on your fingers or you will have calloused fingers lol.

Be sure to talk to your trimmer about casting. This horse would likely be helped tremendously by a round or two and be much sounder immediately.
---
Married to my One! 10-11-13 Steampunk style:)
---
Last edited by Trinity3205; 04-19-2013 at

04:13 PM

.
Walking, google youtube on hoof mapping. Excellent info. Dr. Bowker has excellent videos as well. Gene Ovnicek has a number of videos but even he too has changed his techniques a little. Look for his 2012, no earlier videos. Trininity's drawing is good but that drastic a trim may result in the hooves having to be cast. We have to keep in mind tendon strain if the trim is too drastic.
---
Last edited by Saddlebag; 04-19-2013 at

04:34 PM

.
Removing toe from the front will not increase tendon strain. In fact, it will decrease it. However this horse will absolutely need protection from the ground in some form for a bit. He needs it now.
---
Married to my One! 10-11-13 Steampunk style:)
Would you even be able to take that much toe off at once? At that point, wouldn't you be cutting into the sole?

ETA: Also correct me if I'm wrong, but I don't think trimming the toe so severely would result in tendon strain, only if you were to cut off too much heel at once?
---
There on the tips of fair fresh flowers feedeth he; How joyous his neigh,
there in the midst of sacred pollen hidden, all hidden he; how joyous his neigh
The sole is stretched forward so you will indeed trim into the sole. This is classic toe distortion common in so many feet today sadly. You trim to the BONE, not the distorted sole. Protection is absolutely needed after the trim (its needed before the trim also based on the apparent sole depth and soreness of the animal.) and the trimmer has to use some judiciousness based on the foot in their hand and the horses response. But in the long run,. the breakover MUST be brought in line with the bone, not distortion, for this foot to grow out properly. I use casting and sole guard often in cases like this as it affords almost instant soundness or near soundness improving in a few days or at the very least, much better than we started. Hoof mapping allows you to know where the inner structures are in the foot even when distorted by using a few markers that are the same in all feet.


---
Married to my One! 10-11-13 Steampunk style:)
---
Last edited by Trinity3205; 04-19-2013 at

05:33 PM

.