Quote:
That is going to come down to location more then anything. Depending on what I have done I can get 2 hores shod for not much more then that. Now sliders are a bit more unless I provid them which I normally do. Then I just pay a re set price.
Agreed, around here, a
good
farrier will put 4 shoes on a horse for $75.
However, if I went 2 hours southwest to Amarillo, I'd be looking at $120-$150 for a good farrier.
---
Always remember that feeling of looking at a big, open country over the ears of a good horse, seeing a new trail unwind ahead of you, and that ever-spectacular view from the top of the ridge!!! Follow my training blog:
http://robertsontraining.blogspot.com/
Wow, it really does depend on where you are. Even in the late 70's, in Florida and Pennsylvania, we paid at least 150.00 per horse for our competition horses. These included either borium spots (lower level) or drilled and tapped (upper level). We always had toe clips in the front and quarter clips on the rear.

Since I ride other people's horses now, I don't pay for these services, so don't know what equal shoes would be these days.
Jeez. I just paid $110for a trim and front shoes on one horse a couple weeks ago. Part of that was mileage though as I'm a bit far out.
A lot more goes into the price of that service besides labor and supplies. Farrier's do not have a company providing insurance, vehicle maintenance, or medical coverage. And let's not forget Continuing education.
Posted via Mobile Device
Tanya, just as an example of what you might view as an acceptable level of quality, here's a few photos of a hunter I shod today. Seems fair since I critiqued your farriers work, others should have the opportunity to critique my own.
The horizontal "checks" were done by a prior farrier who thought they would stop the vertical cracks in the wall. It doesn't work.
This cost the owner $85. Shod in front and barefoot hinds.
Cheers,
Mark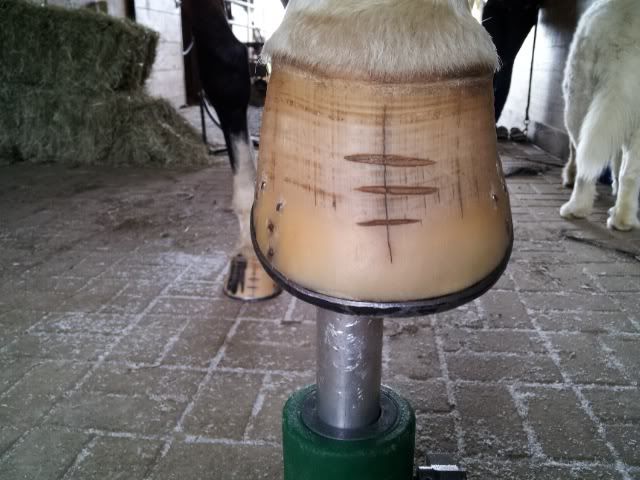 Mark, what do you think caused those vertical cracks in the first place? I'm guessing long toes, but am curious.
---
You just have to see your distance...you don't have to like it.
Quote:
Mark, what do you think caused those vertical cracks in the first place? I'm guessing long toes, but am curious.
Failed d/p balance (long toes) would be my guess as well. I don't have much in the way of history on this horse. My first time to shoe him. Owner claims she kept him on a 6 week schedule. There was significant dorsal wall distortion. They cleaned up fair and will get better in time. I'll only have this horse on schedule for a few cycles before owner returns to college.
Nothing fancy on this one. Just everyday work.
Cheers,
Mark
Quote:
The reason I shoed them was because I was told if I ride them they need to have shoes because of the rocky terrain we have around here.
Conventional metal rims provide no protection or support to the base of the foot, apart from providing an extra 1/4" height. So if your 'rocky terrain' is quite flat with only very small gravel, they could help prevent thin soles from stone bruises, but otherwise, they need pads to provide protection to the sole & frog. I personally prefer to use hoof boots(as others seem to have noticed
) when necessary for this, rather than a shoe nailed in place for 4-6 weeks, so the horse can go bare the majority of the time & we have much more opportunity to work on getting the feet healthy.
Quote:
but she had a crack almost all the way up her front hoof I was told if I shoe her it will stop the cracking.
Shoes aren't necessary to fix a crack & IME they are generally not helpful in this situation. A metal brace across the crack may be in order though, as *part of* the treatment.
Quote:
I really thought I was doing the best thing and was trusting what I thought was knowledgeable horse people.
Yeah, we live & learn
One thing I've found is if you ask the advice of 10 different 'knowledgeable horse people' you're likely to get at least 5 conflicting answers! But don't beat yourself up for doing what you thought was the best with the knowledge that you had. And none of us were born knowing what we need to. Now you just know you need to learn more
.
Quote:
I really hope they dont have problems with these shoes I thought I was doing the right thing, but I should have just stuck with trimming.
I believe horses are *generally* better off shoeless(not necessarily bare), but I don't think shoes are necessarily as terrible as some think and believe they're appropriate & possibly the best option in certain circumstances, so don't 'cut off your nose' so to speak, just strive to learn as much as you can about the function of hooves, shoes & pros & cons of different approaches, so you can make more informed decisions in the future.