Left Back (Now)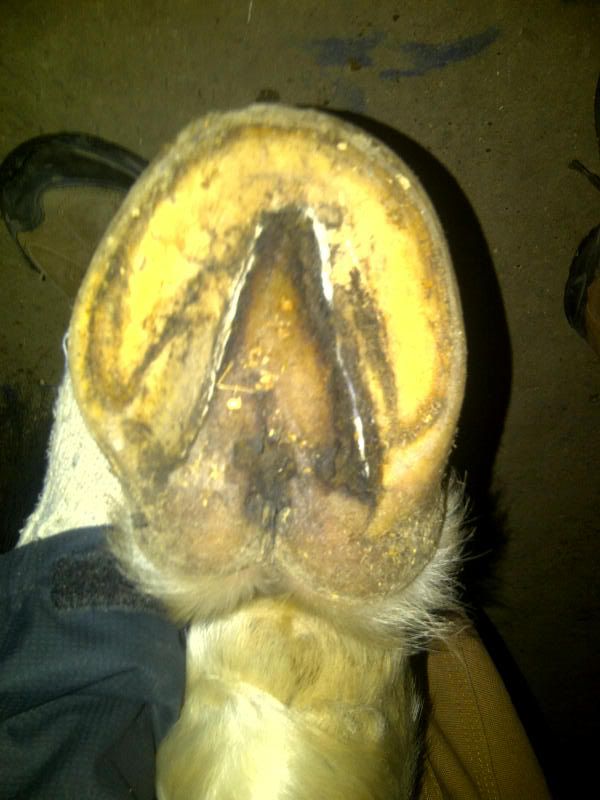 Left Back (July)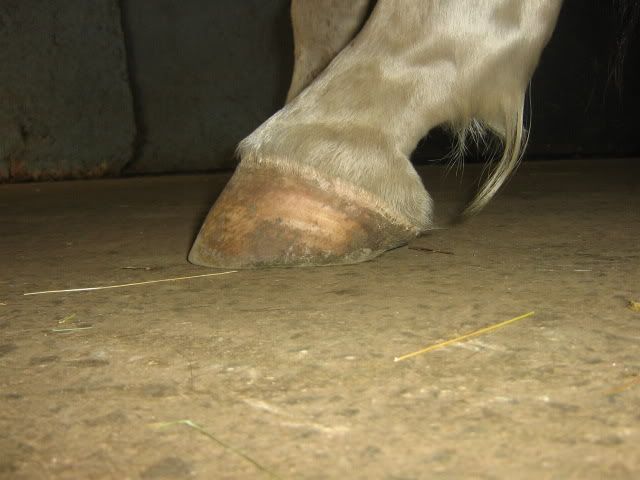 Keep in mind that I am treating his left hind and front feet for thrush :)
Hmm, sorry but afraid I struggle to see the improvement you're talking about between July & now. Without knowing how long it had been since a trim in July pics & bearing in mind she's a bit overdue for trimming in the now pics, as well as the usual 'disclaimers' about pics not necessarily giving an accurate picture, I'd still be inclined to say she looked better in July. While there are some issues visible back then, including slightly long, underrun heels on the fronts, they appear more so now, with the toes run out perhaps a bit more. While July pics show pretty straight dorsal walls & pastern angles, now pics show a bullnose look and slightly broken back pastern angle to the fronts, which I've marked with a red line.

I'd be inclined to back up the toes, shorten & roll quarters appropriately, take the heels down to @/very near sole level, which should instantly bring the footprint back to closer to where it needs to be, as indicated by my black lines on the pics. Keep them well maintained with frequent trimming and I wouldn't imagine this level of 'deformation' would take long to rectify.

*If shortening heels to sole level caused discomfort due to too much pressure on weak frogs/DCs, I'd perhaps be inclined to leave heels a few mm higher for now, but trim them on a slight bevel, so you're not getting into the sole, but still bringing the heel platform back a bit more. I would also be using frog supports or full pads in hoof boots if he's at all uncomfortable on his heels, &/or it's decided his heels should be left a tad long for now, to allow more, but comfortable use of his heels.

The med/lat imbalance in his back feet, esp BL may/may not be able to be rectified by resolving any body issues, but I think they're best maintained in balance in relation to the sole plane. Therefore the back 'now' pics show he needs some off ground surface on the insides all round, particularly quarter & heel, but probably little off the outsides.
So I just had the farrier come out on saturday, and thought I would post some pictures of his feet right after the trim and also with all the hair trimmed back. I asked her how his feet were comming along, and what she was doing about his heels.
She said that the first thing she is doing is thickening the wall of the heel as it was very thin before, and widening the base so that the heel would come back easier and stay there(and so that the hoof looks more like a D shape. She showed me how much thicker the heel has gotten (you can see it quite well in some of the photos) and how the widest part of the hoof has started to move back towards the heels, where it should be.
She said I should notice a major difference after another 6 months. and that it would take approximately one year from the first trim to have them where they should be(which would be in another 6 months).
I have noticed that the heels are higher off the ground in the back.
What does everything think of the trim?
Back Left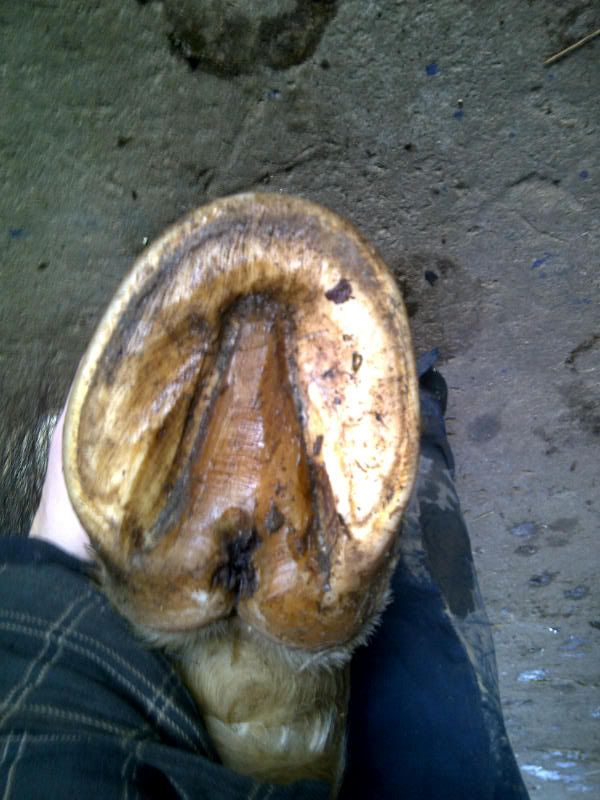 Back Right
Front Left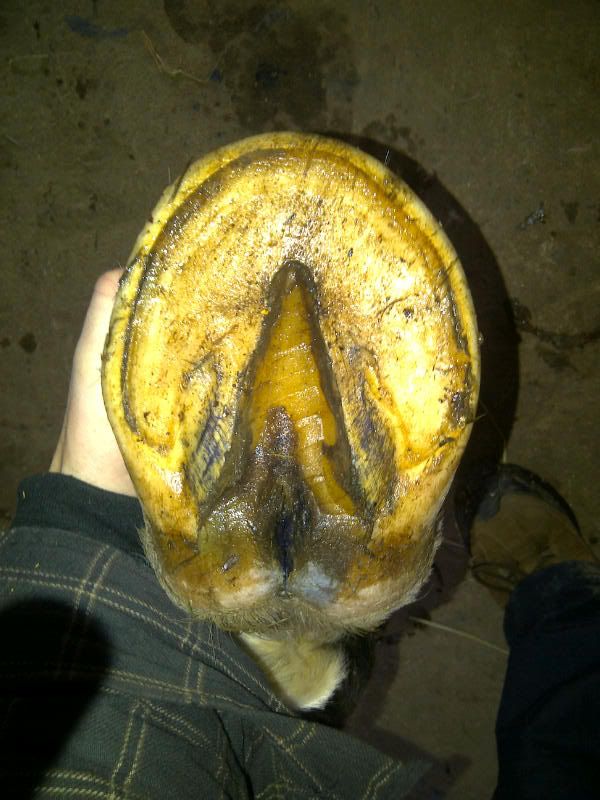 Front Right
To me, it looks as if new growth is just following old growth. I still see quite a bit of excess toe that is going to continue to pull the foot forward. The bars look like they could use a little more trim work also.
Don't know that i agree with the bars comment, but agree otherwise to what Kimmy says above, sorry.
Now from just those few pics, there is a lot that is left to be assumed & guessed at, so my comments on what I see may or may not be accurate...
Firstly, it appears that the farrier has carved off an awful lot of frog unnecessarily, which will cause the horse to be more sensitive & reluctant to use his heels(think of someone cutting away the calloused layers of your sole & only leaving a little soft skin). As a rule, I don't think paring frog is a good idea, unless it's daggy or thrushy bits that are best removed. Apart from possibly opening up the central sulcii a bit more &/or treating there for thrush, it appeared your horse's frogs didn't need any trimming at all in the last pics. The red circles on the back of the frogs are where I'd be concerned about possible infection.
In the back pics the red outlined area at the toes I'm concerned with, because it seems the farrier has possibly rasped/pared into the sole? I would almost invariably not touch that area & it usually can do with being a lot thicker, not thinned further. That goes for the fronts too, if they've been pruned. Looks like the farrier has possible pared a fair bit of sole all round, which I wouldn't tend to do. *Again, not assuming, just telling what looks likely.
The black lines I've marked at the toes are approximately where I'd start a strong bevel/roll to releive the stretching. The black line at the inside quarter of the back left indicates where it appears it could be imbalanced & needs attention. *Again, can't really tell from this angle, so that's a guesstimate. It appears the right back may also be a little higher on the inside. *This imbalance may or may not be right for this horse too.
The red circled areas at the outside heel of back right and the inside heels of fronts indicate where it appears the heels could have been left a little long, forward & out of balance with the other side of the foot. Looks like the inside front bars could possibly be addressed further too.
This horse hasn't got very 'underslung' feet at all - poss left fore only one that I'd really class as that now, though he has got stretched toes still, which appear that they're possibly not being addressed well.
I don't get what your farrier means by working on thickening heels or the widest point of the foot moving back - excepting quarter flares that can change the *appearance*, the WPOF should remain the same. Check out
Equine Lameness Prevention Organization
for more info on that point. While depending on many factors, it can take some time to effect many real changes in a foot, I also don't understand why it should take (another) 6 months for her to make that happen, considering the horse didn't look like it had much of a problem at all 6 months ago. Is it possible she's stringing you on, telling you what she thinks you'll believe? Not saying she doesn't believe it herself...
Anyway, sorry for what must be a dampener for you, & could well be wrong, but I think it's well worth considering all those sorts of aspects and that perhaps a better trimmer is in order?
Similar Threads
Thread
Thread Starter
Forum
Replies
Last Post
Heels down!!!

furrera

English Riding

6

11-15-2010

06:45 PM

WHY HEELS DOWN and not UP?

xxBarry Godden

English Riding

87

12-04-2009

04:06 AM

Heels down

Endless Journey Girl

English Riding

17

10-21-2009

03:28 PM

Heels!!!!!

Mountless20

English Riding

9

10-05-2009

07:31 PM

Heels down

VanillaBean

English Riding

10

10-24-2008

06:36 PM