You've got the toe under control for coming back, but the rest of the hoof, including the toe has gotten long on you.
The problem starts with the shape of your heels across the back of the platforms. They should look line my line...straight across. The inner point of the heel platforms are balanced, (RF) but there's a ramp of shape that goes up and up as it goes around the corner and takes you higher. The flare that is involved in this height has separated the wall from sole quite a bit. On the LF, the only tight supporting connection left is between 11 and 2 o'clock. So they have done some damage, but the length is coming off, so you'll just make that torque go away, by keeping the wall even with sole and maintaining the bevel.
Obeying the sole means that the wall should be even with it all the way around. When you think you've got the wall down even, close your eyes and run your thumb over sole/wall and off and you should feel absolutely no difference in their heights as you go across. Do this thumb test all the way around. It will give you better truth than your eyes. The wall should be flat to ground and not feeling like its going up and up as your thumb goes across either. This is established wall height before the bevel.
The bars should merge from the sole halfway back on the frog and ramp straight up to meet the heel platforms dead on...so no bowing upwards on their run or bumping up....straight ramp.
The bevel when you are done should leave the inside edge of the wall intact with the sole and bevelled 45 degrees on out from there. Run this bevel back to include the sides of the heel platforms. This will help the separation. When it gets tight, on the sides, only take the outer half of wall away in bevel.
I'm bringing the heel and toe down a bit, but hoof will still be longish, but this is enough for now. The sole will recede and leave wall standing and you get it even again....and that's how you come down shorter. So this trim will get you balanced, remove torque and get the right shape for proper function and get you on the right road.
Note where my lines are and the shape of them. Form is function. Hope this helps....
Left Front: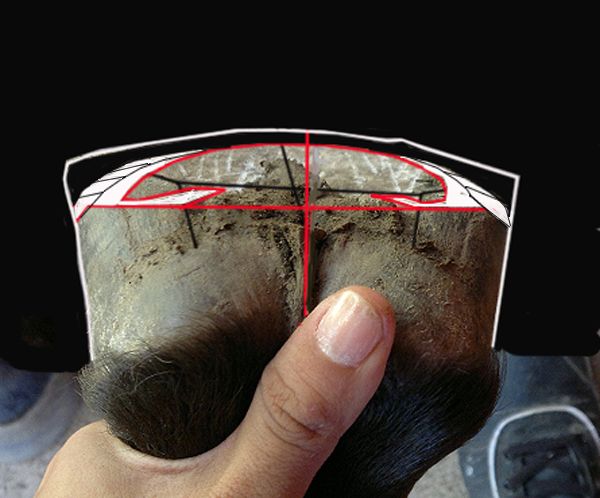 Right Front
---
Last edited by missyclare; 03-30-2012 at

05:22 PM

.
Ok, thank you. I will post pictures again afterward but may be a while. I don't have access to the internet out at the farm. :)
Hi,
I agree with much of what Missy says, I think, but find some of it hard to understand too(Eg. why have you changed the angle of vertical line in first 2 pics? What do you mean by heel 'going up & up'? It appears from your drawings that you want to lower the toe into the sole plane?).
So anyway, my opinion on these pics.... To begin, looks like you've made fair improvements.
Basically appears that the ground surface at the toe is short enough(sole level), but the heels could probably be lowered a tad more & the quarters appear quite a bit longer, hence the separation - Agree with Missy about the wall height being balanced according to the sole plane, so it should all be about sole level. I'd probably(it depends) keep it sole level or near until the hooves were in better shape. I'd also lower the bars a tad, so they are also at/near sole level.
I would bevel the toes from a tad further back than it appears, into the white line and do it right around from 10 to 2(imagining the ground surface as a clock face with 12 @ point of frog) rather than just the tip(between 11 & 1). I would also bevel/roll the flared quarters strongly, to or near the whiteline after balancing them on the ground surface, to relieve any leverage until they grow down well attached. When toes & quarters no longer show any stretching in the white line, then I'd begin the bevel somewhere around mid wall.
It does appear there *could* be a *slight* imbalance in heel heights, but I wouldn't want to conclude anything in detail, because I'm aware that pictures are often unclear & can be very misleading, depending on how they're taken & the angle they're on. Eg. I could show you a fresh trimmed foot sighting down the heel, from a different angles, which make it appear one heel's higher in one pic but the opposite higher in the next pic.
Forget if you gave details in the other thread, but do you ride this horse in boots or bare? I'd be inclined to use frog support pads, depending on terrain, as his frogs(& digital cushions) look a little weak & heels are high in comparison. Given the weak frogs, it may be best to leave a tad extra heel height for now & use the pads to provide more comfortable stimulation to get them becoming stronger. Frog support also tends to help underrun heels relax.
Looks like the backs are more 'broken forward'. I'd be doing the same sort of thing for them as the fronts. Her heels appear pretty reasonable & if you ride in yielding footing, hopefully no extra protection will be necessary, but riding on hard/rough ground will likely need further consideration if you do much of it at all. How does she go on rocky ground? Move differently, short stride, tippy toe or such?
Looks like the right inside heel could possibly be slightly longer, but otherwise they look well trimmed from the ground surface. Back quarters could possibly be 'scooped' a tad more. Bars could be pared back a little too.
As for the separation/stretching treatment, I'd tend to do a lot more than you have, to relieve the mechanical force on them & allow them to grow down well attached. It appears the left fore is in much better condition to the right. There is a lot of lamellar material evident on the right. Very basically, I'd be putting 'breakover'(essentially the hoofprint if on hard ground) on the hooves around where they would be on healthy, well attached feet. I've drawn on a couple of your pics to show this. The red lines are where I estimate the edge of the sole is & blue is where I'd have the breakover/start bevelling. **Emphasising this is *approximate estimating*. The purple patches on the right fore look like seedy spots to me & I'd want to clean them out fully & treat.
Seems like you're doing reasonably, but if you're on your own without options of help or advice from a good trimmer, I reckon Pete Ramey's Under The Horse DVD set is well worth the outlay & will really help you understand what lies beneath & why you do/don't do certain things.(you can also sell it on Ebay after you've watched it a few times if you can't afford to keep it!
) And by the background I'm guessing you're in Oz, so if you are & would like to PM me your location it's possible I could put you onto someone good for firsthand help.
**Oh & it would be easier if you could attach pix in the thread rather than having to open individual windows.
---
Last edited by loosie; 04-09-2012 at

09:37 PM

.
Thanks, have pmed you.

So it is progress but just too slow. How should I go about the seedy areas?

She seems a bit tender on the rocky area but not horribly.