Quote:
Corporal. What type of trimmer is 150$
Posted via Mobile Device
I think Corporal meant nippers.
And a decent set of G.E.s will cost about $200..
---
I DON'T LEAD 'EM AND FEED 'EM, I RIDE 'EM AND SLIDE 'EM.
Wait.... by "trimmer" are you talking about nippers?

IMPO, the really good ones are GE brand and a set of them can run you $200+.

My brother tried a pair of nippers from a relatively new maker the last time he bought a pair. They were about $120. He said they worked great until he came across a really hard hoof (which everything was hard here for a long time due to the drought). First time he tried to nip a hard hoof, the handles bent and the blades stopped coming together all the way.
It is true. Good tools are imperative if you strike out on your own. But I look at it like an investment in my horse and a savings over time plus knowledge learned and earned if you really set your mind to learn the trade.

For me it comes down to, is it a good trim that trims to the bone? Shoes, no shoes, farrier, trimmer, owner....I dont care who does it, Just apply a reasonably good trim that considers the bones and joints of a horses leg and is physiologically correct. Thats all there is to it. Trimming isnt rocket science. Its actually quite simple once you wrap your brain around distortion and how to fix/prevent it.
---
Married to my One! 10-11-13 Steampunk style:)
I could see paying 50 for a good trim but not 150 that's a little pricey. Heck I did shoes on two horses for 150. That was a less then great shoe job too. Now I pay less to shoe and still get crappy work.

That's just the way it is here need shoes so put up with not so good work so our horses stay sound.
Spirit, by trimmer they meant a pair of nippers, not an actual hoof trim by a person. My farrier just recently have me a couple pairs of GE nippers. I sent one off to be rebuilt already and that cost me 60 bucks. Trimming tools aren't cheap but like others said, they're worth the investment.

If you want to shoe, then shoe. Shoes would be a last resort to me. I would try a good trim an hoof boots first. There's a convenience to being barefoot. The feet are free to grow and expand, and you're free to make changes to them any time you want. When shod, neither can be done without pulling the shoes. Just my opinion. If you feel like your horse needs it done, make sure you find a good farrier who will treat your boy right. :)
Posted via Mobile Device
I went to a Easy boot clinic for my mare. She has a horrible crack on her hoof so I used boots on her backs but had shoes on her fronts (chipped her feet up so bad after a 10 min ride they where bleeding! silly mare did not tell me her feet where bothering her!) EVERY horse there was lame. One horse had the shortest feet i had ever seen and he was trimmed every 4 weeks. My horse out of all 10 horses was the ONLY sound one. They tried to tell me the cons of shoes but I saw what they where putting their horses through. My mare was barefoot for 6 years, did her no favors. BUT i know someone who has a clubbed footed horse who is sound without shoes. Its as much the trimmer as the horse. If the trimmer is trimming them down to 2in then ANY horse will be lame, but if they leave them around 3in the horse is fine.
Here is the Before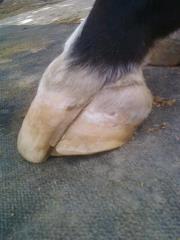 After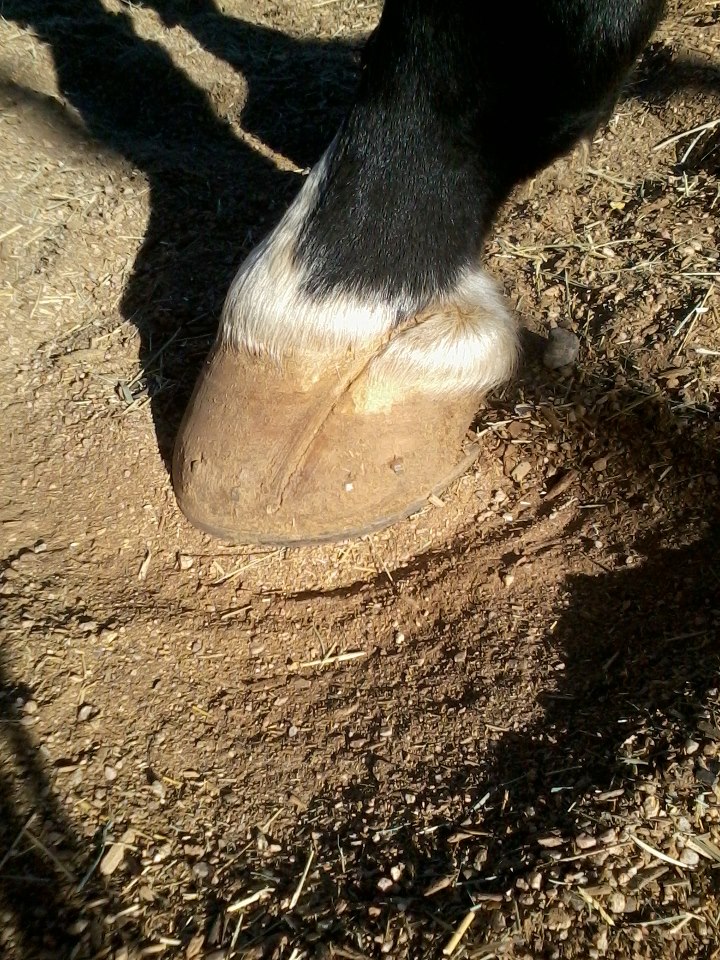 ---
Last edited by KigerQueen; 08-13-2013 at

05:31 PM

.
As to nippers...I have a pair of Nordic Viking nippers. They are about as low as you can possibly go and still get a good tool. They were around $100, I think. They work very well (cut clean, takes little strength) on "desert hard" hooves. And, after it rains, they work even better! ;)
---
There is just as much horse sense as ever, but the horses have most of it.
I think they meant trimmer as in the person. A lot of trimmers out here charge an arm and a leg. Its cheaper for me to put shoes on her with my farrier (and he dose a better job) than use a trimmer who has been making a lot of horses lame for the past couple of years. But the same with farriers in my area. Normally for all 4 shoes it can cost anywhere from 100-200 and I think the cheapest 'trimmer' is 75. My farrier charges 50 for all 4 shoes.