New Farrier, Thoughts?
---
My horse is doing well, sound and bold on all surfaces despite riding 25 miles or more each week. In this last shoeing cycle, he started interfering and over-reaching, so I told the farrier and he made a couple changes. Anything stand out to you that I should keep an eye on/be aware of?
Below are some pictures, there are more at:
Equine Photos by SharpieBird | Photobucket
all the shod ones are pictures from today
Left Front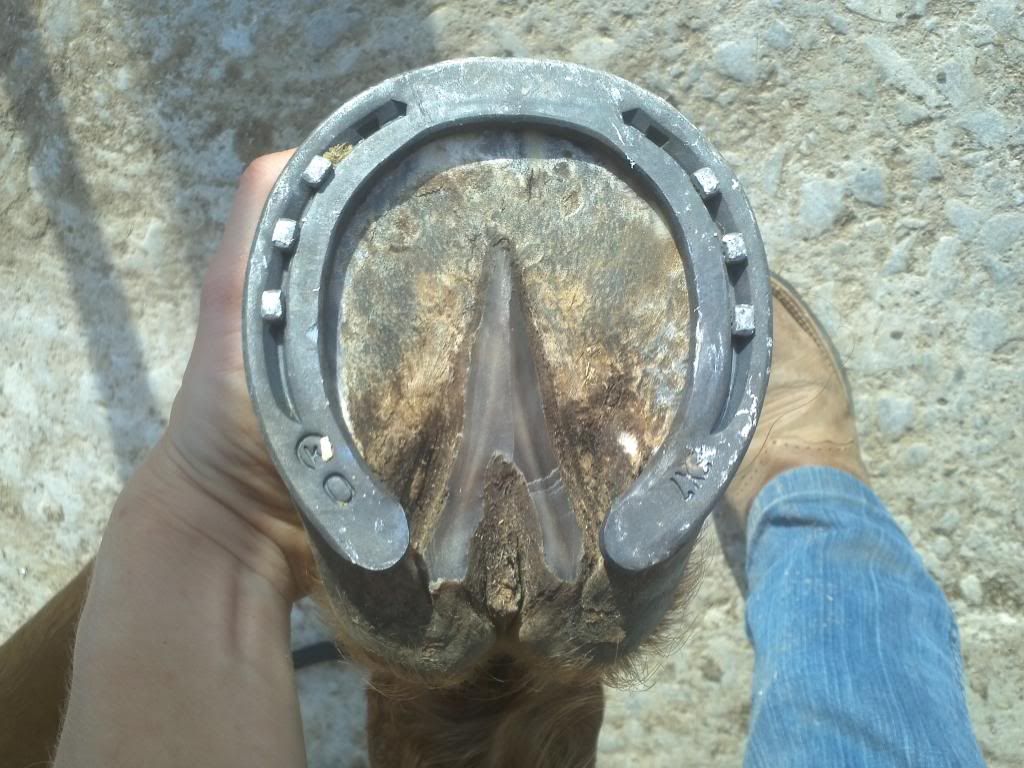 Right Front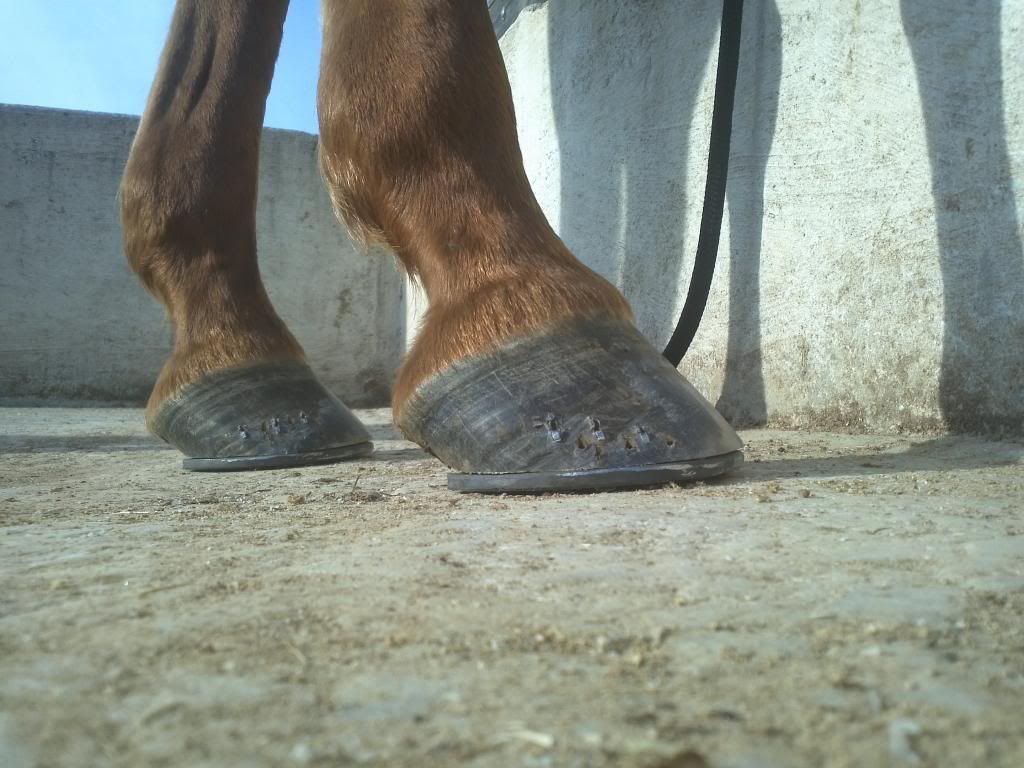 Left Rear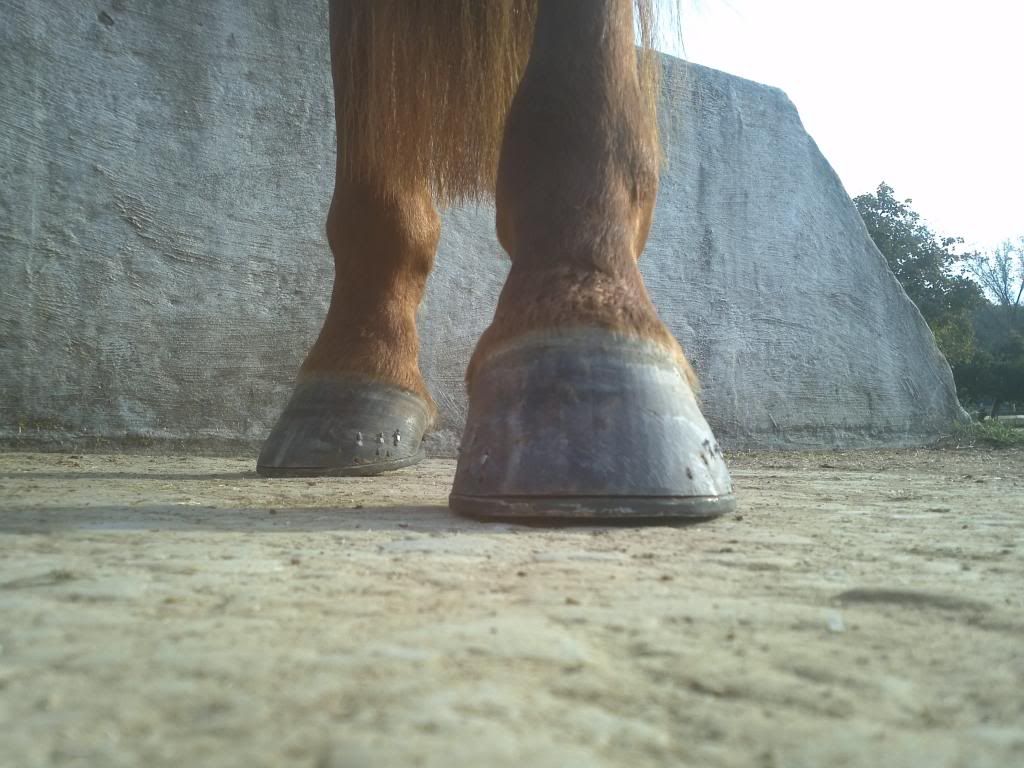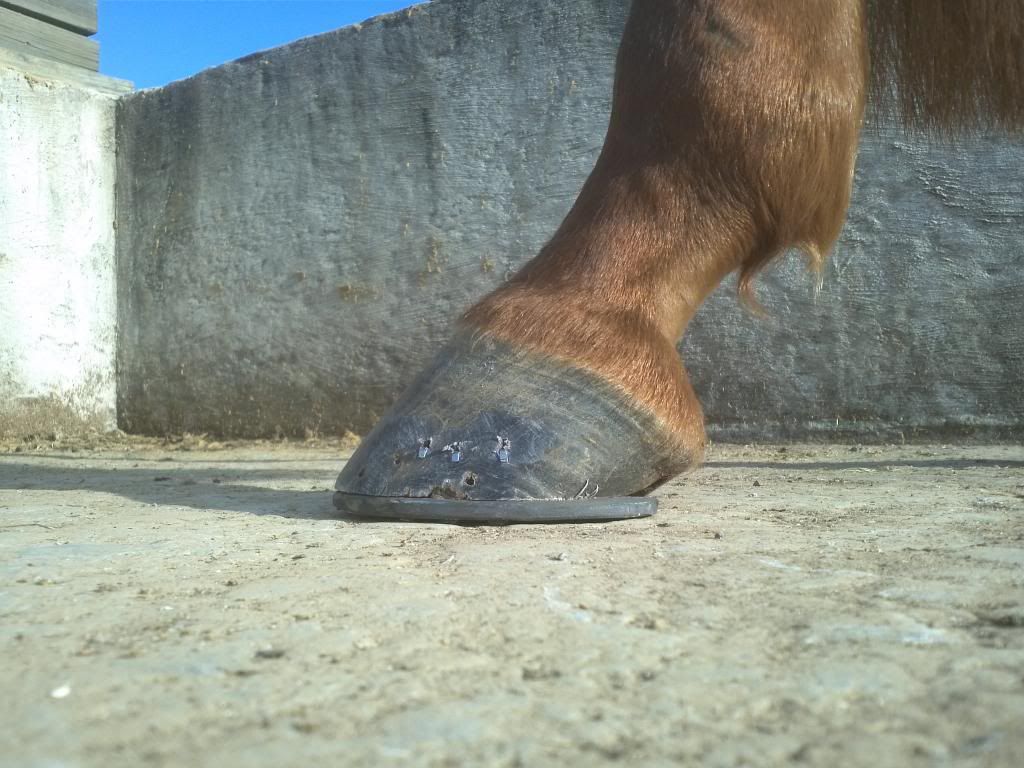 Right Rear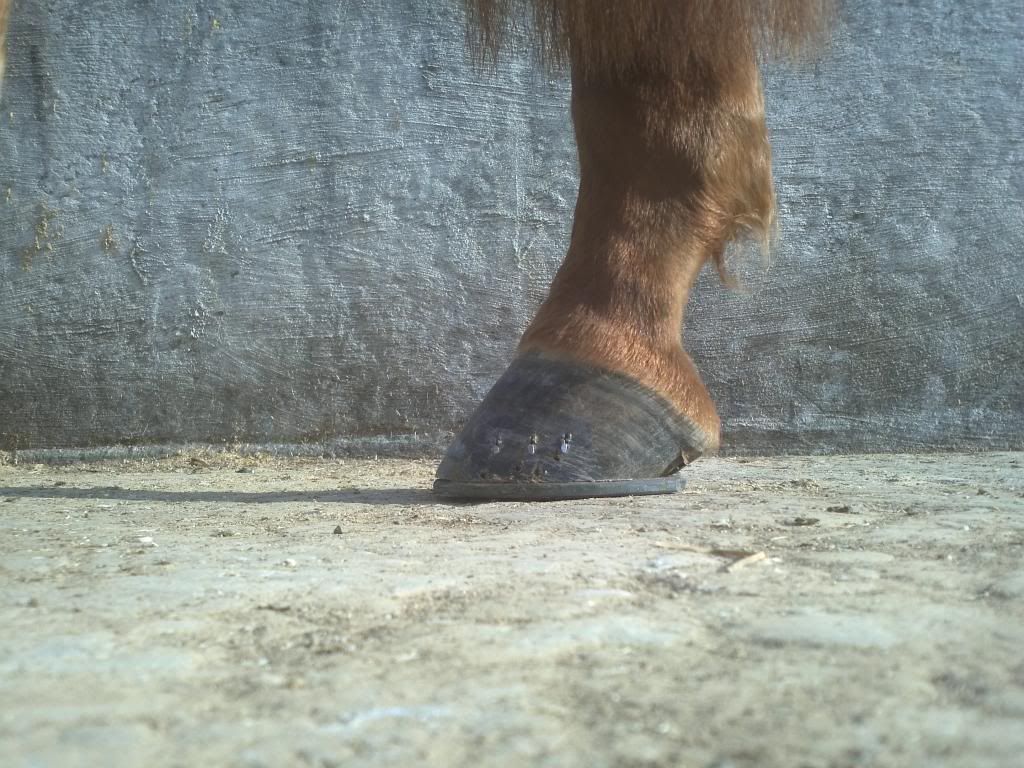 Showing
Join Date: Jun 2011
Location: Cariboo, British Columbia
Posts: 11,770
• Horses:
3
Those heels are pretty steep and bars of the shoes look like they are squishing the frog. Ideally the angle of the heel should match the angle of the pastern.
---
I am not here to promote anythingNo, that's not true, I am here to promote everything equestrian and everyone enjoying horses!
Does that mean the heels are too long and running forward? Yeah, the corners of the shoes being too far over the grooves next to the frogs was something I did notice. It's better this time - it actually made picking his back feet tough last time. Sounds like still a little wider would be better though?
Posted via Mobile Device
Yeah the heels look like there run forward a bit. Kinda hard to tell from pictures.
They look like nice big healthy feet. Yes it looks like the branch ends of the shoes curve in a bit too much, but that might be one of the changes he did to help not interfere or overreach and pull off a shoe with a hind toe.
At first glance it is better than some shoeing we see here but the hooves are heading for trouble.
If this farrier has been doing him for a long while and continues in this direction, it will gradually get worse.

The toe is too far forward. There is very subtle distortion in the front half of the foot that the farrier is not seeing. As the toe drifts forward he is "chasing" it with the shoe. Even though he did set the shoe back a little this time (a good thing) it is not nearly far enough back yet. The sole is stretched so the farrier can not see where the toe SHOULD be.

HOOF MAPPING would solve that.

The heels of the foot are too long, and therefore beginning to run forward and end too far froward. That is causing the whole"footprint" to be too forward from where it should be relative to the bone structure internally and likely the cause of the over reaching. The more these feet drift forward, the worse that will get.

As well, having more foot on the ground in front of the widest part of the sole than behind is a common cause of internal stresses that will eventually lead to navicular issues.
The frog is clearly getting unhealthy, narrow and stretched. And him peeling a lot of good frog off with the knife isn't helping because it dries the frog out faster and assists in shrinking up to nothing. Lowerring the heels of the foot will bri g the base of support back under the leg where it belongs and help get the back of the frog closer to the ground and het it function again. Bringing the toe BACK (NOT shorter from the bottom) will balance the foot around the bones better, help the horse move easier, and not overreach.

As well he uses plain flat shoes which do NOT help any horse move easier because a flat edge shoe fit to the edge of the foot interferes with movement and adds stress to the joints except in the softest ground. The harder the ground, the worse the effect. Shoes with rounded edges are far healthier for ANY horse.
I agree that the heels look forward and to me it seems like the farrier has tried to compensate for that by extending the shoe beyond the heel. I know NOTHING about shoes, relatively speaking, but, IMO, you fix the heel back to where it belongs, not extend the shoe.
I thought I'd commented on this one. I don't think it's a terrible job & if this is a new farrier, depends to a degree as to what he started with, but do agree with Patty's assessment, that he's shod to the stretched walls rather than back where his toes should be. Also looks like that was probably healthy frog that he cut away, not just diseased or flappy bits.
This is the third shoeing with this farrier on a 6 week cycle. He is shod all around due to the combination of longer miles and rocky trails and gravel paths we typically ride. He has good feet with no outward issues, but was always a little cautious on gravel/rocks barefoot. I suppose you all have confirmed some of my concern: that while his work is not bad, and good enough to keep my boy apparently sound and happy, we may in the long run have issues.

The question then becomes, where do I go from here? There are six farriers here I am aware of. This fellow, three who's work I have seen and that I will not allow to touch my horse, and two more of completely unknown (to me) quality.

What might I ask/say the next go around to improve the job for my horse? Or do you think that it may be a losing side to try to change what I am getting and I ought to look around further for a farrier who's methods more closely match my ideal? This gentleman is good with my horse, me, and very considerate and easy to work with, so I don't want to imply he would not be willing to 'customize' his trim/shoeing, but I know that it can be taken the wrong way to ask to change things too.
Just honestly discuss your concerns without being critical. Any good farrier will listen and work with the owner to do what is best for the horse. If he's unwilling to listen or even consider your thoughts, then you'd be better off with a different farrier anyway.
---
Always remember that feeling of looking at a big, open country over the ears of a good horse, seeing a new trail unwind ahead of you, and that ever-spectacular view from the top of the ridge!!! Follow my training blog:
http://robertsontraining.blogspot.com/