New trimmer monday (here are some Befores)
---
All right, got someone coming out on Monday... we'll see how she does... Either way, he overdue for some sort of trim. (3ish weeks overdue... he was left sore last time by his previous farrier and I wanted his new trimmer or farrier to have enough foot to actually work with!! But it's been hard finding someone)
So here are the Befores. I'll update with the Afters on monday. In the meantime... I realized I forgot to take a picture front in front of the hoof. The flare is really obvious and bad from that angle.
LEFT FRONT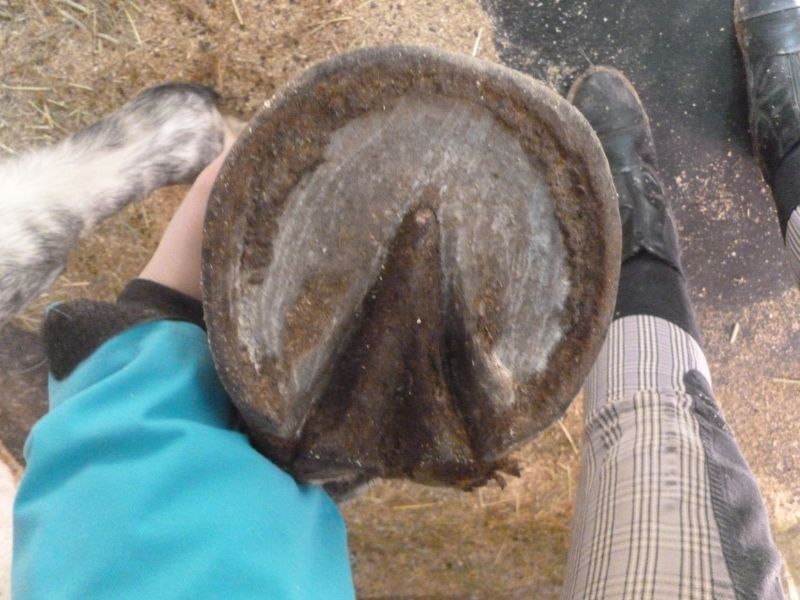 LEFT HIND
RIGHT FRONT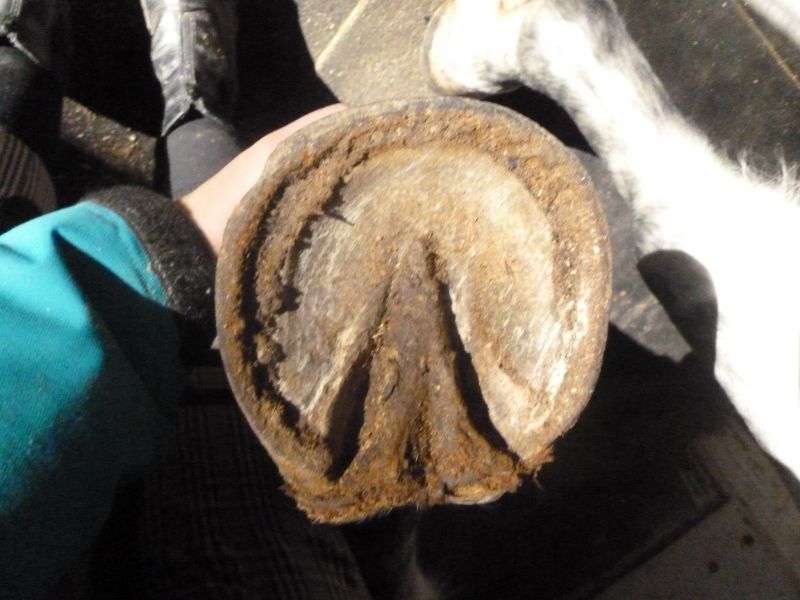 RIGHT HIND
I know what I want to see, but of the more obvious stuff. What would you like to see done?
There is plenty of hoof wall there to work with but NO excess sole so be sure the trimmer stays off those soles and leaves a little bit of hoof wall level with or slightly more than the sole edge to share the load.
Toes & quarters strongly bevelled to address the flares. Looks like some seedy needing cleaning out. Would depend what I found & how extensive, as well as what interim care the horse was going to get, as to how much I might get into it first trim. Soles look quite flat & thin. Do they yield to pressure at all up around the frog apex? I'd be inclined to keep the horse on yielding footing &/or pad hooves for now if so. Also consider diet & nutrition.
Foot is quite hard, no give whatsoever anywhere. I can tap it rather hard with the hoof pick and he doesn't even twitch an ear back. He gets Triple Crown 30% and whole flax seeds plus quality hay.

He is on yielding footing anyways though. Lives in a pea gravel paddock, and I ride in hogfuel arenas. But trails, which are hard gravel with lots of protruding rocks has never bothered him, except for the first time ever which was immediately following the last trim (he was fine after a week or so). It seemed then to me that the farrier trimmed off too much toe wall, trying to address flare that I was concerned with...sigh.
---
Last edited by teamfire; 11-03-2013 at

08:26 PM

.
Not talking about tapping with the hoof pick, but does the sole yield to firm thumb pressure? If you have hoof testers handy, does it yield to pressure from these? - Don't use a lot of pressure on them.

Hmm, yes, depends how the toe wall was trimmed, as well as what was done to the rest & I think it can sometimes be a balancing act, depending on what you're asking of the horse too. The walls may be providing a little support for the thin soles, but they're obviously weak & have given way, so it's not doing them any good asking them to take the load. So I would indeed consider 'relieving' them pretty strongly, but in the meantime those already thin soles will need some extra protection on rough ground, regardless of how the walls are addressed.
---
Last edited by loosie; 11-03-2013 at

08:42 PM

.
Pretty sure they wouldn't yield to my thumb, but not sure. I poke them a lot, I think I would've noticed if they did, but then, was not looking for that. No hoof testers handy.

It's a little devastating to hear. He grew up in a herd on hundreds of acres on varied mountain terrain (always been barefoot, and was in that terrain for 5ish years), and had the toughest feet you could see when he first arrived. (or so every single person that saw him said, I'm new to the horse world, so don't really know). But it's been a year and half or so now. And we essentially live in a bog, so things are usually wet and soft.

I'll make sure not to ride on the trails for now (with the winter season coming, I would've anyways). That's pretty much the roughest ground he's on. The pathways between the barn and arenas are of the same gravel, but they're not long... Will proper trimming help thicken those soles? Can I do anything myself to help with that??

EDIT: he trips a lot. But I figured it was due to the long feet, could that be related to the thin soles?
---
Last edited by teamfire; 11-03-2013 at

08:51 PM

.
Yep, environment plays a huge part in hoof health & if he's lived in boggy footing for some time, this could be the major reason his feet are weaker. Just like yourself if you never go bare on anything but carpet, your feet won't have the necessary callus to cope easily on gravel. Add to that soaking in a bath for some time, let alone if your feet were eternally or long term damp & all the infections that they'd be more susceptible to...

Yes, proper trimming, to balance the feet well & allow the walls to grow down strongly attached will also help the sole become thicker. Thinking seriously about what you can change of his environment will be just as important too, if you want him to be sound on anything bare. His diet & nutrition may well have changed in the last year too & may be having an effect.

Yes, tripping will be related to the flared feet, but can also be due to thin soles - you often tend to stumble a bit if you step on a sharp, hurty rock!
He's never in wet wet footing for long (we did the drainage for his paddock so it drains fast; plus we changed the hogfuel footing to pea gravel, but that was last summer). And he has his stall, which I'm OCD about keeping absolutely clean and dry. (and it helps he never poops or pees inside). But living in, essentially, a rainforest, it's moist for most months of the year.

I recently changed his ration balancer from a local brand to the TC, I suppose it's too early to see if that does him good. And ground flax to whole flax. (and a probiotic)

I don't think I can change any more of his environment, and I can't really think of what else I could possibly add or change to his diet. The last thing I have is to change his hoof professional, which is what I'm doing now.

Should I put something like durasole on??
EDIT: Gonna make new thread. Realized I couldn't update the thread title.