Scary.... Its obvious to me now what it is.
Its an alien invasion. That what.
When I was a kid I thought that foal's soft hooves were the coolest thing ever. Now as an adult & a mother, I just think that mother nature is pretty wise.

Hippomanes my grandpa always called moonstones and to this day swears they are a sign of good luck and a horse with great potential. I've only seen a few over the years. Found one with Merit, hope my grandpa's silly old theory proves true. From what I was told as a kid, they are a collection of fetal urine that forms a stone of sorts. The few I've seen looked & felt similar to liver. Dark brownish red & rubbery.
Posted via Mobile Device
I've always been told to toss the hippomane up on the roof of the barn for luck!
---
Okay. Much better than what I was thinking. Try to imagine a hippo in a tutu with a long flowing mane.
Small, smooth, flatish and mostly circular mass found in the bag with baby in answer to what is a hiipomane... Can be hand sized. That's about the largest I've seen.
Called Golden Slippers.
---
Horses make me a better person.
Quote:
I found this on FB. Did you know that newborn hooves look like this?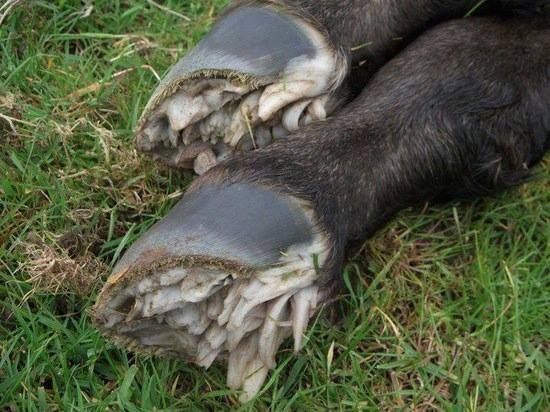 The tubules wear away within 2 to 3 days after birth from walking.
Posted via Mobile Device
Yep. I remember years ago when I first started breeding miniatures I actually did not know that they came out that way, I was horrified thinking I had a baby with major problems. I had to look it up and even called the vet out because I was sure we had a serious problem on our hands
Yes, agreed super creepy. Looks like a fungal growth or tentacles. it's a good thing they fall off quickly.