Opinions on her Feet?
---
I wanted to see if I could get some opinions on my mare's feet. The farrier last trimmed them about a month ago but I was not pleased with the trim after he had done it and sometimes seems to have a bad attitude when I made her trot or canter and I'm kind of thinking it has something to do with her feet now... I have been wanting to start trimming her feet myself so I don't have to rely on anyone to do a decent job with my horse's feet.
Front hooves, she is slightly pidgeon-toed-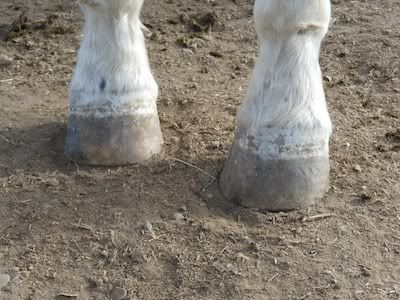 Right hind hoof-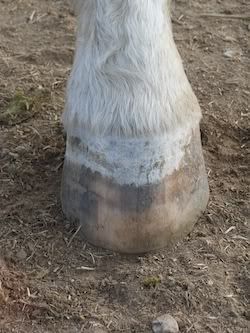 Left hind hoof-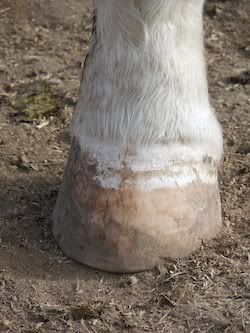 Left side view of front hooves-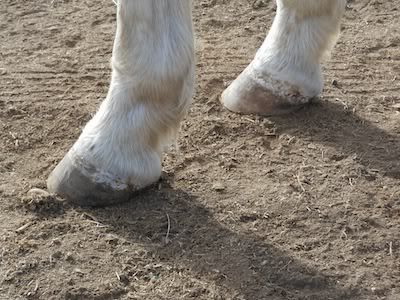 Left side hind hooves-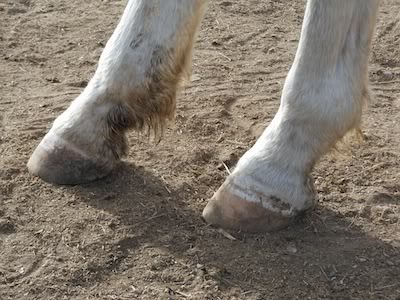 Right view front hooves-
Right side view of hind hooves-
After MUCH research it looks like her frog is much too large, the bars are getting too over grown, her heel is low, and she doesn't have much sole.
Left front hoof-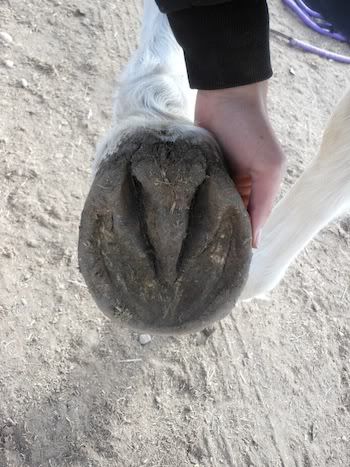 Left hind hoof-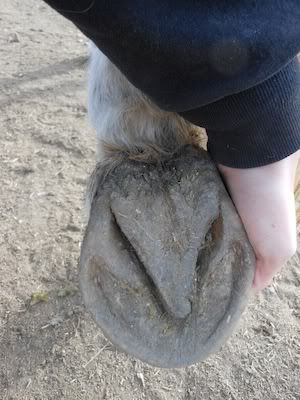 Right front hoof-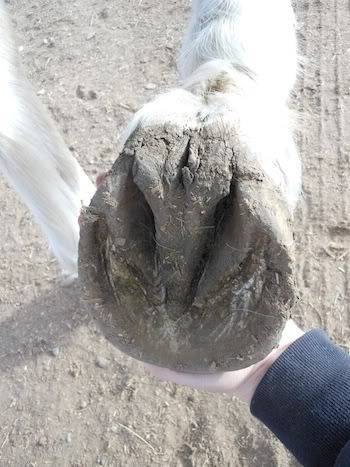 Right hind hoof-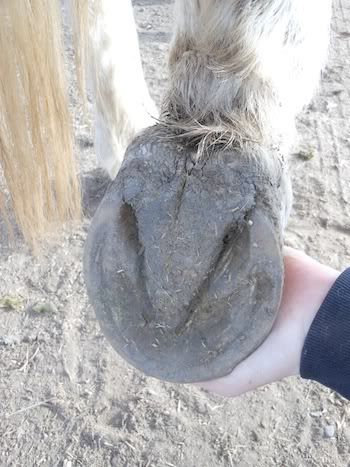 It would be great to get some opinions on this, good or bad. Also her feet are a good temperature if that is use to anyone. Thank you!
Her frog isn't the problem. She's suffering from long toe / low heel syndrome, with a bad angle going on caused by this imbalance. No wonder she's sore/pissy. Her hoof needs to be gradually brought back under her. If your farrier isn't willing to work on that, find another.
Wow a professional farrier did that?? If you take a pencil or other straight object and line it up with the middle of her ankle bone and place the other end on the ground, it should meet up with the horse's heel (ie base of support). Right now that pencil would only touch the ground, no horse foot. A good trimmer will be able to encourage the foot to grow back a bit.
---
You just have to see your distance...you don't have to like it.
Wow, I can't believe this, my farrier ruined my mare's feet! Well, NEVER using him again... I'm going to have to use someone else...
At least your horse is barefoot which usually means they grow quickly. Getting some heel back under her base of support should only take a few months. They're not horrible, but I wouldn't let them continue in that direction.
---
You just have to see your distance...you don't have to like it.
The sole shots of the fronts don't seem to jive with the side shots, but she is standing on sand which can throw it off quite a bit. The side shots look like the heels are too low, but the soles show that there is far too much heal and generally just too much hoof. After only a month, there should definitely not be this much hoof there and they should not be showing such uneven amounts of growth; seems to me the trim was not done properly at all.

That said, I think one good trim will make a world of difference, then progressing on as improvement comes with time and new growth. Generally speaking you don't have a huge problem on your hands that I see. A proper trim may help with her stance as well. She is indeed quite pigeon toed.

Good luck finding a new trimmer/farrier. Your old one is doing you no favours at all. That's a fact.
I really appreciate it, thank you! I'm giving a different farrier (very well known and does great work) a call tomorrow and set up a time so he can do her feet, and hopefully get her on the right track :/
Hi,

Afraid I respectfully disagree with most of the above opinions. As per usual I mostly agree with the comments from NM tho!

First & foremost, I don't generally think it's reasonable to judge a farrier's job that's a month past anyway, and certainly not in this case. Secondly, I wouldn't be comfortable passing judgement, based only on a handful of pics, that due to the details, don't give an accurate idea anyway. We also don't know what the feet were like before this farrier started on them either. For purpose of critiquing a trim, providing before & after shots, straight after a trim, with shots taken squarely from a number of angles & horse standing on firm, flattish ground is best. I also don't think it's a good idea to jump to conclusions from a few opinions you get here(or elsewhere for that matter). Use the opinions, (particularly remote ones like you get here, from people who may or may not be very knowledgeable & haven't even seen the horse in person) as food for thought only, that along with your own studies can help you analyse the situation.

Now I've had my little rant, I'll give you my *opinion* on those feet...

It does appear, in the pics of feet on the ground, that the toes are a bit long/stretched. Also looks like perhaps the front heels could be a little run forward. But with the angle of the pics & the horse on soft footing, couldn't be sure of degree & details of that. From what can be got from the pix, they don't look terrible to me, at any rate.

From the solar pictures, I agree with NM that they don't quite match the picture you get from feet on the ground - an indication of why not to rely purely on photos for accurate info. From underneath, it doesn't appear the toes are particularly long or anything. The back feet look really good actually, with uniformly thick walls & those awesome great, flat, well used frogs(where did you get the idea the frogs were too big???). The fronts don't quite tell the same story tho & there is more wear at the toe/overgrowth at the quarters & heels, the frogs more contracted & unused, which could be because the farrier has left him with high heels, &/or that he has weak/sensitive heels that could do with some protection & support in order to be able to grow strong. I don't think, at face value, they look terrible either though.

There are some balance issues, but with only those angle pix, can't say much there, and aside from the outside of the right fore, which I don't think was addressed appropriately(IMO) at the last trim - it's taken more than a month to get like that - I couldn't say these issues were due to the farrier's last trim, aside from the fact that we don't even get to see the whole horse, let alone know of any conformation, pain or postural issues that may cause imbalance.

The feet are obviously well due for a trim, especially all but the toes of the front feet, which are quite long. I agree that these look long for a month's growth, *generally*. This could well mean the farrier left them too long in the first place, but it could also be that this horse's feet, at this point in time have been growing very quickly, or it could be that the horse was retaining a lot of dead sole that's recently exfoliated & left him suddenly looking 'overgrown'. IMO it also depends on the environment(eg soft or hard footing) and other factors as to how long or short you might leave the walls above the sole. Likewise, while a horse being more sensitive on their feet after a trim can absolutely be due to farrier error, but it could also be due to other reasons, so without much further info, I don't think it's fair to just jump in & blame the farrier for that either.

So.... I don't get where you're 'much research' let you to believe the horse's frogs were too big or the heels were too low. (Back frogs are huge in comparison to many domestic horses, but that's great) I think it's so important for owners to learn as much as they can about hoof function & health & relevant factors though, whether or not they plan to ultimately do the trimmming themselves. I'm all for people learning to do it, but while it's not rocket science, I urge you to learn the underlying theory & principles well and have at least a few lessons with a good trimmer first. To that end, check out my signature links for more info.
---
Last edited by loosie; 12-28-2011 at

07:42 PM

.
Thank you Loosie, this was very helpful. I'll make sure to keep researching and learning more everyday..
Quote:
Wow, I can't believe this, my farrier ruined my mare's feet! Well, NEVER using him again... I'm going to have to use someone else...
Your farrier didn't "ruin" your mare's feet or anything else. He did a better than average job dressing the feet and probably took an overly conservative approach to trimming the solar aspect of the feet. Four weeks past trim leaves little more than speculation as to what the work looked like on day one.
Your farrier knows your horse better than anyone here and, just as importantly, knows the terrain in your area and how you use that horse over that terrain.
The horse is loading heavily on the lateral aspect of the left hind. It's a minor issue but have your farrier check it the next time he/she is out.
As to "slightly pigeon-toed"... in this case that's like suggesting someone is "slightly pregnant".
Cheers,
Mark
Similar Threads
Thread
Thread Starter
Forum
Replies
Last Post
How do his feet look?

trIplEcrOwngIrl

Horse Health

53

02-14-2011

08:08 PM

feet

BarrelracingArabian

Horse Training

15

06-24-2010

09:24 AM

Feet

RedTree

Horse Riding

1

03-07-2010

08:17 AM

Six Feet Under

califcowgirl

Movies, Music, and TV

5

10-29-2008

11:11 AM

feet.....

Jr_lover

Horse Talk

3

01-30-2008

04:59 PM