I am English, but have lived in the US for the past 9 years, I can remember calling my farrier and freaking out because my horses hoof chipped, and I never experienced this in years and years of owning a horse in the UK. I imagine (am guessing) it is because of the dry climate here.
My farrier laughed quite a bit and told me to calm down and that it was normal.
Quote:
PS. I don't use hoof supplements. My guys have really good feet.

I don't either, and all my three horses compete happily barefoot. A good diet, meaning no excess sugars or grains and lots of forage, and well balanced, along with good trimming and excercise should be all you need to maintain a healthy hoof.
---
Hmm... you guys have given me a lot to mull over, I looked to see if there were any barefoot trimmers in the area but there aren't and the one that I did find that I did find, charges an ungodly amount. I thinking I'm going to have to talk to the farrier about rolling the toe over more and to shorten them up a bit. I going to try applying hoof conditioner more often then I do right now and see how that goes.
I think that sounds like a plan!
---
There are a lot of good websites with a lot of info on a correct barefoot trim to help you educate yourself. Pete Ramey has a good one called barehoofcare (I think!).

Have a google and educate yourself on what a good trim looks like and what the roll will look like - it is really good stuff to know.
---
Thanks Wild!
You guys have been great and even now I'm more informed!
---
Quote:
I thinking I'm going to have to talk to the farrier about rolling the toe over more and to shorten them up a bit. I going to try applying hoof conditioner more often then I do right now and see how that goes.
You've received very good advice already. If you ask your farrier to shorten the toe more, make sure that he does not remove sole while doing it. Barefoot horses need sole, and that is one of the main reasons that horses are ouchy after a trimming by some farriers.
---
On the sixth day, God created the Quarter Horse.
On the seventh day, he Painted the good ones.
Paint, thank you very much!
---
This pic shows what a strong roll or bevel looks like from the outside wall. There are other pics on my PB if you wish to view them. Basically do not rasp flat across the bottom of the hoof to achieve a shorter toe, this will result in a gimpy horse. Doing a roll as you see here will not rasp off any sole and will allow the inner edge next to the sole to help protect. Google some barefoot photos and sites to educate yourself and then share them with your farrier. Traditional barefoot(pasture trim)trimming often does not properly address the outside wall this way. It really helps.
my photobucket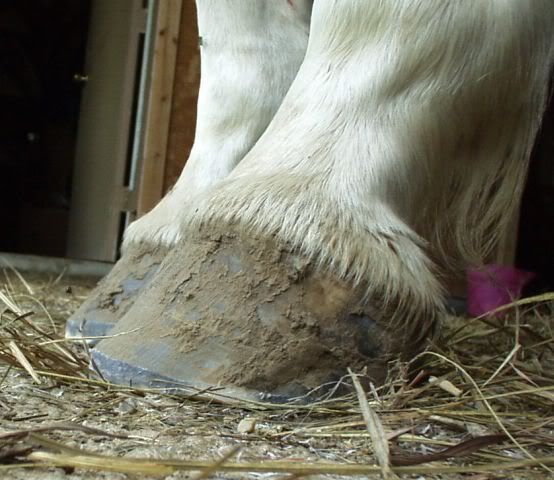 ---
Hi,
I agree mostly with what others have said already. I think it's so important for owners to educate themselves as much as possible rather than just trusting to whatever 'experts' may be at hand. It's important to understand the principles & factors, because aside from what your 'experts' like, most factors of hoof health are up to you, the owner.
Quote:
Chevy-the reason why he's leaving the toes long mainly in the front is from what I gather from the barn manager is that he's afraid if he trims the toes too short that the horses are going to end lame.
Sounds possible he doesn't appreciate the mechanics of what he's doing or how a hoof functions. But so saying, only got your few words & not even any pics to go on, so wouldn't want to make judgments on him without a LOT more info - but certainly questioning.
Quote:
At around 4 weeks, you can see the toes flare out and there are some major chips.
For many horses, 4 weeks, sometimes even less is an optimum schedule for a trim. For most horses, 8 weeks is too long. Amount of growth depends a lot on amount of hoof function/exercise. The more miles covered, the quicker the hooves grow. I would be working to *keep* the feet in good shape, rather than allowing them to become overgrown & then 'correcting'. Therefore I'd take the flaring as a sign of overgrowth. Wouldn't leave them longer than 4 weeks. But once you learn the principles, you may find you want to learn the practice, and a good farrier should be willing to show you how to at least do a 'touch up' trim, so you may be able to keep them in shape & still keep the 8-week farrier schedule.
Sending some hoof pics & more info on his management would be helpful if you want more specific advice.
I'd get a new farrier, one that specializes in natural barefoot trimming... it makes a world of difference for your horse... and leaving the toes long is NOT natural and in 5 years you might be dealing with something yuckier than a few chips...

As far as a 'supplement' for your horse... don't go buying expensive hoof supplements... make sure your horse is getting the necessary vitamins/minerals that it needs... i gave my old horse (who had hideous feet) flax meal (about a 1/4 C. a day, and the farrier couldn't believe the change in her feet after a few months. I just buy ground flax seeds at the grocery story and it's pretty cheap.