Please critique my trimming
---
As some of you know, we adopted 3 rescued horses. Their hooves are in bad shape. Our farrier doesn't come for another month so I'm going to try and trim them up some.
This last weekend, I was able to clean their hooves with some difficulties which I figured would happen. I've only trimmed the front hooves that were the worst. I was by myself and we don't have a barn or even a garage to go into. It took me almost an hour just to do the two front hooves.
I know I could have trimmed more off but I didn't want to cut too much off at once or make more of an issue for her to deal with. Plus it was taking a toll on my back.
The pictures aren't the best being outside and with snow on the ground. If other pictures would be needed, I could get more tomorrow. I didn't even think of taking some from the side. Anyway, here they are: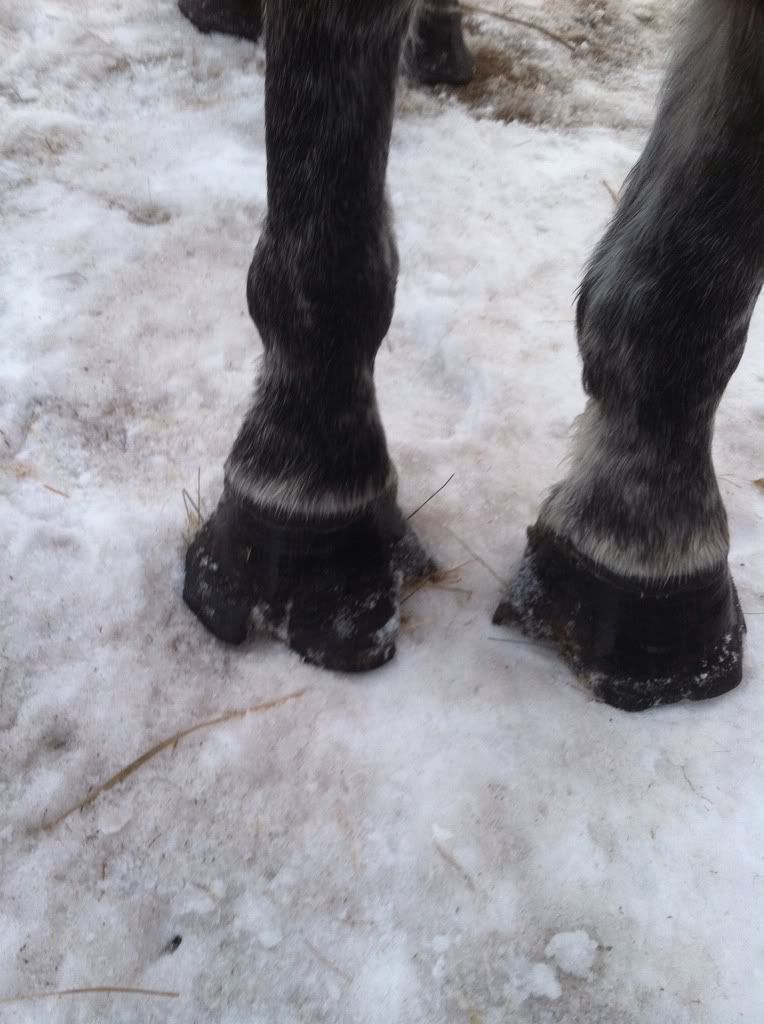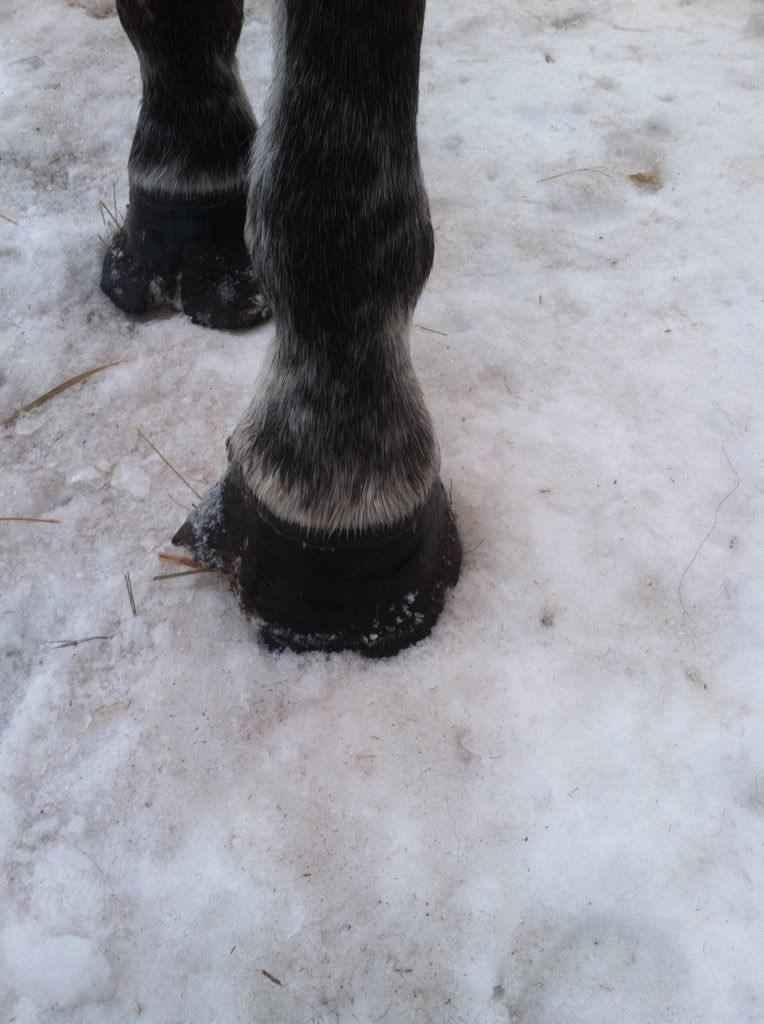 Front right: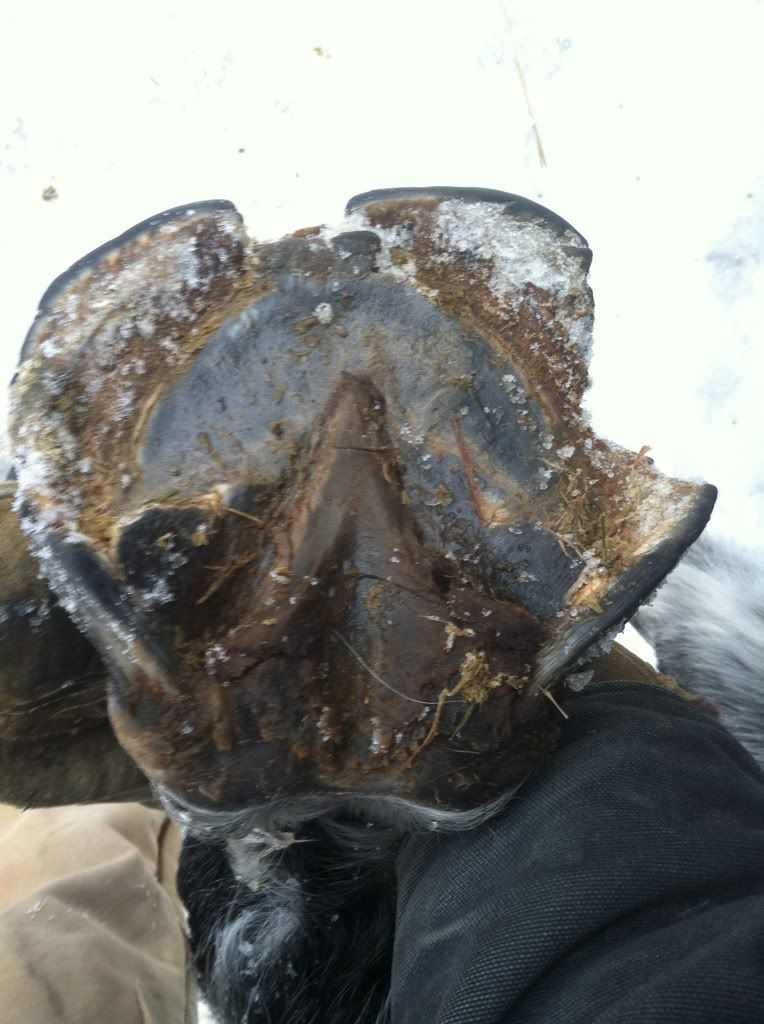 Front left: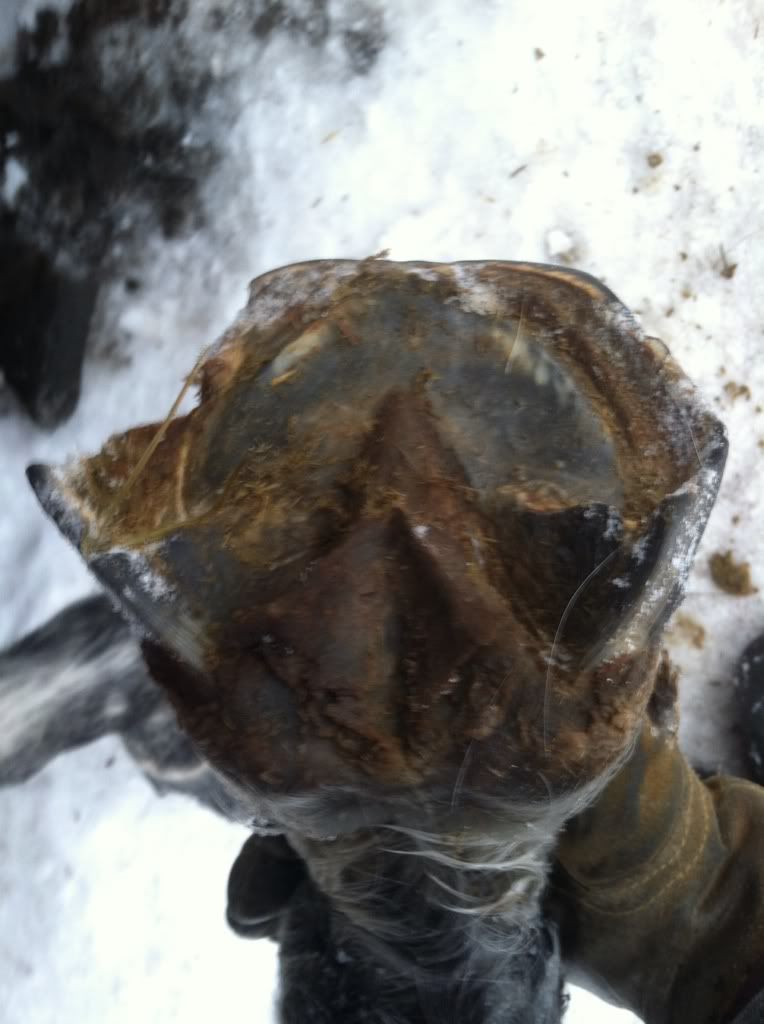 After trimming:
Right: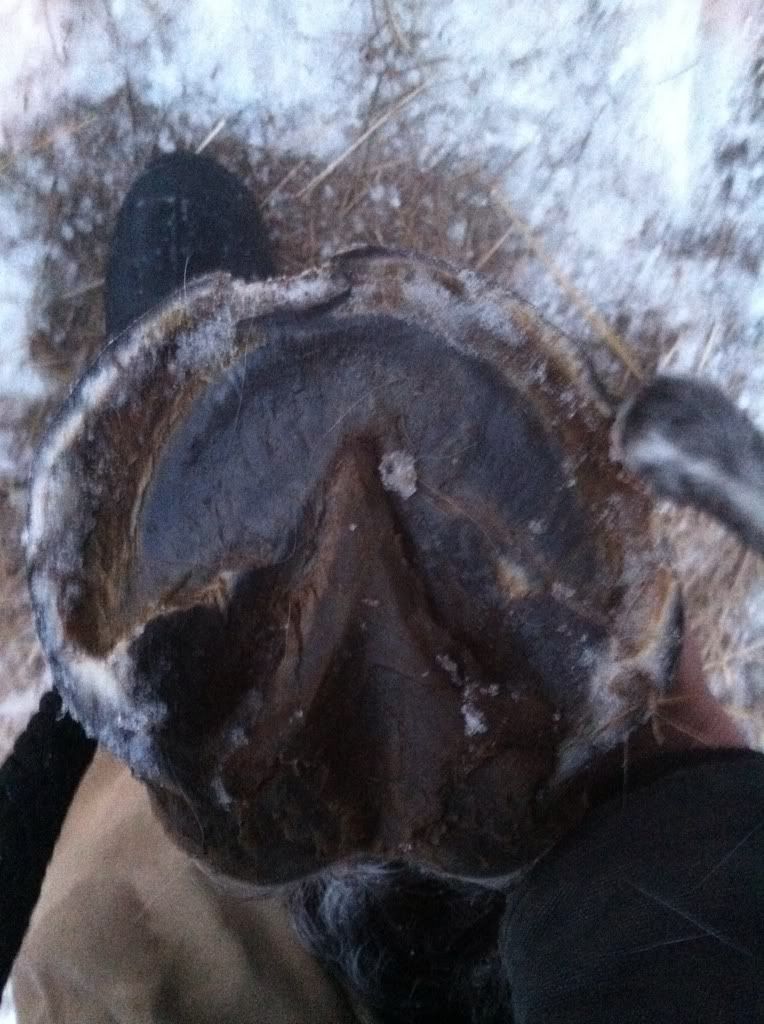 Left: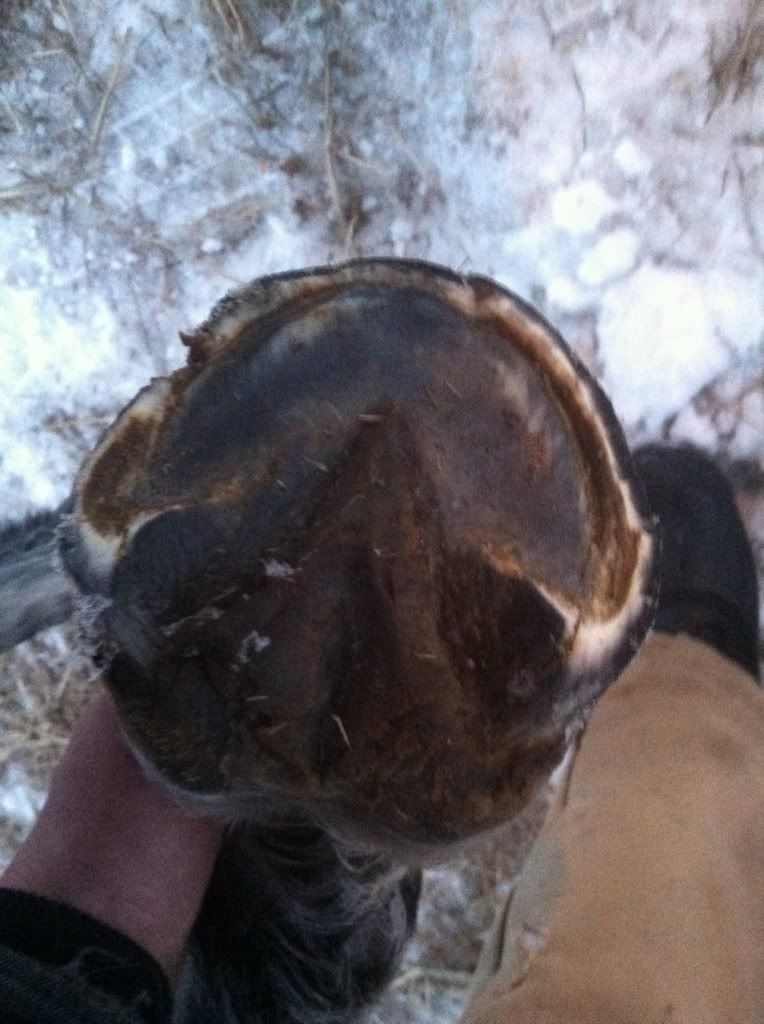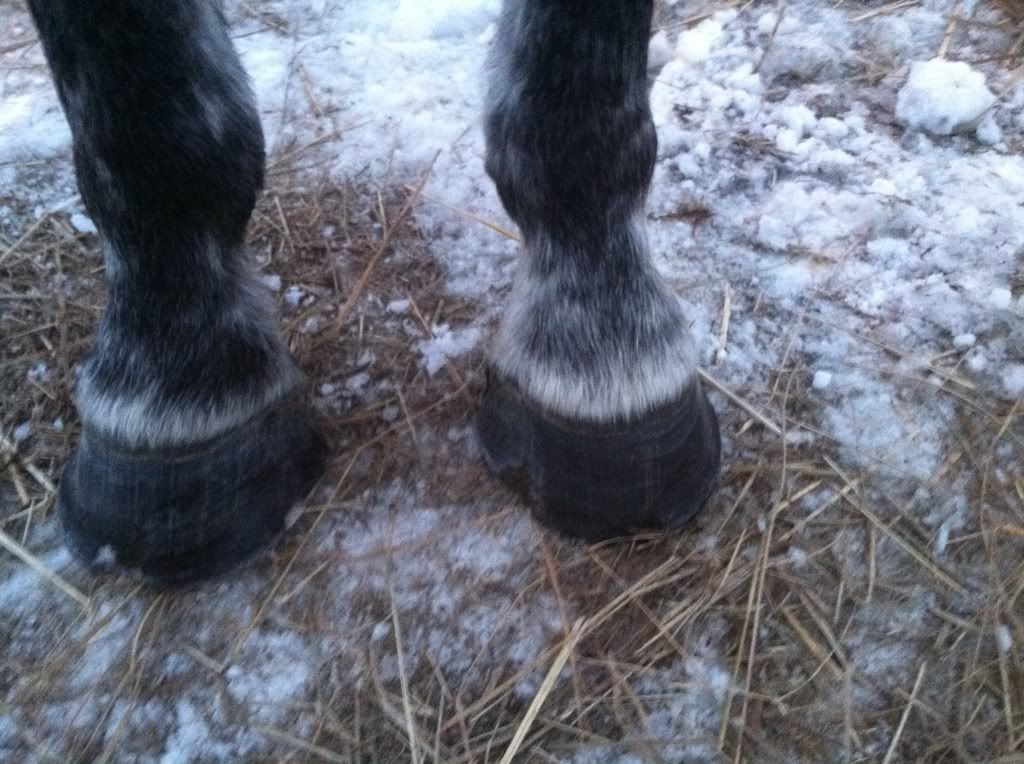 The backs aren't as bad but I'm sure I'll need a helper to hold her. So I won't be able to do them until this weekend.
Rear hooves: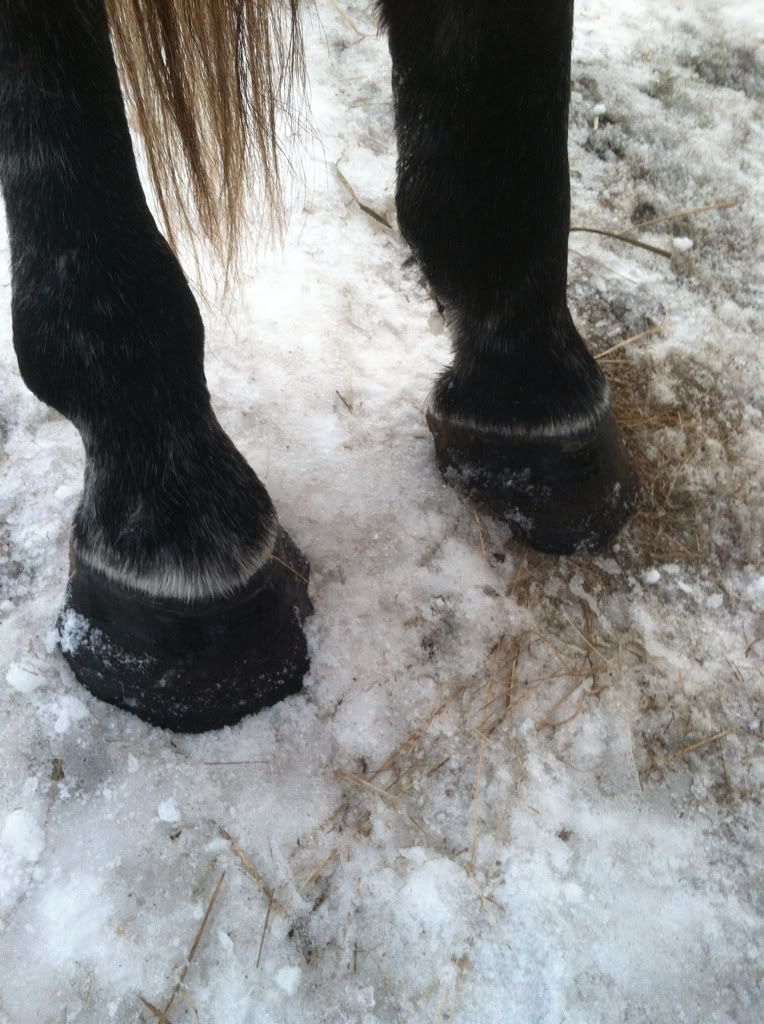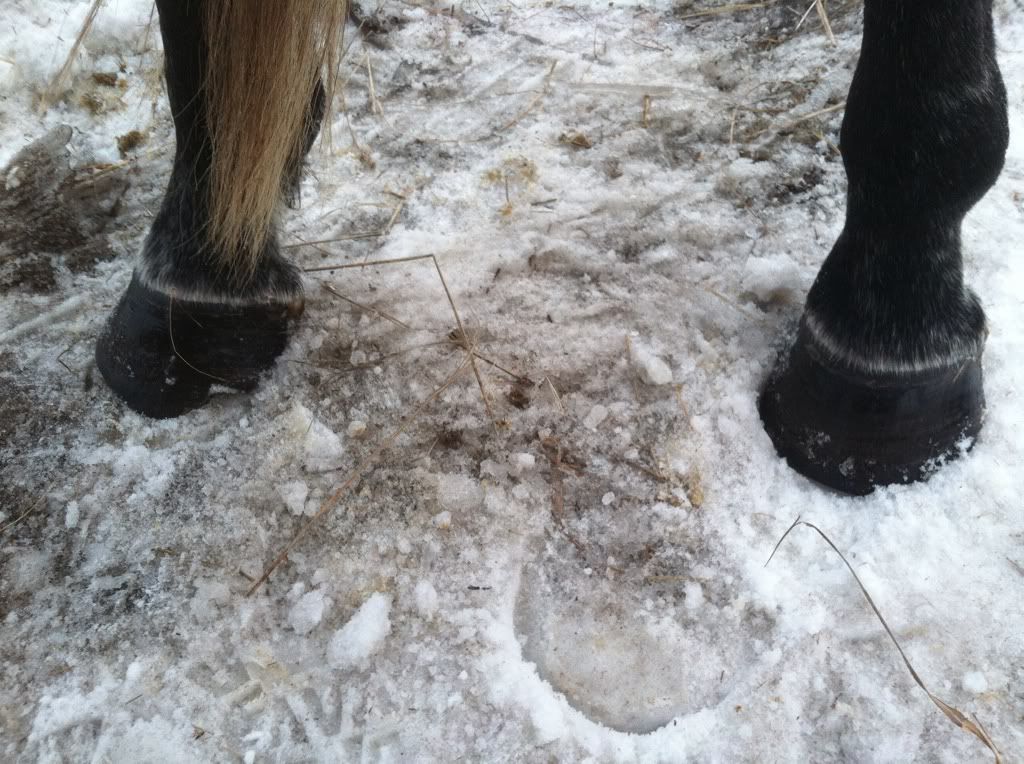 Opinions?
Posted via Mobile Device
I think you did a pretty god job. :)
Well, good effort, and I am sure it is hard to do in the cold and all.
As for the after trimming "right", it needs a lot more wall taken down, and it won't "hurt" her to take the wall down all at once to just above the sole (I noticed you said you didn't want to take to much at once).
Ditto for the left after trimming picture, although you seemed to have taken more off of it, but still quite a bit more to take from the quarters back. Now they are out of balance (one longer).
In both feet the bars are laying over. Nip that in the bud and get them squared away.
You did not smooth or bevel the edges, they look like a chip waiting to happen. And it is hard to judge the heel balance of either hoof from the photos - so, no comment on your effort to ensure they were balanced...even if left way to long.
It is hard work, so don't dispair from my comments. I am just being truthful - for her sake you need to get the walls down to an equal distance (around about 1/16th an inch) above the sole, the bars addressed, and bevel and smooth the edges.
---
There is just as much horse sense as ever, but the horses have most of it.
---
Last edited by Missy May; 02-26-2013 at

12:58 AM

.
Looks like there may be some pretty nice feet in there! Can't save your pix to draw on for some reason.

Looks like you may have taken the front half of her feet down enough from the ground surface, but the heels & quarters are still too high, though can't say how much from those views. The quarters, especially given the amount of cruddy foot, regardless of heel height, I'd be keeping down to about sole level from the ground surface. Treat the bars the same.

Given the amount of flaring/stretching, I would also defnitely be bevelling the entire wall to the lamellar line, to relieve them & allow them to start growing down well attached.
---
Last edited by loosie; 02-26-2013 at

01:30 AM

.
Thank you for the honesty. That's what I was looking for. I did notice when looking at the pictures that the left looks like it was taken down more. The walls were pretty thick because of the flaring. I didn't use the nippers as much on the right and tried to file it instead. I was having issues with getting her to stand still. She did better with the left.

I figured the I would wait a couple days to get input from you. I also didn't want to stress her more at one time.
Posted via Mobile Device