Yes, sorry about that! I've been preoccupied with my own yearling's health problems. :/ I'll post pics tonight if I have time and give a good update.

I will say though, I have Mr. Rebel scheduled for rads next Saturday! It was the soonest I could get him in with my schedule but yay!
---
There on the tips of fair fresh flowers feedeth he; How joyous his neigh,
there in the midst of sacred pollen hidden, all hidden he; how joyous his neigh
Yay for X-rays, I love looking at them! Hopefully they dont show major damage. I am also happy that you decided not to give him bute. I don't own minis myself but I am a horse nut with a talent for retaining what I read. That knowledge comes in handy sometimes I am happy that I was able to help!
Posted via Mobile Device
One more thought as I was skimming through the other posts. this poor guy will most certainly have some thrush. Thrush is something I deal with constantly. I have found something that works pretty well for treating the thrush and drying out the foot. Veterinary preference thrush treatment it comes in a liquid form and in pre soaked pads. It works pretty well and the mild drying agent really helps! We just had a whole bunch of rain and with the mud that comes with it my geldings feet are still thrush free!
Posted via Mobile Device
Subbbing..0.0 thats crazy..
---
http://www.horseforum.com/member-journals/sunnys-thread-160521/ << read about Sunny and I. Our journey
Okay, so these aren't going to be the best pictures, but they're good enough for now. I trimmed on Sunday and it took almost three hours. I gave him a loooot of breaks, pretty much whenever he wanted to put his foot down I let him. I wasn't in a hurry and wanted to keep him as comfortable as possible. Unfortunately I don't have videos this week. Apparently "just click the button and it will record" was too complicated for my friend to follow.
Not so good before picture. He was visibly lame on his RF this go around. Not too bad, but he was definitely favoring it.
I apparently had a helper this time. His name is Sharkie
Bad picture of his RF. One heel curled under on ALL of his feet.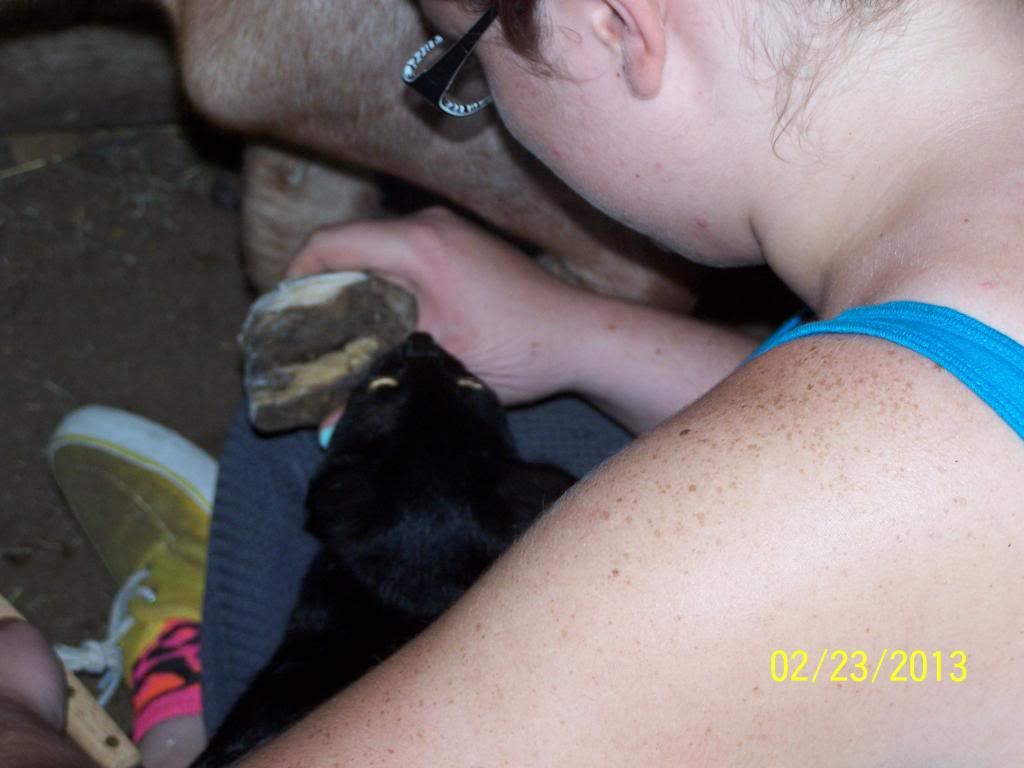 Sharkie telling me what I need to do next.
Heels done. I also backed up the toe just a teensy bit. The little bitty hole on his outside heel towards the toe was a pocket of blood. It didn't bleed cause it was dry but I was done taking his heel down. The picture may fool you, but his heels are a good 1/4-1/3 inch taller than his sole. And as you can see, his frog is non-existent. His heels are the teeniest bit contracted but now that they're trimmed back it should open up(hopefully - may be too late to change)
His right hind. You can better see the curled under heel and how high they are compared to his sole.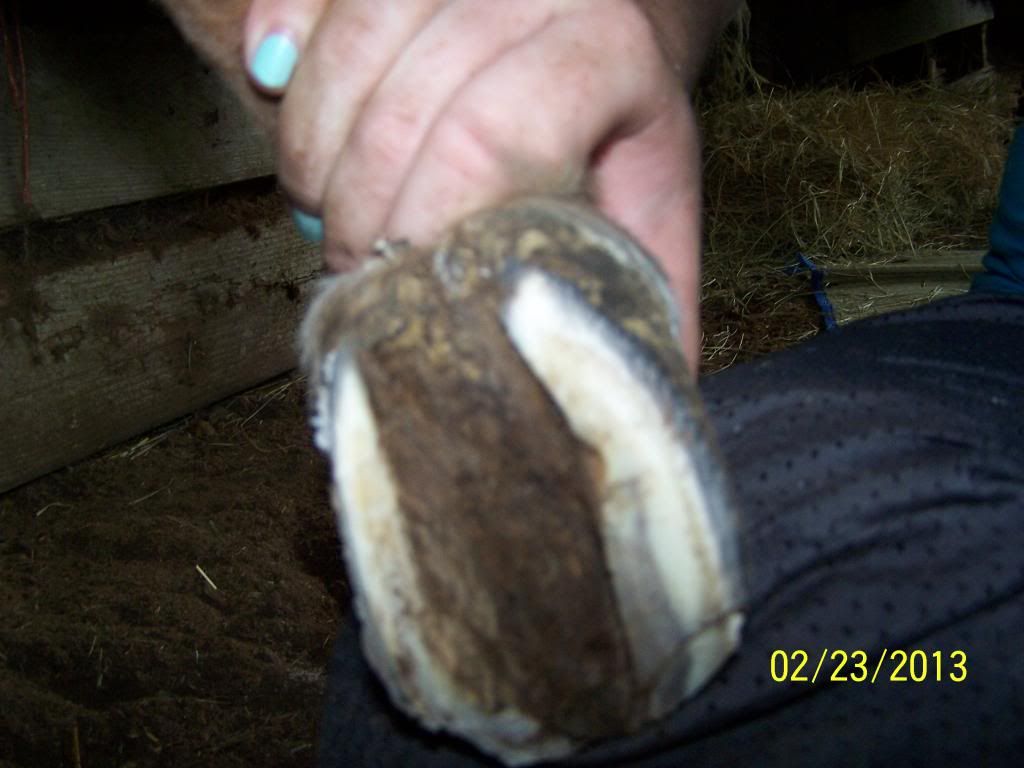 Sorry it's blurry! (I told you they were bad pictures)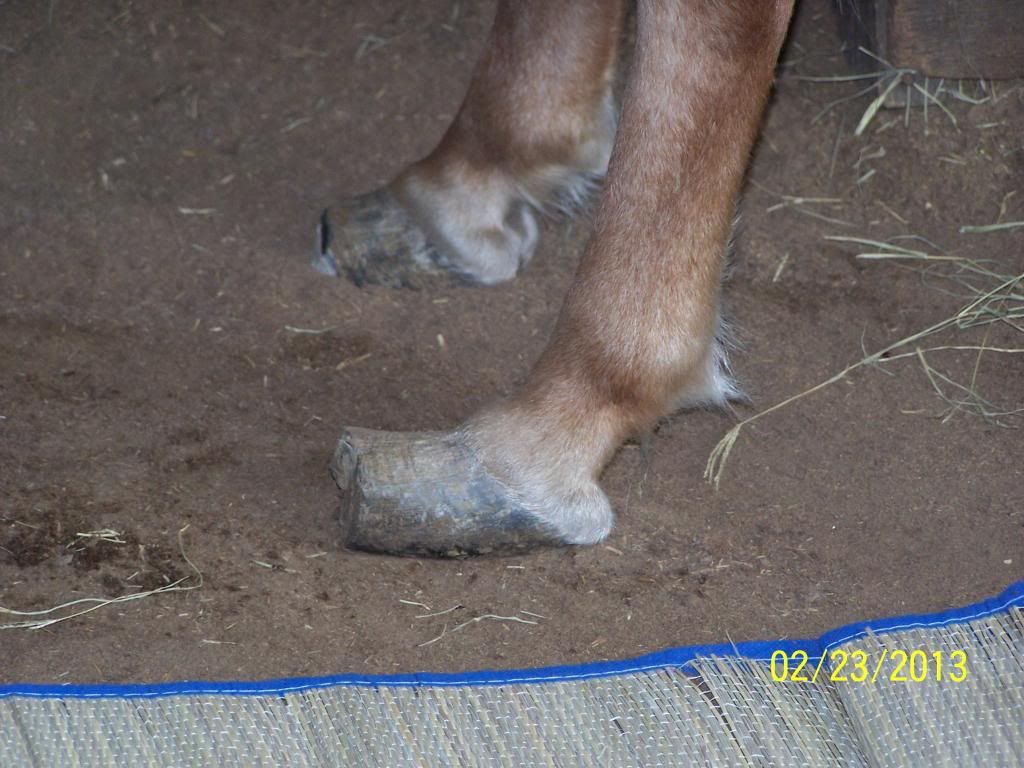 Right hind done, left hind next. I went back and rasped his toe up cleaner and tried to rocker it to give him a better breakover. I'm actually pretty proud of how well I did on rockering the toes lol
Left hind. Again, from the ground I rockered the toe to give him a better breakover.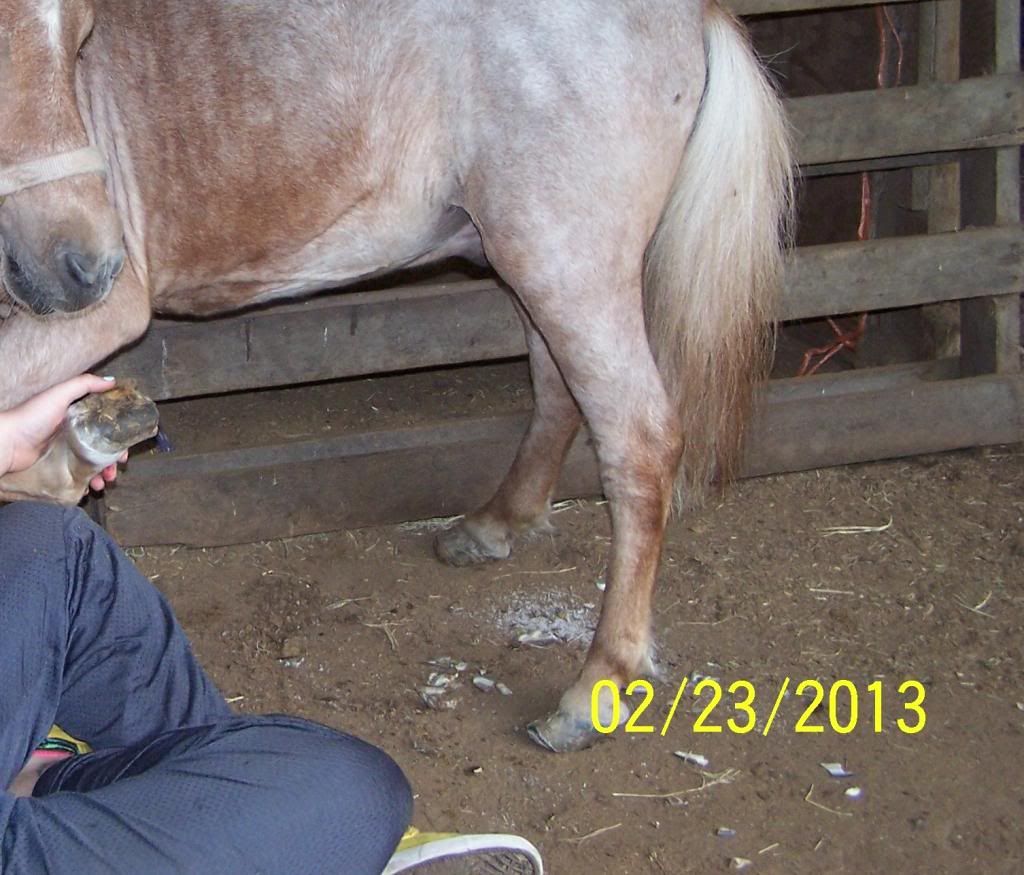 A picture kinda sorta showing how I rockered his toes. Look how short his feet are now! Craziness, huh?
I unfortunately could not do his LF. The second I picked it up, he backed onto his haunches and when that did not alleviate the pain, he tried picking up his RF off the ground. So two legged horse = cannot trim. Poor guy. I can't blame him. His RF is his worst and after having your heel dig into your sole for who knows how long and then be expected to stand on it? I just couldn't. So his LF did not get done this time around. We'll figure out a way to get him comfortable enough to do it because it definitely needs done. I don't know if I'll be trimming him again this weekend or if I'll be waiting until I see the rads before progressing. All the stuff that grew out is receding very well so I may wait a couple weeks so I can take off a bit more at once? We'll see! Like I said, sorry for the horrible pictures.
---
There on the tips of fair fresh flowers feedeth he; How joyous his neigh,
there in the midst of sacred pollen hidden, all hidden he; how joyous his neigh
The difference is amazing! You've done a wonderful job with the trimming! His rear feet look so much better and more comfortable. I can see that he's standing much more normally in the rear now. I hope you can get the RF to a point where he's comfortable enough to stand on it for short periods of time while you do his LF. Is it possible to have a vet come out and administer a mild sedative just to help both of you? Or would that not be recommended?
---
The wind of heaven is that which blows between a horse's ears. ~Arabian Proverb
I'm not sure. Apparently with any medication, minis are very easy to overdose. My farrier was talking about giving him a light sedative and laying him down to trim him initially, but we may need to do that to trim his RF for now? I'll have to talk with my vet and farrier when I take him in for rads next Saturday. We'll be able to get a really good look at his feet then and figure out what needs to be done.
---
There on the tips of fair fresh flowers feedeth he; How joyous his neigh,
there in the midst of sacred pollen hidden, all hidden he; how joyous his neigh
You could do it when he's laid out for his gelding surgery, if that's in the plans for the near future.
Subbing.

these are some of the worst hooves I've ever seen. But he looks fantastic now! Keep up the great work!
Posted via Mobile Device
It is in the plans for him to be gelded, but not for at least another few months to a year, so it unfortunately can't wait until then. I was thinking of maybe a makeshift sling to take off just enough weight where he's not standing on his RF. It'll have to be trial and error whenever I get out there this weekend, I guess.

Thanks, CLaPorte! He's definitely got a long way to go and hopefully I can help him through it as best as possible. :)

On a side note, nothing makes you warm and fuzzy than your mentor saying you have talent. Whoooo! Now if only I can prove him right LOL.
---
There on the tips of fair fresh flowers feedeth he; How joyous his neigh,
there in the midst of sacred pollen hidden, all hidden he; how joyous his neigh