Alrighty, are we ready for some REALLY interesting radiographs?
We only did the fronts as the hinds should pretty much look the same as his LF. Pretty much, my speculations were true. There is a lot of remodeling of the coffin bone on both. A lot of loss on the RF(his worst foot) and a bit on his LF. The RF also has quite a bit of rotation.
He was walking better yesterday than he was at his last trim which I am glad about. He was such a little pro about getting up on the rad blocks, even better behaved than my pesky yearling LOL.
So without further adooooo....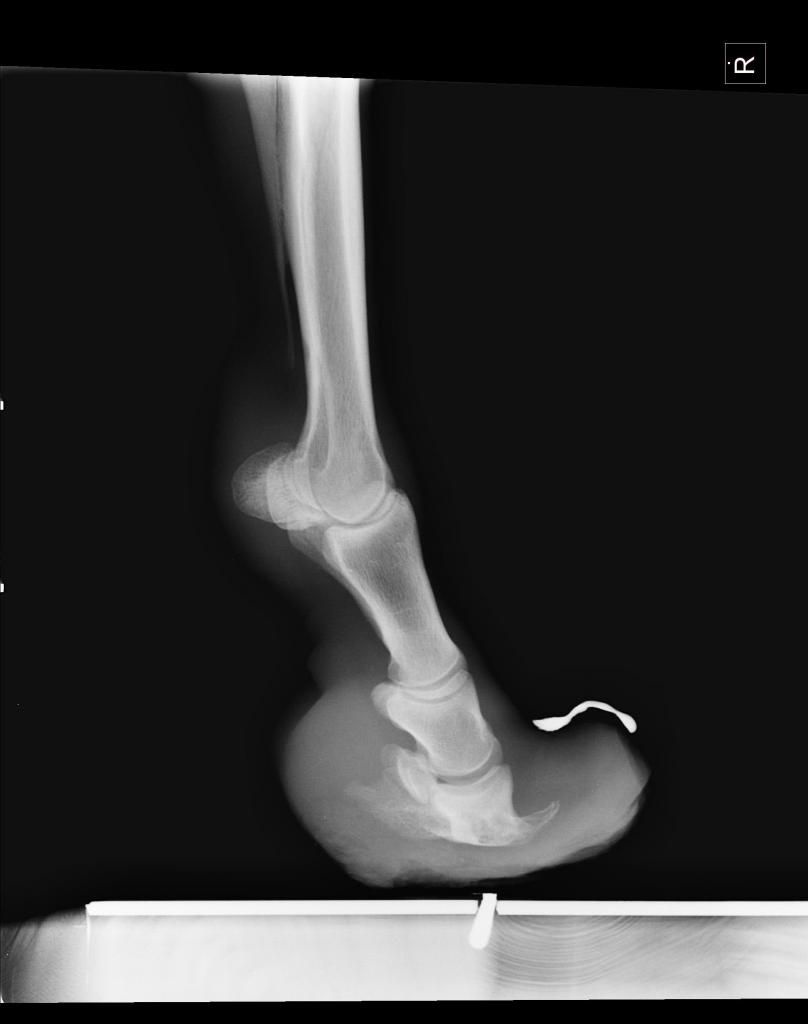 His RF. As you can see, a lot of remodeling(the severe ski tip) bone loss of the tip of P3 and rotation of P3. Overall just a mess.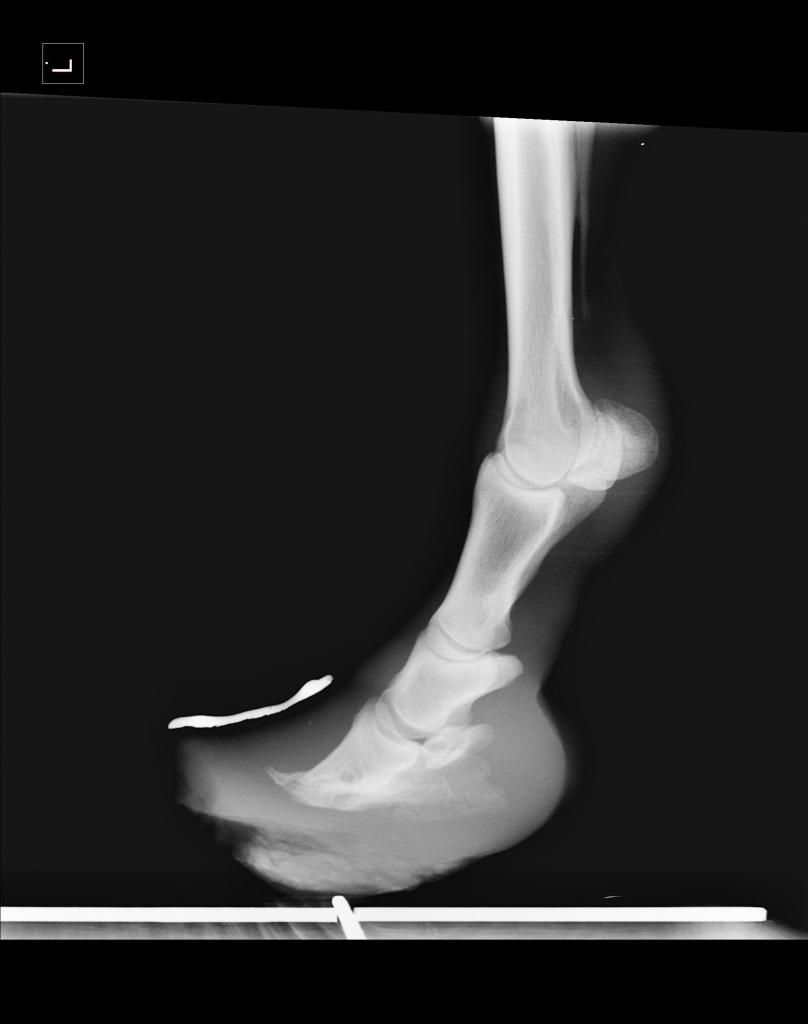 His LF. A lot better off than his RF but we've still got remodeling of P3.
I did a quick little draw over his RF to show where I THINK his P3 would be if it were whole(the red line) and where it SHOULD be(the blue line.) If anyone thinks I'm wrong, please please please feel free to correct me. This is just what it looks like to me, but I am new to reading radiographs so I could be totally completely wrong. But I figured the red line would show everyone the severity of the remodeling/rotation that he's got going on.
With all that being said, he will never have "normal" feet. I already knew that going into this thing, everyone involved already knew this. The rads just solidified things. This is definitely not a death sentence. He may never be normal, but he can be comfortable which is what we are gearing him towards. Like I said, he was a lot more comfortable this weekend than he was his last trim. I unfortunately did not have time to trim him this weekend, but I may be able to have my farrier help me out next weekend(granted he gets his truck engine replaced by then
) We shall see. If not, I'll be trimming him by myself. I think a break(2-3 weeks) is actually good for him at this point. I'm sure things are still shifting around and he's still getting used to his bigger range of movement.
ETA: I also just noticed that it looks like P2 has partially descended down into the hoof capsule on his RF. As his feet are worked on and improved, it should return to its normal position, or as normal as it can ever be in his situation.
---
There on the tips of fair fresh flowers feedeth he; How joyous his neigh,
there in the midst of sacred pollen hidden, all hidden he; how joyous his neigh
---
Last edited by Kayella; 09-08-2013 at

11:17 PM

.
Wow, they are some interesting rads! Can't recall ever seeing ski tips quite like that on rads of a horse that I've seen, although I've worked on a number of cases who's hooves look pretty much like Rebel's did. A couple that had as much or more bone loss as that RF, but nowhere near that size ski tips.

So, I'm not greatly experienced reading rads either, as far as the small details, but here are my thoughts...

With that much remodelling at the toe, he will never have anywhere near straight dorsal walls, but that shouldn't be an issue.

LF looks a pretty reasonable angle now, skeletally, tho perhaps a tad too low in the heel now. Of your line drawings, I think where you've drawn the red line is a bit conservative - reckon he's lost more than that indicates. Bordering on too much to become even paddock sound maybe... but bordering & IMO it will depend on him & his attitude as to whether it's worth trying.

The blue line I think is (slightly) too much the other way. It shows the ground surface of P3 as parallel with the ground, which I don't think is quite right- heel should be raised slightly in relation to the toe. But lack of toe, and it also appears that there has been more ossification of the lateral cartilages, not to mention what other joint changes he may have, will muddy the waters of where it 'should' be. I'm inclined to think wherever it is that he can be relatively comfortable & put some weight on it is about where it should be. You may be able to get the hoof into some semblance of 'ideal', but due to the chronic problem causing other changes, that may mean he's in more pain elsewhere - his knees for eg.

Another interesting point is, assuming the rads were both taken at the same exposure, he has a lot less bone density to the entire distal limb of that left fore - I assume he hasn't been bearing weight on it for a long time.
Yeah, my drawings on the rad are not the best. The blue line I drew reflected what a healthy coffin bone should be, not HIS ideal P3 location. Sorry if that confused you, I should have clarified! Although there's always debate on whether P3 should be ground parallel or have a slightly positive PA(3-5 degrees.) I for one talk of both, and drew ground parallel on the rad just cause. I don't have an opinion either way on it. I don't have enough experience to say which is healthier/more natural for a horse.

I think I see what you mean about the right leg(I think you meant the right) having less bone density than the left. Initially before I ever trimmed him, he did not favor/limp at all. He was sound and could even trot with those slippers. After the first trim, he was definitely lame on his RF and would not be able to put any pressure on it. But that's not to say that he hasn't been lame in the past and keeping weight off his RF.

Yesterday though he showed no lameness and was happily walking around on grass/concrete/gravel with no issues. The one thing I did notice was his hooves sounded hollow? I'm not sure how to explain it. Whenever we were walking on the drive way after getting him home, his foot steps were very loud but hollow sounding. Not sure what to make of that, though.
---
There on the tips of fair fresh flowers feedeth he; How joyous his neigh,
there in the midst of sacred pollen hidden, all hidden he; how joyous his neigh
Well thats unfortunate but not unexpected. They are looking better trim wise. glad those heels are down.
---
Married to my One! 10-11-13 Steampunk style:)
Subbing, hope he gets better!
---
The blood runs hot in the Thoroughbred and the courage runs deep. In the best of them, pride is limitless. This is their heritage and they carry it like a banner. What they have, they use. - C.W. Anderson
Subbing! Keep up the good work! :)
---
Strength is not defined by physical ability. It is determined by your actions and the compassion of your soul.
Thanks guys :) I was planning on trimming him today but there was a giant (much needed) downpour. We're aiming for Tuesday to trim him :)
---
There on the tips of fair fresh flowers feedeth he; How joyous his neigh,
there in the midst of sacred pollen hidden, all hidden he; how joyous his neigh
Teen Forum Moderator
Join Date: Dec 2010
Location: South East Texas
Posts: 7,157
• Horses:
2
Wow. You're doing a fantastic job. Even now I can barely tell what is what on those hooves...I'd have NO idea what to do when you first started working on him! I'm so glad he's finally getting the help he needs.
And you got rain?! We were REALLY hoping for some but all we got was a 2-minute sprinkle yesterday afternoon.
---
Everyone in your life is meant to
be in your journey, but not all of
them are meant to stay till the end.
Lol yes, we did get some rain! At her barn, but not mine unfortunately :P

I just got done trimming him, done in less than an hour this time! I didn't do too much but I was able to trim his LF! :) Pics will come later
Posted via Mobile Device
Oh poor Rebel. I just saw the xrays. Goodness sakes. Never in my life have I ever seen such a thing!
Posted via Mobile Device