Okay, now home to post pictures! (They're not that great again. Sorry ;) )
Anyways, went out there and got eat up by mosquitoes. I went in determined to at least bring the heels back on his LF as I wasn't able to last time. I succeeded! He was a lot more comfortable this time. He did a lot of sitting back on his haunches to rearrange his RF, but was able to stand on his LF for periods of 30 secs to 1 min before squirming. A lot better than him immediately going two legged last time. They are not brought back completely. I did what I was able to and by that point he was really getting ouchy so I let him relax. He is such a little sweetheart. You can't help but fall in love with him when he looks at you with those big ol' eyes.
Before pictures!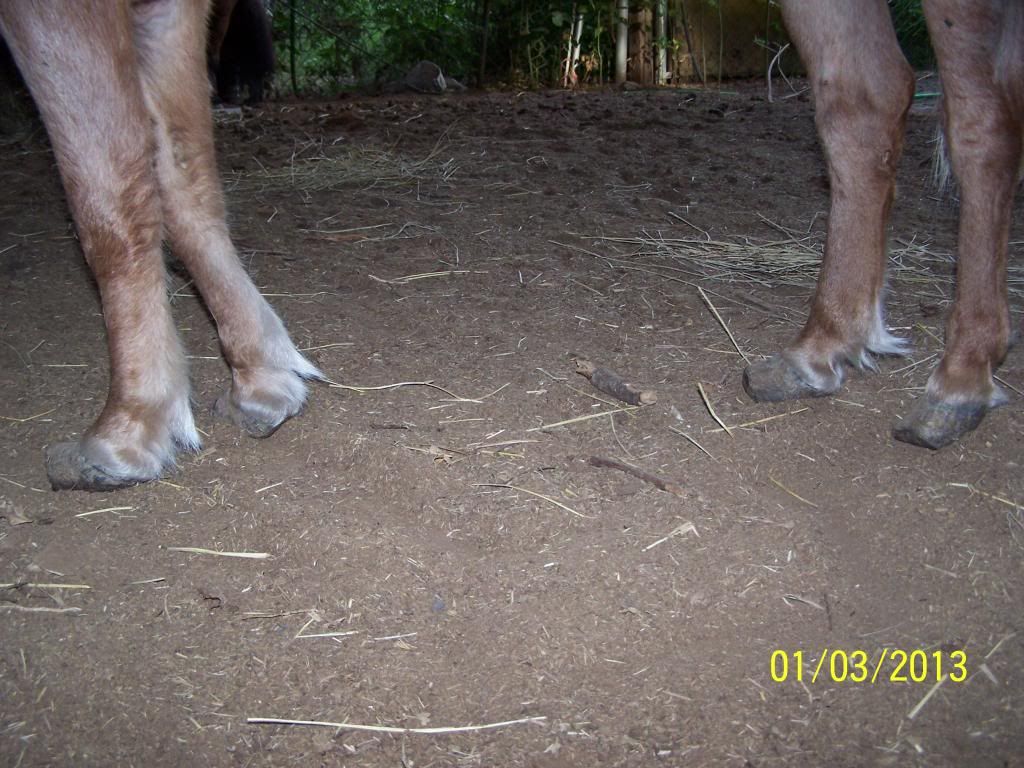 Overall picture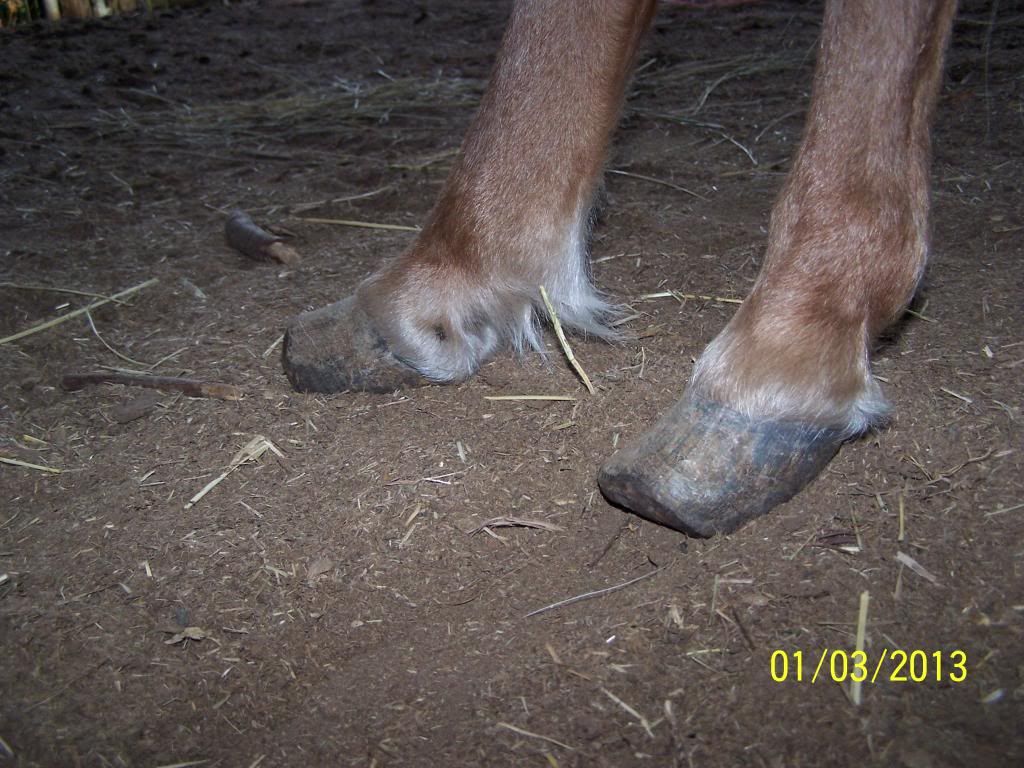 Hinds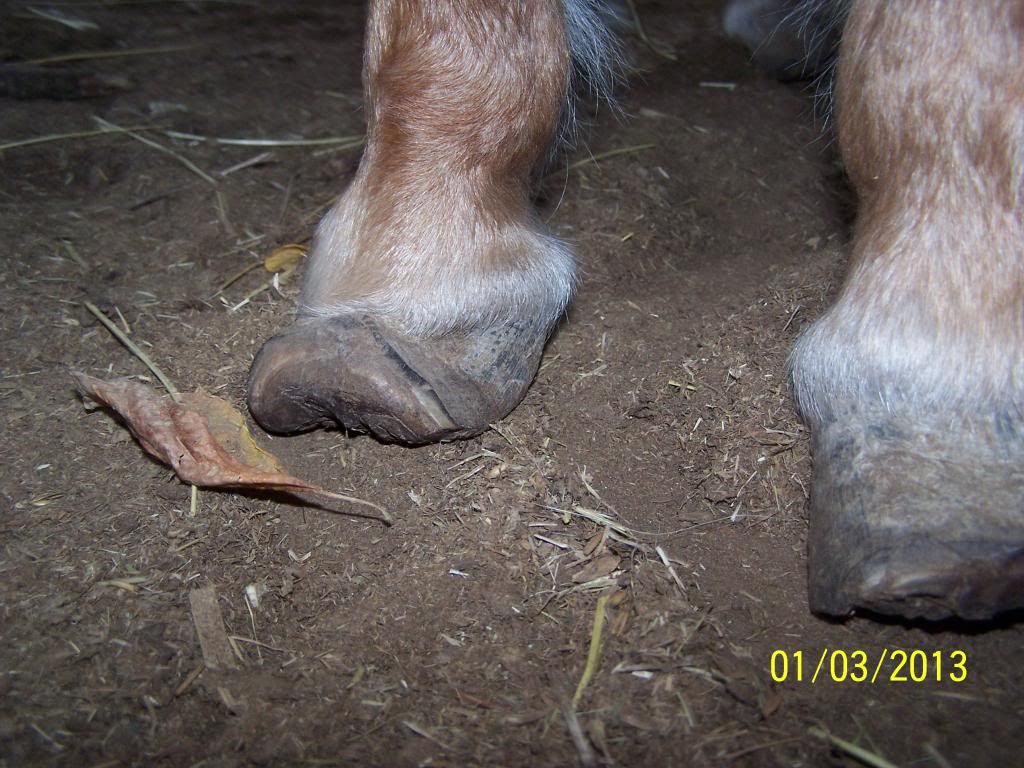 Fores
LF Sorry it's blurry, I wanted to get done on this one ASAP
AFTER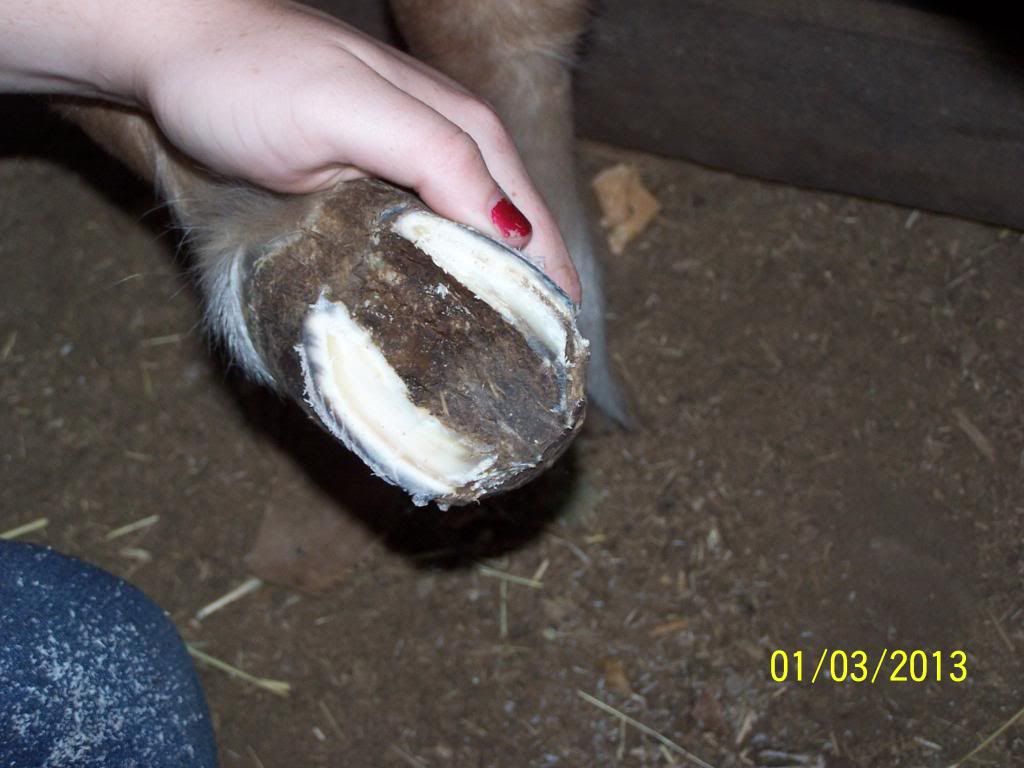 Still need to bring the heels back more. Again, don't let the pics fool you. The heels are indeed taller than the sole.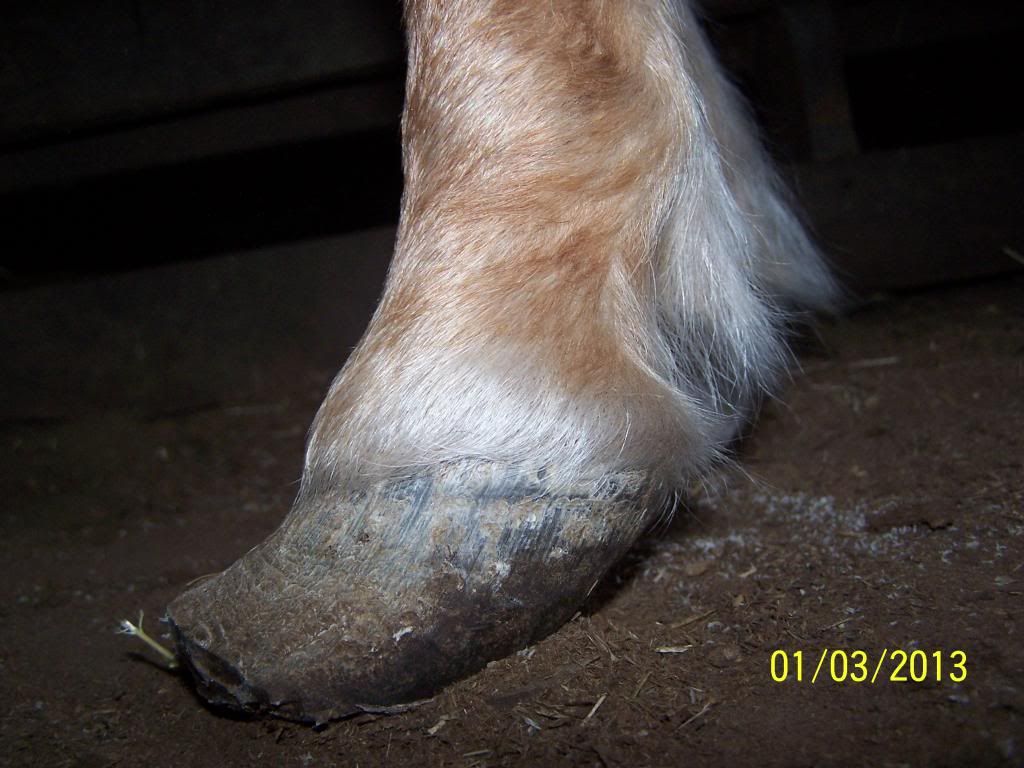 LF before cleaning it up with the rasp. Note that I didn't touch the toe this time. Since I wasn't able to take his heels back last trim, I wanted to make sure that all blood vessels and other bleedy parts were backed up before I touched his toe. So I'll take his toe back on the next trim just to be safe.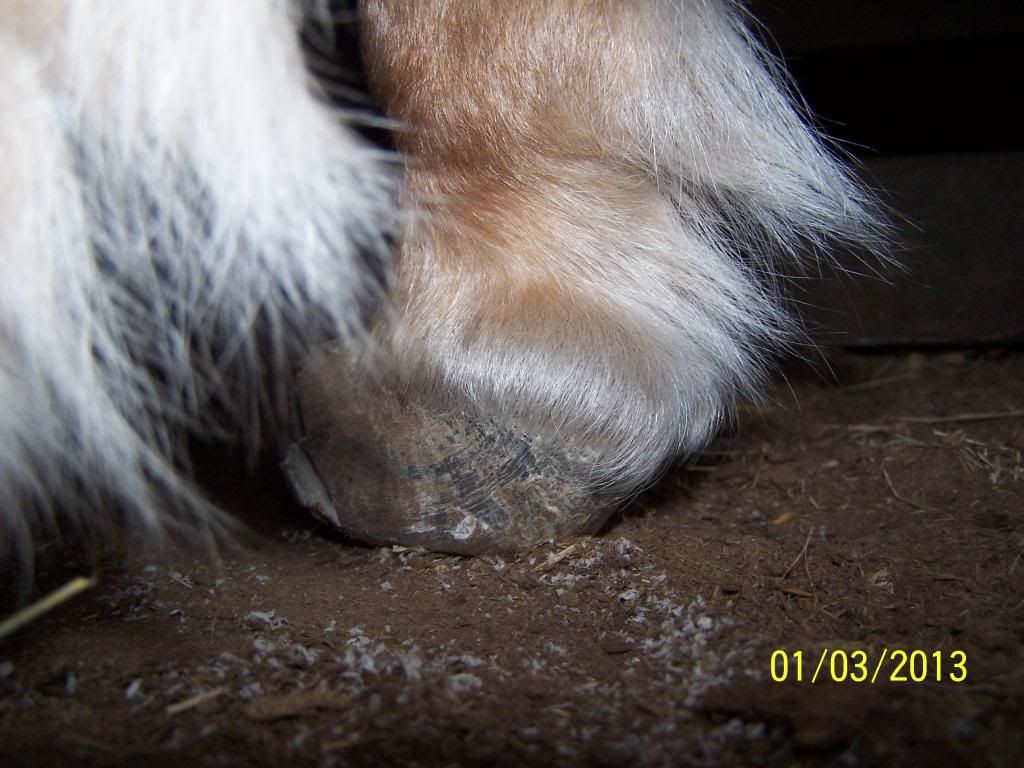 Cruddy picture of RF
Front view of RF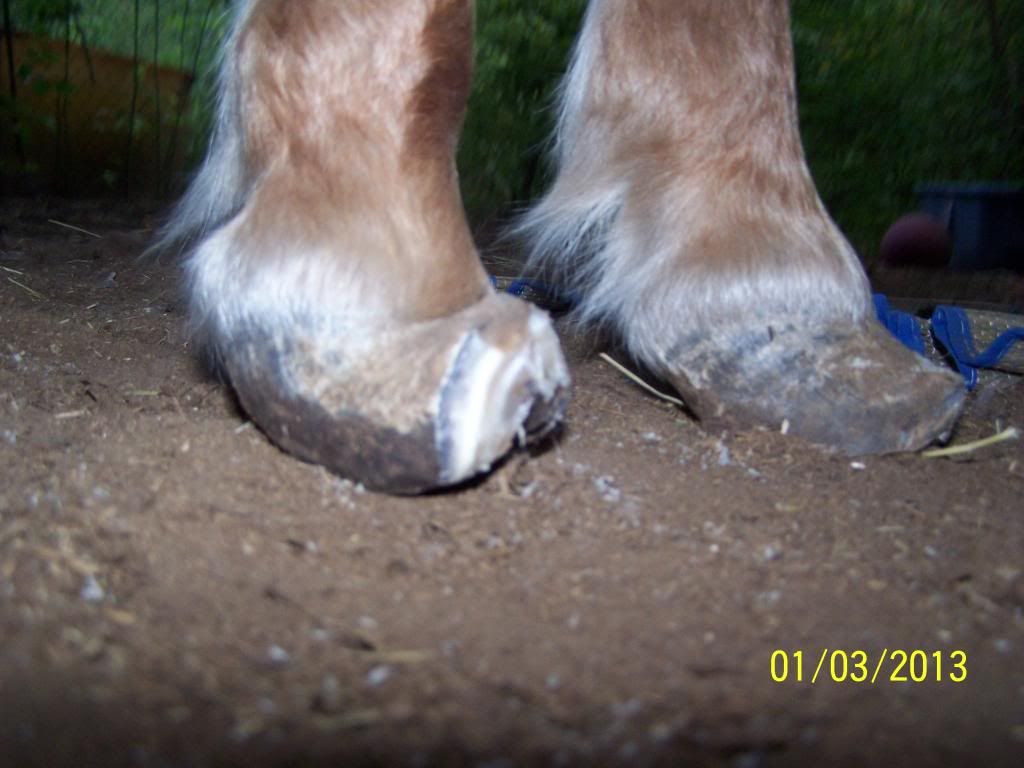 Blurry side view of fores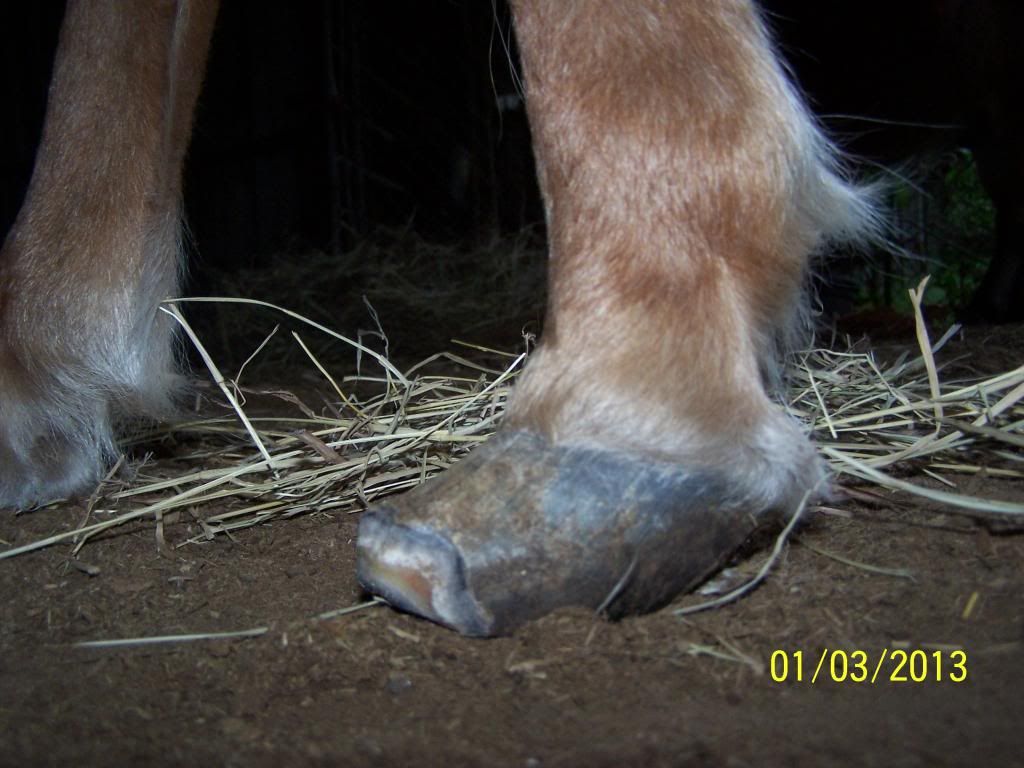 LH. See where I got close to blood?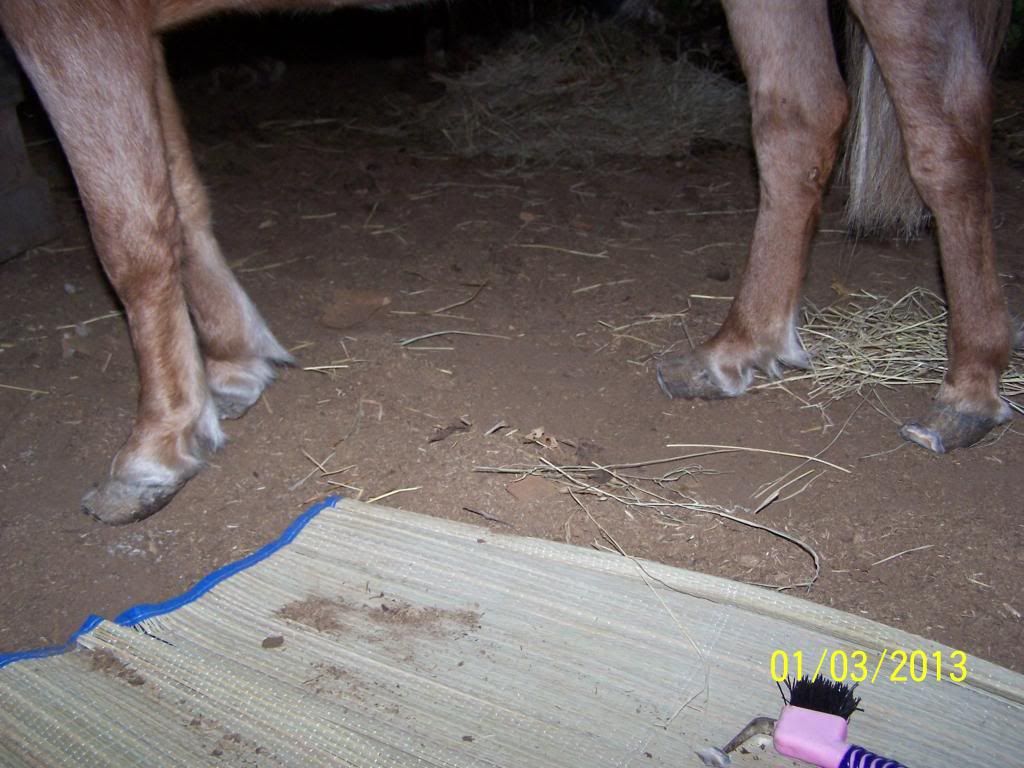 Overall after pic
No videos this time. We were being devoured by mosquitoes! He is walking well. He was a little sore after standing on his RF for the trim, but the soreness went away within a few minutes and he was walking fine when we left. So we're basically doing baby steps from now on. I didn't even touch the bottom of his other 3 feet(I checked the heels and they had not moved, so let him be for now.) All I did was nip a bit of toe off then rasp everything smooth and give him a little rocker to improve breakover. I don't see any new hoof growth so far. I'll be interested to see how his new hoof grows in.
And that's all for now!
---
There on the tips of fair fresh flowers feedeth he; How joyous his neigh,
there in the midst of sacred pollen hidden, all hidden he; how joyous his neigh
Looks like you're starting to find the feet in all that mess! Look forward to further updates. How's he going? How is he moving?
He's doing well! A slight lameness on his RF but it's barely noticeable. He tracks oddly in his hinds though. I'm not sure if it's conformation or something he learned/has to do with his slipper feet. When he steps, the hoof pivots outward. It doesn't seem to cause him any discomfort, just a different way of going. Other than that, he's moving better now than he was before I started trimming him. He's also gaining weight. He's not really skinny, I think he just has a lot of muscle atrophy from his feet being in such horrible condition.
Posted via Mobile Device
Glad to hear that he is adapting to his new feet! :)
---
Strength is not defined by physical ability. It is determined by your actions and the compassion of your soul.
So I don't know when, or if, I'll be able to update this thread again. Long story short, my friend had to surrender Rebel after AC was called. I know the farrier the facility uses, and my farrier has worked in depth with him for the past few years. My farrier says he would not be competent enough to rehab Rebel, which is what I feared. I'm not saying I'm competent, either, but I have the guidance of my farrier who trusted me to do this task, whereas he does not trust the other farrier. My friend gave the facility my name and number, but I've yet to hear from them. It's only been about a week though and I know how crazy busy they are.

Soooo, I'll let y'all know if there's any future updates? It really is a sucky situation. I was learning so much and helping him become more comfortable. The little booger was growing on me too.
Posted via Mobile Device
I'm confused. Was she not helping him? Why would AC get involved after he has a new home and under good...competent...care?
Posted via Mobile Device
I'm not sure how it all went down. There are obviously pictures of me trimming him, she had feed and water there. Apparently since I'm not a "certified" farrier, I don't really count. It was just so weird. It's really unfortunate, but I'm glad I was able to at least give any future farriers a good head start on his feet. Now I just hope they don't try to hack off that lamellar wedge all at once and slice the ski tip of his coffin bone off. Hopefully not. ):
---
There on the tips of fair fresh flowers feedeth he; How joyous his neigh,
there in the midst of sacred pollen hidden, all hidden he; how joyous his neigh
I don't get it... He's getting foot care, has food and water and has been seen by a vet. His feet are making progress. Don't they have better things to do then harass people who are caring for their animals? I'd be mighty pissed if someone told me I wasn't caring for my horse properly because I trimmed his hooves myself.
Posted via Mobile Device
Mark me down as another person that doesn't understand how they could do that. If the vet, a farrier (and someone in his training) are both involved what more can you do?!

Hoping this works out for everyone involved.