Standing still for trimming? He won't do it! Help please!
---
One of my horses is hard to trim. He'll hold his hooves up perfectly to be picked out and handled, but when it comes to trimming them down, he will jerk away and if he can't get his leg back, he'll rear up just high enough to jerk his hoof and leg away from me. He's not actively being mean about it, but it is frustrating. Once he's gotten his leg back, he's fine and will willingly pick it back up, but will jerk away or rear again after tolerating a minute or so of trimming.

How can I get him to stand nicely for trimming? He stands for picking his hooves out and just checking them over, but not for trimming. Could he be more sensitive to the vibrations of the file?
---
Horseshoe Loop Farm: Home of Gypsie (22 y/o TWH mare), Dakota (10 y/o TWH gelding), Codie (18 y/o Walkaloosa gelding) & Harlow (9 y/o APHA mare)
Most young horses do the exact same thing until they overcome the claustrophobic feeling of having their leg taken away. A couple things you can do:

-You can use a rope to pick them up. This will freak them out a little more, which is why it works. When you can hold that foot up with a rope for a couple minutes, your horse will readily accept handling it with your hands.

-You can spank their belly with your hand, then lift the leg again. Not the best thing to use if the horse is claustrophobic and scared, but it will work.

Conditioning the horse to hold it up for progressively longer periods is the best technique, but if you're not physically able to stay hooked when he jerks, it can teach him a dangerous habit. (Which is, "If I jerk hard enough, I'll get loose")

So just use your own judgement, but there are some suggestions. You could also offer to pay the farrier extra to get the job done. They can likely have it fixed fast with minimal commotion
AmazinCaucasian hit the nail on the head.

I will add that you cannot let the horse jerk their foot away. You've gotta hang on, which is why a rope is a great idea if you put it on right (please research this, do not tie a rope to your horse's pastern...) or if you use a farrier they're experienced with this kind of stuff.
---
"Strength is the ability to use a muscle without tension"

Quote:
One of my horses is hard to trim.

How can I get him to stand nicely for trimming? He stands for picking his hooves out and just checking them over, but not for trimming. Could he be more sensitive to the vibrations of the file?
Contact this fellow and let him know you'd like to buy a copy of his training DVD specific to this topic. He's worked rank horses all over the country with this kind of problem and achieved a solid success record.
Bruce B. Matthews APF CJF II - American Association of Professional Farriers
If you're interested in hosting a clinic, Bruce is usually willing to travel to most areas to provide onsite training and demonstrations. His fees are very reasonable. Bruce is fairly near you so that would dramatically reduce travel costs.
These Arabs had not been handled by anyone for more than ten years. Basically left to roam free on a large farm. It took three people about half an hour just to get a rope on them.
Bruce had the horses standing quietly for a trim in about 20 minutes. Clinic was hosted at my facility in Ohio.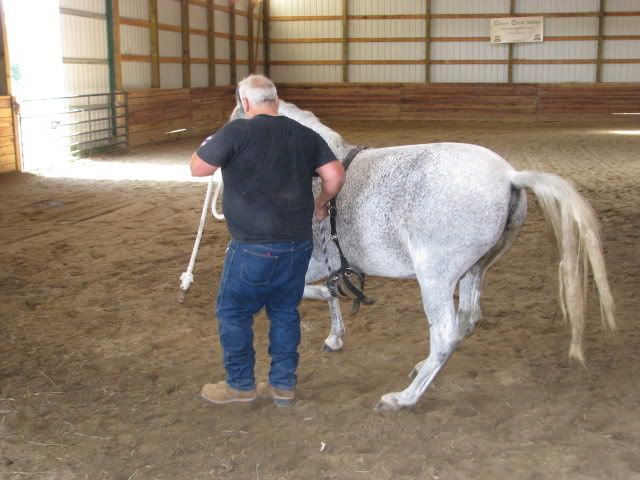 Once settled, the horse allowed a number of clinic attendees to work on him. The fellow in the stripped shirt is Rick Burton, AFA CJF, Guild RJF from Illinois and one of the people I've been fortunate enough to work with.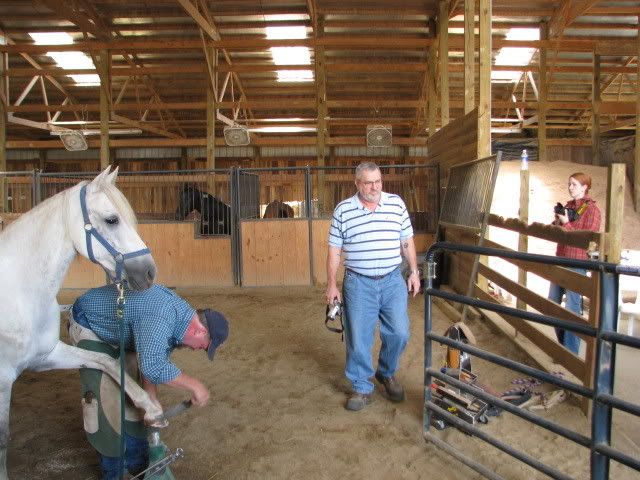 This draft and his sibling were a farriers nightmare. Any prior work was done while tied up in stocks. Bruce had both drafts standing quietly in about ten minutes. Again, several audience members were able to take turns trimming the horse.
Rick Burton, AFA CFJ, tries his hand on one of the big heavies.
Bruce instructs Danvers Child, CJF and AFA National Certification Examiner from Foxtail Forge in Indiana.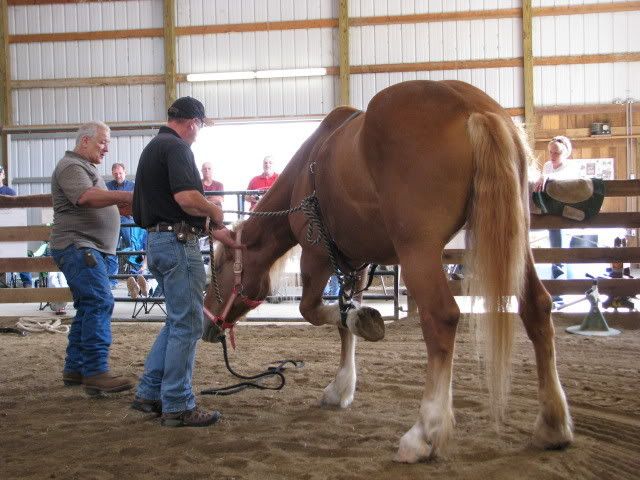 Horse owners and farriers, listening to Bruce while he works a rank horse in the arena.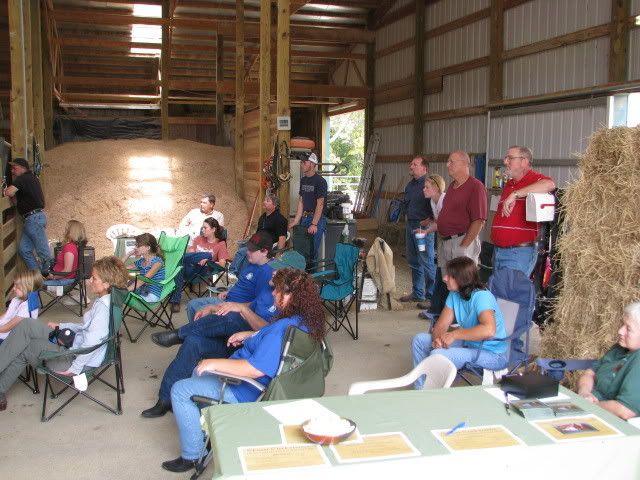 Lest anyone perceives me of some shoeing bias, the brunette in the foreground is Denise McLane from Columbus, Ohio. She's an unusually talented and respected barefoot trimmer.
Matt Kornegy, AFA CF from West Virginia, sitting behind her. The redhead in the background is April Raine of Equidesis fame.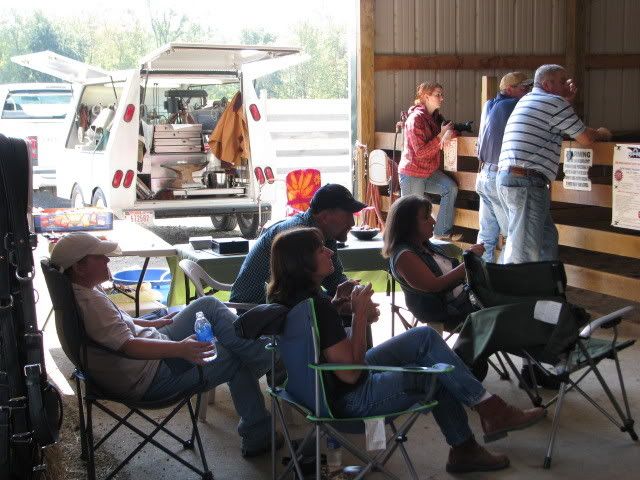 When you talk with Bruce, tell him I said hello.
Cheers,
Mark
I had the pleasure of Bruce trimming a donkey of mine. Nothing short of a miracle handling a donkey who's reputation wouldn't get a farrier anywhere near him. When I think about it even now I'm dumbfounded how fast Bruce got through to the little fella. Bruce was amazing!!

Well worth every penny I paid him and then some. I was sad to learn he moved from VT but he has more opportunity where he is in his working retirement. Good man, great farrier.
Green Broke
Join Date: Oct 2010
Location: Some times Llanelian - North wales, sometimes Hull in East Yorkshire (UK)
Posts: 3,679
• Horses:
5
Reeco has started objecting when hammering on (fine for everything else including burning on and clenching up).
My farrier just hangs onto his foot and keeps hold untill Reeco stops being a brat and it has worked. Last time it took 2 nails before Reeco stood still as opposed to the time before where he fought the entire 2 shoes (is only shod in front).
Hopefully next time Reeco will just stand
---
RIDE your horse FORWARDS and keep him STRAIGHT


Thanks for the replies, guys! I may look unto contacting Mr. Matthews once I get some money backed up. I just recently started work for the summer, lol.

I have done the rope-trick before and it did work on one of the othr horses out here. I know how to do that, as I've been shown several times and have seen my farrier do it himself a few times... I may try that route first and see if it helps any.
---
Horseshoe Loop Farm: Home of Gypsie (22 y/o TWH mare), Dakota (10 y/o TWH gelding), Codie (18 y/o Walkaloosa gelding) & Harlow (9 y/o APHA mare)
It could be:
The horse is uncomfortable in the position you put him in when trimming - if he's doing it with all fours, probably not the case.
The horse is being naughty - I agree with the post of smack him in the belly and also belly rubs when he's good, or, if you can work with him in a large area, send him off lunging him immediately after jerking the foot away.
The horse is clausterphobic - that is quite a real thing and a hoof jack (which you will see in the pics of the clinic) will cure that. Its a royal pain to trim a front foot on a hoof jack but you can get used to it.
Good luck!!
my mare is fine with her front, but tries to run off when you pick up her rear feet. If she is against a wall or crosstied she will lean over her but right on you when you pick it up. I picked her back feet in the trailer where she ccouldnt go anywhere or lean on me. She didnt like it but got the job done. Need to be out there working on this instead of on computer.
Hoof Jack, Hoof Jack, Hoof Jack. No, I dont work for them, LOL! It was about 10 years ago my friend had a horse with serious hoof trimming issues, long story. So her and I chipped in and bought the hoof jack which was pretty new on the market. At that time, I was trimming and shoeing maybe 15 to 20 horses. I have to tell you, once I started using that hoof jack, I never went back!! I still have it, its old and holding up great, and dont go anywhere without it. Why put your body in such an uncomfortable position and in some cases hold a horses weight? And the horses like it because its stable, unlike the human they are leaning all thier weight on! I just bought one for a friend for his birthday, he only trims his own 3 horses. He loves it and would never go back to holding up those hind feet. He also uses it on his drafts fronts because his fronts are just too darn heavy to hold. I use it on the hinds of all horses I trim, and it only takes the horse a few seconds to get used to it and relax. I suggest to everyone, spend the money, your back will be so happy you did!!