Wow, they're everywhere, aren't they?? Are you certain you labled the sole shots correctly? I'd actually want to get xrays, to see what bony changes and rotation(esp left fore) has occurred, before I'd do much more than bevel those massive quarters back to the sole & probably back up the toe of the 'right fore'.

While I agree with Mark that it appears in the pics, due to shadowing, that there may be adequate sole depth, I wouldn't be sure of that, or that the filled in areas around the frog aren't like that because of seriously thin soles more peripherally - it's possible the area around the frogs is the only place with adequate depth, so I would be hesitant to remove any of it without further info, regardless of terrain.

Likewise, while the heels mostly all look a bit high to me, could be because the internal structures have 'sunk' low in the capsule, so I'd be lowering them very gradually, if/as needed. Also frogs all look weak, little used & likely thrushy, so while heel first impacts are important, lowering her heels could cause more discomfort on weak heels & force her more onto her toes anyway. Therefore I'd be inclined to treat for thrush & pad her frogs, to provide extra support & protection, to enable her to use them & develop some strength in them. Given the shape to her rump, while it's hard to tell in the pics, I'd guess there is a fair amount of side to side(higher insides) hoof imbalance in the hinds that directly related to 'upstairs'(whether or not it was upstairs or downstairs that it originated), so may just have to be managed rather than attempting to change it in the hooves.

Agree with BNT that it looks like chronic laminitis may be/have been one of her issues, so I'd also be looking closely into diet & such too.

Do you know the horse's history? Management, lifestyle, environment & diet?
---
Last edited by loosie; 02-29-2012 at

08:19 PM

.
well... i know a good portion of her history. i owned this horse from age 9 to 15 and never had any problems with laminitis or weight issues (either loss or gain). however, i sold her exactly 2 years ago and the owner contacted a week ago monday asking if i wanted to buy her back. all they told me was that she "had a bought of founder but we caught it and she's fine", that they had her in shoes and were using her as a lesson horse for kid's jumpers. O_O in this condition i'm appalled but that's besides the point.

now, when i had her and previous, she never had any issues with her feet. she's always had longer than "ideal", shall we say, heels but that was always due to her being more upright in her bone structure than anything else. the one front hoof was always more "clubby" than the other. she maintained weight and was never off while subsisting on a grass/alfalfa mix diet. always barefoot so them putting shoes on her is interesting to me as well.

anyways - the "founder" they claim was one day she just wouldn't get up for them. they claim the vet was called out and the vet said "oh stop giving her any alfalfa and only grass and she'll be fine". a month later they were back to riding her in jumping lessons. now, i never was able to get a vet's name or any further information out of them so i can't say how accurate any of that is. *shrug*

as it stands, she's been home since friday of last week and she's bright, alert, active and HUNGRY. i have a call into my vet to come out and give an all over assessment, including teeth and feet, as well as to pull blood and see where she is in that respect. my vet was a farrier before he became a vet so hopefully he can give me some good recommendations as well.

loosie, anything else you have to provide with this additional information would be great.

thanks all! :)
Weanling
Join Date: Feb 2011
Location: In a house,w/ dogs and cats, a woman and a kid.
Posts: 275
• Horses: 0
Quote:
told me was that she "had a bought of founder but we caught it and she's fine", :)
---
For all your farrier needs, GET BNT!
More feedback on additional info.... I think BNT said it well!
yeah the bout (haha - i can spell! sorry) was explained as "she wouldn't get up to be ridden on day so we had the vet out who said 'don't feed her anything but grass and she'll be fine' and a month later she was back to letting people ride her". so my question was, she didn't get UP? "no she didn't want to get up and let anyone get on her back". uh... ok.

as of this morning she's walking/trotting around of her own free will and is already starting to fill out in her hind end so i'm assuming a lot of her issues is due to lack of nutrition.
It looks to me like she's dragging her left front toe. I would think this may indicate a problem higher up on the leg. Might be something to talk to the vet about.
---
There's nothing like the Rockies in the springtime... Nothing like the freedom in the air... And there ain't nothing better than draggin calves to the fire and there's nothing like the smell of burning hair. -Brenn Hill
thanks kevin. i have a nice list of things that keeps getting longer to discuss with the vet.
Battling the thrush will help with the heels and a healthier frog. I see flare, false sole, excessive bar, long heels, imbalance, but good concavity. A good set up trim should quickly have her on the road to improvement.
so i sat out and just watched Berry move this weekend. she's landing toe first with both front feet but it's worse (i guess haha) with the left front - almost as if you are new to wearing high heels and are tripping over your toe because you don't know how to balance. she's putting on weight nicely which i think is helping a lot too. still waiting for the farrier to come out. :/
so the farrier was out on sunday and it was decided she would do best, at this time, with shoes all around so we can work on getting her back to a better hoof shape/angles/etc. i tried to get pictures last night that would show you what i'm dealing with. there are TONS and i'm going to post all of them so here you go. any thoughts are appreciated. if it helps any, she moves off sound and is still steadily gaining weight and happily running around the pasture with no issues.
left front heel 1
left front heel 2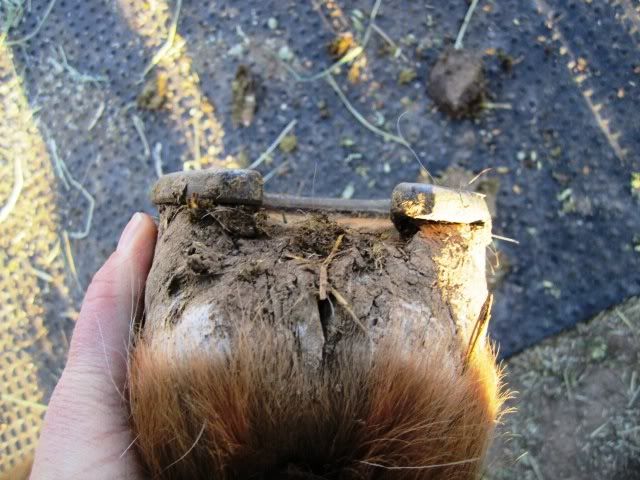 left front sole 1
left front sole 2
left front outside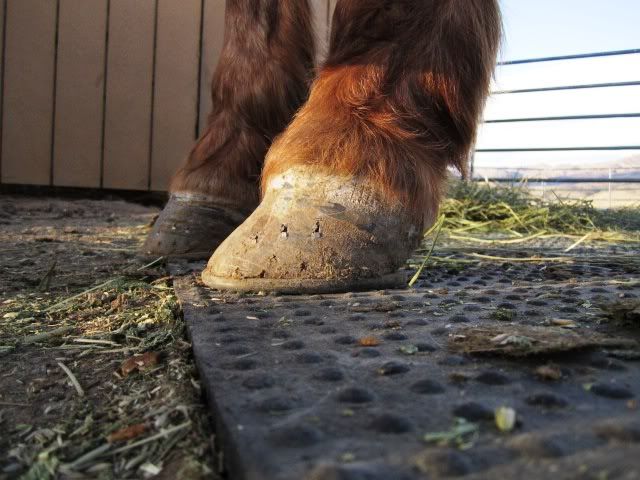 left front toe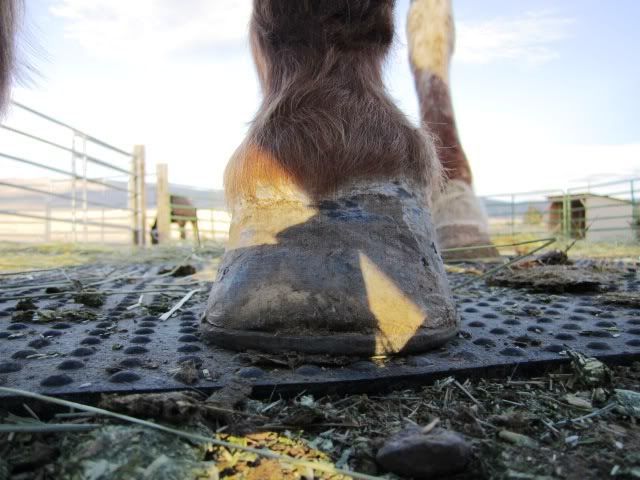 left front inside 1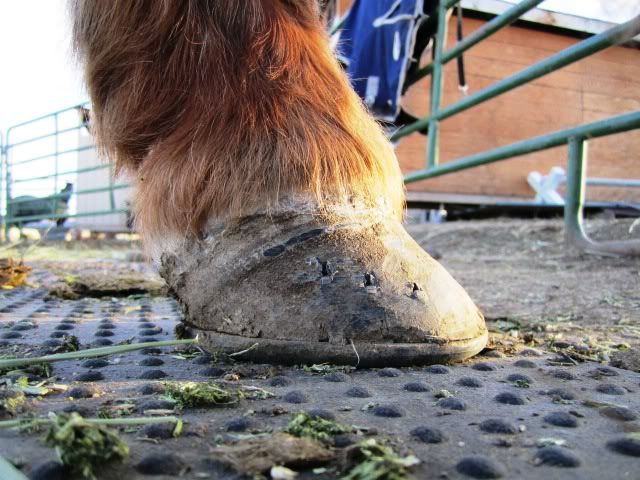 left front inside 2