Thrushy Feet - How's this look?
---
Hello!
Iím just looking for some input on my lease horseís feet. The BO told me he has thrush so weíve been treating it with thrushbuster. His field has been pretty dry up until that whole Sandy thing came through out area. Things are starting to dry back out, but still a bit muddy. I only see my coach once a week so Iíll be able to talk to her about his feet when I see her Thursday. Until then, can anyone let me know how the soles of his feet look? Is the peeling frog good? Sorry the pictures arenít great, taking pictures one handed is tough! Haha
Thanks!
Oh ya, been treating for about 2 weeks.
left hind
left front
right hind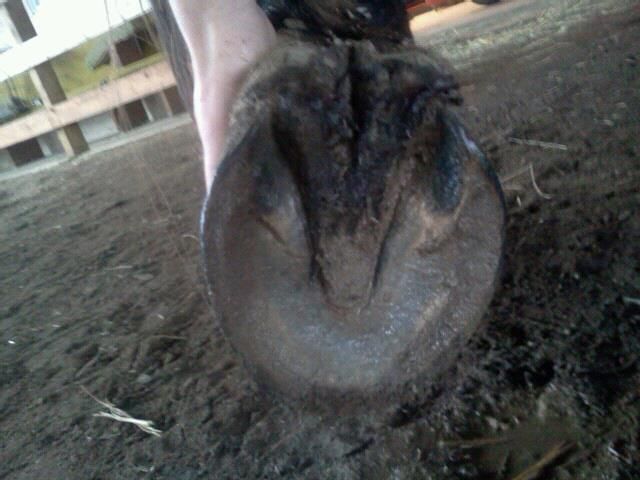 right front
none of the photos show up for me. :/
Same here, no pictures :/ could you send them again?
oh geez.. so sorry.. hahah i'll fix it!
ok, they go right hind, right front,left front, left hind. (how embarrassing
)
---
Last edited by ClaireDee; 11-05-2012 at

01:42 PM

. Reason: mixed up order
There we go! ahaha, his hooves look like they are a litte soft on the frog, his frogs look like they are just getting through the session of getting better...just keep it goin with the thrush buster and you're horsie will be as good as he could be..this of course just until your farrier comes :) just keep an I on him as well, clean them as much as possible.
Thanks!! I'm glad they look on the getting better side.. it's hard for me to tell.. the frog is so dark and .. err... mushy?? and th pictures dont help, im sure.. they're pretty dark themselves.. Thanks again for your input
i assume you're putting the thrush treatment in those large cracks/holes in the middle of the frog between the heel bulbs as well, right? that is also thrush there that most people tend to miss. ;)
Similar Threads
Thread
Thread Starter
Forum
Replies
Last Post
Sky's feet

Skyseternalangel

Hoof Care

7

07-24-2012

02:03 AM

How do his feet look?

trIplEcrOwngIrl

Horse Health

53

02-14-2011

08:08 PM

Where are my feet?!

Flugelhorse

Trail Riding

8

07-21-2010

12:27 PM

Feet

RedTree

Horse Riding

1

03-07-2010

08:17 AM

Six Feet Under

califcowgirl

Movies, Music, and TV

5

10-29-2008

11:11 AM