Just a thought, I know using gelatin does wonders for our nails fingers and toes, if since hooves are basically the same if it would help.
Photos of the feet would be useful.
Quote:
Originally Posted by
Cowgirls Boots
View Post
My gelding has backwards shoes on for his navicular which causes his toe (that isn't covered by a shoe) to crack and it ends up looking like he might get white line.

Usually I pick all 4 feet especially the white line and apply iodine to the white line.

Lately I've been refraining from it to give his feet a break. But, I was doing it religiously for a few weeks.
Posted via Mobile Device
Hi. Rather than backward shoes, I think eggbutts would work better for founder. They are closed all the way around. I've always used shurehoof on dry feet, not on the coronary band. And Durasole to harden up soles, prevent WLD and thrush. But there are most likely quite a few things that work as well that other owners use.
Quote:
Originally Posted by
BarrelRacingLvr
View Post
So my gelding has crappy feet (brittle, cracky, just bad) and have been told by 4 people now to put Iodine on his feet. So a couple questions for those who have used Iodine on feet...

Do you put it on the outside only (was told by a couple to paint it just on the outside of the foot), or also the bottoms of the feet.

How often do you apply it? Once a day/twice a day, every other day, once a week?
I used betadine both times my mares had abscess. Basically I poured it on a bottom where opening was once or twice/day for couple weeks. However I don't think it's a good idea to use it daily. I'd rather look into the trimming (would be nice to see pics) and/or supplement (with biotin).
---
"Life isn't about waiting for the storm to pass: it's about learning to dance in the rain..."

"When we are no longer able to change a situation - we are challenged to change ourselves."

"How people treat you is their karma; how you react is yours."

Quote:
Originally Posted by
BarrelRacingLvr
View Post
Here is a little more info...

For grain he is on 1 scoop Sweet Feed, 1/2 scoop Omolene 400 and grass/alfalfa hay. I have weighed my grain but can't remember at the moment what the weights were.

No it has nothing to do with the grains I am feeding...he has always had really bad feet. And they are not always brittle, but just nothing to them. When gets re-shod...the shoe never cleanly comes off, there is always a small chunk of hoof that comes off with the shoes. Also we have had about 5 farriers throughout his life (we have raised him) and his feet have been like that for all of them.

Also it is only really his front feet....his hind feet are not as bad. And ANY water screws with his feet and they are even worse now because we had alot of rain in the end of June. And he was only at 3 weeks with those shoes and they were loose because his feet pancaked and crack out over the shoe (none of the other horses feet did that) so we have really babied his feet trying to keep them good because there was really nothing TO trim off and had to squeeze the shoes on. They also have no gray area...they are either too dry or too soft and moist and both they just crumble.

So he is in a drylot 24/7 because any time on pasture and his feet just get even worse. He has hay in front of him most of the day, has salt/mineral/selenium blocks, also has a vitamin/mineral tub.
I love Horseshoers secret. It's got an appropriate amount of biotin, lysine, and methiolene (sp) in it. Read labels. Some brands swear they are for hooves, but have so little of the correct ingredients it's laughable. I've read and read that you should have at least 15 mg of biotin per serving/day. After a year, I had cut that in half with no problem.
You have to keep the hooves well trimmed and maybe try some glue on or epoxied on shoes. Nailing to weak walls only make the problem worse. And you should keep the horse's feet dry, no wet stall or soggy pasture/paddock. Nothing by itself will do anything. You should stop the deteriation. (sp). The "pancake" part needs to be trimmed off. It's pulling the rest of the hoof away from the wall. I believe squeezing a shoe on will only be a disaster if I understand correctly.
Others here are better at directing what diet is needed.
I use providone to scrub the bottoms, rinse, and spot spray full strength onto thrush and hold the hoof up until dry before I apply ointment. I think for that purpose (thrush), it is valuable. Otherwise, it would really depend on the problem, how much and how often, IMO.
---
There is just as much horse sense as ever, but the horses have most of it.
I got some pictures of his feet, not the greatest as I was in a hurry. I also only took pics of the fronts as those are where the problem really is.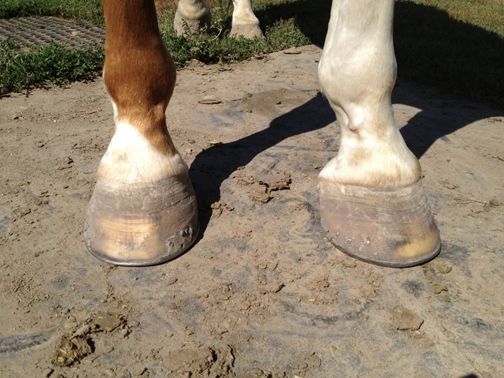 RF (his problem foot)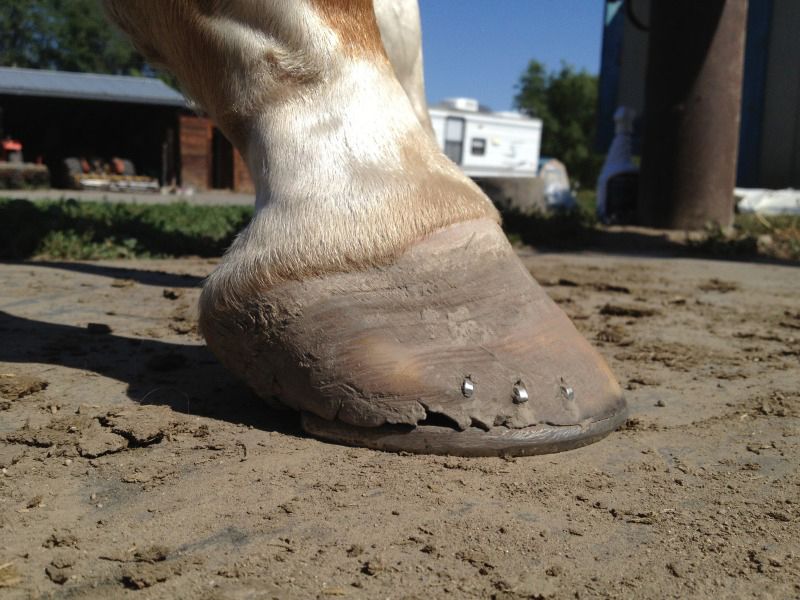 LF
---
Conformation is how far the horse CAN go,
Mind is how far the horse WILL go,
Training is how far it DOES go.
Iodine isn't going to fix those feet. Its called you need a good farrier.
Well this farrier used to shoe my horses forever then retired so we went someplace else. Then not to long ago HE insisted on shoeing my horses again because he was not impressed with the farrier we had at that time (and neither were we as he started getting rather sloppy and horses started getting a lot of flaring). And like I said that foot has been our problem foot for a few years, as it grows very little heel in a timely matter (jerked a shoe 2 springs ago and tore a big chunk out of his outer wall, got that grown out then last spring he popped an abscess at the cornet bad so that had to grow out). And his feet WERE looking great up until we were knocked 10 steps back after all the rain we got and his feet went to complete mush. He takes no heel at all of that foot, and like I said it was starting to look so much better (heel was starting to look so much better).

And trust me....where we live you either have the chop off all the heel and leave the toe long guys, the ones where your horse will have 4 different feet by the time they are done, or the ones that make your horses foot a pancake. He is the only good shoer out here pretty much. And fixing a foot doesn't happen overnight and will never happen over night. And you really can't judge him by looking at JJs feet when they are horrid (has only shod him 3 times since he started again and the 3rd being the one where JJs feet were mush litterally)...because he does a GREAT job and JJs feet make everyones work look bad. And he is due for a shoeing that is scheduled for next week....we just need consistency and instead of coming to road blocks that set you back. Especially on the ONE horse we have whos feet are the worst on the place.
---
Conformation is how far the horse CAN go,
Mind is how far the horse WILL go,
Training is how far it DOES go.
Maybe ask the VET which shoe is best for your horse. Also ask about using the egg butt shoe with a medicated pad .