Quote:
I see what u mean. Its been a pretty hard road for Bass. The right heel was basically non existent when I got him and he had pancaked on that foot. The left was not as bad but he was pretty much lame when I brought him home in Dec. Via xrays he had neg coffin bone
OK, I'm guessing that 'non existent' heels, considering neg P3 angles was probably actually long but crushed flat heels. So it sounds like he's made quite a recovery in only a few months? Perhaps the 'correcting' of heels was a little exuberant.
No, the abscess that caused that crack happened a month or few before December most likely.
Yes, if you would like an opinion on his hinds it would be helpful to have pics
How old is he?
Crushed would be very accurate. I need to think of better words to describe things. Long, lots of dead sole etc. He will be 2 in May.
Posted via Mobile Device
Back feet and Bottoms of front
---
So here are the front feet. He was last trimmed March 4th.
Right foot.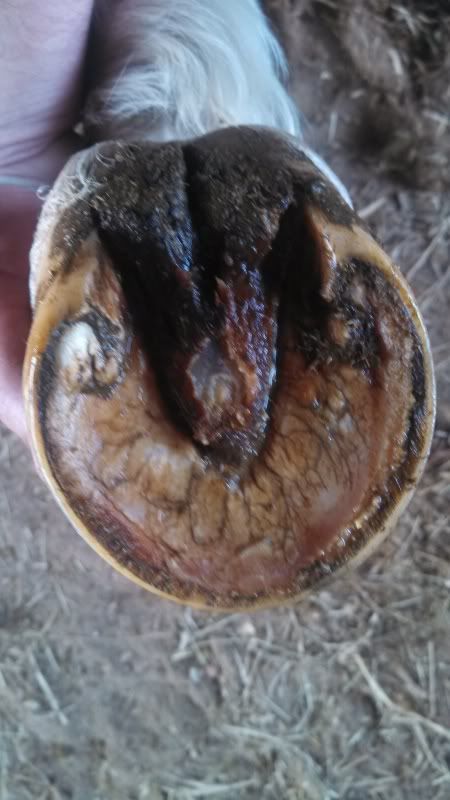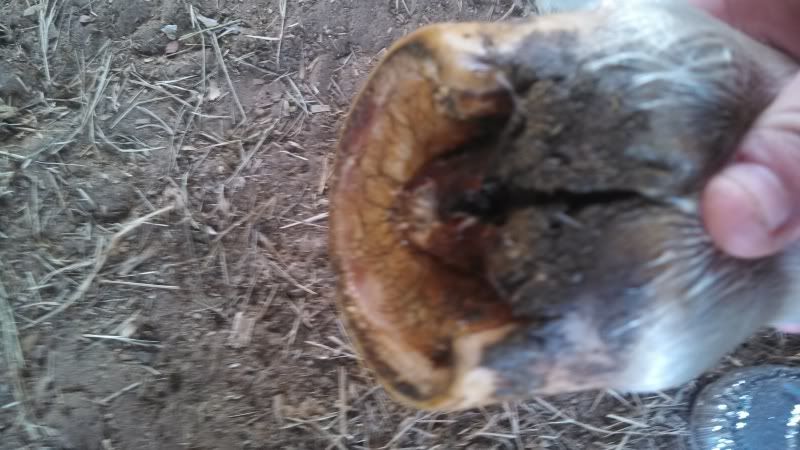 Left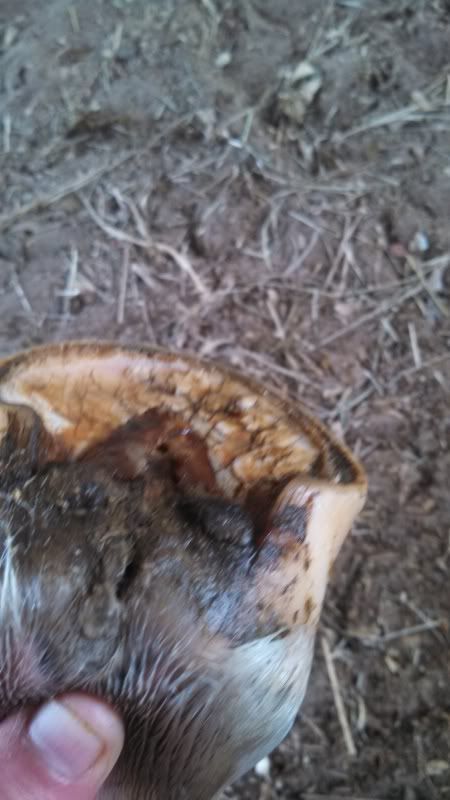 Back feet.
Left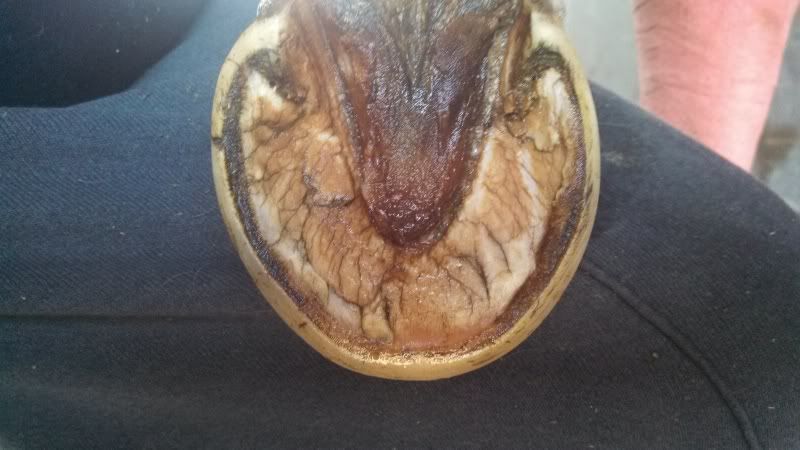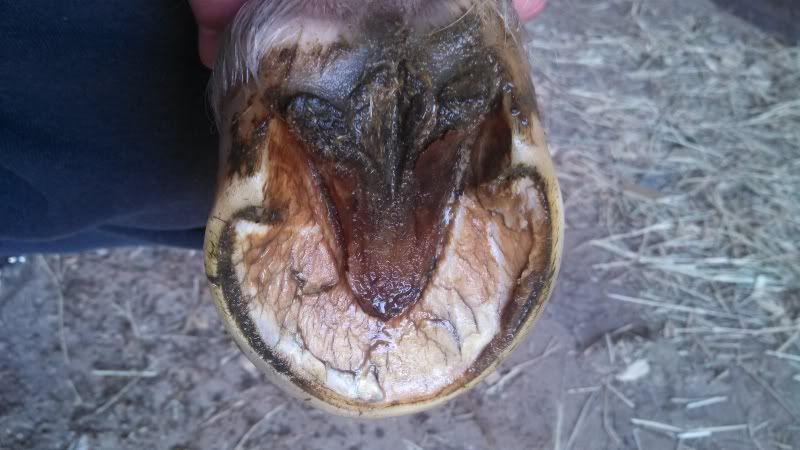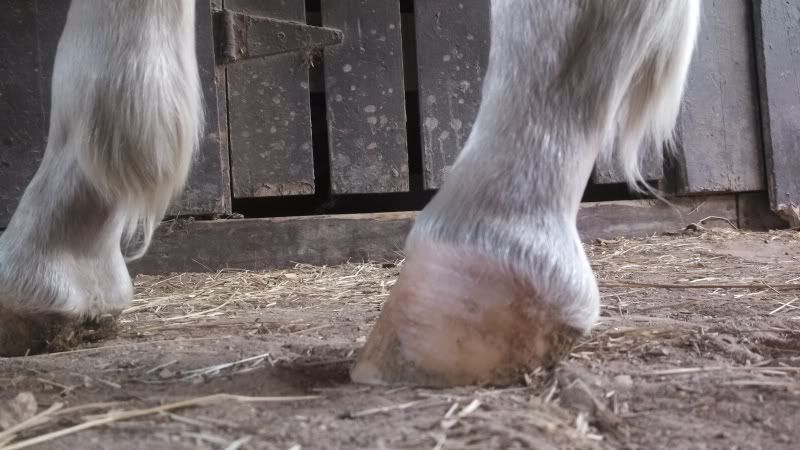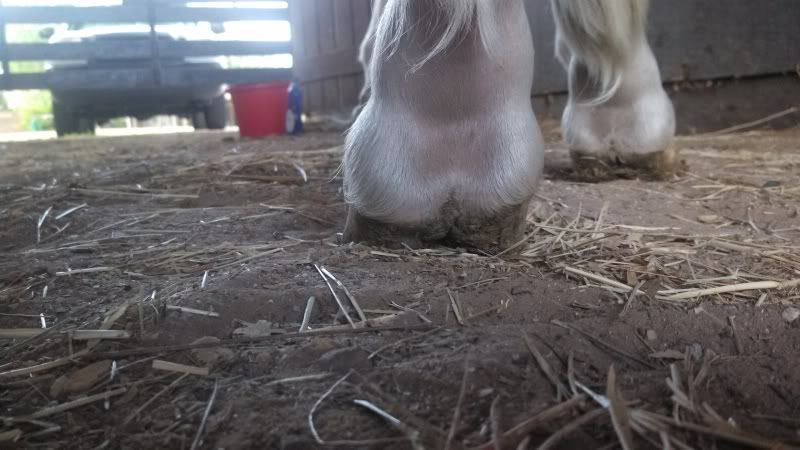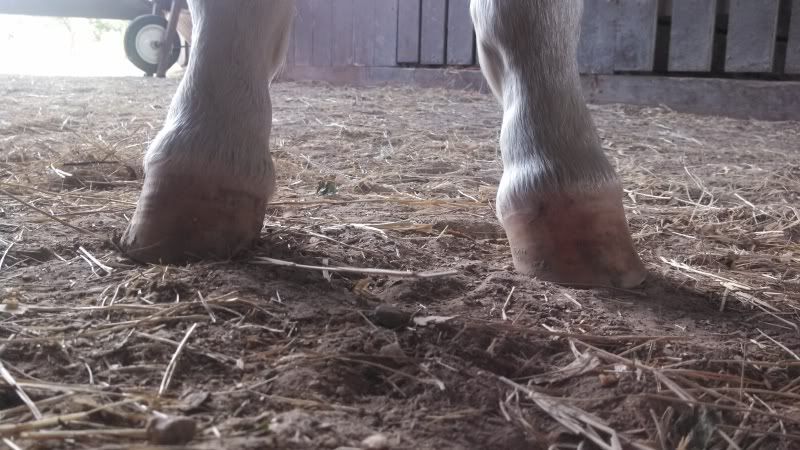 Right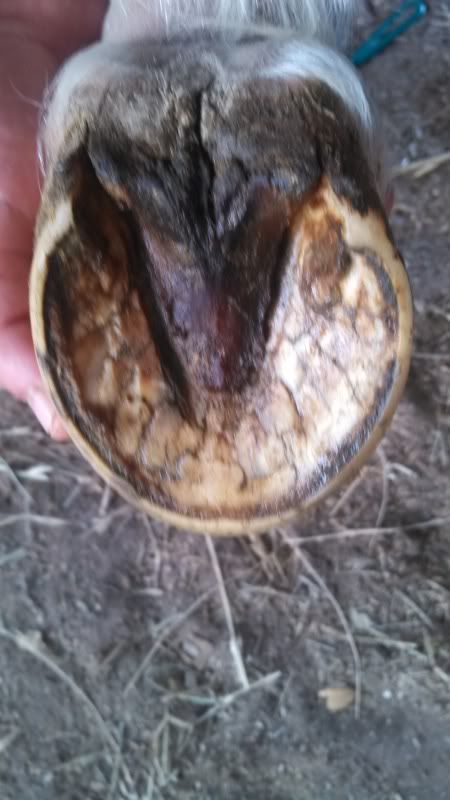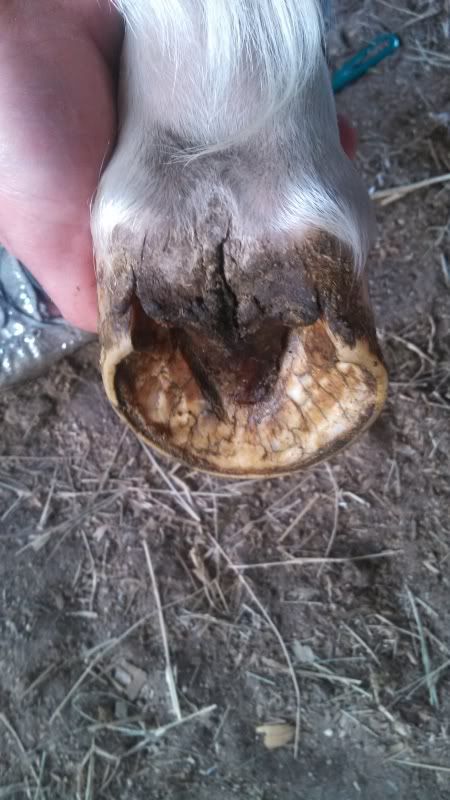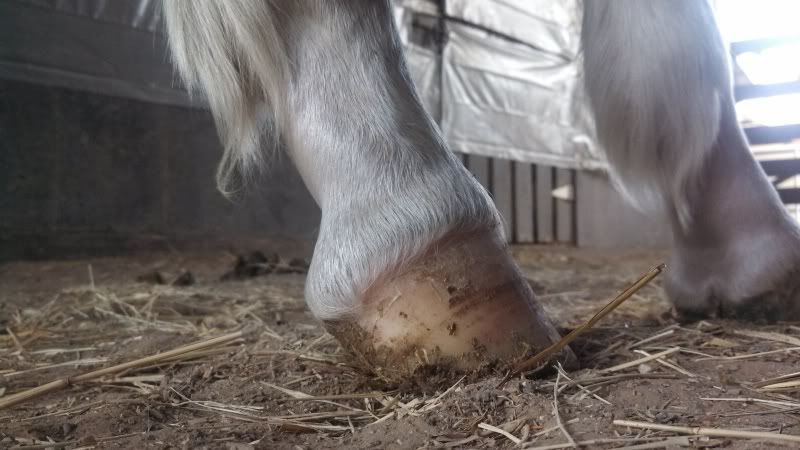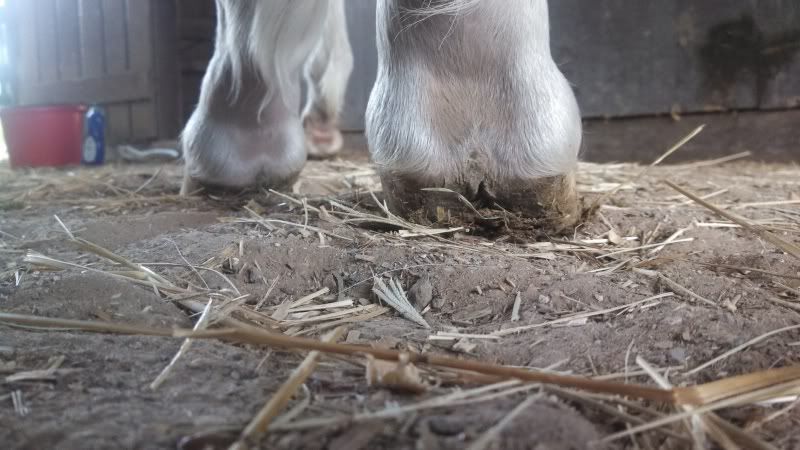 OK so... normal disclaimer about pics & angles giving different perspectives, opinions based just on pics, etc...

So it appears to me that his front feet aren't too bad, but all feet are high heeled and could do with a fair bit off them right now. While lowering them to whatever may be 'ideal' for this horse needs to be done gradually, I've marked with blue lines approximately how far I think you could afford to trim right now. Also rasping heels on a slight angle compared to the current ground surface angle, to get them back closer to where they should be. This is often called a 'heel bevel' but it's effectively about trimming heels to the angle the foot 'should' be. I'd be trimming those feet little & often, to get heels down/back as quickly as possible & not allow excess growth of heels that will have the farrier chasing their tail.

You can see that the heel height has pushed the horse onto his toes, which are quite bruised. I suspect his toes are more stretched than appears on the pics, and 'mapping' the feet such as I've (roughly)shown with the vertical & horizontal lines show that his 'breakover should be back a fair bit too. Also with the other pic marked, the horizontal lines are the same length from the centre, so you can see that one side is more flared than the other. Heels also appear imbalanced in some pics, such as the one of the sole viewed from the heel - you can see that one heel & quarter are higher than the other side.

The pic of the back foot on the ground, the red lines are to point out the 'broken forward' angle of hoof & pastern, which should be straight. Lowering the heels should correct that in one trim I'm thinking.

Also quarters have been left invariably long - looks like the ground surface has been trimmed flat rather than to the plane of the sole, which will generally mean that on a flat surface quarters are 'scooped' to some degree.

Hope that helps.
ditto ditto ditto on the heels. This horse looks due for a trim now. Id trim him ASAP and make sure the farrier gets those heels down and the frog functioning properly. This guy has loads of heel and is starting to get coke can looking feet which is no good. Some other subtle things bgoung on but the cracks IMO are not somethign to worry too much about. they are on their way out and down. Be mjore worried about his frogs because thrush is ready to go to town on the sulcus there if it hasnt already.

Slso, this is not yet a 2 yo right? Turn him out as much as possible over varied terrain if he isnt already. Soft flat pasture is no good for babies and he looks like he doesnt move around enough on those feet at all.
---
Married to my One! 10-11-13 Steampunk style:)
Thank you so much Loosie, the lines really help show what your talking about. Ill try and convey this to new farrier, which Im having trouble finding.

Trinity - If varied pasture isn't an option, what do I do? Our pasture is flat, and only 3.4 acres =(, but I cant move him till his leg is healed. His feet did look better when he had to be hand walked for a month, we went up and down the drive way for about 2 hours. twice a day.
Do his feet really look that thrushy? I just did a quick rinse off for the pictures with a rag and water. but it didn't smell like thrush. I pick his feet everyday, maybe more then I should, morning before he goes out and evening when he comes in.
What does Slso mean?
I think 'Slso' was a typo - also. Yes, thrushy frogs. I imagine his hooves were probably much more contracted, but they still are & eg the first pic I attched above, you can see how deep & closed the central sulcus. I'd squirt some thrush treatment in there too, at least once daily. Remove any daggy bits & overhangs of frog but leave & treat the rest. This will also help his comfort, so get him using his heels more. The more exercise the better(leg not withstanding), but if he can't exercise & use himself comfortably he won't be doing it properly.

Do look into diet & nutrition too - they're also huge factors & a whole nother can o worms!
Youll just have to work around the leg injury but as soon as he is able, he needs to move. This young age is critical.

As for the pasture situation... If it were me? Id try to recreate some different conditions in what I had available to me if I couldnt just find a big pastuer to turn him out on for awhile. All horses benefit from varied terrain in their turnouts as it is.

Id add some various tree trunks here and there for them to step over and around or even jump over should they desire when they play. Id certainly add some gravel pads to condition the bottom of the foot and maybe even build them a "goat hill" to play with. Id do whatever it took to get them walking around all the space they have as much as possible by spreading the hay out hiding special treats etc. Anything that encourages strength, flexibility and using the whole body daily is very good and especially necessary for babies. Those feet will be baby feet till the horse is about 4 or 5.
---
Married to my One! 10-11-13 Steampunk style:)
Oh and yes, *Also* is what I meant lol.
---
Married to my One! 10-11-13 Steampunk style:)
Finally got ahold of my farrier. He will be out sometime next week. Picked up thrush buster? At the feed store. Started it today around all the frogs. Talked with the other boarder and her husband about doing a gravel patch in the front part of the barn where the go out and come in and maybe around the water troughs. They don't want to do a hill or anything because of water flow issues.
I was thinking of teaching him to pony while we ride and we go over all sorts of terrain. Would this be to much?
Posted via Mobile Device