What is that?
---
See the "ring" that follows the shape of the hoofwall on the sole? It shows up in photos better than one can see it in person. It is not pink as it appears to be in the phote, in reality it is a light grey and looks "worn" (rounded lip) . Other info: her sole is as hard as rock, and she has no trouble traveling over rocky (solid rocky) ground. It appears to some degree or another in photos on all her hooves - but, like I said, in reality it is hard to see. Any thoughts?
---
There is just as much horse sense as ever, but the horses have most of it.
That is the edge of her true sole. Follow the inner ring around and youll see it matches up with the white line area. She has stretching at the toe. The toe should be dressed back giving her an equal width all the way around so it can grow out tighter.
---
Married to my One! 10-11-13 Steampunk style:)
This foot appears to be stretched forward from what we can see here. Bars need a slight scything down also. I would dress this toe form the top to equalize the thickness a bit more and bevel alot of that toe away depending on what I saw and how the horse felt
[IMG]
[/IMG]
---
Married to my One! 10-11-13 Steampunk style:)
looks like a toe callous, you do not want to cut that off or shave it down. I do recomened a mustang roll. ( bevel the edges ) all around the hoof wall. do not touch the sole.
That is not toe callus. Look again. That is clearly white line/wedge/flair. There should not be any discrepancy in the white line thickness from heel to toe. Toe callous would be behind the white line as shown here. But yeah, it does appear to have been trimmed off where it should have been .
---
Married to my One! 10-11-13 Steampunk style:)
Thanks. I should have mentioned it was a hind, left. No matter.

THe hoof wall is pretty well " rounded" but it doesn't show up ever b/c of the white.

So, trinity, you are saying I should "aggresively" bevel the hoof wall it starting from the purple line at 45 degrees? Like spotted, I am afraid of disturbing the sole.
The bars are hard to see because the sole kind of makes an extension of them. The are slightly off the ground. The foot has quite a bit of concavity - but the color makes it impossible to photograph...maybe if I used food die or something. The only reason I mention concavity is b/c looking back at the photo I realize the bars/sole extension look "flat".
---
There is just as much horse sense as ever, but the horses have most of it.
That is probably what I would do and I would also dress the foot from the top at the toe also treating it like lamellar wedge and encourage tighter growth with a more even width of "wall". Again, this is going off one photo. Its good that its a back tho, be easier/faster to fix IME.
---
Married to my One! 10-11-13 Steampunk style:)
---
Last edited by Trinity3205; 10-11-2012 at

05:35 PM

.
Okay, thanks trinity. I am a "slow trimmer", meaning, it is so hard for me to "get aggressive". And, I will get spun up and obsess over things. These "marks" appearing in photos had me loosing sleep.

Spotted, I searched "toe callus". I find "hard facts" surprising hard to find, as well as clear pictures. Interesting. I mean, every horse should have 4 of them, you would think there would be oceans of clear info on them as they appear on a live horse, not a cross-section of a cadaver. My search continues. :)
---
There is just as much horse sense as ever, but the horses have most of it.
check out pete Ramey hoof rehab.take a look at some before and after photos. I would make the hoof wall even thickness all the way around with a beveled edge all the way around. A mustang roll. you can do it from the top or the bottom.
The hoof will eventually correct, but will take time. I still say do not touch the sole. Also check out some you tube videos on barefoot trimming. I think they will help explain.
toe callus doesn't even always "look" like anything. Sometimes just just some hardened sole, sometimes it never forms at all. I have found some horses get them and some don't. Nevertheless, I avoid taking any sole from where the coffin bone tip should be at all times unless I have something to fix or its out of control etc and needed to go for balance etc.
Here is an example of a defined to callus. Its simply built up sole under the coffin bone edge where the horse breaks over.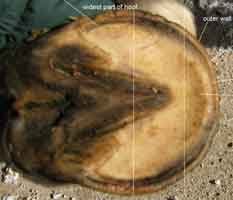 ---
Married to my One! 10-11-13 Steampunk style:)