What are underrun heels?
---
I was wondering what they are, as I have heard the term used before. I know it has something to do with the angle of the heels being less than the toe, but could someone please elaborate, or post comparison pics? Thanks!
It's pretty common for OTTBs. I don't think I've seen a freshly OTT without under run heels, actually.
Here is an example of a healthy hoof that has a nice angle and size of heel
Here is an example of an under run heel.
and here....
you can see there is virtually
no
heel.
With an experienced farrier, you can easily fix this. It takes time- I've had my boy for 3 months now and it's not fully fixed yet, we're almost there.
Hope this helped.
Lioness did a a great job of demonstrating things, but I will correct one thing. A horse will always have heels, underrun or not. Underrun heels does mean a horse has no heel. It means they have too much heel and it's grown outward with toe rather than downward like some horses. My yearling for example will get underrun heels if I do not trim him every week because his feet grow that fast. My pony on the other hand also grows a lot of heel, but has very upright feet so they grow downward and give him tall heels rather than underrun heels.
Posted via Mobile Device
Okay, I'll show you what I mean.
This is my yearling(his feet are a work in progress!!) This is just less than 2 weeks since his last trim. His feet grow forward at a great angle.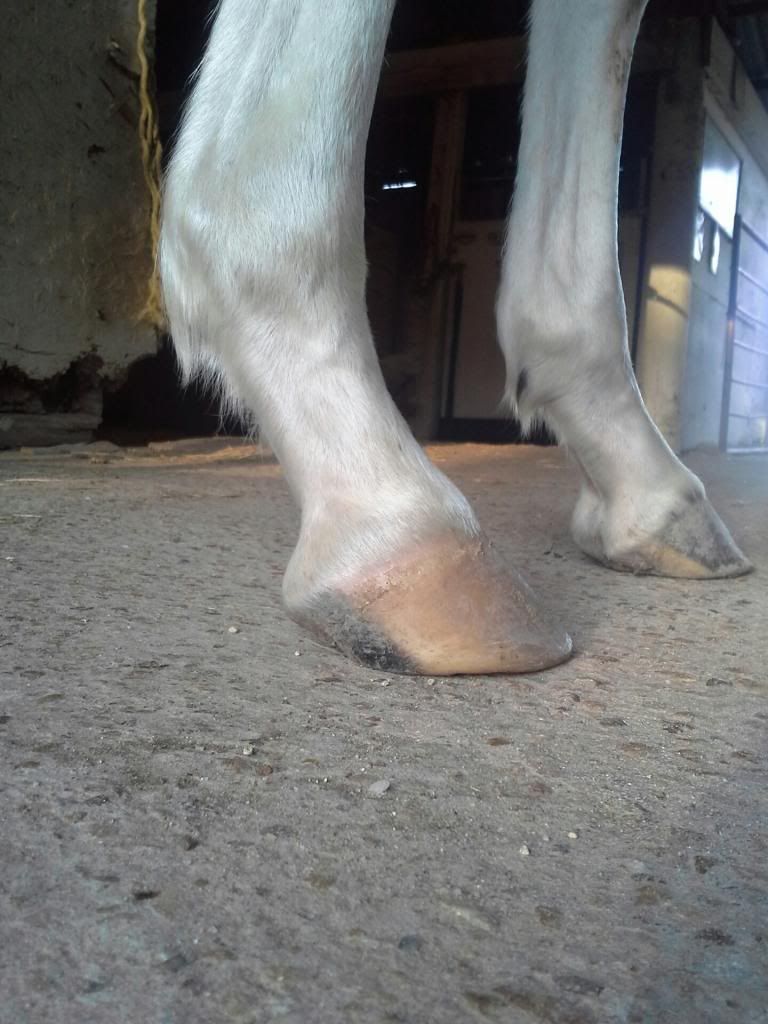 And this is after.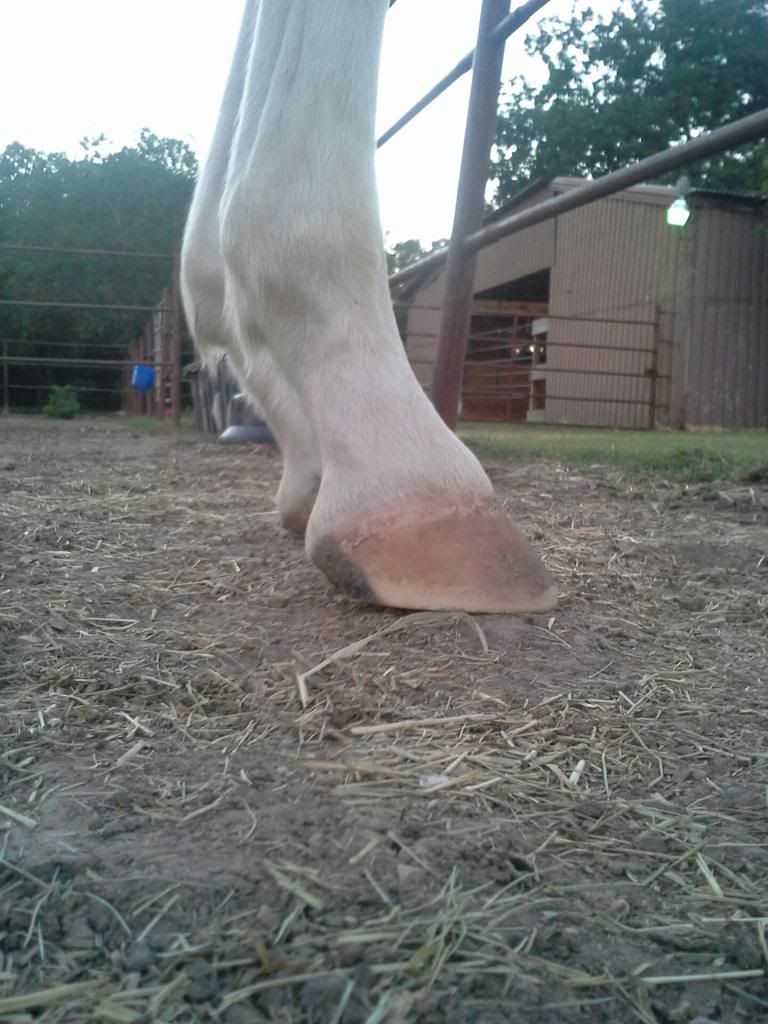 Voila! He magically has a heel. It's always been there, but I trimmed off the excess and brought it back under him. I need to bring it back a touch more but that was all I could do yesterday evening. His feet just grow so dang fast. I obviously cannot let him go more than two weeks without trimming, let alone a week without at least rasping his heels back. Lesson learned for me.
---
There on the tips of fair fresh flowers feedeth he; How joyous his neigh,
there in the midst of sacred pollen hidden, all hidden he; how joyous his neigh
Its just an incorrectly managed foot. any horse that tends to grow hoof forwards, instead of down is very prone to this, but I think most horses, if trimmed poorly enough, can develop these. When I got my arab mare, her feet looked like this: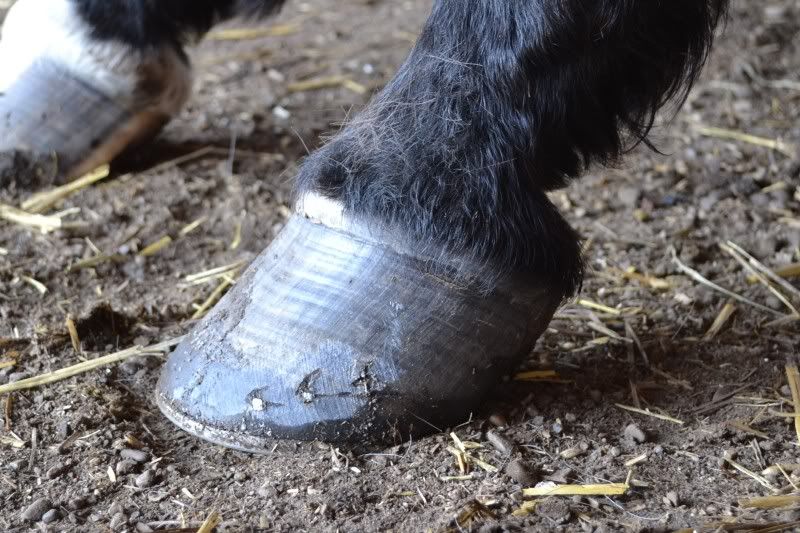 turns out she was bad with her feet, so he left her all winter without taking the shoes off or trimming her. She actually has very upright feet, but with shoes restricting her hoof natural expansion and left on way to long, they looked like that.
on the track many people still believe that increasing toe length slows break over and increases speed, so they trim them like that regardless of long term soundness.
Quote:
You can see there is virtually no heel.
Under run heels (like those) are actually very long heels. Lots of heel but all squashed forward under the foot. Short heels are healthy heels. Short heels do not get under run very easily .
---
Last edited by Patty Stiller; 09-26-2013 at

09:13 AM

. Reason: add picture
Way different degree to the other 2 egs with such LONG heels, but I'd have to say the first eg you gave lioness, looks run forward too.

Chicken, basically, heels should be short & heel corners back at the widest part of the frog. When toes 'stretch' forward & heels are allowed to overgrow, they collapse under & start growing forward.
Sorry guys, should have corrected myself...

Virtually no heel angle.