What is wrong with these front feet?
---
Kinda linked to my other post but here are some pictures of the front feet. The pictures may or may not be very good, I don't know. What I do know is that I tried the barefoot method and it worked out great for the back feet. I thought the front feet were coming around slowly but surely but I guess not. The horse is 11 years old, well broke and had shoes when I bought him. I would assume he had shoes since he was young. Anyway he is still lame or not sound when I try to ride him barefoot. I have been working with the horse with a trainer and he has told me 3 or 4 times that I will have to put shoes back on him, at least on the front. I am going to put shoes on him but I am wondering what you guys are seeing in the pictures? Is that a normal barefoot trim? Also for whoever does the shoeing, is he going to need anything special or just a standard shoeing?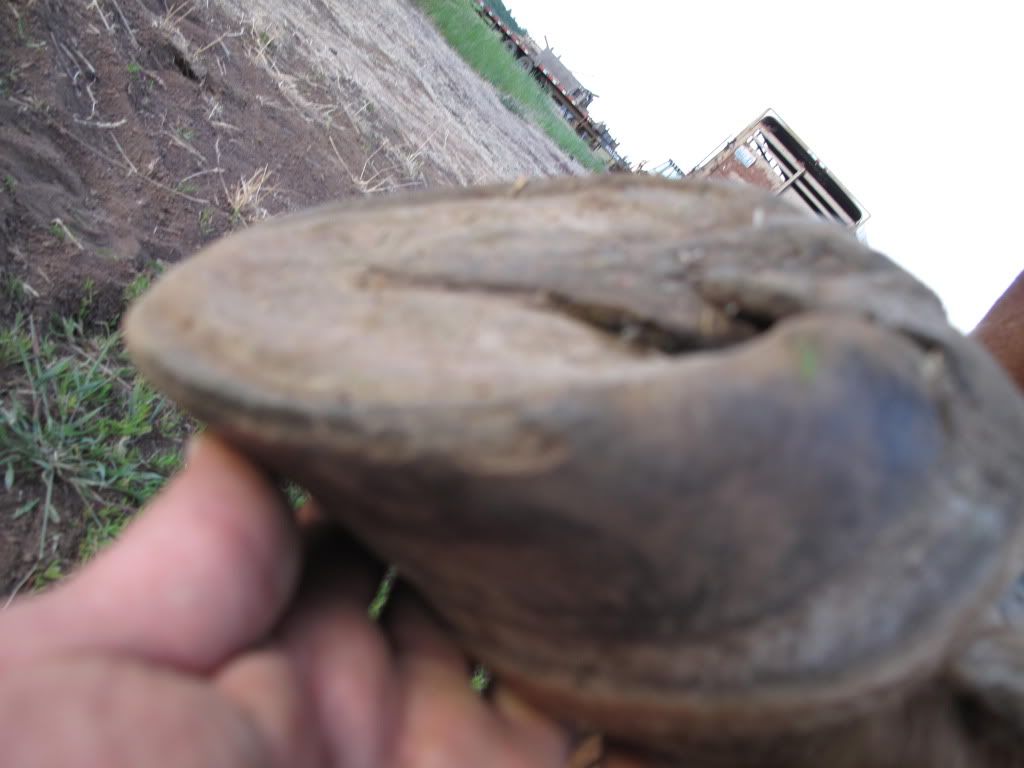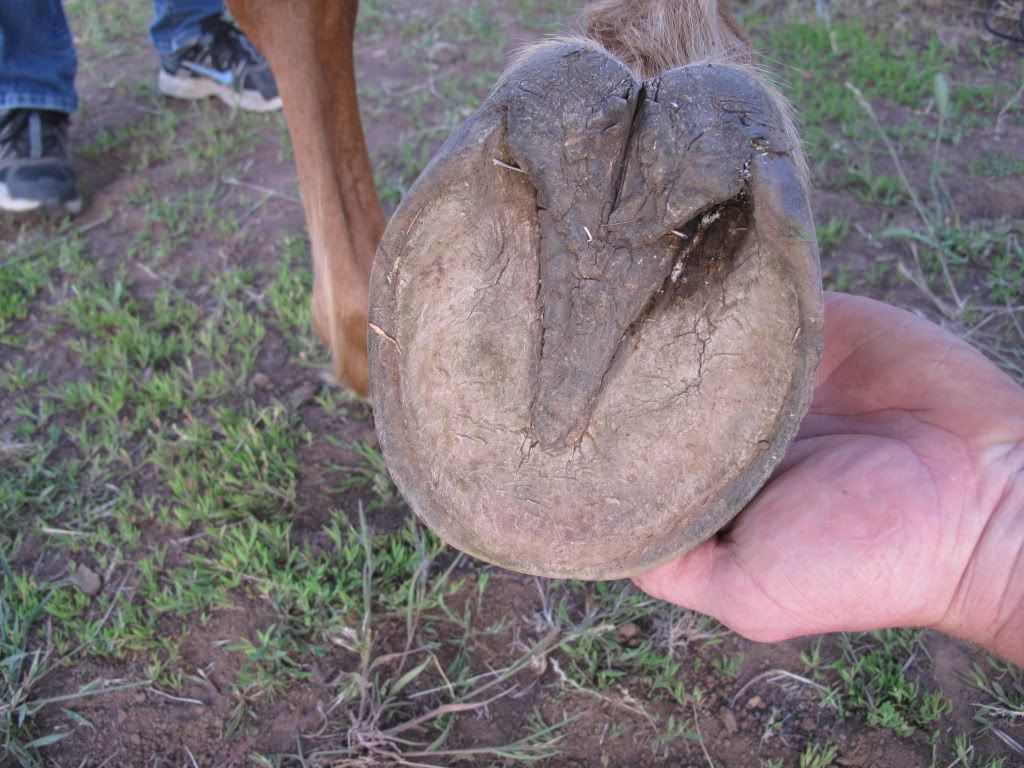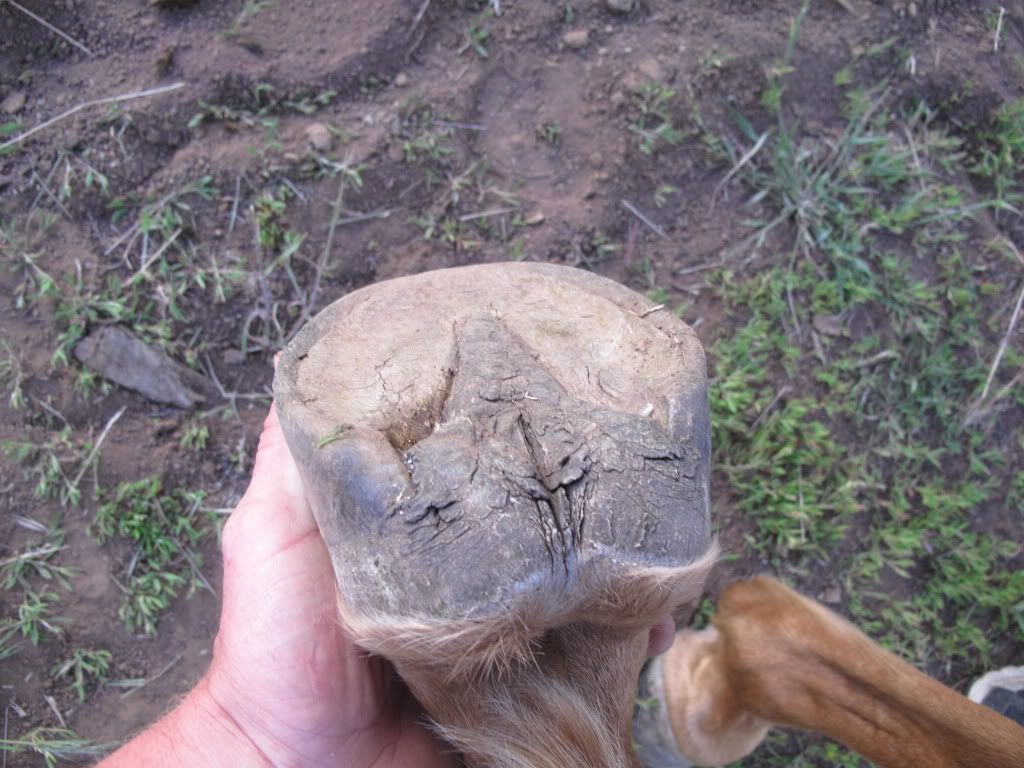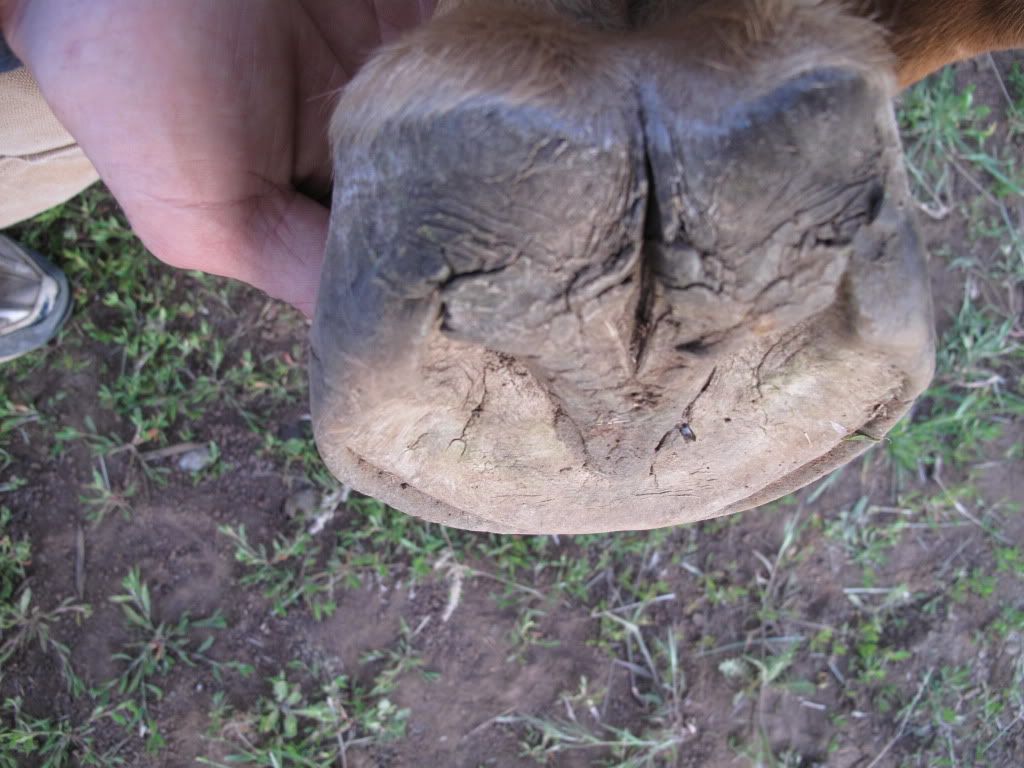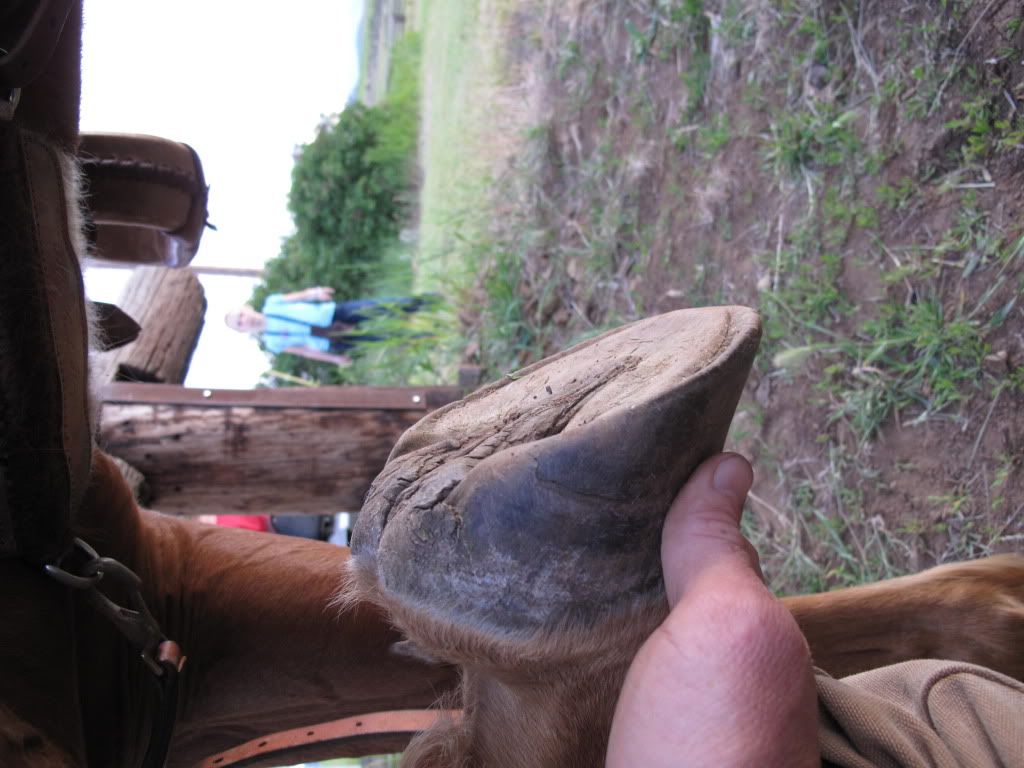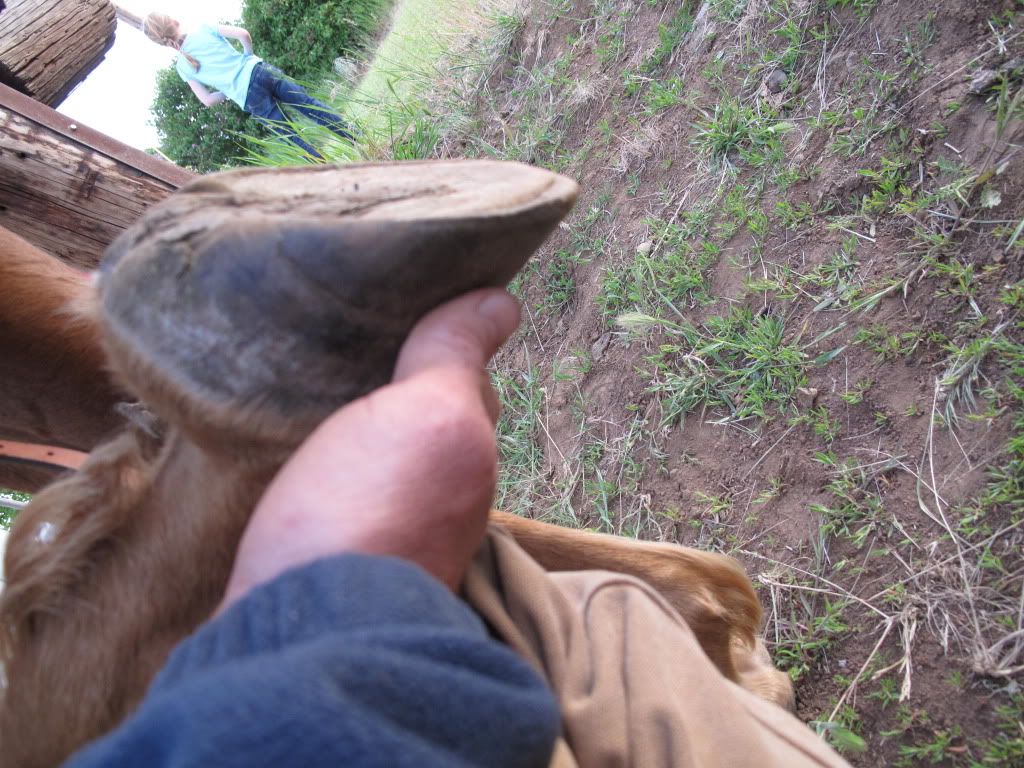 There are so many horses that will never be ridden barefoot depending on the horse (health, foot etc), the surface being ridden on and the surface of the pasture. 2 of my horses have been bare for over 5 years, another has never had shoe in her lifetime - 15 years. My horses are out on a nice soft squishy and sometimes wet pasture, then I ask them to ride down a dirt/partial gravel road. They will gimp on and off, some worse than others. Now, I can ride them around in the woods just fine as the surface is the same as their pasture. So I guess what Im trying to say is, if the surfaces are not equal, then the foot never gets used to it and will be tender. I have heard of people putting gravel in thier pasture or barn entries to get thier horses feet to toughen and get use to that type of surface. Think of it this way, if you walk on carpet all day in your house with no pain, why cant you walk down a gravel road with no pain? For me, I use hoof boots, usually only fronts. I never ever ride my horses down gravel without thier boots on, they would be miserable. I could be completely wrong and your horse is pastured on the same surface as you are riding. I will leave it to the experts to assess the hoof.
What did you do to prepare the horse for the barefoot transition? Did you use hoof boots to help make him/her more comfortable in the initial transition?
You can't expect a horse to go from a set of shoes and be 100% barefoot and be sound right off the bat. A lot of people say their horses cannot go barefoot simply because they were not prepared for the transition and/or did not have the patients.
Invest in a good pair of hoof boots. I like the Easyboot Line (parts are easily replaceable). Its more money up front but in the long run pays for itself and is cheaper then shoeing. You need to get the horse into hoof boots for turnout and only once the horse is comfortable and landing heel first (at walk and trot) can you start riding in hoof boots. The hoof boot allows the hoof to function as nature intended it to, engage the frogs and distribute weight over the entire structure where as shoes restrict blood flow (and peripheral loading - weight is alone the outerwall vs. entire hoof). You will begin to develop the structures within the hoof and eventually can begin to use them less.
Read Pete Ramey's hoof rehabilitation protocols for some good ideas.
Pete Ramey writes about white line disease thrush navicular disease hoof balance
I would also treat the hoof with White Lightning because chronic thrush will also make a horse tender.
Wow, from your other post, I was expecting to see flaring or some white line separation, but those are nice looking feet. Nice tight white line, big frogs, good concavity. For a year into being barefoot, I would also be scratching my head if my horse were still footy on some surfaces.

The only possible thing I can see is, that crack in the back of the frog at the heel bulb should not be there. Any chance this horse has an underlying thrush condition? If you stick a hoof pick in that crack, does it go further in?
---
You just have to see your distance...you don't have to like it.
Agreed with above. What I see is feet that are being exposed to a lot of wet--mud or other--and this horse could use a dryer environment.
Consider what happens when you hand wash a lot of dishes. Your hands dry out even though they have been in water the whole time. THIS accounts for the cracks in the heel and the cracks around the frog.
You could stall at night, after using your favorite hoof dressing. I suggest that you dress the hooves, then "bandage" with a disposable diaper taped on with duct tape. I think you will see a big difference in the hooves if you do this.
People do the same thing. There are gloves you can buy to use at night for very dry hands, and you use a medicinal lotion. The gloves keep the medicine on and give it a chance to soak in your hands. These work very well, and the diapers do, too.
I would do a soak for thrush. It does look like there may be an underlying thrush problem there.
You can try: organic apple cider vinegar, white lightning, oxine are some effective soaks IMO. I find commercial products and even Pete's Goo is not enough at times when its been a chronic problem. Suggestions from
healthyhoof
I would not put shoes back on him, this is not solving anything. There is an underlying reason as to why he is still sore barefoot. I would treat for thrush as directed in the above link for one of the products and if there is still a problem with soreness I would invest in hoof boots and pads. I prefer the Easycare line for this reason - there is a varying line of pads from soft to firm and to add varying frog support/pressure depending on the horses needs. You can speak to your hoof care provider about the right combination for your horse. Also, if he is inside at night ... get him turned out full time to move more (with boots of course if he is uncomfortable) and get him moving more and landing heel first to devlop the structures in the foot.
---
Last edited by QuarterHorseLuv; 05-31-2012 at

05:14 PM

.
Well, to me the toe looks a little long & the sole is showing below the toe line,& I believe it should be a bit concave. Also I think it slopes too much from front to back, but that could be the camera angle also.
Dropped sole, possible chronic laminitic.....Do the rings widen at the heels? Is there a ridge below the coronary band?

If not that then the trimmer removed all the dorsal wall to the sole leaving it weight bearing with no support. That is your lameness, on its sole instead of wall and minor support from sole.
Posted via Mobile Device
Oh needs a proper trim all the way around. The issue isn't just the dorsal wall.
Posted via Mobile Device
Sole is protruding past the wall, no wonder! Also looks possibly laminitic/foundered in the past maybe? Contracted heels a bit as well. I would stay off of him until he grows out a bit more. Either farrier trimmed back the wall on purpose to get the sole touching the ground to get blood moving and get the wall to grow out more, or they did it on accident and now your boy is ouchy.

Just my unprofessional two cents.
---
I have said what I have said. I have not said what I have not said.