Whats wrong with his hooves?
---
I was picking my boys hooves today and noticed that his hooves here wierd. I haven't been able to pick his hooves in a few days so i just noticed this. They weren't like this a few days ago. He's on a dry lot thats well dry, no wet spots. He doesn't stand in poo all day either. Any help?
RF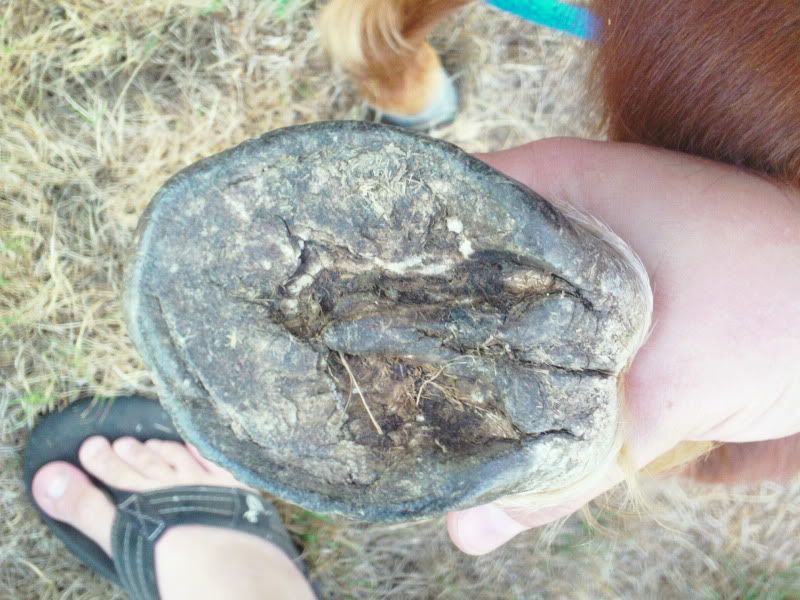 LF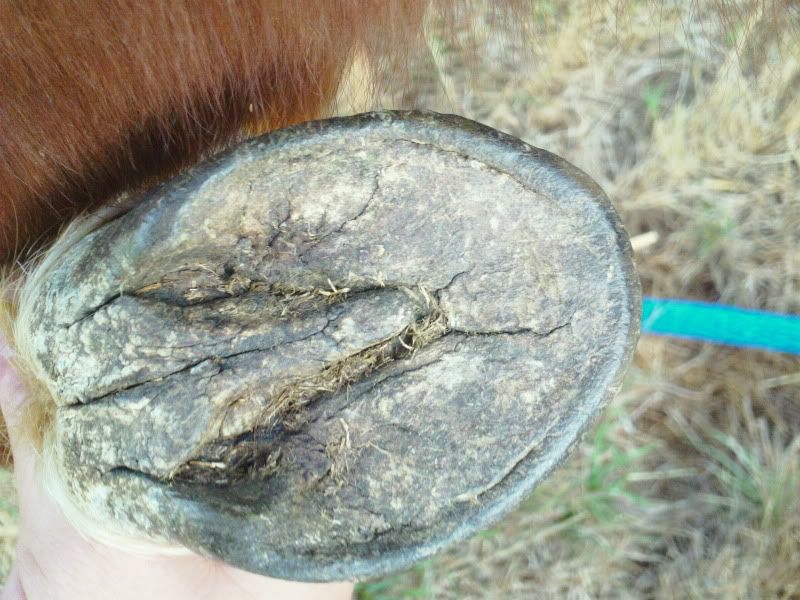 HL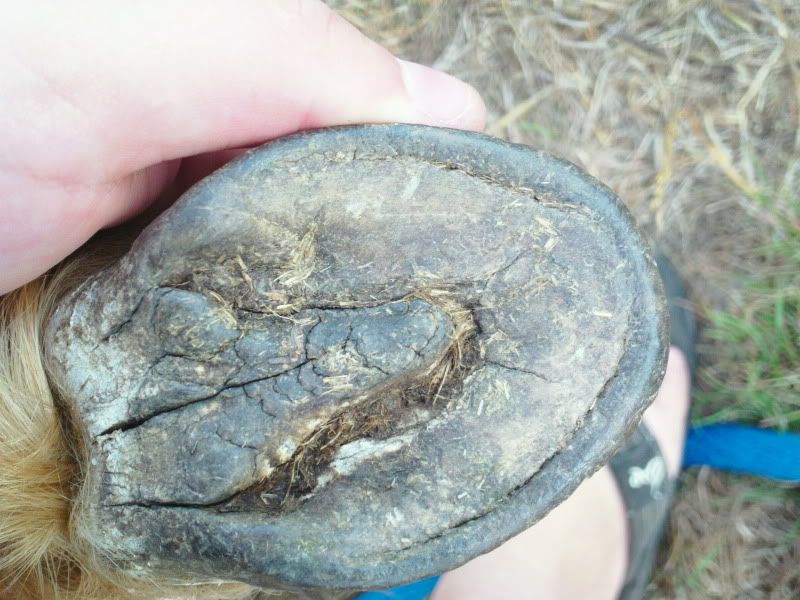 his HR is normal
Oh, dear, those are not good looking feet
Very contracted heels, thrush, due for a trim, and it looks like possibly a lot of false sole. If your trimmer/farrier has been telling you that your horse's feet are OK, you should replace him.
The front feet should be significantly rounder than the back feet- they look the same shape in these photos!
I'm also going to say thrush but as far as the shape well when I upload pictures of my horses hooves if they are sideways like this they also look skinny and long. But are mini's feet a different shape than a full grown horse or are they just a mini version?

I'm going to also say the really dry weather probably hasn't helped here.

How small of a hoof pick do you need for these haha?
I have my farrier coming Sunday to trim and take off false sole. Also going to treat for thrush. Thanks guys.

As for his feet shape his fronts are rounder than his backs it's just the angle of the pics I guess.

Poppy: I use a normal size hoof pick lol
I dont think the feet have thrush since thrush is atually black oosy smelly stuff but looking at the feet definately a good trim. Rounder in the front. What Im seeing is dirt in the cracks. treating for thrush when its not thrush can dry the hoof out and cause more issues. If your getting black soot that stinks and I mean stinks ( You'll know it ) then by all means treat it. But wait and see after trimming. Good luck!

TRR
I agree with Timber,

It looks much more like your horse is preparing to shed it's frog then everything should go back to normal.
---
life has no remote control hitch them up and drive them your self
Isn't this normal for this time of year? Having a major shed of dead sole?
saddlebag,

it depends on the area and conditions under which the horse is kept under and of course the horse itself. For instance in CO in my location most of the horses around here have shed their sole already within the last month or so as it's quickly becoming evident that winter is imminent and the cold here to stay.
---
life has no remote control hitch them up and drive them your self
I think the most common misconception regarding thrush is the horse needs to be wading in mud 24/7 to get it. Nothing could be further from the truth.
The frogs pump blood therefore there is heat/moisture in there. Heat/moisture attract fungus/bacteria from the ground, regardless of how rock hard & dry that ground is.
I also think it's the first picture that the frog is growing crooked. The picture isn't skewed, the tip of the frog is pointing at the ten o'clock position
Healthy and properly growing frogs should always point to high noon
If the horse toes in, that might be one reason. Poor trimming and the horse is off balance could be another. Something unhealthy going on inside the hoof might another. All that thrush may be the cause.
I hope the farrier can answer the question
Regarding sole & frog shedding. That can depend on the climate and the horse's living environment. Horses that are stalled more than they are out may shed at a different rate. My four are on a lot of acreage, they did their normal Spring shedding.
They shed again after a few months of Severe drought ended and the rains came. We went from threadbare pasture to not being able to keep up with the bushhogging in only 10 ten days. The heat/humidity also shot up. All that drastic weather change caused them to shed again.
They will still shed frogs & soles one more time, later this fall.
---
Last edited by walkinthewalk; 09-28-2012 at

05:39 PM

.
My turn.......everyone has covered pony feet, so I'll say, mind your own feet as well
I would imagine even little guys can mess up a bare foot if they stomp on it..