whats your opinion on owners trimming?
---
I have been doing alot of research the last few months on different trims, how the hoof works and why it works that way and etc. all so i can maybe one day trim my own horses hoofs. i already keep them neat between trims. I take in many underweight rescues with horrid feet and my farrier is charging $75 a pop for the first visit on these guys and $50 there after ever 4 weeks till there feet are in tip top shape. I would love to continue rescuing but its starting to get quite spendy when i have 3 rescues at a time. So what do you think, is it possible for a well educated owner to do natural trims on there own? In no way would i ever do other peoples horses, just mine.
sure, why not. Are there any farrier schools in your area?
it's very possible, quite a few people from here do it.
If said owner has a deep understand of how the hoof works and how a trim can effect/improve a horse's mobility, then sure! Now I wouldn't try to overhaul quarter cracks, splits, absess, etc. But if it is just to keep the hoof in good shape and tidy, have at it.

Not to say that someone can read Farrier work for dummies and go shoe their own horse.

I plan on taking full advantage of a farrier school in the future to learn how to do the basics as to save myself money and gain another ace up my sleeve.

I'm sure you would benefit from a farrier school immensely. The tools may be expensive but I guarantee that you'll make every penny back in the money you save.
Posted via Mobile Device
My dad trims our horses feet for us all the time. We had a good friend who was a farrier that taught him how.
---
Pssh.I didn't pick up the wrong lead
It's called a counter canter...
...A very advanced maneuver.
i will have to look for a farrier school near me. Glad people dont frown apon it to much.
well so far i have found one school about a hour from me. $8000 for a 8 week course OUCH!
That's about the going price for farrier schools, there are books that you can get and lots of websites, a good set of nippers costs around $100 or more. If you have a good farrier ask questions on how and why, most don't mind telling you what they are doing and why.
Quote:
well so far i have found one school about a hour from me. $8000 for a 8 week course OUCH!
If you're serious about learning, consider Heartland Horseshoeing School in Lamar, Missouri. The owner, Chris Gregory, is probably one of the best farriers and farriery educators in the country. At $4,600 for the eight week course, it's a LOT less expensive than your more local school. Lodging in the school bunkhouse is included in that price so no hotel/motel costs.
Practical Farrier Course | Heartland Horseshoeing School
Just a word of warning. Chris sets the bar extremely high and the coursework is brutal in terms of daily workload. Comparing it to military bootcamp is reasonable.
Your current farriery costs and scheduling suggest to me that your being taken to the proverbial cleaners. While $75 first service cost may be reasonable in cases of extreme neglect, a client shouldn't expect this to be the norm. A 4 week maintenance schedule for trims is unnecessarily excessive. The vast majority of horses do very well on a 6-8 week schedule.
Three horses, at $50 each, every 4 weeks means a total cost of $1,800 per year. The same number of horses done every 6 weeks would drop your annual costs to $1,300. That represents annual savings of 27%.
Were you to enroll in a farrier course at $4,600, it will require 3.5 years for you to recover that investment and you will save $13,000 over the following ten years. You'll also have the skills to do more than just a trim should a horse need it.
Cheers,
Mark
Typical horses managed in my business, trimmed on a 6 to 8 week schedule....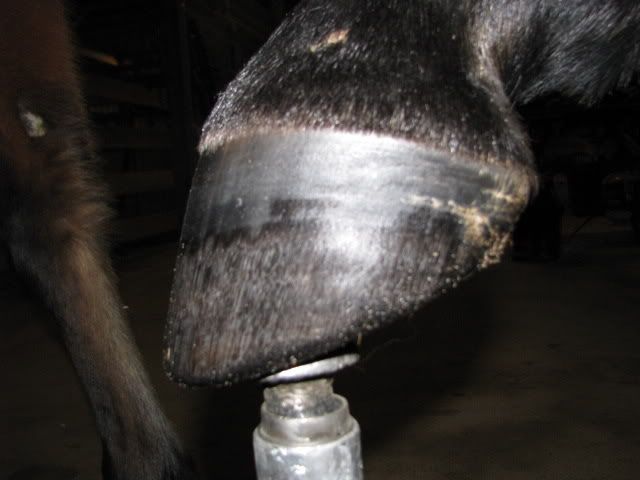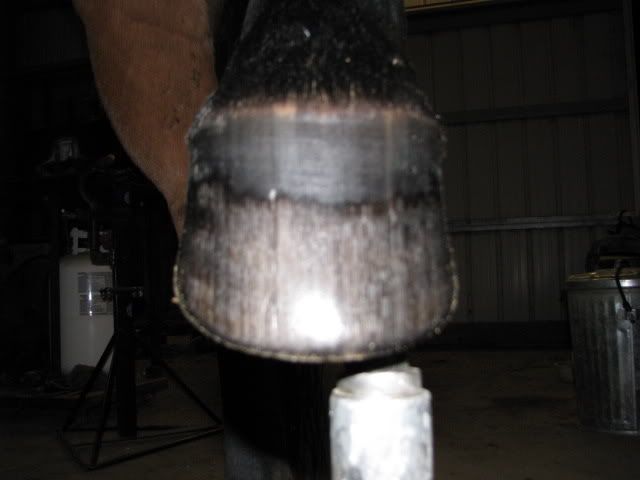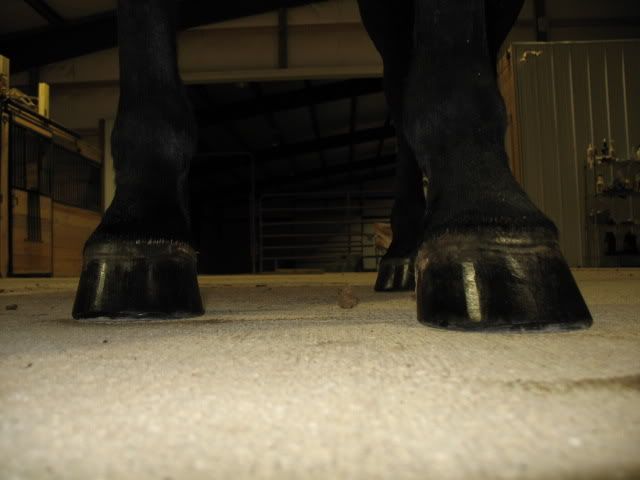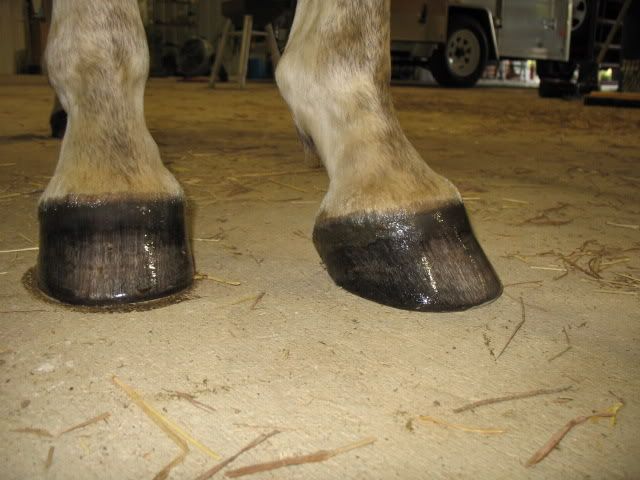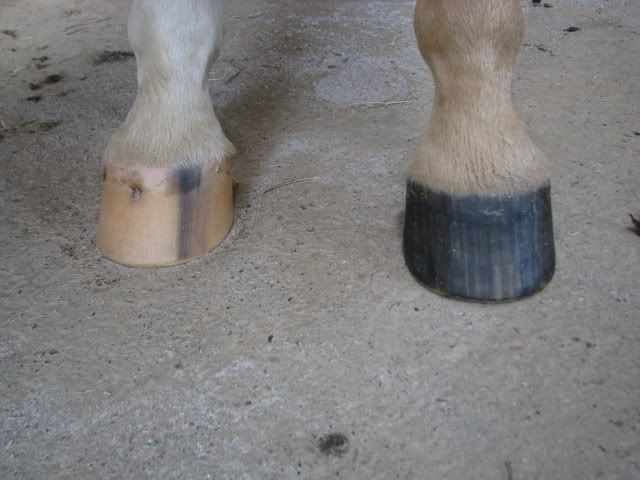 Typical neglect case...
Before: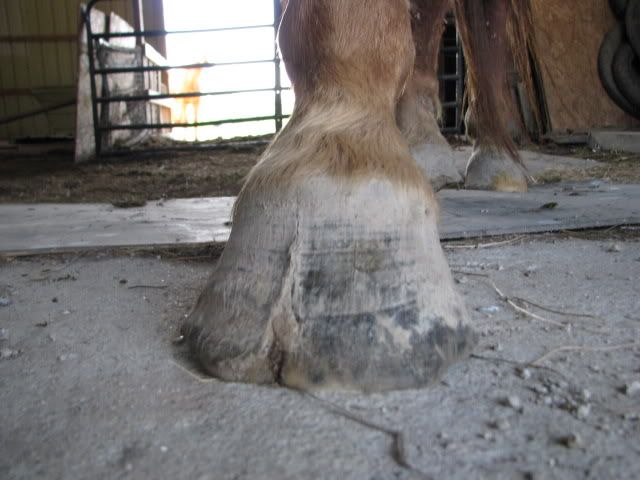 After: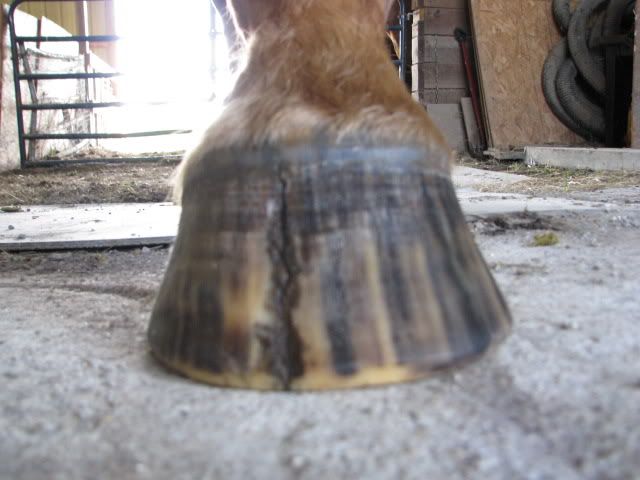 Quote:
If you have a good farrier ask questions on how and why, most don't mind telling you what they are doing and why.
I agree. All the farriers that I know are more than happy to pass along all their experience and even let you 'shadow' them as they do their work. I started trimming our mares years ago when our old English farrier actually suggested (and convinced me) that I really didn't need him and that I could do it myself.
---
On the sixth day, God created the Quarter Horse.
On the seventh day, he Painted the good ones.