I have one 16h OTTB who is a saint and I love, but was casually keeping an eye out for something smaller and well-trained for my beginner daughter. However, a nearly 17h fresh off the track 4 yr old TB gelding nuzzled me. The rest is history.
Yearling
Join Date: Aug 2012
Location: On the golden coast of Michigan
Posts: 918
• Horses:
3
Very interesting!

I really don't know how this worked out, but I feel like it was both of us who chose each other.

When I still had my old horse I looked on DreamHorse and I saw Faith. I guess the first thing that caught my attention was her unusual rose gray color. Looked at her video and I really fell in love with her. I still had my old horse, who I was planning to sell anyways. When I sold him I immediately called Joe Goodenow (from Lightning Bar Equestrian Stables) and asked questions, etc. When I found out that the 'I Believe In Good' filly was still for sale I made an appointment to go see her.

When I went out to see her I was shocked on how calm she was, she was just a baby too. The other horses around her were playing bumper cars and kept bumping into her but she just stood there like it was nothing. So when Joe's girlfriend saddled her up and started to ride her I was amazed on how calm she was too. She did a very nice jog, and a very controlled relaxed lope. She was very outstanding and she was show quality like what I was looking for.

I went over to pet her and see how she acts around people. She just nuzzled me and at that moment I knew that she was the one for me. I took the day to think about it and the next day (Thanksgiving--Joe doesn't take any holidays! Haha) I called Joe up and said that we would like to purchase her. The next day she came to my barn and she was very calm and just stood around.

So I feel like we both chose each other. (:
---
For the wretched of the earth there is a flame that never dies.
Even the darkest night will end and the sun will rise.
---
I seldom see horses hugging people, but my Ed has done it a couple times since I've had him. First was the time I went to see him to try him out. He hugged me, and then hugged another lady at his barn who used to ride him. I felt later that he was hugging her goodbye, because he knew he had me as his new owner (awwww).

Today he hugged my husband when he came to my barn to visit. I have a colleague who thinks horse hugging is a sign of dominance. To be clear, this is how Ed hugs: he rests his muzzle or chin on your shoulder. It feels quite affectionate. No lipping or nipping involved.

It feels like he has chosen us both, but me first!
Love All these incredible stories - lets keep this thread going! Who's next? :Smile:
With Molly, it was an absolute disaster waiting to happen from the start.

I was 12, about to turn 13, and my riding experience was all Western on gaited trail horses. Add mom's boyfriend's polo horses to the mix, and the combination was a horse-crazy girl who wanted to ride English.

I found an ad on Craigslist (yes, Craigslist) for a 6 y/o OTTB mare, called, and went to ride her. Bear in mind I had never taken a lesson in my life and had ridden in English saddes only on well-schooled polo horses. We got to the barn, I went up to her in the cross ties, and I started scratching her neck. She immediately dropped her head to the floor, flapped her upper lip, and groaned at me scratching her. Her owner was in shock.

I went to ride her, and it was immediately apparent that this mare was NUTS. I asked for a trot and she took off in a ground-eating trot with her head in the air, and don't get me started on the canter. I cued it and she launched into a gallop around the ring. Why was her owner selling her? She was afraid of her.

Needless to say, I bought her. Paid the full asking price, too.

By coincidence, I found a video of her riding being ridden beautifully on YouTube days later. It was absolutely incredible that this was the same horse (very distinctive markings) that had just taken me for a joyride around the arena. I contacted the rider, who replied in shock and wanted to know how I had come across this mare.

Turns out, the original off-track trainer in the video sold her to someone to use as a broodie only. She knew the rider was incapable of riding the mare well, but the new owner was content to have her in her barn just to breed. Well....she started riding her. And jumping her, despite knowing she had a slab fracture that prohibited her from jumping. When the horse was sufficiently ruined and she was frustrated with her "attitude", she sold her to the woman I bought her from.

I sent Molly back to the trainer for a month of re-schooling, free of charge. She wanted nothing more than to fix the mare she had trained. I'm still great friends with both the off-track trainer and the woman I bought her from. Molly is still a hot mess at times, but I absolutely love her and will continue to try and undo the mess the second owner made.

The video I found online of her with her off-track trainer:


Love all these stories!!! Here's mine, wanted to put it on another thread since I included lots of pics and it got kinda long
Sandie's Story
Posted via Mobile Device
Yet another great story, this time on Sandie
C'mon guys, this thread shouldn't die, this is your time to share pictures of your horse/s and tell that heartwarming or heartwrenching story.
The first time I went to see my horse, I didn't let myself fall in love. I do it too easily, and that's how I ended up with a cat last year, so I was like, "a horse is too expensive to buy impulsively. Sure he'll be adorable and wonderful, but just look at him for what he is and evaluate him based on your needs." That's what I did, and after weighing the his virtues and faults logically, I decided to buy him. I thought I'd done the smart thing and chosen the horse before he could "choose" me.

The second time I saw him was the PPE. I got there before the vet, called the owner up at the gate, and she said she'd be out in a few minutes and I could go see him in the pasture if I wanted. I walked out there and he nickered and came running. He had already "chosen" me, even before I chose him.

I pick him up next week, and I'm so excited to have a relationship with this horse. I just melt at the mental image of him running his fat little but across the pasture to greet me.
Started
Join Date: Mar 2009
Location: Middle-of-Nowhere, Illinois
Posts: 2,225
• Horses:
1
I'd like to say I have some heartwarming story about me and my horses finding each other, making some magical connection, and riding off into the sunset, but that's totally not what happened.
I was a horse-looney 13 year old who wanted a pony so bad that I would have taken the first one that came along... and that's what I did. That's how I got stuck with Norman. Then Victor came along the following spring when my folks decided I needed a ride-able horse (Norm was just a baby at the time). V turned out to be a pain in the neck, but at least he's cute.
They're worthless nags, but I love them. Their shenanigans give me a reason to laugh every day. :)
---
"A musician must make music, an artist must paint, a poet must write, if he is ultimately to be at peace with himself.
What a man can be, he must be." Abraham Maslow, 1968

All three of mine chose me
First was Pickles. My barn owner was trading a broodmare for a young appaloosa filly. There were four of us standing in feild with a herd of young appaloosas, and my barn owner was looking at a 2 year old. these fillies had not been touched in almost a year, and were not very friendly. Suddenly I felt something fuzzy touching me. It was the weirdest looking little filly, barely a yearling. she stood next to me while the rest of the herd took off. The barn owner realized there was a conection there, bought her for a steal and sold her to me. She is now two, and gorgeous.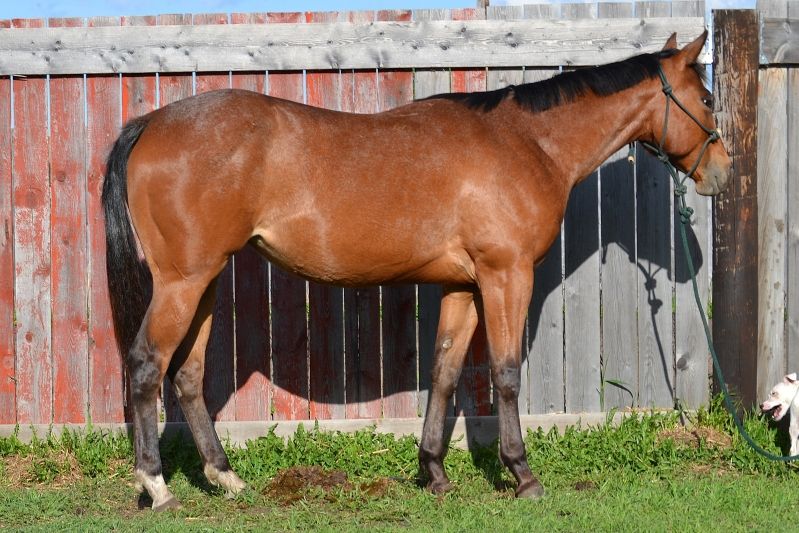 then is Pretzl. I was looking for a saddle horse. she was cheap, and looked terrible. I went to see her and she was wormy, scruffy coated and had badly over grown feet. More than anything I bought her because I felt bad for her, she looked at me and almost begged to come, I couldnt leave her. Now I can canter bareback in the pasture with a string around her neck. I dont even recognize her.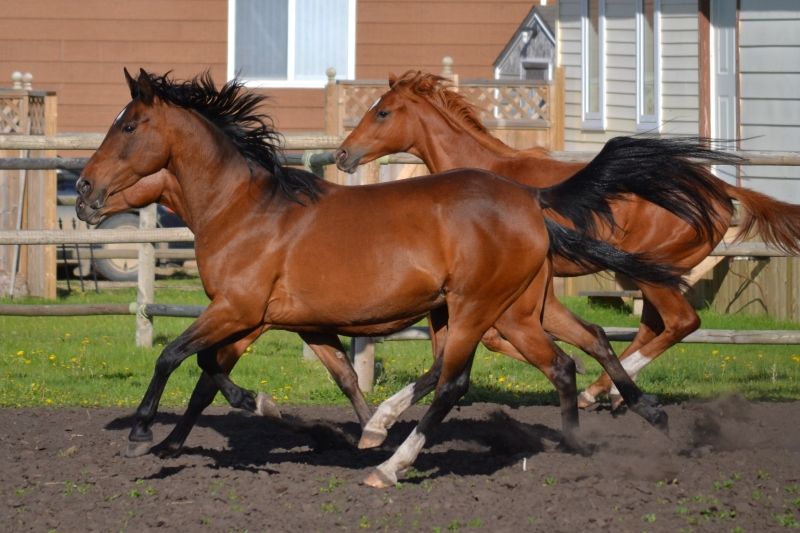 and lastly is Romeo. I saw him at the auction, standing calmly in his pen while all around him was chaos. He was a 5 year old, 1800# stallion, the only experience with people he'd had was someone smacking his head, and cowboys trying to turn him into a bucking horse, scaring him. Never halter broke. He sold for meat. From the first second I saw him I couldnt forget. I had to save him. Thankfully my BO is VERY understanding, and we called the meat buyer on his cell phone and picked him up just before he was loaded on the trailer. Now he is halter broke, gelded, picks up his feet, and I leaned across his back for the first time yesterday