When my friend told me of a sleep away camp at a local riding stable I got excited it had been my dream to go to a sleep away camp that had to do with horses. When we called the owner she told us we could come take a tour. I remember walking past one of the fields and there was a fluffy Arabian. He was laying down but the moment he saw us he got up and walked slowly over to us. He reached his head over to me and I pet him on the nose thinking how much he looked like the Arabian we had when I was little. The horse that my mom took when she left us and never looked back. A few days later we came out for an evaluation ride to see what week we would fall under and which group of kids we would best be suited to ride with. I took my lesson then my twin sister got on to take her private lesson. As I waited for her the owners daughter walked into the barn leading the Arabian and put him on cross ties excited her mom said she could ride him. I sat and talked to her about the horse I found out his name was Abra. As I pet him I had this feeling that seemed to whisper, "This is my horse."

When my sister finished her lesson we went home I didn't even get to see the girl ride Abra. When we came back for camp a few months later as if fate stepped in Abra was my assigned camp horse, I had to share him with some other girl who i didn't like much. Throughout the week I fell more and more in love with the flighty little arabian. He wasn't like my step moms mare that we had at home who did get scared by anything, a leaf would blow by Abra and he would take off in the other direction. It didn't matter I was in love.

With two days left of camp I found out that Abra was for sale because he didn't make a great lesson horse being so flighty. The girl who shared him with me wanted to buy him, but she hadn't ridden a horse until that week of camp and he just wouldn't be the right horse for her no matter how much she liked him. I thought how sad it would be for him to have to live with a girl that wasn't the nicest she yanked on his mouth she yelled at him all the time when he would jump at something.

When camp ended I went home knowing I would ask my dad but with little hope that he would buy the 18 year old horse. My dad always said he would never have another Arabian, my mother had left with our two arabians and from that time on he never really liked them said they were to spooky. I went away with my grandparents after I had asked my dad and he had told me "Abra Cadabra poof your not getting him." When I came back two weeks later I found the best surprise ever my dad had bought Abra. He was finally mine. I have now owned him for a little over seven years now. He now has his forever home at 25 he spends his time jumping cross rails having retired from 2'6-2'9 last year. He still has his bucks in him and by far will never be a made easy to ride horse, but he no longer spooks with me. Just like his last owner said, "We are selling him because he won't make it as a lesson horse, he needs one peson. His person."
It's won't let me edit but here is some pictures of him this summer at the age of 25.
Zoie Riding Abra on the hunt course.
Sabrina and Abra working through a gymnastic line.
Annie came at a very good time for me, and i think she knew we needed eachother, even if i didnt now it at the time.

I was with my x, had just been disowned by my family, and was spiraling out of control between my depression, anxiety and "self medicating." my x is a trust fund baby, who made his first million before he was 18, hes still a very good friend. He had heard me talking about wanting to get back on track with my career, and thought i needed more than just working other peoples horses. He asked me what i'd look for if i was looking for something to train and flip, and without my knowledge set about finding anything 2-4, green/unbroke, with decent confirmation, preferably registered. He found four horses, and surprised me one day by taking me around to see them all. Annie was the last one we looked at. she was underweight by about seventy lbs, still butt high, and so grumpy standing in her paddock i thought she was going to be miserable. i pulled her out, and cross tied her and she was super curious about everything i did. she licked my back while i was picking her feet, made happy faces while i was scratching her tummy, and nibbled my shirt while i chatted with her owner. As i walked up the driveway back to the truck, she sat at the end of her paddock and nickered at me until i shut the door and drove off. I never stop reminding my x how grateful i am for the opportunity he gave me. he put the money down that day, and put all the papers in my name to be signed.

we picked her up the next weekend, and over the next six months, she taught me so much more than i taught her. she learned to carry a rider, i learned patience, and self worth, and the importance of a clear mind. Between her and my captain, and the miracles that modern medicine provide, i have found a much better place within myself. And she still gives me a reason to improve myself every day :)
I would say we met by fate. My old TB (Gent) went insane and i had given him away and needed a horse to ride at the "A" Show in Oklahoma we were going to, i had seen him nearly every day and he always trotted up to me when i was in his pasture. My trainer told me his owner had seen his attraction to me and lent him to me to use for free for the show. I fell in love with him. No vices, just perfect, and he jumps over 4'3" even though be stands 16.2HH. We got home from the show and i was still in love with him, and i rode him in a couple more lessons then his owner at the time told me that he was for sale and that nobody had been able to ride him or wanted to ride him for the past 4 weeks before the show. We won champion 3 times at that show. He rode beautifully. The meeting was neutral, and now that he's mine. Its for an eternity. <3
---
Horses are angels without wings!
Heres my baby! Romeo!
---
Horses are angels without wings!
My mother tends to tell me that Reno and I were meant to be.
I was one of those kids whose family was never financially stable, single mother raising two kids the best she could. I always wanted a horse, but knew we could never afford more than occasional lessons (or free if I worked in exchange for them). When we seemed to be doing well financially my mom would say "We'll see about getting a horse next year." She would say that, and again the next year, and the next year the same thing. It was safe to say that for the 20 years of my life I didn't see myself ever owning a horse.
Mid-summer of 2011 after my dog had to be PTS due to a horrific accident, after my boyfriend had dumped my sorry butt, and after I had to cope with being assaulted, I began browsing the internet for local Thoroughbred rescues just for the heck of it. I found one that looked decent enough and I scrolled through the page of horses looking for a home. This was the first picture I ever saw of Reno: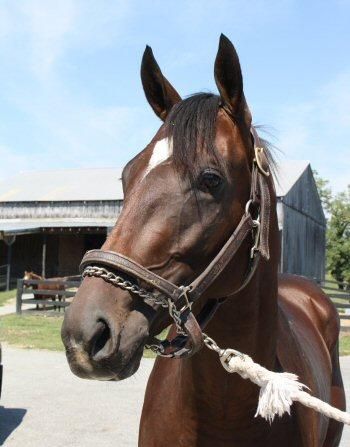 I was instantly completely in love. I looked at his pedigree, had some pretty decent horses in there - descended from at least two Triple Crown winners (Gallant Fox and War Admiral) and other such fine animals as State City (sire, $1m+ earnings0, Carson City (grandsire, $306k earnings), Mr. Prospector (g-grandsire, $112k), and Native Dancer (ggg-grandsire, $785k). A video the rescue posted showed he also had nice movement. I was sold. I contacted them about him, explained my current situation and that I would be trying to find a place for boarding (if not for Reno, then whatever horse I acquired in the future).
During my search for boarding, I kept checking back on the rescue's website. One day, Reno had been taken down from the page. I thought he had been adopted, and although I was happy that he found a home I cried so very hard. After that, I only halfheartedly checked the page every now and again until another young Thoroughbred caught my eye. He was a cute little guy, already under saddle away from the track and a Secretariat and Halo g-grandbaby to boot. His name was Mr. Church Mouse, or Mouse for short, but it made me laugh to think how perfect that would have been. After all, anyone who is a fan of the Halo video game series knows the fan series Red vs Blue - I would have just called him Church (the irony being his g-grandsire being named Halo). I emailed his current owner about adopting him and mentioned in passing that I had previously been interested in a horse on the site named Reno. By some divine blessing, this woman had personally worked with Reno and told me that he was still available! He had only been removed due to an outdated picture.
It's impossible to imagine how happy I was. Imagine Christmas, your birthday, and every possible sickeningly happy day all rolled into one and that doesn't even begin to cover it. I cried out of sheer joy. Against my better judgment I posted on Craigslist offering barn labor in exchange for reduced/free board (of course I mentioned a bit about the horse in question). It wasn't long before I was emailed by one of the students from an Andalusian breeding farm about 45 minutes north of my home. I interviewed with the farm owner and decided on a 30-day buffer period so she could determine my trustworthiness before bringing in the new horse. I worked my butt off and visited Reno at his foster home twice. The second time I visited someone was riding in the outdoor next to Reno's pasture. Without knowing who I was or what I was there for, she stopped and told me "He knows he's yours" while I was petting this horse of my dreams. The rescue got me a fresh Coggins, I signed the paperwork and donated an extra $10 more than the optional fee of $150. My riding instructor had been kind enough to loan me one of her barn workers and trailer for the morning to transport my new baby.
Ever since he has been nothing but a dream. So sweet and willing to please. I'm agreeing with my mother that this was fate. With so much good racing blood in him, you wouldn't think he would have sucked at racing so badly as to end up in a rescue...waiting in a pasture for over a year with nobody except one lonely girl showing any interest...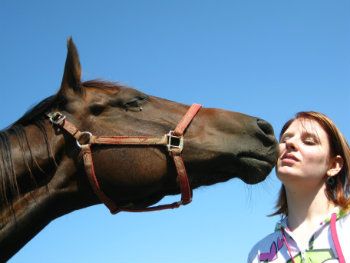 ---
ʀ ɛ ɴ ø ,-------------
"Who rescued who?"
---------ċ ᴀ ʀ ʅ ʏ
Ive already told Romeo's story about how it was a mutual love between us that bonded us, here he is :)
---
Horses are angels without wings!
May I tell our story again? :) It will be a long one, so cookies to those who read it to the end.
Snickers was the one who chose me, and this is how it happened.
I used to dream about horses all my childhood. I gasped and attempted running to every horse I ever saw and begged my parents to let me ride. However, after a couple of minor accidents with pony ride ponies and their careless owners, my parents decided that riding is both too dangerous and expensive.
Fast forward 15 years, I had gained my own life and earnings, and wanted to take up an active hobby. But everything I tried out - dancing, pilates, yoga, etc. - seemed just too far from home, too expensive, badly scheduled, with groups too large or too nosy, etc. Then a friend of mine happened to mention that she used to ride horses. The exact same moment all my childhood dreams and memories came back to me and I knew what I was going to do.
I started stashing up money for my first lessons, and started looking for a lesson barn. I was interested in natural horsemanship and soon found a couple of NH barns, one of which was too far from my home, so I started looking into the other one. The barn had an online discussion forum with a thread about their horses, and there I first read about Snickers. He was described as a witty, mischievous youngster, and I somehow felt that I absolutely HAVE to meet him. That's how I booked my first lesson in that barn two years ago, and that's how he looked in the thread about him in the forum:
Watch Snikers II | fransa Episodes | Blip
I didn't meet Snickers until October (started the lessons in May), because he was sent away for the summer to grow up a bit in another barn. He was just 4 at the time. When autumn came, he was given to me for a groundwork lesson. It was hard - he was pushy and dominant, either didn't react to my novice cues, either even reared and threatened me. My trainer decided that it was too early both for him and myself, but I wasn't discouraged and felt that I have a future with this horse, although buying a horse was completely out of question at that time. Not only I was too green, Snickers was also too expensive for me and I was afraid he'd be sold to someone else before I was experienced enough for him.
However, he wasn't sold, although he was on sale. Horse market was low around here and the BO had set up an unreasonably high price for him. As my experience grew, I started getting him for lessons again, first groundwork, then also riding. And even between the lessons I kept sneaking in the barn and the fields just to stand by his side a bit. I grew affectionate, and it seemed that so did Snickers. We sometimes played at liberty in an arena with many other horses in it, and he still followed me around and played, completely focused on everything I did. All the trainers said that he never did anything like that for anyone else - I was clearly his favourite. Apart from that, he really didn't enjoy being a lesson horse and was famous for being the laziest, slowest and most passive horse around, besides, with a nasty attitude - biting, pawing, ignoring others, and also messing with any equipment he could get his teeth on.
His owner, the BO, nicknamed him "The Jerk" and was ranting all the time how fugly Snickers is, how useless, thus Snickers also got worse treatment than others - his stable was rarely cleaned, he always got less hay, less medical attention, and, when a new horse moved in, Snickers was moved out of his stable and tied to a chain in the barn. I hated seeing it, but there was nothing I could do and I tried silencing my affection when Snickers was sent off to a summer riding camp for a month.
However, when he returned, my heart raced and I knew that I'd never forgive if I let this horse go. Or let him down. He had done so much for me and he had showed such trust and affection towards me, although I tried fighting it with my mind and argumenting that I'd never be able to afford him. I decided that there is just one way how I can help him - lease him, and that I did. On the first of October, precisely a year after I first saw him, I first visited his usual self in the paddock - standing with eyes closed, as always, and head low, as always, passive as ever - and then went to sign the lease contract with the BO. When I returned, a whole different horse was waiting for me in the paddock - the one I had seen in him and believed in all this time. He held his head high, his eyes were wide open and beaming, and he was prancing and neighing as I approached! I know, it sound all Black-Stallion-ey, but that's what he did and I now knew that our ways would not part anymore. He couldn't have chosen a better way to show me he wanted to be with me, and me only.
My rational mind still fought against it, argumenting that green+green=disaster, but I bought him last December. It is now a couple of days short since I've been his owner, and since then we've changed barns and kept developing our relationship, and I just know I did the right thing. What was previously claimed to be "a jerk", turned out to be a very curious, intelligent and active horse with much to teach. Such horses come once in a lifetime and we should never ignore their invitations to become their humans. And Snickers is clearly happy, which is the most important thing to me now.
---
I have come a long way, to surrender my shadow to the shadow of my horse.
/James Wright/
My Horse:
Would you still love me if I'm finicky and will only eat the most expensive feed available?
Me:
Yes
My Horse:
Would you still love me if I'm ridiculously hard to saddle fit requiring a custom made saddle that stops fitting 6 months later?
Me:
Yes
My Horse:
Would you still love me if I find a way to bolt and choke on soaked feed?
Me:
Yes
My Horse:
Would you still love me if I pull the gutter off the back of the barn causing the area to flood?
Me:
Yes
My Horse:
Would you still love me if I shred up my new blankets within five minutes of putting them on?
My Horse:
Would you still love me if I jump bounces like a giant oxer causing you to fly over my head?
Me:
Yes
My Horse:
Would you still love me if I buck and rear you off landing you in the ER?
Me:
Yes
My Horse:
Would you still love me if I sustain a random injury from doing nothing on pasture rest that stumps several vets?
Me:
Yes
My Horse:
Would you still love me even if all these things completely drain all your financial resources?
Me:
...Yes
My Horse:
Alright! Sounds good. I'm moving in with you then.
Motion-picture worthy horse-girl bonding story right there.
The two horses that I bought chose me.

The first was going to be put down because he was too wild and abused but I barricaded myself in a stall with him and wouldn't let the rescue people do it. I was 13 years old and had never owned a horse before. I'd been working at trying to save all the horses but realized I couldn't do it alone so I called the rescue. They tried for hours to corral the last horse but he broke down fences and got stuck in a duck pond avoiding them. When they said they would have to put him down I felt like if they did they'd be killing me too. The owner didn't care what happened so I offered her all the money I'd saved and she agreed. The poor horse was stuck in the mud and as he screamed he gave me a look that made me cry. It was like he was asking me to save his life. So when I got the horse out of the pond and into a stall I locked myself in too and stood in front of the dart gun so they couldn't get him. I paid way too much for what I got. But he's my dream horse, the horse I wasn't looking for but when he looked to me with such need and fear I knew I couldn't let him die. It was the best decision I ever made.
The other horse, my draft, was rescued as well. I was with a student looking at another horse when I heard the most god awful sound I've ever heard a horse make. The owner and my student acted like they hadn't heard it, and maybe they didn't, but I did and I went looking. I found the saddest, scared looking horse I'd seen since my first. He tried to walk over to me but his back legs were chained so I went to him and when he let out a sigh as he rested his head against my chest I cried and knew he'd be coming home with me. He was everything I never wanted in a horse. A draft, 17hh at a year old, stud, unbroken, not socialized, untouched, and afraid but I couldn't just walk away from him, he needed me and who was I to tell him no.

I always seem to be at the right place at the right time to save them, although my experiences should be marked in the 'what not to do when buying a horse' as I didn't have either vet checked and I had no history on either of them. I felt so emotionally connected with them that it was like leaving them behind would be like removing my rib cage.
---
Show me a horseman who hasn't fallen and I'll show you a man who has never truly ridden.