She's super-cute and very well put together. If I was in the market for (a) a horse full stop and (b) one that was already backed, I'd consider her. :) Her personality sounds a bit like my mare when my mare was younger and sillier. LOL. I'll have to content myself with ogling.
Silver - says she's "super cute" - hmmm - she's an Irish madame, a huzzy who knows pretty much what he wants out of life and is crafty enough to get it . She turns heads wherever she goes.

I'll call her 'cute' and she how she reacts.

B G
I doubt she'll mind. "Cute" is what I call any horse I think is pretty.
Your mare is very good looking; i'm glad she's got people she can spar with and that someone is for now getting a good ride out of her.

It's funny, when i lived in the uk we had at one time 5 or 6 male riders in our riding club at the university. two were incredibly talented and the others we in my novice class. We managed to convince a guy friend to come and give riding a try and he loved it, stayed with it for the two years i was at school with him. i'm not sure if he still rides now, i hope so.

Now i'm in the US i haven't come across a male rider at any of the barn i've been at. I'm not really out west in cattle country and i have seen riders at the fairs and such riding western, but none who ride english. It's a shame really to be in a female dominated barn, sometime i think a male perspective might be refreshing.
If I lived in the US - as once I nearly did in both Nth Carolina and Houston, then I as a male would have chosen to ride Western. I did ride a couple of times down in Texas and also a couple of times over in California but always Western.
We have one or two Western riding groups over here, but they all seem to be interested in showing. That's definitely not my scene.

But there are a couple of trail riding centres who explore the hills of South Wales. They ride cobs, tacked up English, almost in a Western style on a loose rein, one handed and with shortened stirrups so they can transfer weight down onto the stirrup irons. Men often visit both centres. If a competent group of men get together for a weekend it can be a lot of fun but a bit 'hairy'. If there are no men in the group, then it is a much more sedate.

Up in the Welsh valleys, where the coal mines used to be, men ride with an unusual seat. In the summer they hold rodeos - bareback riding - no reins & no saddle just a handful of mane. Lethal. The English, would never allow it - except perhaps down by the Cornish moors.

In England the hunt prevails despite the opposition. A lot of male farmers still ride to hounds and they are usually up front close by the master.

It seems the men look for the buzz.
I've noticed similar male-female distribution in livery yards/boarding stables in the US and UK: mostly women but one or two guys. When I was teaching riding back in the States, the student distribution was similar: roughly one boy for every fifteen to twenty girls. In the context of a horse camp where you have a group of kids at the barn all day, this is a social nightmare for the boys. We kept the kids as busy as possible and didn't let them pick on each other, but you can't prevent all the subtle social exclusion BS that goes on amongst 12 and 13-year olds. At the yard I keep my horse at now near Glasgow, one of the of the other liveries is a 12-year old boy and his mum, who left their busy riding school to keep their pony at our wee quiet yard because the kid was getting a hard time from the girls at the riding school. Experiences like that have probably turned many a guy off to horse riding.

In terms of adults, I knew a couple guys who grew up on a ranch and rode their whole lives and a few others who came to it as adults.

There isn't any doubt in my mind that girls are socialized to be horsey and guys, for the most part, aren't. *Why* horseback riding has become gendered in this way should be a research topic for some academic. Maybe some post doc opportunities there. :)
On a ranch, boys grow up seeing men ride, and they follow the example. City boys rarely see or hear of a man riding, so it is like taking a class in sewing - something girls do, not men.
I'm retired, and took up riding about the time I retired. I have the time to do so. However, when I was working, I worked 12 hrs/day, 5-6 days/week, and spent almost half of each year deployed to foreign countries (I was in the US Air Force). When I was stationed at RAF Upper Heyford north of Oxford, did I ride? Not a chance! For most of the year, I started work in the dark and finished in the dark. If I was lucky, I might get off work in time to run the dog along a bridle path nearby, but that usually only happened when we started work at 3 AM. I don't think it ever occurred to me to even try riding horses.
Now I find myself doing something that is completely dominated by girls. Not even women, for the most part, but teen girls. Horse magazines advertise clothing for teen girls. Questions tend to be about how a pink saddle looks. On the English riding side where I live, I don't think I've ever driven by a stable and seen a guy riding. A list of local trainers or riding instructors is 100% female. I sold one of our mares to a guy, and he's the only guy I know who rides apart from ranch work. In the church I go to, several of the men rode horses while growing up on ranches, but gave it up after they left the ranch.
If I didn't like our horses so much, I'd probably give it up. I can't go to a gathering of riders without sticking out like a sore thumb, with girls the age of my youngest daughter wondering who the guy with bifocals is, and doesn't he know that you DON'T put an English saddle on top of a Navajo blanket...but then, an advantage of being a retired old fart is not giving a rat's rear end about what most people think.
But it would be nice to pick up a horse magazine and see an advertisement for a rifle, or hunting trips, beer, or SOME suggestion that all their writing isn't oriented toward the 14 year old girl!
Aussie style saddle in the picture below, and my wife braided my mare's mane at the time of the photo - normally it is loose, and I've trimmed it since then to make it easier to deal with: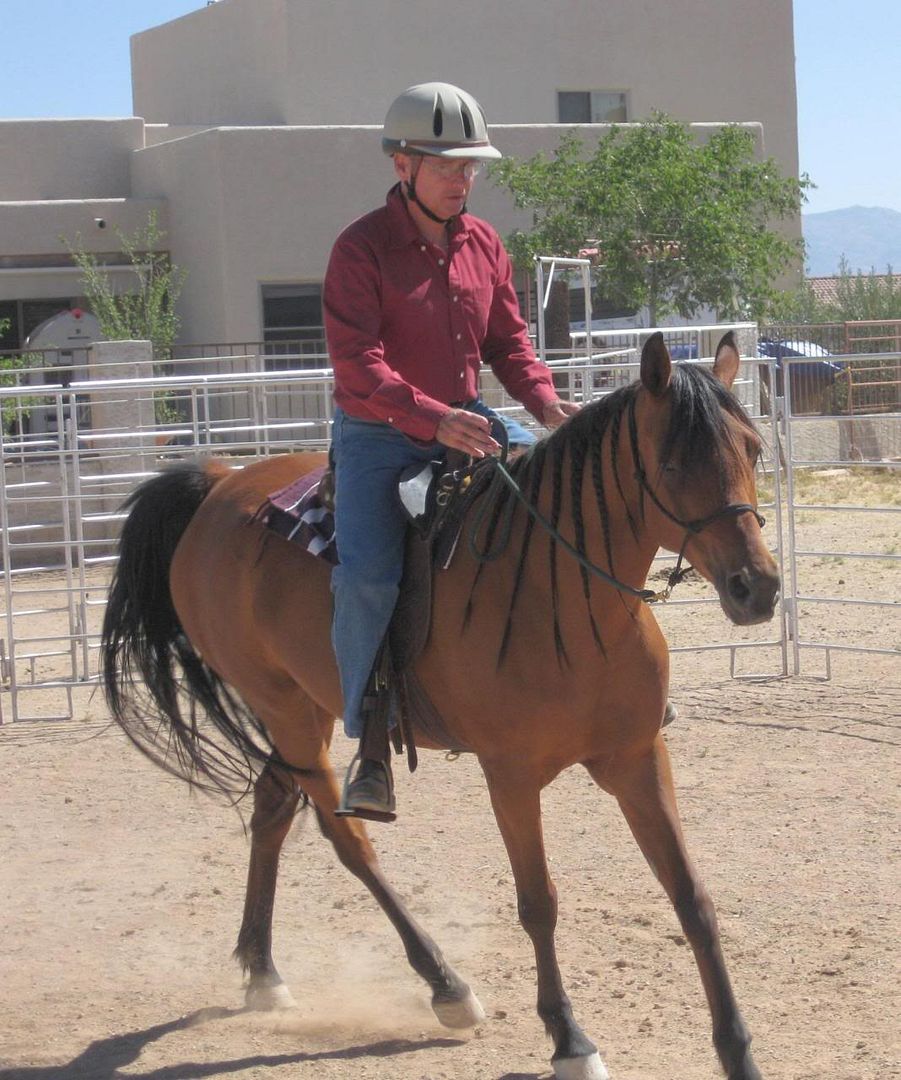 BSMS Nice to see a sprightly slim fella like you aboard.
You can lay a Navajo blanket under an Aussie saddle anytime you like
You don't have to worry about showing your panty line under your breeches
& you can stop off for a beer at the bar anywhere ther is a hitching post.

All you do have to do is to keep your end up against all those women - there are young ones, older ones and a few pensioners but on the whole they are a nice bunch. Enjoy.

Welcome to the Forum - there's a few old men codgers here already.

B G
And younger codgers as well.
---
There's nothing like the Rockies in the springtime... Nothing like the freedom in the air... And there ain't nothing better than draggin calves to the fire and there's nothing like the smell of burning hair. -Brenn Hill
I'm male rider. I've been riding for over 15yrs and been training 5yrs. I've come across numerous male riders in NY. I'm going to buy an Imported Hanoverian soon. Can't wait!
---
Last edited by EquestrianStar; 10-20-2011 at

02:24 AM

.