I recently introduced my husband to riding. He had no preconceived notions about it whatsoever. XD He didn't know that barns are often teenaged girl-dominated, and really had no prior experience or knowledge about riding in general. Even if he did know, he wouldn't have minded. We try not to let "what other people think" or the status quo bother us too much. If you want to do something, do it, regardless of stereotypes! He really enjoys it a lot and he's looking forward to the time when we can have our own horses. He says it doesn't hurt his, er..."anatomy" at all, haha. I guess he just naturally figured out a way to sit, because when I tell him that it hurts some other guys, he says it just never hurt him, even from the first day.

I think he never got into riding until I told him about it because he didn't realise it was something you could do. He was under the impression it was quite unaffordable, especially because of the circumstances of his childhood, so I don't think "Hey, I could learn to ride horses" EVER crossed his mind. Now that he's doing it, he thinks it's fantastic. I think a lot of kids don't realise it's a feasible thing...I didn't until a schoolfriend of mine told me she rode. I thought it was something mainly for "rich" people.

Why more girls seem to get into it than boys is really a tricky matter. There's no real societal pressure or bias towards girls in riding the way there is for other activities/sports, which is normally the reason for gender skew, in my opinion. In fact, riding used to be considered a thing for males... So I really don't know. Maybe it's the tights/breeches that put guys off, when they see that in media? Maybe they just think they'd have to wear those and they'd feel ridiculous doing so? Maybe it seems really posh and stuffy? Maybe they think it's only for really skinny guys, like jockeys? This is a complex issue.
I would never have guessed back in November of 2010 that this thread was to be the fourth most read of those threads which I have started. As of today it has attracted 7366 viewers and 60 posts - in 16 months - that is a lot of readership. I wonder why?

OK, Western riding attracts additional sectors which the English male rider never really gets the opportunity to try out but in similar vein - Western male riders don't get to jump much.

I've never quite worked it out why women would like to see more fellas, but what convinced me to start the thread was the number of posts by females which expressed a little wistfulness that there weren't more men about. Even after reading what the ladies say, my opinion is that men can't accept the 24/7 responsibility of horse ownership - whereas women seek the committment.

This fine evening I passed by a four seater open convertible in which sat four young brothers, all of whom are riders. Mum was up front driving. I think the oldest boy is 14 and he is doing well with his new horse at show jumping. Mum does most of the mucking out. I'd like to think that this time next year there were still four young riding men in the family but my guess is that it will all depend on Mum and whether she will still be getting ready the horses for the boys to ride.
---
Last edited by xxBarry Godden; 03-27-2012 at

12:59 PM

.
Quote:
...my opinion is that men can't accept the 24/7 responsibility of horse ownership - whereas women seek the committment...
Gotta disagree with you here. Guys are quite capable of making time commitments to something they have an interest in doing. I've known plenty who spend uncounted hours tweaking a car. I've known a number who were hopeless dog fanatics. My son-in-law has been known to spend an hour cleaning one revolver after shooting - don't ask me how. It takes me about 5 minutes. Less if it is stainless steel.
15 months ago I wrote that men are goal oriented. I still think that is part of it. Of the 3 horses I own, two are just horses I sometimes ride. I clean up after them, feed them, etc, but neither gelding has ever bonded with me, or vice versa. They are better horses than my mare, in many ways. Calmer. Easier to train. If you go a month without riding them, so what?
It is the mare who has turned me into a rider. Probably
because
she is such a PITA, not in spite of it. She is a challenge. Dominant, stubborn, expressive, fearful. Not to be taken for granted. After 4 years, I will sometimes take my feet out of the stirrups with her, but only long enough to stretch a kink. She isn't a bucker, thank goodness, but we've had our share of bolts. If she thinks what we're doing is stupid, she gets angry. The geldings will work turns around a set of cones until asked to stop. The mare will tolerate maybe three turns before her back warns me that constantly turning in circles is stupid, and she doesn't like stupid people. I've never sat on her back and thought, "I'm safe"...
If I was smart, I'd have sold her years ago. The trainer I've worked with says most of her clients would have dumped her within months, and that my buying her may be all that kept her from a trip to Mexico. But it is the very challenge of her that makes it interesting. If riding just meant getting on a well-mannered gelding and walking thru the desert, I'd be bored out of my mind.
I don't need any equine sports to provide a challenge. I don't have to wear tight breeches, or worry about how my tack looks, or what the judges want. The judge that matters is the 900 lbs of muscle and erratic temperament underneath me. Can I find a way into her head, so that she will yield herself to me? Once in a great while, the answer is yes. Then she loans me her body, and for a brief time she will understand what I want and do it before I can give her a conscious cue. Her body and my mind...briefly, until it falls apart and we return to separate beings.
Without me, she may have gone to Mexico by now. Without her, I'd have quit riding.
There are not a lot of horses like her. The lesson horses I've ridden tend to make me appreciate a good dirt bike, instead.
Maybe women are more likely to find that bond with a horse. Maybe some bond with lesson horses, although I don't know how. My youngest daughter only wants to ride our Appy gelding. My wife has started riding our little mustang, and prefers him to any other horse she has met. Neither of the geldings connect with me, so maybe women are better at connecting emotionally with a horse. Any horse. Maybe men need a special type of horse to make them think riding horses beats riding motorcycles...
---
"Make the right thing easy and the wrong thing...well, ignore it mostly."
BSMS, Undoubtedly a few of us males learn to appreciate the companionship of a good horse but for many males in a modern society there are too many other responsibilities which leave too little spare time to devote to a horse.

I gave up on owning my own horse for a period during which the weight of running my own business became a hefty burden. When I managed to get a day off - I was too tired and too irritable to cope with a sensitive animal.

Time time time.
When I was young and had the time and ability, I had no money.
When I had the money and I still had the ability, I never had the time
In retirement, when I still had the money, I had the horse but I had lost the faculty to ride as once, as a younger man, I once could.

The real cost of living this life is time not money.
I'm a boy (Teen) and I ride... Only know of one other guy in my grade that ride, however at least 15 girls who ride. I live in a kind of an"up-scale- town, so maybe that's why so many people ride.
I ride western, however am still learning, and once I can afford professional lessons I will start learning english, hopefully eventually doing some eventing. I now ride at a dad's friend's backyard barn, with three horses.
---
Intermediate Rider~Learning Equitation and English Pleasure~Interested in Eventing
A horse will tell you everything you need to know about him, if you listen.
-Winston Churchill
I'm a guy and have riden since I was about 8. At the time there was a tv show called The Young Riders. It was about the pony express. i was always into the cowboy stuff and it just seemed like the thing to do. i gotta learn to ride a horse. Well it started as something to do and turned into alot more than that. I will say I think I was the only boy in my school that rode and I rode alot until I turned 16. You know how it goes. I'm in high school, I have a car, i joined the Volunteer fire dept. and it kinda just went away. Then years go by and i got hired full time for a big city Fire Dept. Well every fireman has a side job and I needed one to. There was a horse farm in our area. i stopped in one day and asked for a job. i turns out the trainers brother was a fireman in Reno so he gave me a shot. (trainer was a guy) I got alot of " what does a fireman know about horses" type of comments. long story short , I worked there for almpst 8 years until the place got sold. The only other guys there was the trainer and one other guy that came and took leassons once a week with his wife. I'm not going to lie. A 21-28 yr old single guy is going to notice the girls at a hunter jumper barn. Sorry , its just nature.
After the farm got sold I ended up getting a side job as a trail guide . If I wasn't at the firehouse I was on the back of a horse. this place also did alot of shows and that is where I met my wife.
Now my wife and I do see thing differently on alot of things about horses. I ride western( did ride alot of english when working the hunter jumoper barn) she rides Dressage and jumpers. She likes her tall lanky TBs and warmbloods. I like my Bull dog quaterhorses. She likes a nice Pioff i love a good quick roll back. She likes a jump I love to chase a cow down the fence. But we both agree we love the time we spend with our horses and the time that the horses bring us together. We ended up bying our on place and now have three horses in our own pasture and we're living the dream so to speak. You think horses are 24/7. try your own horses on your own land. That is really 24/7.
Of course now we have our daughter that is 8 months and of course when the time comes I want her chasing cows and my wife will want her to do something in the english realm. I guess we'll have to let her decide. which I'm fine with as long as the saddle has a horn.
here we are getting her started. Her mom was leading us around and took the pic.
Please ignore the fat guy on the horse and just look at the cute little girl.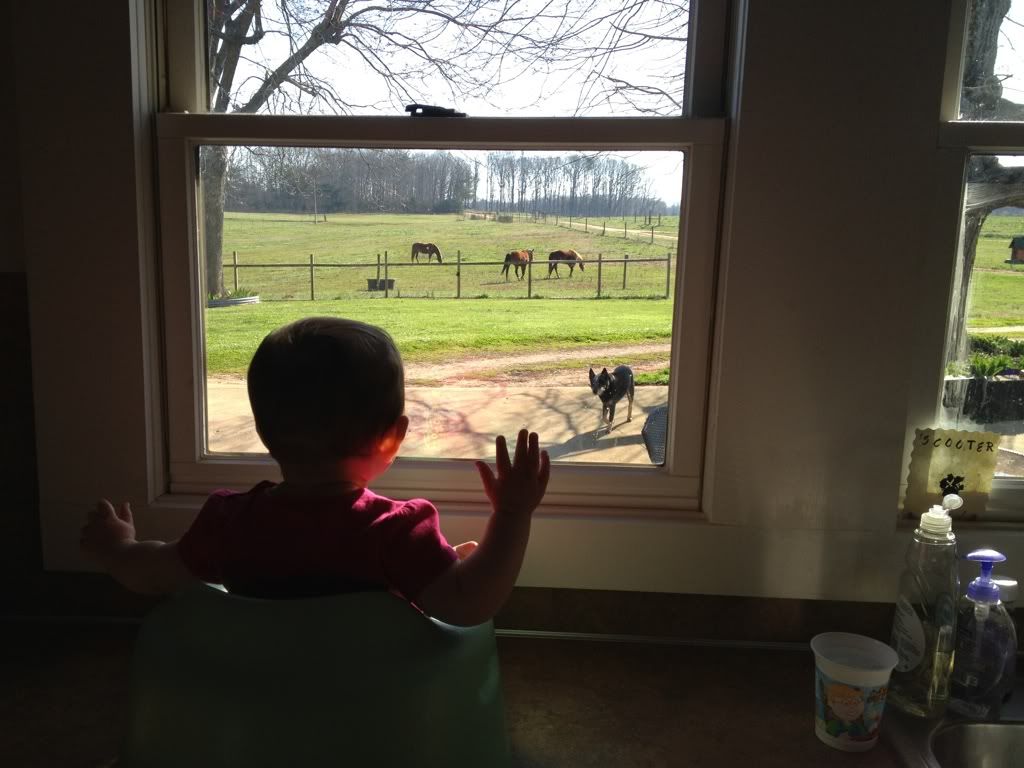 this is where we put her to watch the horses. so Chock another female to the horse lovers list.
---
Last edited by Fort fireman; 03-27-2012 at

10:31 PM

.
Without going into too much extraneous detail and repetition, I am a nearly 40 year-old woman, returning to riding after a 15 yearlong break after college while I built a career/marriage...the "usual" unfortunate story which too often causes women to lose themselves in exchange for family.

I found that the past year of my life (up until a glorious 1.5 months ago when I believe God intervened and reminded me of my 18 year-long prior, literal PASSION FOR ALL THINGS EQUINE) I had become quite depressed and anxious.

Working 40+ h per week as a night shift charge nurse for a locked, high acuity psychiatric hospital was too much for me emotionally without any outside interests ALL my own! Thus began my quest to restart a life WITH horses, regardless of what it would take!

My husband is a loving and supportive man and was THRILLED to see me FINALLY EXITING my yearlong depression, of sorts, and developing this childlike enthusiasm for horses, constantly reading and then, during our nighly, pre-work (for me) many miles-walk we always take, prattling on enlessly about all I had read that day or the prior night-if a slower one @ work-about my new old love...horses!

Well fascinatingly, I took my first vacation in TEN YEARS FROM WORK THIS WEEK...5 full nights OFF (!) to look around for a barn where they would allow me to volunteer, just picking out stalls, grooming school horses, cleaning tack...whatever I could do to get my "horse legs" under me before beginning to ride.

My husband wanted to come with me one of the days as I went to find a barn that would let me volunteer, and when we exited our vehicle at the first big barn, he became so visibly at peace, SO HAPPY to be there, and he started sharing with me about his childhood years at boarding school (something I've always known of, other than the one detail he had always left out...which was that he had spent two years on their equestrian team!) and he had forgotten his immense love of horses & riding literally until the smells and sights of that barn surrounded us! (He had an awful childhood, and tends towards blocking a lot of it so this was a really big deal!)

It was HARD TO TELL yesterday, as he and I walked about the stables and pastures, stroking whichever horses came up to us for pats, waiting to speak with the BO, WHICH OF US was giddier about being there!

In talking with one of the boarders at this establishment, and as she and the BO learned of MY desire to volunteer, he said to her that he, too, would LOVE to join me in volunteering, and even offered his blacksmithing skills (that is his career) to the BO in order to help mend fences, ANYTHING SHE NEEDED, to be near the horses, as well, and begin to learn alongside me all which neither of us had done in decades!

To say I was overjoyed is understating! All the way home, we EACH PRATTLED ON about our growing excitement about getting reintroduced to the horse world. By the time we got home, HE was calculating how long it would be before we could budget ourselves properly to EACH LEASE OR OWN A HORSE! My 6 month to one year plan of budgeting has since become OUR plan of budgeting from one horse now to two!

We've been together 10 years, and he has ALWAYS BEEN an animal lover, and I've known he loved to hear of my riding stories of my youth, but now I'm beginning to learn HIS! In fact, he taught ME some things as we spoke till the wee hours last night which were totally foreign to me about horses and breeding and foaling that he got to be a part of at boarding school!

Needless to say, all very great things to come for he and I as a team now, and I can hardly wait!!
---
"I'm too busy working on my own grass to notice if yours is greener"
Really good article mate, I'm a young guy and I think it's about time I just took the plunge and spoke to the parents about riding lessons. Life is for living eh, I should really just go for it!
---
Last edited by Horse Lad; 04-22-2012 at

02:16 PM

.