Quote:
Really love the girl at the beach with her back to the viewer.
Your talent runneth over!
Thats my favorite too..lovely art work!
---
"Anything forced and misunderstood can never be beautiful" Xenophon, 380 B.C.
Thanks everyone. :) The one of the girl looking off into the distance is still kind of a work in progress but my sister thought it should be finished so I'm not sure if I should keep working on it or not.
Here's my newest work in progress; I wanted to try drawing a horse with colored pencils so I'm using a reference that had a lot of color in it. I'm pretty rusty with colored pencils since I haven't worked with them in so long, but I think I'm starting to get the hang of it again. :)
The reference picture: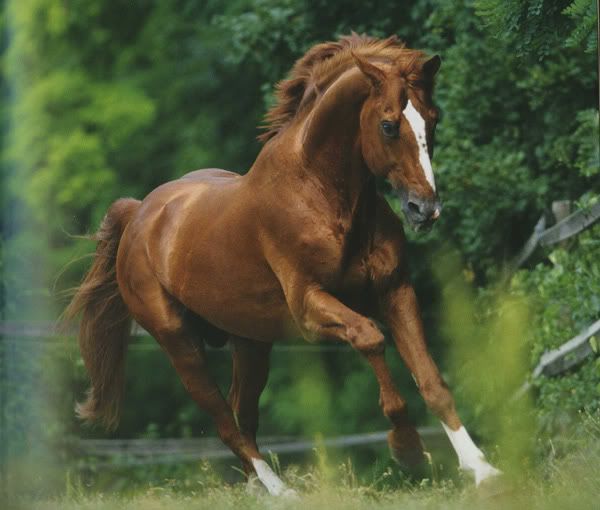 Here's what I have so far. It's taking less time than I thought, but it will still probably be a while before it's finished. I'm planning on doing the background as well.
Great pictures, whish I could draw like that. I bought a book on drawing but planning on taking some local classes.
I want to learn how to draw horses so bad!
pinkswagger26: Thanks, I think it just takes a lot of practice. That and I was also lucky enough to have some really good art teachers. That's good that you're taking some classes, good luck with your future drawings! :)
Here's a picture of a commission I'm working on, there's a lot of detail and cleaning up left to do on both the horse and background, but for now I've gotten the basic forms and colors down. I'd really appreciate any critique or suggestions. :)
Here's another in-progress picture of the painting I'm working on. The head and neck are just about done.
I think you have made the horse better looking than it is in reality. The neck on yours differs from the photo, but perhaps you did this on purpose. And I like the way you adjusted the front legs to make the horse more engaged and balanced.

Not really much to suggest because it is not finished. I guess just to say, don't overwork it because your style has a certain freshness to it that is easily ruined if you worry about making every line clean and perfect. I know, it's the artist's perennial dilemna; when is it finished? when to quit.

this is a very nice piece. the owner will be thrilled
I'm right handed and my horses always tend to face to the left <3 These are amazing! I need to start practicing again. Keep up the good work and I can't wait to see more.
Similar Threads
Thread
Thread Starter
Forum
Replies
Last Post
Some artworks :).

TaMMa89

Horse Artwork

8

05-29-2008

06:45 PM